It was a typical summer day for my boys and me.
For my boys, there was a lot of Lego building, a lot of art, and a brief dip in the pool down the road.
For me, there was a lot of Lego clean-up, a lot of cleaning art detritus, a brief dip in the pool down the road — and slipping in and out of the kitchen to  create a new, fresh summer recipe.
Oh, and don't think I forgot to include the basil in the ingredient list below.
This super delicious pesto recipe is made without it!
I'm adding this unique Lemon Caper Pesto to my weekend recipes, because it'll enhance any meal.   It's excellent to spread on crusty bread, on fish, tossed in a pasta salad, and the list goes on!
Check it out on this amazing California King Salmon reicpe beneath a thin layer of zucchini. Lovely!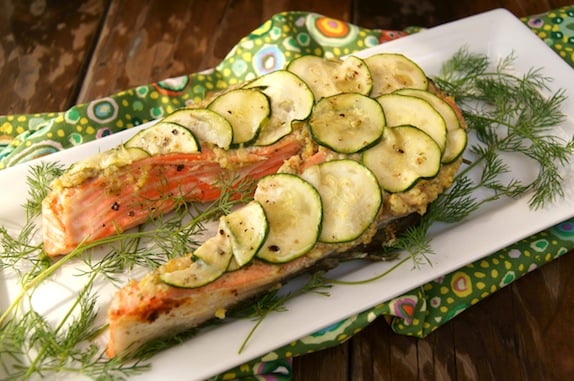 Want a perfect summertime drink?
Use your peeled lemons from this recipe to make My Mom's Meyer Lemonade Recipe!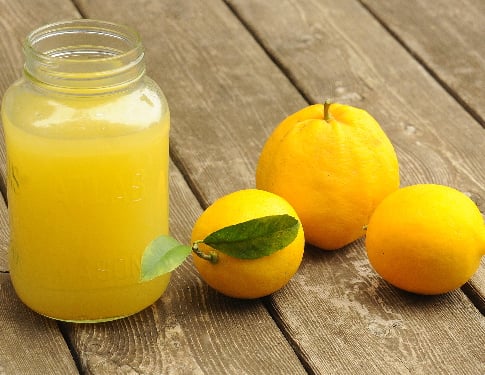 Enjoy!
Lemon Caper Pesto Recipe
Makes about 1-1/2 cups
Ingredients
1-1/4-

pound

Meyer lemons

1/2

cup

drained capers

1/2

cup

toasted pine nuts

4

medium garlic cloves

peeled with roots removed (1-1/2 to 2 tablespoons roughly chopped)

1/2

cup

grated Parmesan cheese

1/4

cup

loosely packed

fresh dill

1

teaspoon

fresh lemon juice

1/2

teaspoon

sea salt

1-1/2

teaspoons

granulated sugar

3/4

cup

extra virgin olive oil
Instructions
Remove the rind from lemons using a vegetable peeler, trying not to go too deep — you don't want too much of the white pith, as it's quite bitter. You should end up with about 1 cup of rind.


Place the peels in a small saucepan and add enough water to cover the peels by about an inch.  Place over high heat and bring to a boil.  Immediately drain the peels and repeat this process one more time. Rinse with cold water and pat dry with paper towels.

In a food processor fitted with the blade attachment, blend the lemon peels with the capers, toasted pine nuts, garlic, Parmesan, dill, lemon juice, salt and sugar. Once the mixture is as smooth as you can get it, add oil slowly and blend until it's fully incorporated.
Recipe Notes
Meyer lemons are my favorite because they're slightly sweet and the skin is very thin -- but you can use any lemons you have.
Save