This Sockeye Salmon Recipe with Peach and Avocado is a wonderful summer favorite. Served over coconut rice, it's a perfect bowl for a casual lunch or light dinner — and it's elegant enough to impress guests.
This healthy wild Sockeye salmon recipe is easy to make and presents beautifully in a rice bowl with peaches and avocado.
Sockeye Salmon is a great choice for any of your favorite salmon recipes.
What is Sockeye Salmon?
Sockeye salmon is also called Red salmon, Blueback salmon or Kokanee salmon.
It's one of the smaller Pacific salmon species. Sockeye salmon are found in the Northern Pacific Ocean and rivers flowing into it.
Sockeye are prized for their vibrant deep orange-red color, which typically remains when they're cooked.
Sockeye salmon is slightly more oily than other species, making it incredibly succulent. It has a strong, but not too "fishy" flavor.
Sockeye salmon is almost always wild caught, which is always my preference for any fish.

Here's why

.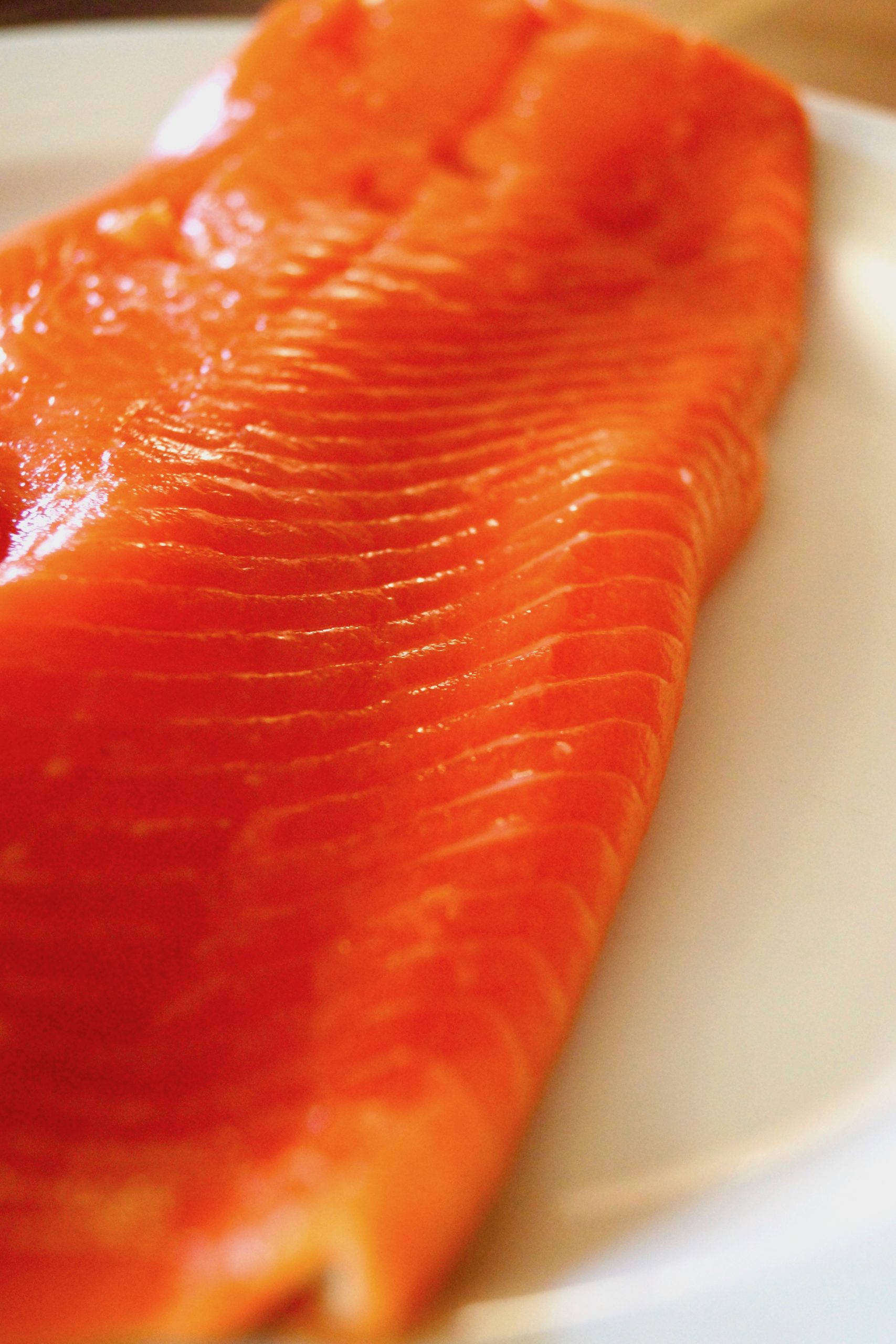 I love the unexpected combination of salmon with peaches.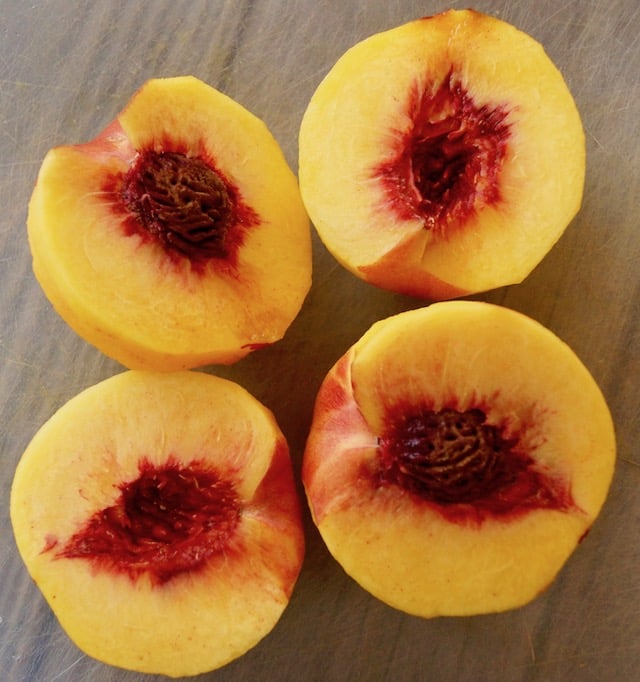 This salmon bowl recipe came together by blending beautiful colors, contrasting textures, and of course, a mix of delicious flavors that are the essence of summer.
Recipe Tips and Substitutions
Do you have to use Sockeye salmon? No. This recipe will certainly work with any salmon you choose. Whatever you do choose, wild is always the best sustainable choice.
I use coconut water to make the rice for this recipe. I love the sweet flavor it adds. If you want to use water instead, that's okay too.
Mango and nectarines are good alternatives to the peaches if you want to switch it up.
This rice bowl would also be delicious with chicken, shrimp or tofu for the protein.
Can you make this Sockeye salmon recipe vegan or vegetarian? Use more of the avocado and peaches and skip the salmon.
What about gluten-free? If you need a gluten-free soy sauce, I really like

San-J Tamari Lite Gluten-Free Soy Sauce

.
This dish is best served room temperature or cold.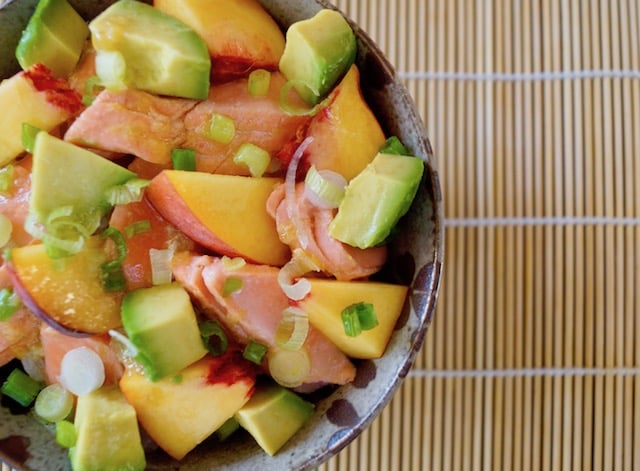 More Summer Salmon Recipes
I love salmon all year, but I especially love cooking with it during the summer months. Here are a few more excellent recipes . . .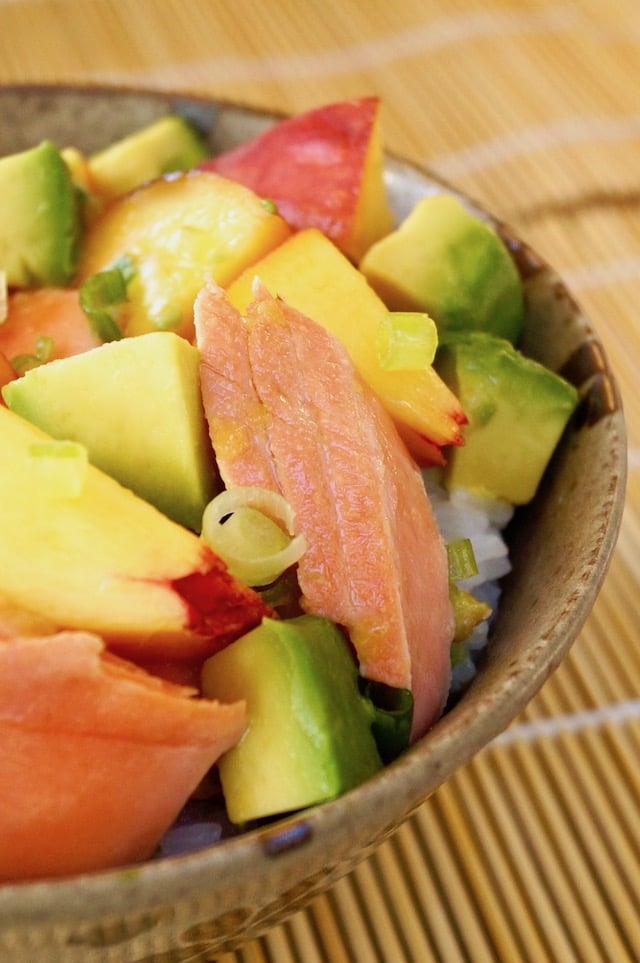 And here is another beautiful Sockeye Salmon Recipe (pictured below).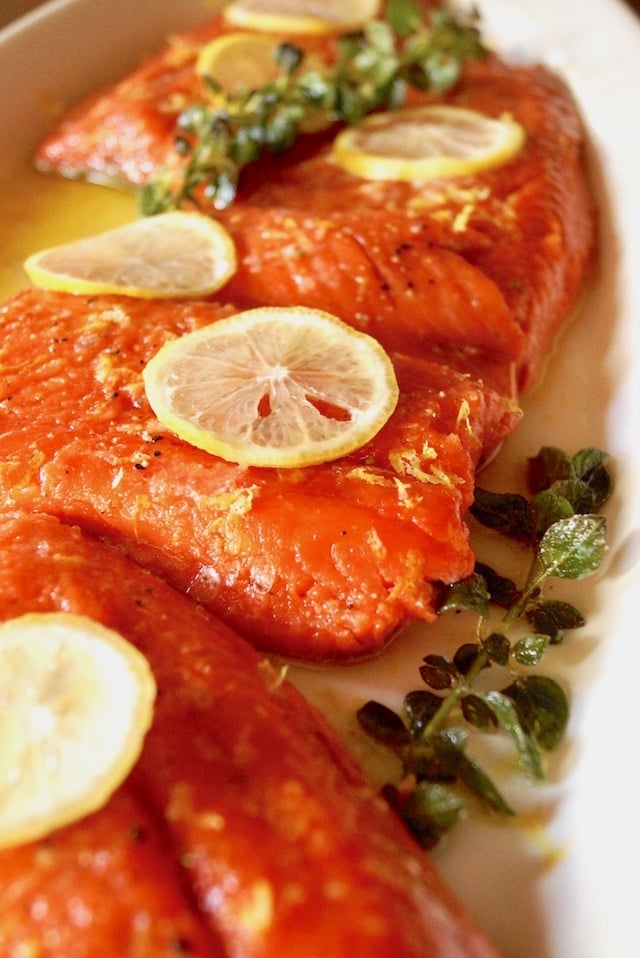 I hope you enjoy every last bite of this Sockeye salmon recipe!
Sockeye Salmon Recipe with Peach and Avocado
This Sockeye Salmon Recipe is served in a bowl over coconut rice and mixed with peaches and avocado. It's lovely for a casual lunch or light dinner -- and it's elegant enough to impress guests.
Ingredients
4

medium-large

fresh peaches (about ½ pound each),

washed and dried

1

tablespoon

honey

1

tablespoon

low-sodium soy sauce

2

teaspoons

freshly grated ginger

1½

pounds

wild-caught salmon fillet,

skin removed

1½

cups

dry rice (I like Jasmine)

3

cups

coconut water

grapeseed oil for the pan

1

large

ripe avocado (about ½ pound),

peeled and cut into bite-sized pieces

2

scallions,

washed and dried, finely chopped

salt and freshly found black pepper
Instructions
Prepare the peaches: Peel 2 of the peaches, remove the pits, and cut them into large chunks. Place them in a food processor fitted with the blade attachment and purée until smooth, about 30 seconds. Leaving the skin on, pit the remaining 2 peaches and cut them into bite-sized pieces. Set aside.

Make the salmon: Stir the honey, soy sauce, and ginger into the peach purée, and add the mixture to a 9 x 13 x 2 inch baking dish. (This is a very thick marinade.) Add the salmon to the marinade in the baking dish. Be sure all of the salmon is well coated with the marinade, cover with plastic wrap and place in the refrigerator for at least 15 minutes and up to an hour.

Make the rice: Add the rice and coconut water to a medium-sized pot and bring to a boil. Reduce the heat to the lowest setting, cover and simmer until all of the liquid is absorbed, about 15 minutes.

Cook the salmon: Generously coat the bottom of a large sauté pan with the oil and place it over medium heat high heat. Remove the salmon from the marinade, letting some drip off, but leaving about half of it on the fish. On a large plate, sprinkle the marinated salmon with salt and pepper. Once the pan is hot, add the salmon. You should hear a sizzling sound -- if you don't it's not hot enough. Wait for the sizzle! Sauté just until it's cooked through, a couple of minutes per side. (It should remain translucent in the center.) Set aside to cool completely.

Combine the ingredients: Add the avocado, scallions and cut peaches to a large mixing bowl. Once the salmon has cooled, use your hands to flake it into bite-sized pieces and add it to the bowl as well. Gently mix to combine.

Spoon the cooked rice into 4 individual serving bowls, or a large serving platter. Evenly top it with the salmon mixture.
Notes
Calorie count is an estimate only.
Have you tried this recipe?
I'd love to see it on Instagram! Tag me at @cookingontheweekends or leave a comment & rating below.
Cooking On The Weekends is a participant in the Amazon Services LLC Associates Program, an affiliate advertising program designed to provide a means for sites to earn advertising fees by advertising and linking to Amazon.com.