This Blackened Mexican Salmon recipe is crusted with a blend of four aromatic and delicious spices: Ancho chile, garlic, onion and oregano. And with a touch of citrus, it's super easy for a busy weeknight and super impressive for a weekend dinner party.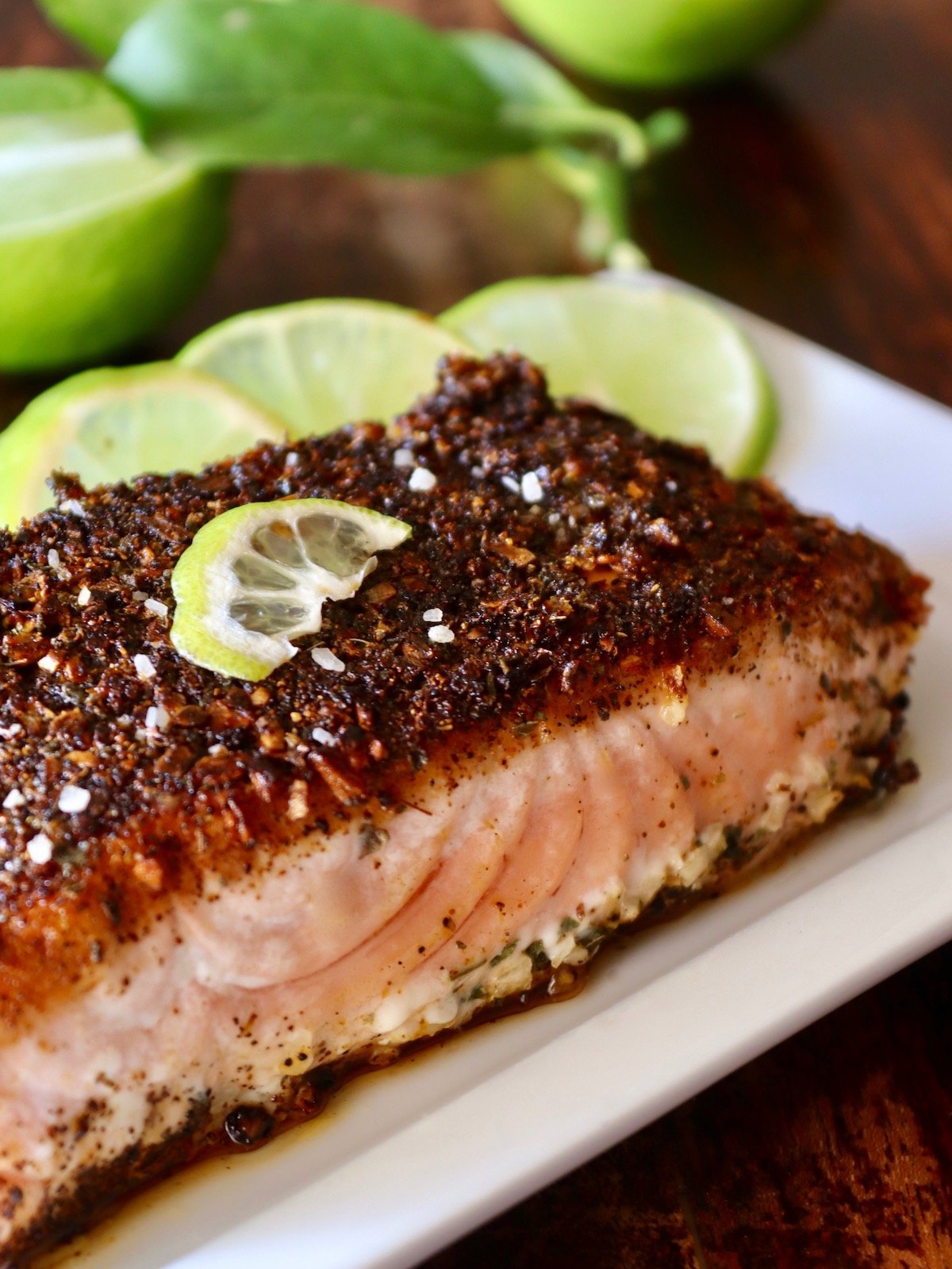 Recipe Ideas can Come From Anywhere
Colors I see, a conversation with a friend — or someone I've just met, the weather, my mood, my fruit bowl, food images in magazines, walking down an aisle in the market, my kids, a book, a TV show, the seasons . . . .
There seems to be no end to where I find recipe inspiration.
Inspiration for the Blackened Mexican Salmon Recipe
The idea for this salmon recipe came to me when I brought home a bag of leftover spice mix I'd made for a cooking project in my son's class at school. (Pozole de Frijol for "Mission Day.")
I've been creating all sorts of recipes with it, but this Blackened Mexican Salmon is the best creation yet!
What's in this recipe?
Fresh citrus juice, Ancho chile, garlic, onion and oregano are what create the blackened "crust" on the salmon fillet.
I'm hoping this fresh and delicious, recipe will be one you always keep up your sleeve. It's perfect for a last minute dinner party — once you have the ingredients set, it really does take just a few minutes and it's so pretty!
What to serve with Blackened Mexican Salmon:
I love this Mexican salmon recipe not only because of how good it tastes, but also because of how beautifully the combination of textures and colors present.
This might just be my new favorite dinner salmon dish!
You can plate each portion of salmon to serve, or place all of them all together on a large serving platter to serve on the table.
If you do the latter, add a few extra lime slices between the fillets of fish, and if you have it, a few sprigs of fresh oregano would be lovely.
I hope you love this Mexican Blackened Salmon recipe as much as my family and I do.
Mexican Blackened Salmon Recipe
With a touch of citrus and a "crust" of spices, this recipe is super easy for a busy weeknight and super impressive for a weekend dinner party.
Instructions
In a small bowl, mix the dried onion, oregano, chile powder, and granulated garlic together.

Sprinkle 1 tablespoon of the spice mix evenly over each salmon fillet. Then use your hands to gently press it down so that it adheres to the fish.


Coat the bottom of a medium-sized sauté pan with grapeseed oil and place it over high heat. Once it's very hot, sprinkle the coated fillets with salt and place them in the pan, skin side up. (If you don't hear a sizzling sound, wait another moment. The pan must be super hot!)

Let the salmon sauté until you can see that the spices have formed a crust, 1 to 2 minutes. Carefully use a flat-bottomed metal spatula to flip the fillets over. Turn the heat to the lowest setting, cover the pan, and cook just about 2 more minutes. It should still look uncooked in the very center. (You can cook it more/longer if desired.)


If desired, you can easily remove the skin from the bottom at this point.

Drizzle a bit of lime juice over each one and serve immediately!
Notes
Please note that cooking times may vary, depending on the thickness of the salmon fillets. (Mine were about 1-inch thick in the center.) You also might like it more well done than me -- I think salmon (& most fish) is best when the center is still translucent.
Have you tried this recipe?
I'd love to see it on Instagram! Tag me at @cookingontheweekends or leave a comment & rating below.
Cooking On The Weekends is a participant in the Amazon Services LLC Associates Program, an affiliate advertising program designed to provide a means for sites to earn advertising fees by advertising and linking to Amazon.com.