Salmon Cabbage Rolls are a beautiful and elegant dish. Salmon and cabbage is one of those perfect culinary combinations -- the textures, the colors, the flavors, it's all delicious together.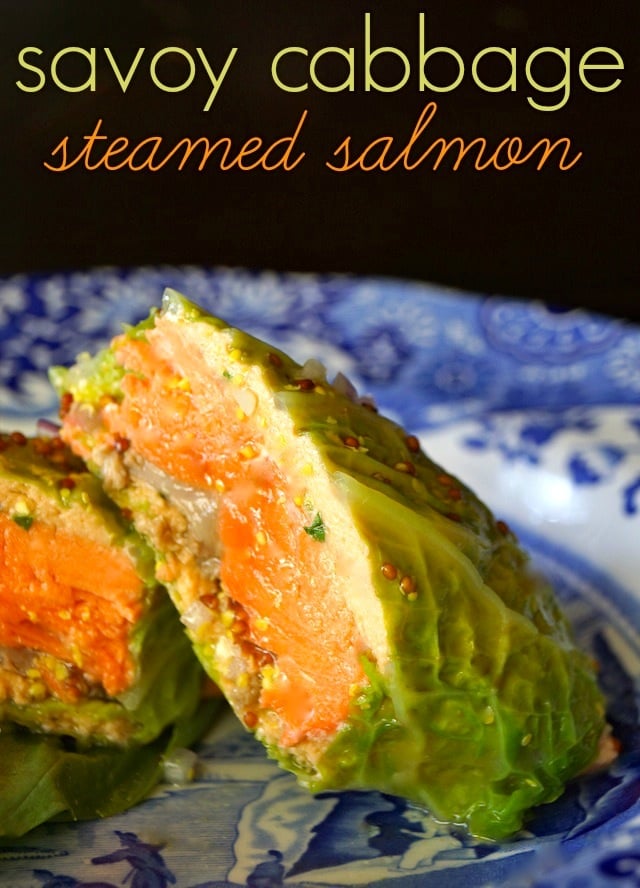 This is one of my favorite salmon preparations and it's inspired from a recipe in Charlie Palmer's Great American Food cookbook.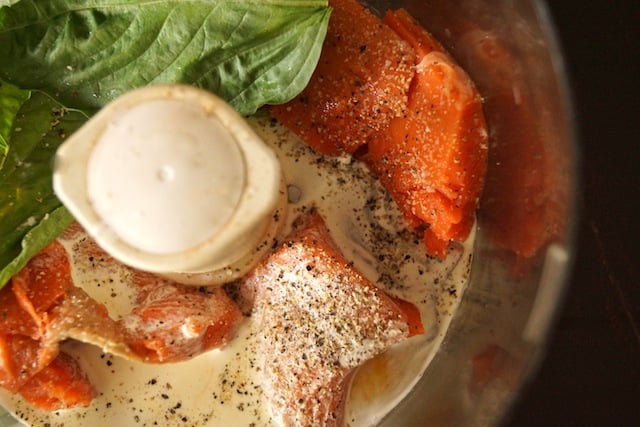 Cooking Perfect Salmon
Salmon is definitely one of those foods that can go from spot on to bad in a matter of seconds.
Delicious salmon has something to do with the flavors it's cooked with, and it has everything to do with not overcooking it.
And of course, it must be very good quality to begin with.
Whether it's sautéed, grilled, roasted, or, in this case, steamed inside cabbage leaves -- it should never be completely opaque.
The salmon should appear slightly raw in the center. When you stop the cooking process at this point, you'll have melt-in-your-mouth, flaky fish. Let it go another minute, and the magic will be gone.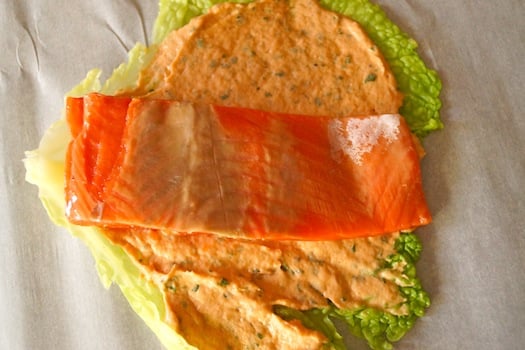 Look a how gorgeous Savoy cabbage leaves are. Remember to pause while you cook. You'll miss some of the beauty if you don't.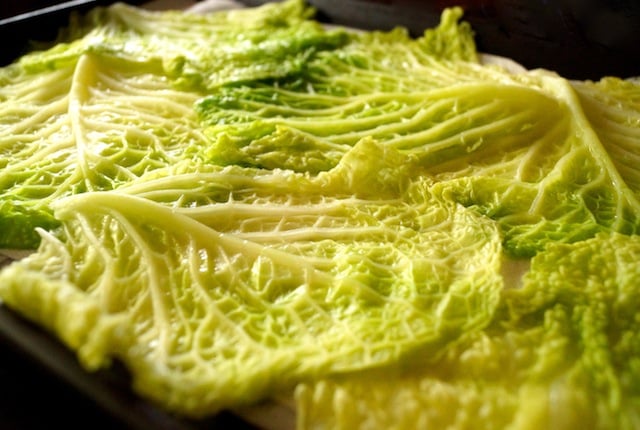 I've been making variations of these Salmon Cabbage Rolls for years, and this one is my favorite.
Steaming the salmon inside the cabbage leaves creates a super succulent texture.
I drizzle a citrus vinaigrette over it which seeps into every crevice.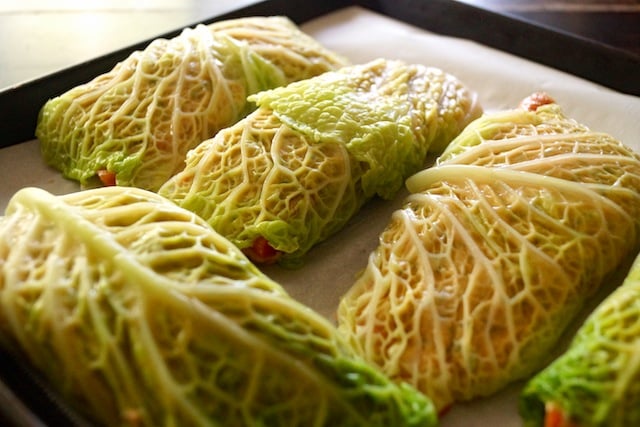 So the next time you're in the mood for salmon and cabbage, don't think past this delectable cabbage steamed salmon recipe!
It might look very intricate, but it's easier than you might think. You can do it! And I promise you, you'll totally wow your guests!
More unique salmon recipes: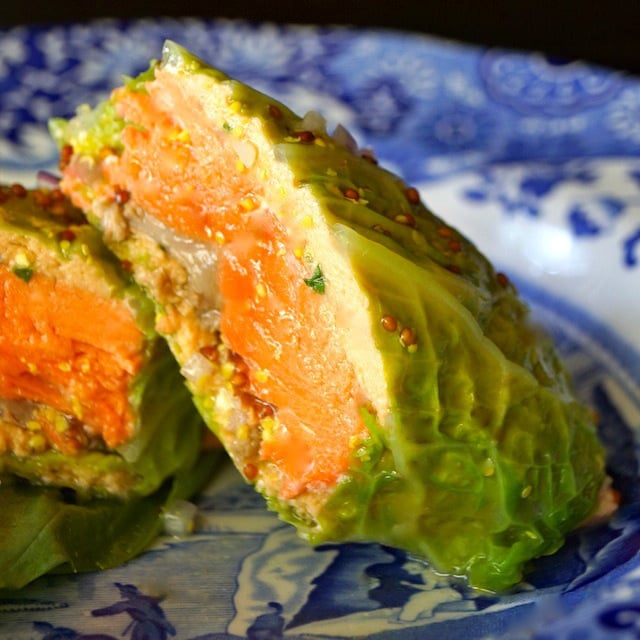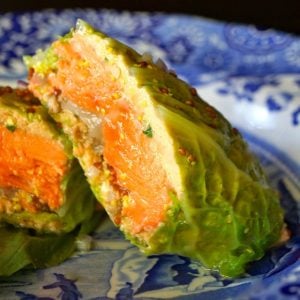 Cabbage Salmon Rolls
Salmon Cabbage Rolls are a beautiful and elegant dish. Salmon and cabbage is one of those perfect culinary combinations -- the textures, the colors, the flavors, it's all perfect together.
Ingredients
For the vinaigrette
⅓

cup

fresh orange juice

1½

tablespoons

whole grain mustard

¾

teaspoons

honey

1½

tablespoons

extra virgin olive oil

2

tablespoons

shallots,

finely chopped
For the salmon
6 to 10

large

Savoy cabbage leaves

(Napa cabbage leaves will also work)

½

pound

salmon,

cut into chunks, skin removed

½

cup

heavy cream

1

large egg

½

teaspoon

salt

a few turns of freshly ground black pepper

10

large

fresh basil leaves,

washed and dried

6

(approximately 4 ounce) fillets

salmon,

skin removed
Instructions
For the vinaigrette
Combine and mix the ingredients. Add the orange juice, mustard and honey to a small bowl. Mix until everything is combined, and then gradually whisk in the oil. Once it's nicely blended, mix in the shallots and season to taste with salt and pepper. (Here's How to Season to Taste). Tip: The best way to taste dressing is with a lettuce leaf.
For the salmon
Prepare the cabbage leaves. Line a baking sheet with a double layer of paper towels and set it aside. Bring a large pot of water to a boil. Add a few of the cabbage leaves at a time to the water, and let them sit only long enough to wilt, about 20 seconds. Use tongs to gently remove them and place them on the paper towel-lined baking sheet. Continue until all of the leaves are wilted. Set aside to cool to room temperature -- they must be no warmer than room temperature when you are ready to use them.

Make salmon mousse. Add the ½-pound of salmon chunks, cream, egg and basil leaves to a food processor fitted with the blade attachment. Blend a tiny bit and then add the salt and pepper. Now blend just until it's smooth. (You will still see small bits of the basil.) The is a salmon mousse.

Assemble the rolls. Use paper towels to pat dry the cabbage leaves if they are still wet, and lay them out on a clean, dry workspace. Spread a thin layer (about ¼-inch or less), of the salmon mousse over each cabbage leaf. Sprinkle both sides of the salmon fillets with salt and pepper. Then place a fillet directly in the center, presentation side down. Now very carefully fold the sides of the mousse-coated cabbage leaves over the fillet -- it should stick nicely. (If there are any particularly tough stems in the cabbage leaves, cut them out and use parts of another leaf to fill in any empty spaces.) Set aside in the refrigerator until you're ready to cook. (You can leave them in the prepared state for up to 6 hours.)

Steam the rolls. Put a large steamer into a large pot with the water level just below it.  Over high heat, bring the water to a boil and then add cabbage wrapped salmon to the rack -- as many as will fit. You may need to do this in two batches, depending on the size of your pot. Cover and steam for 3 to 4 minutes. Just slice into one if you're unsure if they're done -- you want the very center to be orange and almost raw.

Slice rolls, drizzle with heated vinaigrette and serve. Heat the vinaigrette in a small sauté pan and slice each cabbage steamed salmon in half, diagonally. Drizzle each portion with the vinaigrette and serve.
NOTES
Calorie count is only an estimate.
NUTRITION
Have you tried this recipe?
I'd love to see it on Instagram! Tag me at @cookingontheweekends or leave a comment & rating below.
Save
Save
Save
Save