Chimichurri Salmon is made with cilantro and is loaded with fresh ingredients. Easy to make, it's perfect for a busy weeknight, and is definitely beautiful and impressive enough for a weekend dinner party.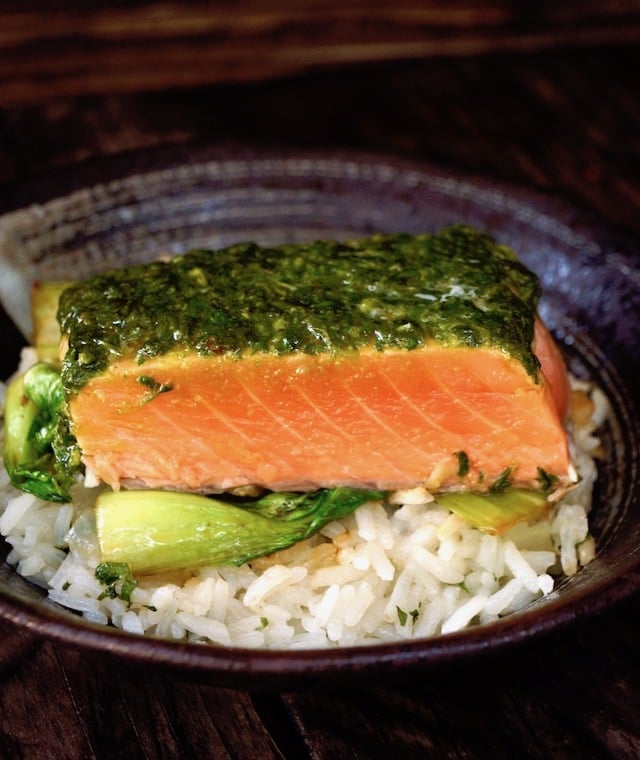 You can whip Baked Cilantro Chimichurri Salmon up in about 15 minutes. Start to finish.
Serve it over rice and sautéed vegetables and you'll be a star. Really, it's an incredibly delicious, healthy and gorgeous dish.
The Ingredients

---
Cilantro Chimchurri
cilantro
garlic
red wine vinegar
lemon juice
cumin
paprika
crushed red pepper
salt
extra virgin olive oil
How to Bake Salmon
---
There are dozens of ways to bake salmon. This is my way. It's simple, tried and true.
Try to purchase evenly sized salmon fillets. This way, they'll all be finished cooking at the same time.
The oven should be preheated to 375°F before you bake the salmon.
You can leave the skin on or off. It's will slide right off after it's baked.
It's best to line your baking dish with foil.
With or without the skin, and with or without foil, drizzle a light coating of olive oil in the pan before adding the fish.
Typically, a good rule of thumb is about 10 minutes per inch of thickness.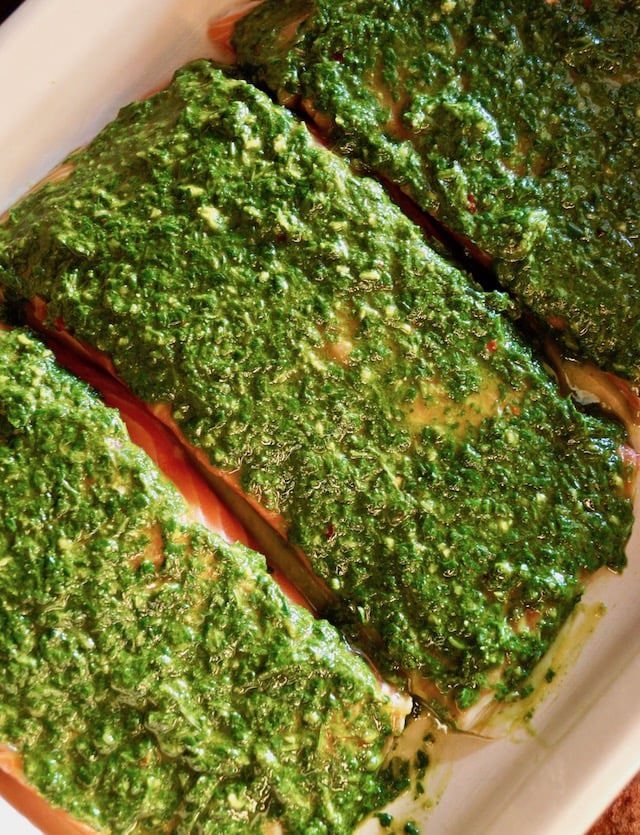 How can you tell when salmon is done cooking?
---
For most fish, and definitely salmon, it's done when it's still slightly translucent in the center. If you take it out of the oven at this stage, it's likely to be perfect. A moment more and it could be on the dry side.
It should literally flake apart when poked with a fork. If it doesn't, it's either still too raw, or it's overcooked.
Please take a look at the image below of the bite of salmon on the fork. Notice how it changes color? It's more opaque on the edges and more of a bright orange towards the center, where it's less cooked.
Serving Suggestions

---
Chimichurri Salmon is absolutely fantastic served over Coconut Cilantro Rice. It's subtly sweet and perfect to soak up any of the chimichurri sauce that escapes the salmon. I serve it with this almost every time I make it.
Along with the rice, almost any sautéed green vegetable is great.
These three together make for a perfect bowl.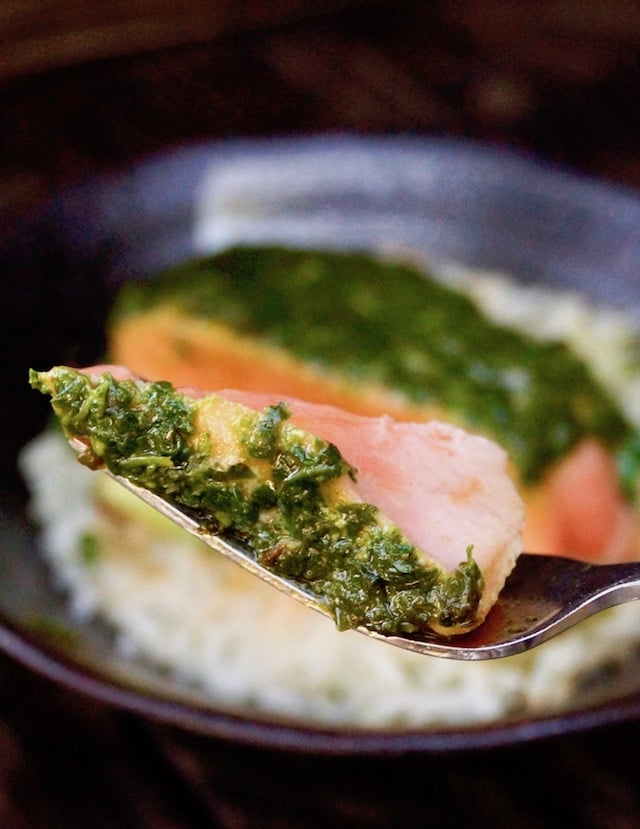 Recipe Tips and Substitutions

---
This recipe calls for 6 (8-ounce) salmon fillets. This is 3-pounds. You don't have to cut it into portions -- this recipe can also be made in larger or smaller fillets, even one very large fillet.
Always ask the fish monger (even in your grocery store!) to portion your fish for you. More often than not, they'll do it.
You can make the Cilantro Chimichurri up to four days ahead of time!
Whether you make it ahead or not, you can save the fifteen minutes and buy

jarred chimichurri

. I doubt you'll find cilantro chimmichurri, but there are some good brands out there.
If  you're not a cilantro fan, there are a few substitutions you can use:

traditional chimichurri with parsley

, your favorite pesto or a green salsa.
I hope you love it!
More delicious salmon recipes: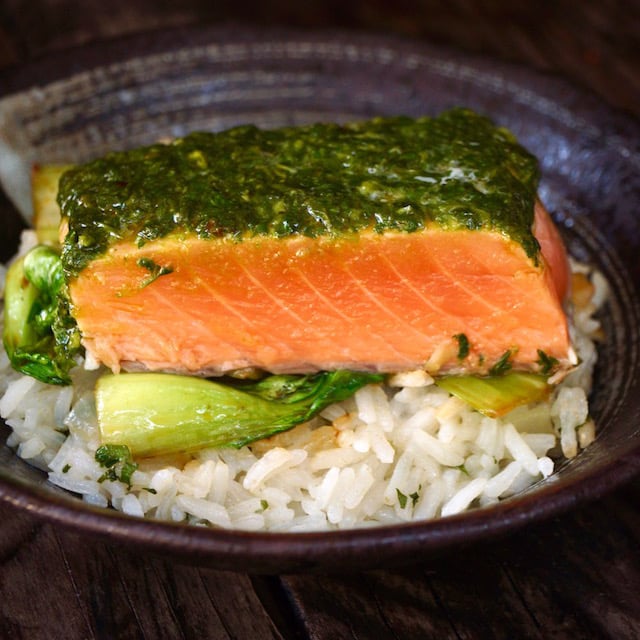 Baked Chimichurri Salmon Recipe
Baked Chimichurri Salmon is full of delicious, fresh ingredients and it's ridiculously easy to make. Perfect for a busy weeknight, and definitely beautiful and impressive enough for a weekend dinner party.
Please note that the chimichurri should be made before you're ready to bake the salmon.
Here's the recipe.
Ingredients
olive oil for the pan

6

approximately (8-ounce)

salmon fillets

(skin on or off)
Instructions
Assemble. Evenly divide the Cilantro Chimichurri among the salmon fillets. Spread it thinly over the entire top surface.

Bake. Place the salmon in the baking pan and bake in the preheated 375°F for about 10 to 12 minutes, depending on its thickness. It should still be slightly translucent in the center. If you're not sure it's done, just cut into the thickest part with a very sharp knife. It should almost flake apart.
NOTES
Calorie count is only an estimate.
NUTRITION
Have you tried this recipe?
I'd love to see it on Instagram! Tag me at @cookingontheweekends or leave a comment & rating below.
Cooking On The Weekends is a participant in the Amazon Services LLC Associates Program, an affiliate advertising program designed to provide a means for sites to earn advertising fees by advertising and linking to Amazon.com.