Breakfast nachos with eggs. Or a Nacho Casserole. Call it what you will, but could there be anything better!? Chipotle Breakfast Nachos are topped with eggs and filled with smoky and rich, delicious Mexican flavors — all on top of warm, crisp chips. And you'll learn an easy way to peel tomatoes in this breakfast, or breakfast for dinner!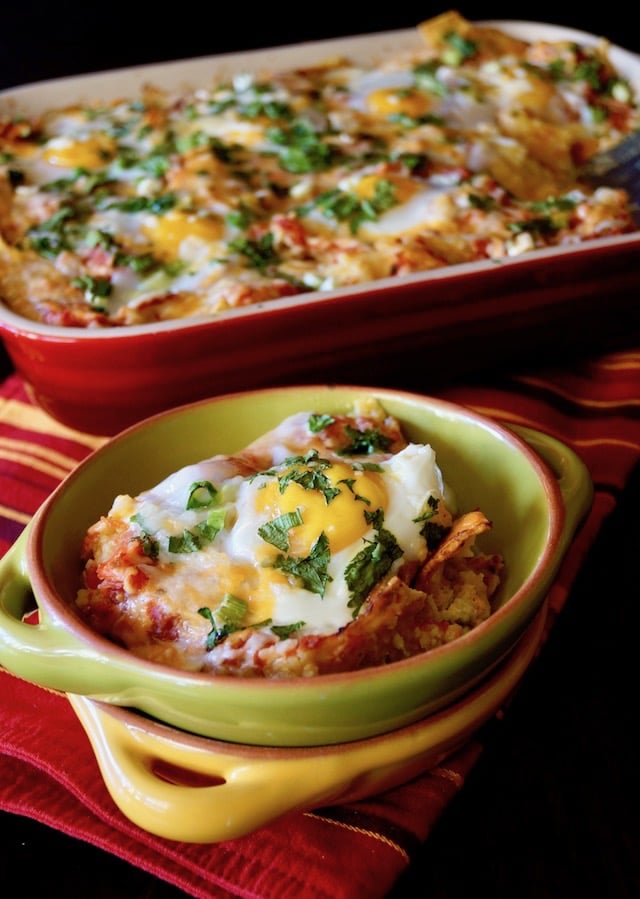 While I'd like to tell you my husband has a very refined palate and is my best recipe "taster," he's not. Of the three boys in my house, you'd think he'd have the most potential.  I mean, for starters, he's the only one over 14.
The thing is, he thinks everything is great.  Wonderful, right?  Well. . . not always.  He says things like, "I loved these grilled peaches," when he's actually eating roasted acorn squash.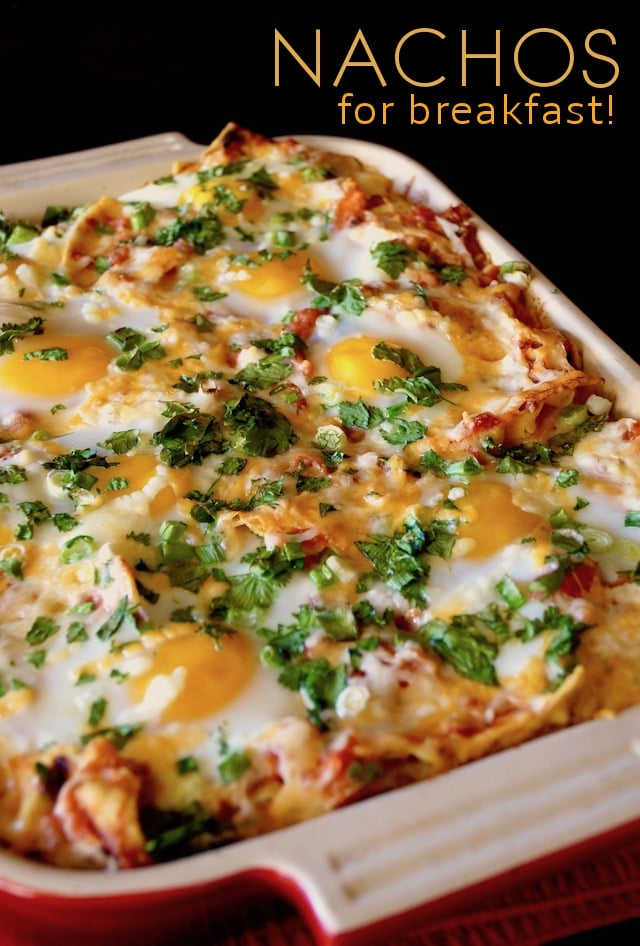 Yes, I know, it's great he likes what he's eating, but as a chef, I'm not thrilled to hear that he thinks he's eating a completely different food than the one I've thoughtfully prepared.
No joke, once he asked what kind of fish he was eating, and it was chicken! Chicken!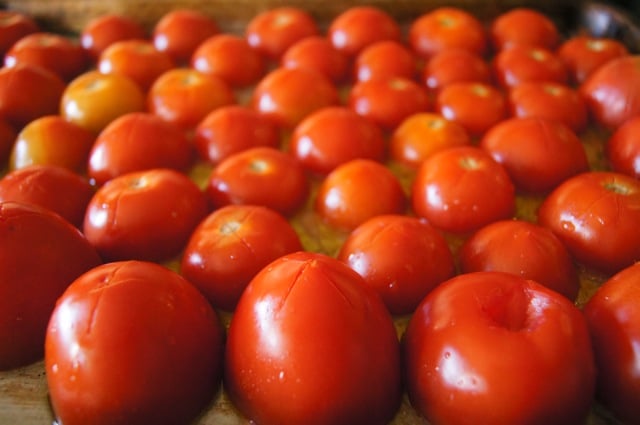 *Awesome, easy way to peel tomatoes is in the recipe below. *
He's also always into a new way of eating. He's gone through a Paleo phase, a Vegetarian phase, phases I've never heard of, and I'm not quite sure what he's doing now, but he's super, super healthy Monday through Saturday, and then on Sundays he's free to eat whatever he wants.
Sundays usually begin with Rice Krispie Treats, and end with ice cream.  And guess who eats his Sunday leftovers Monday through Saturday?
Yep, his not quite as healthy wife!
All of this however, is part of what makes him the guy he is. And I really love that guy.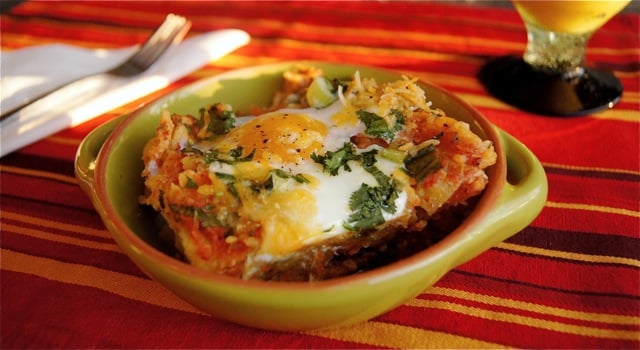 My husband absolutely loves Mexican food, specifically nachos.
I know, fancy, right?
This nacho casserole is however, sort of fancy.  Fancy in flavor, that is — they're smoky, sweet, spicy, and full of fresh scallions and cilantro.  My husband isn't the only one who loves them either — we all do!
And you will too. I'm sure of it.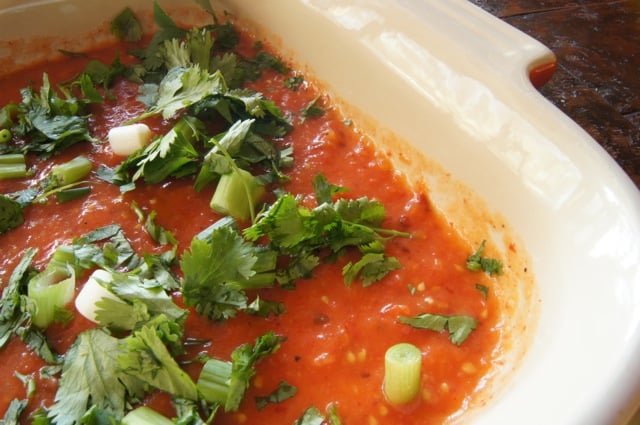 There's no meal that can make my husband happier than nachos — and more specifically, breakfast nachos with eggs cracked over them!
And it must be a Sunday, of course!  (Apparently the chips and tomatoes are a no-no Monday through Saturday.)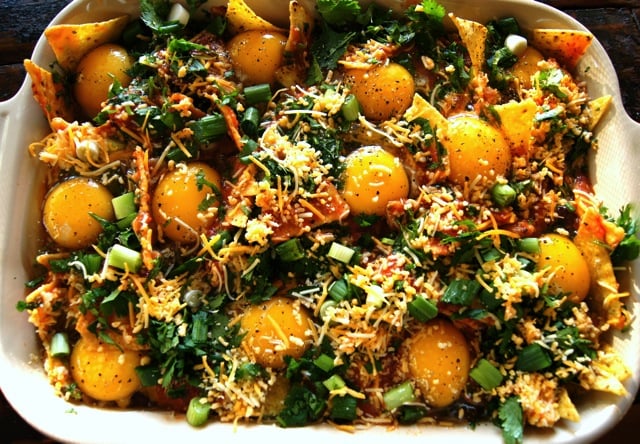 These Chipotle Breakfast Nachos could easily be called a Nacho Casserole or Mexican lasagna; they're really a layering of wonderful Latin flavors and textures.
This would be a fabulous dish to serve for brunch too.  And I'd add to the buffet, scones with Vanilla Fig Preserves, and perhaps a delicious Bloody Mary.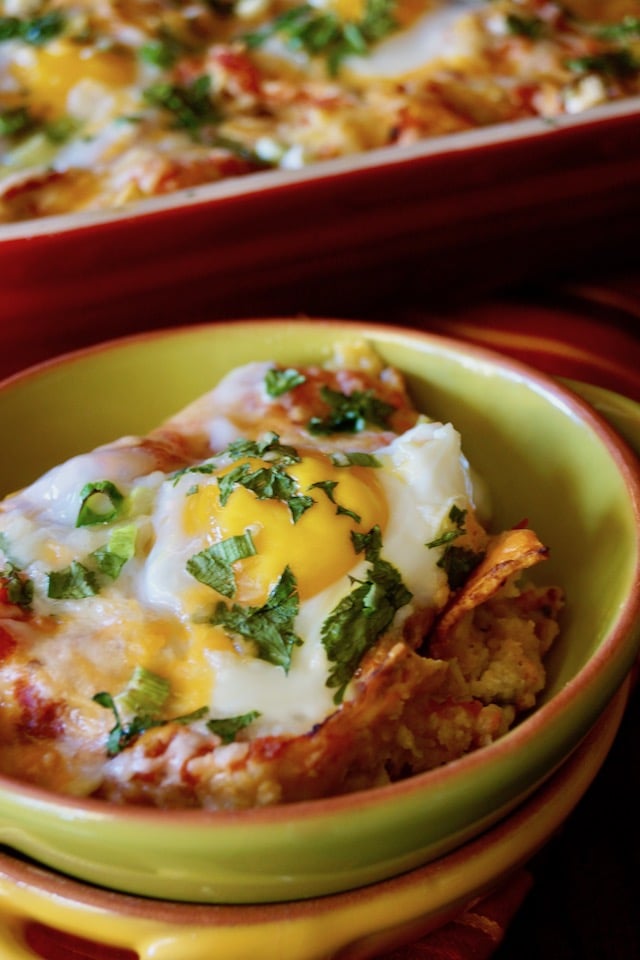 FYI, these Chipotle Breakfast Nachos with Eggs, make for just as great a dinner, as they do breakfast or brunch!
Wanting more smokey chipotle peppers?  Try Smoky Chipotle Parmesan French Fries!
Smoky Chipotle Breakfast Nachos
Chipotle Breakfast Nachos are topped with eggs and are filled with smoky and rich, delicious Mexican flavors -- all on top of warm, crisp chips. This is breakfast, or breakfast for dinner!
Course:
Breakfast, Main Course
Keyword:
great for a crowd
Ingredients
3 1/2

pounds

tomatoes

1

generous tablespoon

chipotles in adobo sauce

1

bunch

cilantro,

washed and dried, roughly chopped

5

scallions,

washed and dried, finely chopped

10

ounces

corn tortilla chips

1 1/4

cups

Mexican cheese mix ((Sharp Cheddar, Monterey Jack are great),

shredded

8

large

eggs

salt and freshly ground blak pepper
Instructions
Preheat the oven to 425 degrees F.

Lightly coat the bottom surface of a baking sheet with olive oil and sprinkle it with salt and pepper.

Use a paring knife to remove the cores from the tomatoes and cut them in half. Then cut an "X" on the round side of each half. Only cut enough to slit the skin. Place the tomatoes flat side down on the baking sheet. Roast the tomatoes in the preheated oven until the skin begins to pull away from the "X," and they are starting to bubble.

Remove the tomatoes from the oven and let them cool for at least 5 minutes. Turn the broiler on.

Once the tomatoes are cool enough to touch, you can easily use your hands to slip the skin off each half. Then sprinkle them with salt and pepper and place them under the broiler just until they begin to char, about 3 minutes. Remove them from the broiler and turn the oven back on -- this time to 375 degrees F.

Pour the tomatoes, along with all of their juices into a food processor. Add the chipotle peppers and blend until you have a smooth mixture. Season to taste with salt. (Here's How to Season to Taste.)


Pour about 1 cup of the roasted tomato-chipotle sauce into a rectangular baking dish, approximately 9 X 13 X 2-inches. Sprinkle the sauce with about 1/3 of the scallions and cilantro, followed by half of the chips. Then add about 1/2 of the remaining sauce, scallions and cilantro on top of the chips. Now sprinkle with 1/2 of the cheese. Add the remaining chips topped with the remaining sauce, most of the scallions, cilantro and cheese -- saving a bit of each for the end of the layering process. Crack 8 eggs into crevices on the top, with at least an inch or so between them. (It helps to use your hands to sort of make a tiny space for each egg, between chips.) Sprinkle with salt, pepper, and the final bits of ingredients.

Bake in the preheated oven, uncovered, until the eggs are cooked to your liking -- I cook them just until the eggs are set, much like I'd cook a sunny-side-up egg -- so that when you puncture the yolk, it runs a bit. The cooking time should be about 35 minutes. Let the nachos cool for about 10 minutes and serve.