Double Chocolate Avocado Cookies are a truly decadent treat. With avocado as the secret ingredient, the texture and chocolatey flavor are out of this world.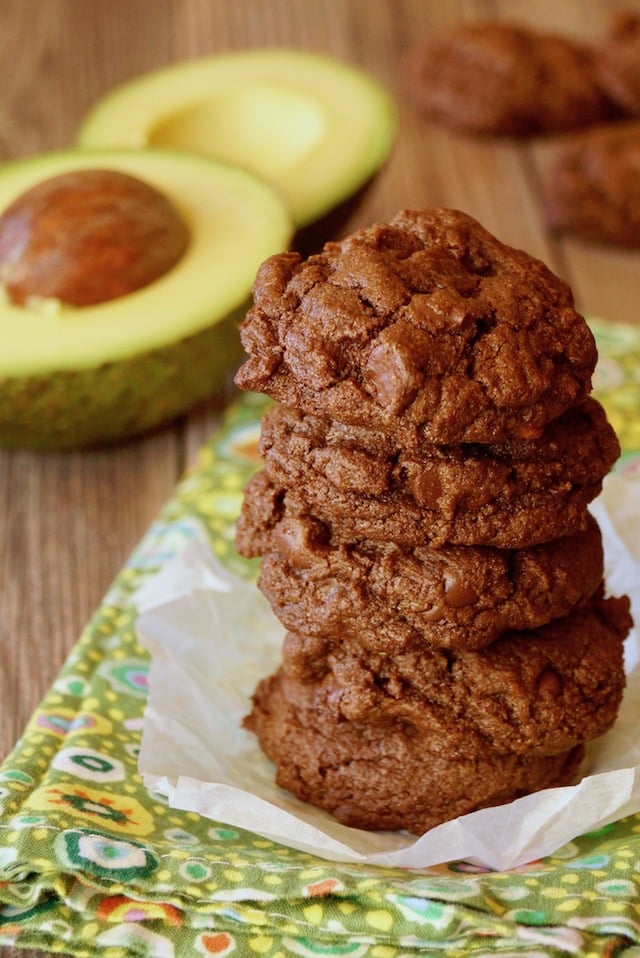 Are you skeptical?
I get it, it might sound odd to make avocado cookies. However, there are a few delicious reasons to think about adding avocados to sweet baked goods.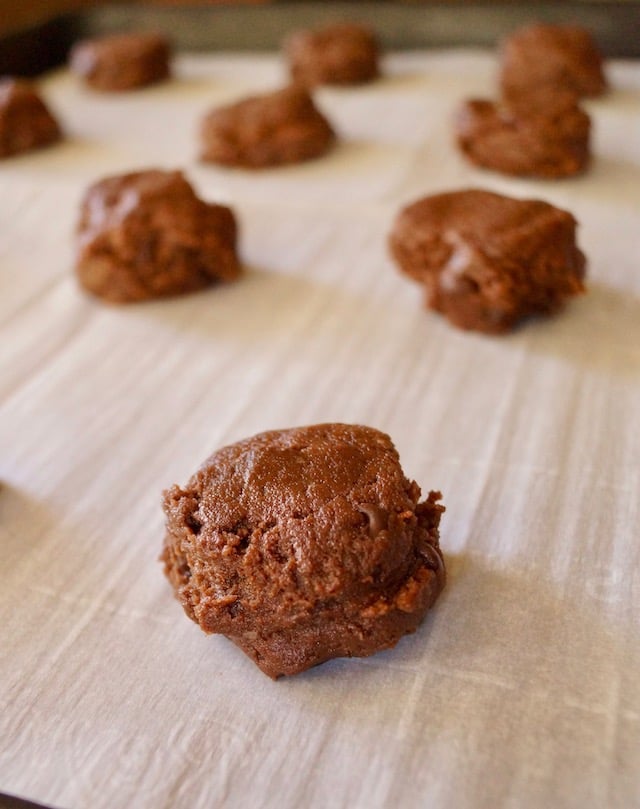 What does avocado do in baked goods?
First of all, packed with vitamins and minerals, it adds nutrition. Who doesn't want that in a cookie? Especially when you only taste the chocolate!?
Since avocado has fat (the good kind!), you can use it as a substitute for butter and oil -- or use a combination of both. Less butter and/or oil, which takes away a few calories.
Avocado usually creates a softer and often chewier texture in baked goods.
And though not a proven result all around, in these Double Chocolate Avocado Cookies, it enhances the chocolate flavor, making it even more intense.
The flavor of the avocado is indistinguishable, yet it adds so much.
If you think chocolate chip cookie dough is tasty, wait till you try avocado cookie dough.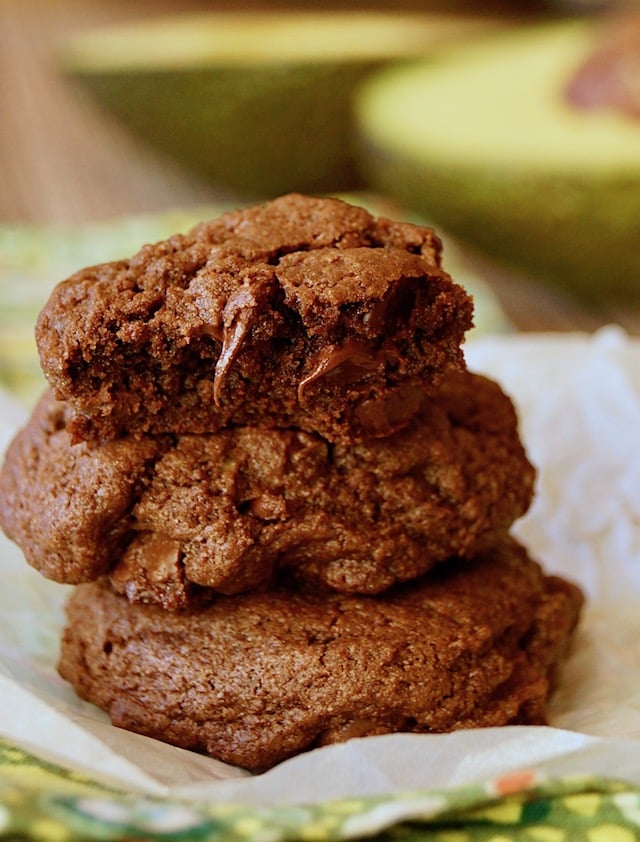 How to Make Them
Chocolate avocado cookies are so easy to whip up and can be eaten fairly quickly after they come out of the oven.
Mix the all of the dry ingredients together.
Mix all of the wet ingredients with the sugars.
Combine the dry and wet mixtures.
Fold in the chocolate chips.
Bake, cool on the baking sheet, and eat.
(More detailed instructions are below.)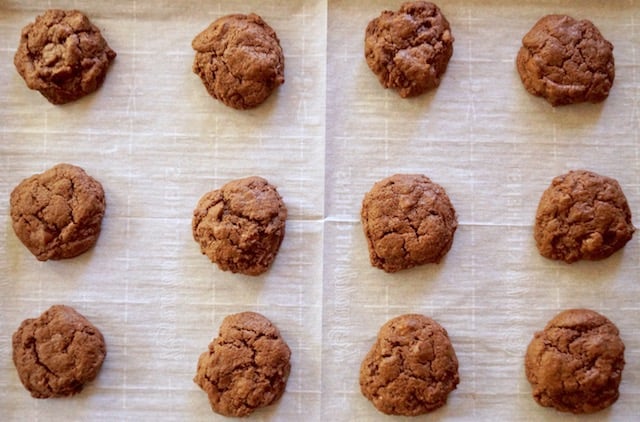 Are Avocado Cookies healthy?
Okay, let's not get too excited. 😉
While they do include the very healthy, good-for-you avocado, we can't exactly classify these cookies as healthy. I would however say that they're definitely healthier than a cookie without avocado.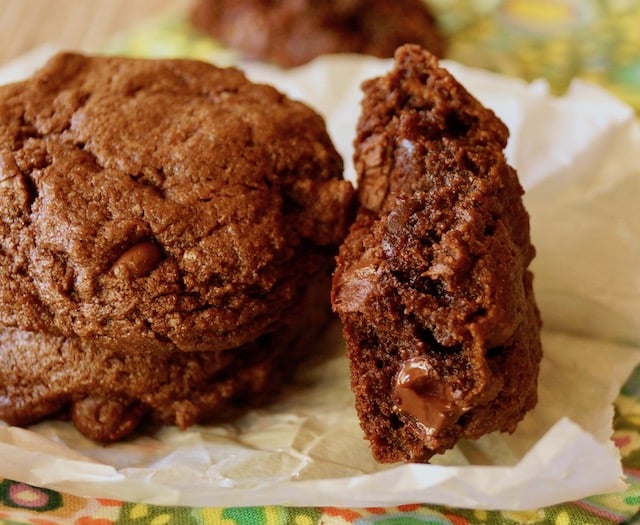 Recipe Tips
It's important to use a very ripe avocado. It should be soft to the touch, but not mushy/overripe (no brown spots, please).
The avocado should be mashed until it's as smooth as possible, though tiny lumps are okay.
I hope you try this recipe and love it!
More avocado dessert recipes:
Double Chocolate Avocado Cookie Recipe
Double Chocolate Avocado Cookies are a truly decadent treat. With avocado as the secret ingredient, the texture and chocolatey flavor are out of this world.makes 4½ to 5 dozen cookies / serving size: about 2 cookies
Ingredients
2⅓

cups

all purpose flour

¾

cup

cocoa powder

1

teaspoon

baking soda

1

teaspoon

salt

1

cup

unsalted butter,

softened

⅔

cup

ripe avocado,

mashed (about ½ large avocado)

2

tablespoons

olive oil

1

cup

granulated sugar

1

cup

brown sugar (light or dark)

1

tablespoon

pure vanilla extract

1

large

egg

2½

cups

semisweet chocolate chips
Instructions
Set oven and prepare baking sheets. Preheat the oven to 350°F, and line two baking sheets with parchment paper. Set aside.

Make the batter. In a medium-sized bowl, combine the flour, cocoa powder, baking soda, and salt. Set aside.

In another medium-sized mixing bowl, use an electric mixer or a wooden spoon to mix the butter with the avocado, olive oil, both sugars and vanilla. Mix until it's very smooth and slightly lighter in texture. Add the egg and mix to blend. Then add the flour mixture and only mix until it's incorporated. Fold in the chocolate chips.

Shape. Use two small spoons or a 1½ inch cookie scoop, to shape the batter into balls that are about ⅛ cup. Place them on the parchment-lined baking sheets as you go, about two inches apart. Gently press each one down a bit with the palm of your hand, to flatten them just slightly.

Bake. Bake the cookies in the preheated 350°F oven for about 12 to 14 minutes. They should be very soft when they are removed from the oven, and will firm up as they cool.

Cool. Let them cool on the baking sheets for about 15 minutes.
NOTES
Calorie count is only an estimate.
NUTRITION
Have you tried this recipe?
I'd love to see it on Instagram! Tag me at @cookingontheweekends or leave a comment & rating below.
Cooking On The Weekends is a participant in the Amazon Services LLC Associates Program, an affiliate advertising program designed to provide a means for sites to earn advertising fees by advertising and linking to Amazon.com.