Pumpkin Almond Cookies for Halloween and Thanksgiving are the perfect way to celebrate fall. These adorable cookies are super delicious and fun.  I love serving these, and they also make for a delightful gift.
Yesterday my six-year-old son asked me if next year we could please get some "gory" and "really scary" Halloween decorations.
Apparently our current Halloween decorations are "cute."
The truth is, I love "cute!" Gory and scary . . . not so much.
For me this holiday is simply a fun part of fall — it's harvest time, it's pumpkin time!  It's time to make cookies for Halloween and Thanksgiving.
How cute are these pumpkin almond cookies!?
Adorable for Halloween. . . .
And perfect for Thanksgiving, too!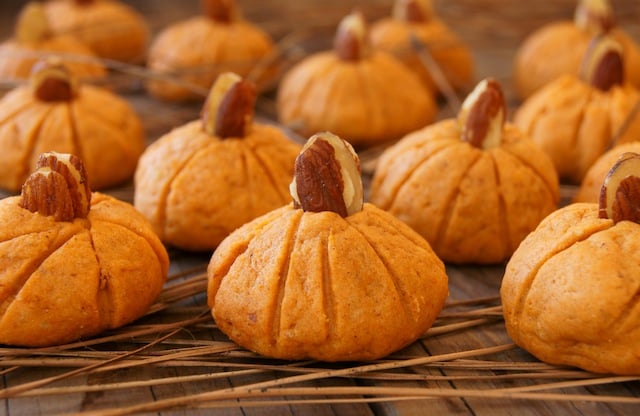 Really, they're lovely for any occasion during the fall season.  I love bringing a bundle of these in a basket with a pretty cloth napkin, to every get together I'm invited to this time of year.
I'm calling them cookies for Thanksgiving also, because pumpkin season doesn't end with Halloween. Nope, it carries on through November.  And I'm telling you, your Thanksgiving host will be wowed by these beauties.
And of course they're incredibly tasty!
Last year I went a little out of my Halloween comfort zone and added a spider to my treat  — remember my Spooky Spider Chocolate Truffles?
Spider and all, somehow they were still cute!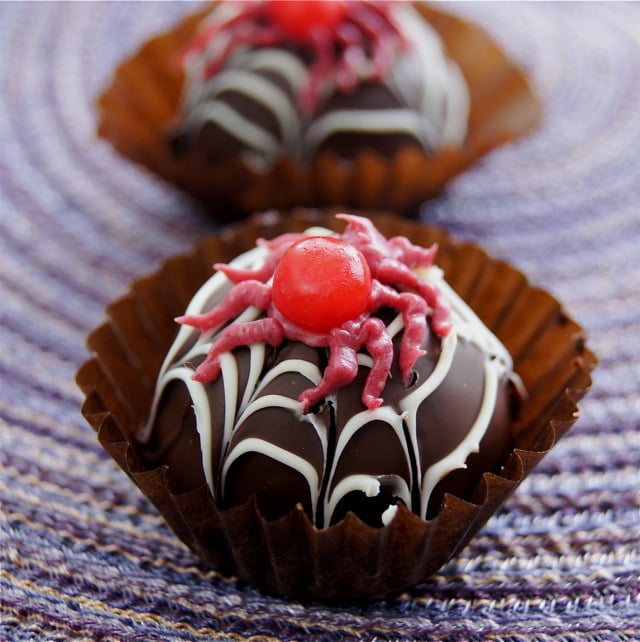 Oh and if your're wondering, our decorations consist of outdoor candy corn lights, a few hanging bats, a couple of (smiling) Frankenstein window decals, and a big spider web with a big spider!
And yes, of course I said we can get more gory next year, not that I really wanted to. 😉  I'm sure each year I'll get better with gory part of Halloween.  It is fun to see all of it through my boys' eyes.
If you're into cute Halloween treats like me, you will also love these Frankenstein Kiwis from Two Healthy Kitchens — cute and healthy!
Enjoy every last crumb of these darling Pumpkin Almond Cookies!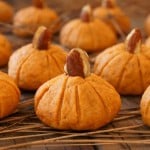 Pumpkin Almond Cookies Reicpe
These cookies are the perfect way to celebrate fall. These adorable cookies are super delicious and fun. I love serving these, and they also make for a delightful gift.

*Makes about 4 1/2 dozen

Keyword:
dessert for Halloween party
Instructions
Line two baking sheets with parchment paper. Set aside.

In a large mixing bowl, combine the butter with the powdered sugar. Mix for about a minute or so, until it's a bit lighter and very smooth.

Add in the pumpkin, vanilla, almond meal, salt, and spices. Mix until smooth. At this point, you can add a tiny bit of orange food coloring if desired. (I used about a very small bit for the cookies in the images you see here, just to brighten them slightly.)

Fold in the flour and mix only until it's evenly incorporated.

Shape dough into approximately 1-1/2 tablespoon-sized balls. Gently roll each one between the palms of your hands to create a smooth, even surface. Place them on one of the prepared baking sheets as you go, fairly close together. Cover tightly with plastic wrap and refrigerate until the cookie batter balls are firm, at least 3 hours, and ideally overnight.

Preheat the oven to 350 degrees F.

Remove the the baking sheet from the refrigerator and then use the back of a small knife to make several vertical lines in around each ball, all coming together at the top center. Add them to the other prepared baking sheet as you go, being sure there's about an inch between each one.

Bake in the preheated 350 degree F oven until bottoms are slightly golden and the cookies are solid, about 15 minutes.

While the cookies are still quite warm, insert a few of the sliced almonds to the top of each "pumpkin," where the lines meet, to form the "stem." Try to find slices with the almond skin for the outsides of the stems.

Let the cookies cool on the baking sheets.
Recipe Notes
If you can find honey roasted, sliced almonds, even better!
Save
Save