This Braised Brisket Stew Recipe is the epitome of what I think of as a comfort food. It's warm and cozy with fork-tender meat, and a sauce full of vegetables that have taken on its delicious flavor.
The mere thought of cooking something slowly in the oven all day gets me excited!
Making something like this beef brisket stew is my favorite type of cooking.  I'm talking about cooking that is slow and that completely transforms food into something even more flavorful and delicious.  This is what I think of as comfort food kind of cooking.
You need to love flavor and cooking for this — and you need to have a considerable amount of available time.  This is what I love do — which is why of course, I'm often cooking on the weekends!
Brisket is a tough cut of meat that needs hours to become tender.  Once it does, brisket is  incredibly delicious and it will melt-in-your-mouth.
I love to serve this beef brisket stew recipe over something like this Creamy Gorgonzola Polenta.
Or you can serve it over rice, pasta, mashed potatoes, or — my favorite way — with a thick, crusty, slice of roasted garlic bread.
While this beef brisket stew recipe is a brilliant addition to a Hanukkah or another holiday dinner, it's also perfect for a super cozy, casual dinner party.  Or any night!  This is the type of stew you can make ahead and still wonderful — perhaps even better.  (You can make it up 4 days ahead of time.)
Really, any way you serve this, it will be absolutely scrumptious.
And that's a promise!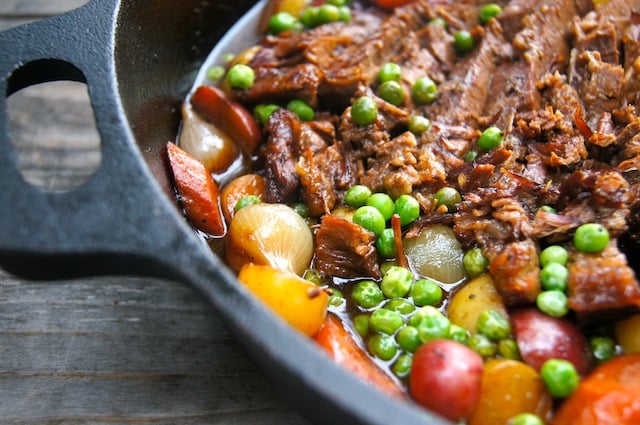 My mom has been making beef brisket stew for as long as I can remember, and she always wings it.  And she wings it perfectly!  After years of interrogating her about her method (well, her method of winging it), I have come up with this scrumptious recipe.
Can you think of a more pleasant way to spend your weekend?
Enjoy!
Braised Brisket Stew Recipe
This stew recipe is the epitome of what I think of as a comfort food. It's warm and cozy with fork-tender meat, and a sauce full of vegetables that have taken on its delicious flavor.
*Please note that the majority of the prep time is inactive.
Ingredients
1

(2 1/2-pound)

beef brisket

2

tablespoons

Worcestershire sauce

olive oil for the pan

1

cup

Pearl onions,

peeled

1

cup

Peewee potatoes,

washed, dried and cut in half

2

large

carrots,

peeled, and cut into 1/4-inch slices

1

cup

beef stock

1/2

cup

red wine

1

cup

frozen peas

thawed

sea salt and freshly ground black pepper
Instructions
Preheat the oven to 250 degrees F, and coat a large oven safe skillet (cast iron is perfect) -- or use a Dutch oven with olive oil.

Rub the brisket with the Worcestershire sauce, coating it evenly, and season both sides generously with salt and pepper.

Place the brisket, fat side up in the oil coated pan, and cover it with a fitted lid or heavy-duty foil. Place the brisket in the preheated oven for 6 hours.

Remove the brisket from the oven, and place it on a large plate. (Leave any juices in the pan.) Let the brisket cool slightly, and then use the back of a knife or a spoon to gently scrape off the fat and discard it.

Place the meat on a cutting board and cut it into thin (about 1/2-inch) slices -- against the grain! Set aside.

Turn the oven up to 300 degrees F.

Place the pan with the brisket juices on the stove over medium-high heat and add the onions. Once they're beginning to brown, add the potatoes and carrots. Cook the vegetables until they are all nicely browned, about 7 minutes.

Move the vegetables to the sides of the pan and use a large, flat-bottomed spatula to return the sliced brisket to the center of the pan.

Pour the stock and wine over the meat and vegetables and cover the pan. Place in the preheated oven and cook until the meat is extremely tender and the vegetables are soft, about 1 hour.

Stir in the peas, season generously with salt and pepper to taste and serve.
Save
Save
Save
Save