This Braised Brisket Stew Recipe is the epitome of comfort food! It's warm, cozy, filled with tender meat, and a sauce full of vegetables that have taken on its delicious flavor. And we'll learn how to cut brisket perfectly.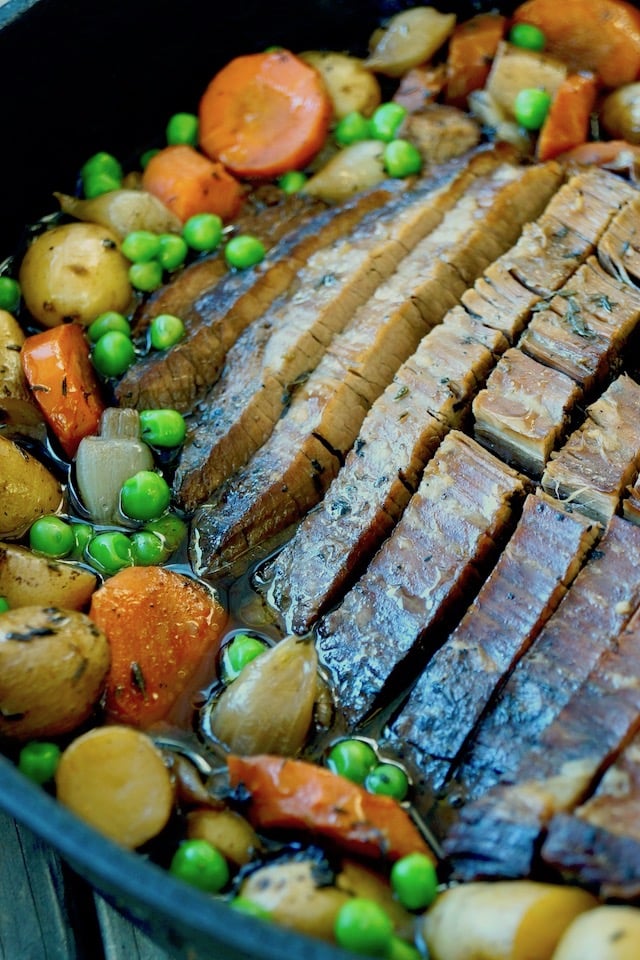 Inspiration
During the cooler months, my mom made this stew a couple of times a month, at least. It was sort of her signature dish . . . .
The mere thought of cooking something slowly in the oven all day gets me excited. I know, quirky. Or just someone who loves the entire process of cooking.
Making something like this beef brisket stew is my favorite type of cooking. I'm talking about cooking that is slow and that completely transforms ingredients from their original state into something totally different, that's of course incredibly flavorful and delicious.
What is Brisket?
Brisket is a cut of beef from the chest of the animal.
An entire brisket is made up of two muscles that overlap.
Brisket is a very tough cut of meat that needs hours of cooking time to become tender. Once it does, brisket is unbelievably delicious and it will melt-in-your-mouth.
The key to how to cut brisket perfectly is to slice against the grain.
How to Cut Brisket
Once a brisket is cooked, place it on a large plate to cool slightly.
Use the back of a knife or a spoon to gently scrape off the fat and discard it.
Place the meat on a cutting board and cut it into thin (about ½-inch) slices -- against the grain! If a brisket is not cut against the grain, it will almost completely fall apart.
Do you see how tender that is!? The slices are almost -- but not quite -- falling apart. And when all of the other goodies are added, it does actually fall apart into bite-sized pieces. Perfect.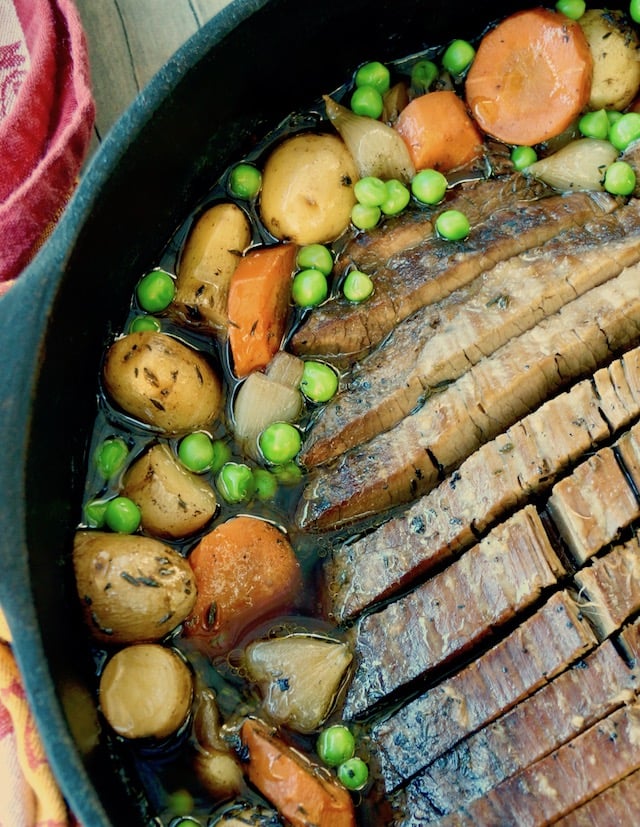 While this beef brisket stew recipe is a brilliant addition to a Hanukkah or another holiday dinner, it's also perfect for a super cozy, casual dinner party. Or any night!
This is the type of stew you can make ahead and still wonderful -- perhaps even better.
*You can make Braised Brisket Stew up 4 days ahead of time.*

What to Serve with Brisket
I love to serve this beef brisket stew recipe over something like this Creamy Gorgonzola Polenta.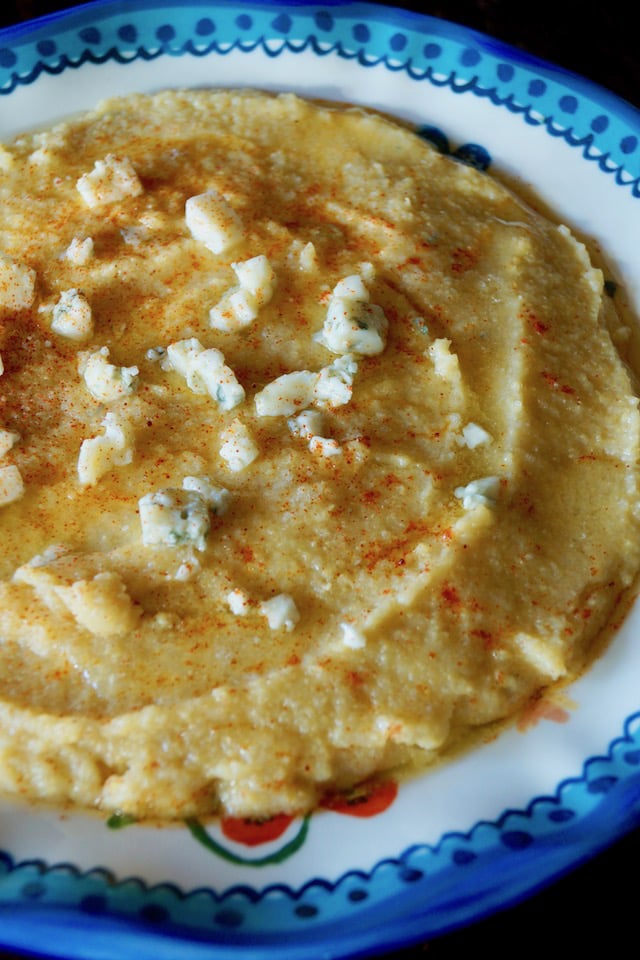 Or you can serve it over rice, pasta, mashed potatoes, or -- my favorite way -- with a thick, crusty, slice of roasted garlic bread.
The brisket stew sauce is relatively thin -- it's not a gravy-like consistency, which is why it's lovely to have something to eat it with, something to gather any of the sauce left in the plate.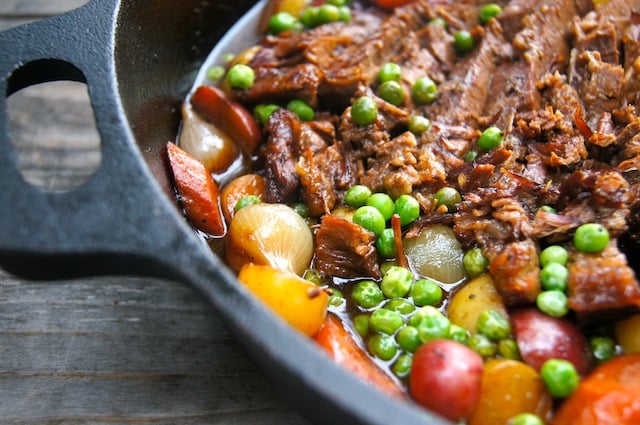 I love making this in my 12-inch cast iron skillet, because I can do every step of the cooking in it -- from the stove to the oven, and I can even serve from it.
Really, any way you serve this, it will be absolutely scrumptious. It's perfect for Cooking On The Weekends! 😉
Can you make this ahead?
Yes! It only gets better with time. You can make it up to four days ahead of time.
This is the way my mom always made and served her beef brisket -- for as long as I can remember. She always winged it. And she winged it perfectly!
After years of interrogating her about her method (well, her method of winging it), I created this scrumptious recipe.
Enjoy every last bite of this amazing beef brisket stew!
What is exactly is a comfort food? Read this article to find out!
More scrumptious Brisket Recipes: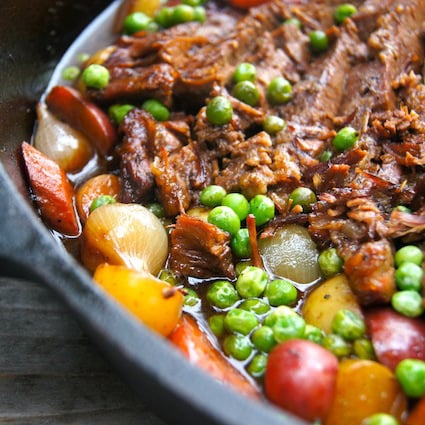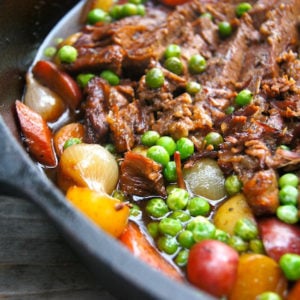 Braised Brisket Stew Recipe
This stew recipe is the epitome of comfort food. It's warm and cozy with fork-tender meat, and a sauce full of vegetables that have taken on its delicious flavor. *Please note that the majority of the prep time is inactive.
Ingredients
1

(2 ½ pound)

beef brisket

2

tablespoons

Worcestershire sauce

olive oil for the pan

1½

cups

Pearl onions,

peeled

1

cup

Peewee potatoes,

washed, dried and cut in half

2

cups

carrots,

peeled, and cut into ¼-inch slices

2

teaspoons

dry thyme

1¼

cup

beef stock

¾

cup

red wine

1

cup

frozen peas

thawed

sea salt and freshly ground black pepper
Instructions
There will be a relatively thick layer of fat on one side of the brisket. Leave it! Rub the entire brisket where there isn't fat, with the Worcestershire sauce, coating it evenly, and then season both sides generously with salt and pepper.

Place the brisket, fat side up in the oil coated pan, and cover it with a fitted lid or heavy-duty foil. Place the brisket in the preheated oven for 6 hours.

Remove the brisket from the oven, and place it on a large plate. (Leave the juices in the pan!) Let the brisket cool slightly, and then use the back of a knife or a spoon to gently scrape off the fat and discard it.


Place the meat on a cutting board and cut it into thin (about ½-inch) slices -- against the grain! Set aside.

*You can do all of the above 1 day ahead of the below, if desired. If you do, after the meat cools to room temperature, cover it tightly and place it in the refrigerator overnight. 

Turn the oven up to 300°F.

Place the pan with the brisket juices on the stove over medium-high heat. If the juices are excessive, remove enough so that the bottom of the pan is just lightly coated. And save what you've removed for later! Add the onions and once they're beginning to brown, add the potatoes and carrots. Cook the vegetables until they are all nicely browned, about 7 minutes.


Mix the thyme into the vegetables, and move them to the sides of the pan and use a large, flat-bottomed spatula to return the sliced brisket to the center of the pan.

Pour the stock, wine and the set aside pan juices, over the meat and vegetables and cover the pan. Place in the preheated oven and cook until the meat is extremely tender and the vegetables are soft, about 1 hour.
NOTES
Calorie count is only an estimate.
NUTRITION
Have you tried this recipe?
I'd love to see it on Instagram! Tag me at @cookingontheweekends or leave a comment & rating below.
Cooking On The Weekends is a participant in the Amazon Services LLC Associates Program, an affiliate advertising program designed to provide a means for sites to earn advertising fees by advertising and linking to Amazon.com.