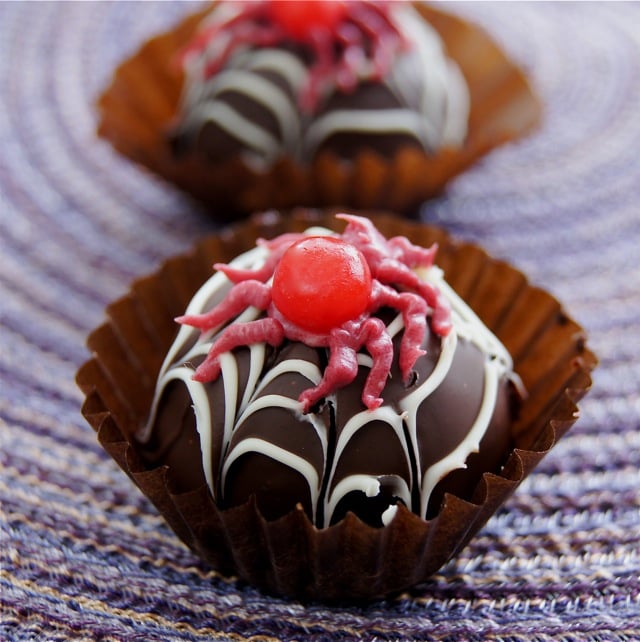 Halloween and I are not a match made in heaven.  I'm not a big fan of gooey candy.
I hate horror flicks.  Ghosts, vampires and goblins are not my thing!  (Shhh! Please don't tell my kids!)
My best Halloween may have been when I was nine — and a very petite little girl.  So naturally, I dressed up as the Incredible Hulk.  That same year, my brother dressed up as a trashcan.
We thought we were so cool!
So no Halloween tricks from me!  Rather, a gourmet treat!  I hereby present a classic chocolate truffle, topped by a fancy red spider!
Oh my!  Awesome and delicious!
They do take time to create, but they will be a spectacular dessert at any Halloween party!
Spiders not your thing?  How about a cute, tasty Pumpkin Almond Cookie?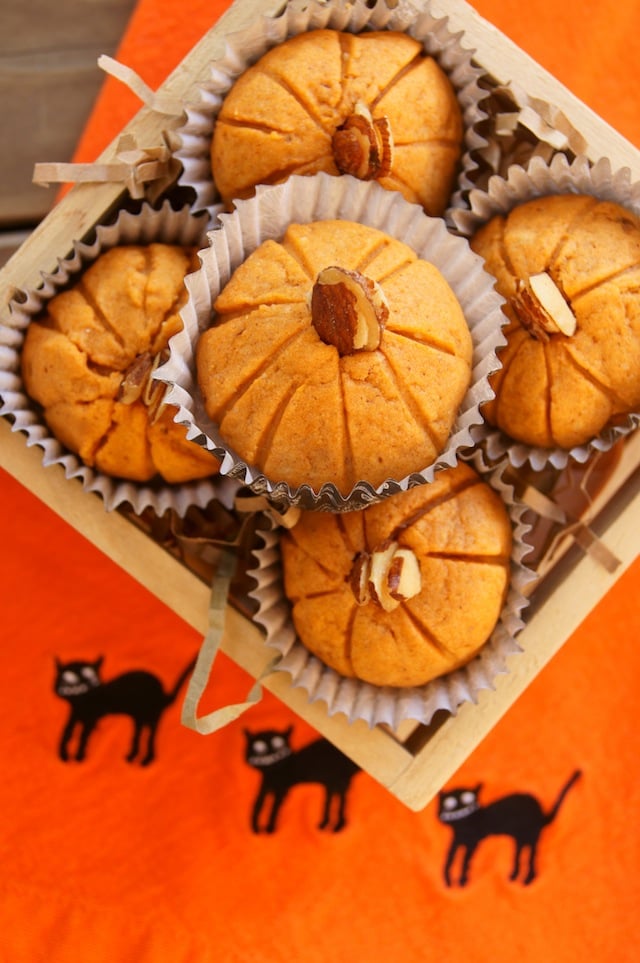 Enjoy!
Timeline
up to 4 days and at least 6 hours ahead: make the ganache
up to 8 hours ahead: melt the chocolate, dip and decorate the truffles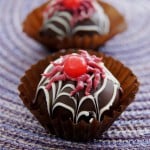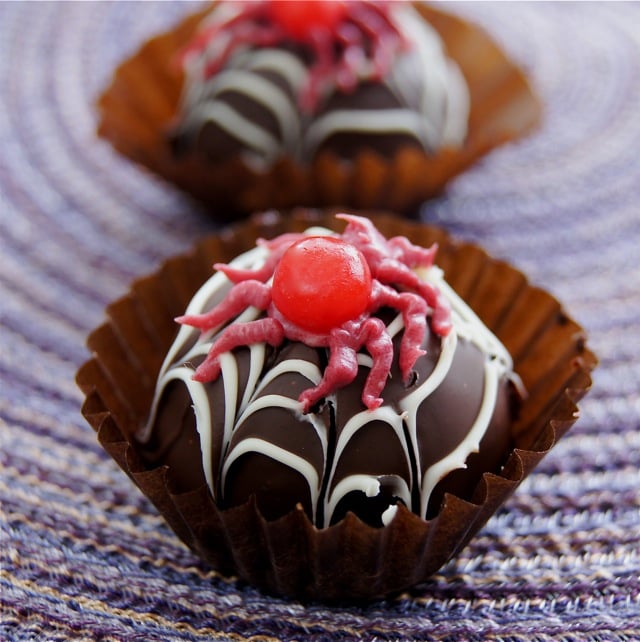 Halloween Recipe: Spooky Spider Chocolate Truffles
Please note that in addition to the 1 hour prep time, you will also need to chill the ganache overnight. Makes about 1 dozen.
Ingredients
10-

ounces

bittersweet chocolate

finely chopped (I love Scharfen Berger)

4-

ounces

heavy cream

1/4

teaspoon

vanilla extract

2-

ounces

white chocolate

Red food coloring

Tiny

round, red cinnamon candies
Instructions
Place 4-ounces of the finely chopped chocolate in a small mixing bowl and cover a baking sheet with parchment paper. Set aside.

In a small saucepan, scald the cream with the vanilla. Tiny bubbles will appear on the edges of the pan, and it should be very hot but not boiling.

Pour the hot cream over the 4-ounces of chocolate and let sit for 4 minutes. Use a spoon to stir to blend the cream and chocolate together. This mixture is called ganache.

Cover with plastic wrap and chill in the refrigerator until it becomes completely firm, at least 6 hours, and ideally overnight.

Remove the ganache from the refrigerator and, using a 1-1/4-inch scoop, scoop out about 1 dozen truffles, placing them on the parchment-covered baking sheets. Now place the shaped truffles in the refrigerator for at least 30 minutes.

In two separate bowls, melt the remaining 6-ounces of bittersweet chocolate and white chocolate. Once melted, remove about a teaspoon of the white chocolate and use a bit of red food coloring to turn it red. Now place the white and red chocolate into two very small pastry bags, preferably made out of parchment paper -- or you can use a small zip-lock baggie. You want the tiniest tip possible!

Using a fork, carefully dip each truffle into the melted chocolate to coat it evenly. That done, place it on the other parchment-covered baking sheet. You can use a small knife to help you remove the dipped truffle from the fork. As soon as each truffle is dipped, use the white chocolate to "draw" a spiral line going around and around the truffle. Then, starting from the top center of the truffle, use a toothpick to "draw" lines down the sides of the truffle. This must be done when both chocolates are wet! That is, right after the truffle has been dipped! The truffles will set at room temperature. Place a tiny red candy on top of each truffle, and use the red chocolate to "draw" the top part of the spider's body and four legs on each side.

Once set, you can put each truffle into a cute paper cup!
Save
Save
Save
Save
Save