Persimmon Salad with Honey Pistachios is as delicious as it is beautiful! With blue cheese, creamy balsamic dressing, and cranberries in the mix, this colorful dish is perfect for the holiday season.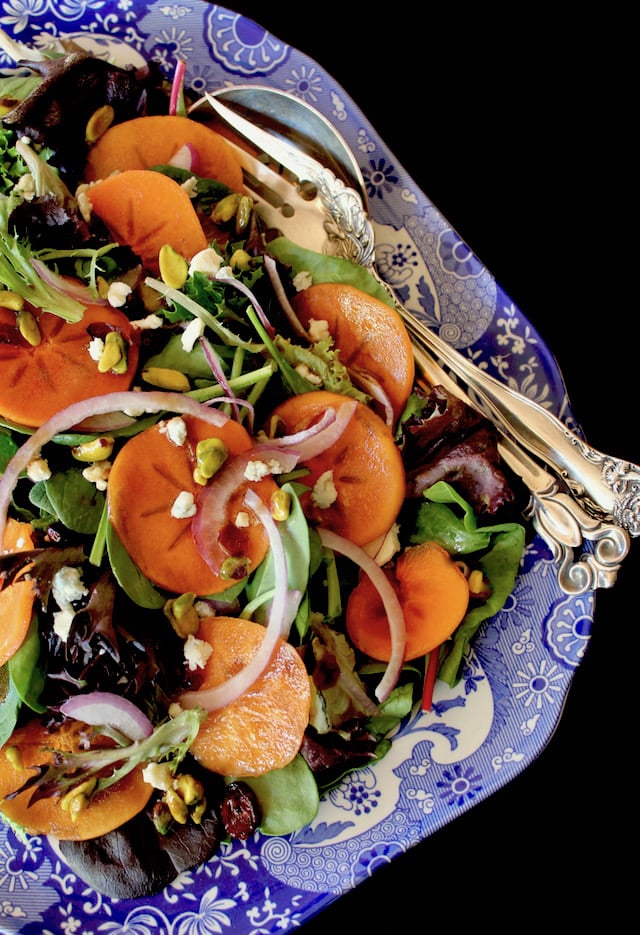 Composing a salad like this is similar to painting. The presentation is all about the colors and textures.
And the flavor is all about combining sweet and savory.
This persimmon salad is one of my favorite recipes to make during the winter, and it's especially lovely for a holiday table.
Two Common Asian Persimmon Varieties
There are two common types of Asian persimmons; Hachiya and Fuyu.
Fuyu persimmons are short and squat. They are ripe when they're firm and slightly soft to the touch. Fuyus can be peeled, sliced, or bitten into, just like an apple. They are ideal for salads.
Hachiya persimmons on the other hand, have an elongated shape, and are extremely tart if they're not absolutely, supremely ripe. When ripe, they are incredibly soft and have a silky smooth pulp inside. Hachiyas are typically used for baking, not eating on their own.
What do persimmons taste like?
The flavor of persimmons is a bit reminiscent of pumpkin and mango, with subtle notes of honey.
Can you eat persimmon skin?
The short answer is yes, you can eat persimmon skin.
Personally, I prefer to peel them. While the skin is not too tough, it's not as thin or soft as the skin of an apple. This is just a matter of taste.
Recipe Tips and Substitutions
I wouldn't try to use Hachiyas in this persimmon salad. Remember, these are best for using their pulp in baking, only when they're super soft -- way too soft to slice. In addition to Fuyus, there are a couple less common persimmon varieties that you can use; Cinnamon persimmons and

Sweet Pumpkin persimmons

.
If you would like to use nuts other than pistachios, spiced pecans or walnuts would be delicious with the honey. (I love the pistachios because the green is so pretty and festive -- not to mention they're super tasty.)
I really like slicing the persimmons horizontally to show off their beautiful inner pattern, but they can be sliced in wedges as well. Either way, I prefer them peeled.
There's a light sprinkle of cayenne on the honey pistachios. Omit this if you don't want the bit of heat.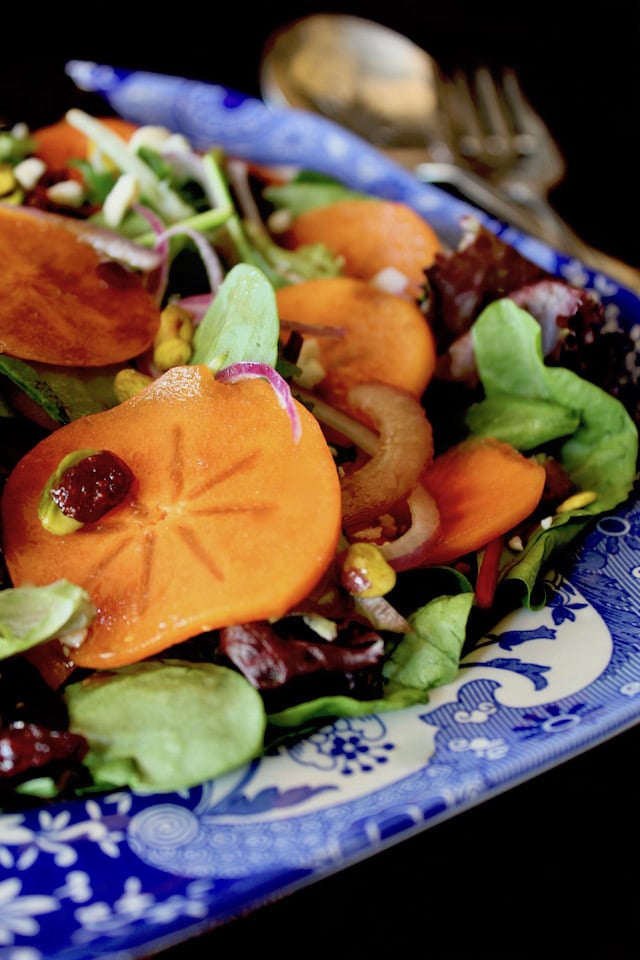 Enjoy, and I hope you love this persimmon salad as much as my family and I do.
More recipes with persimmons you'll love: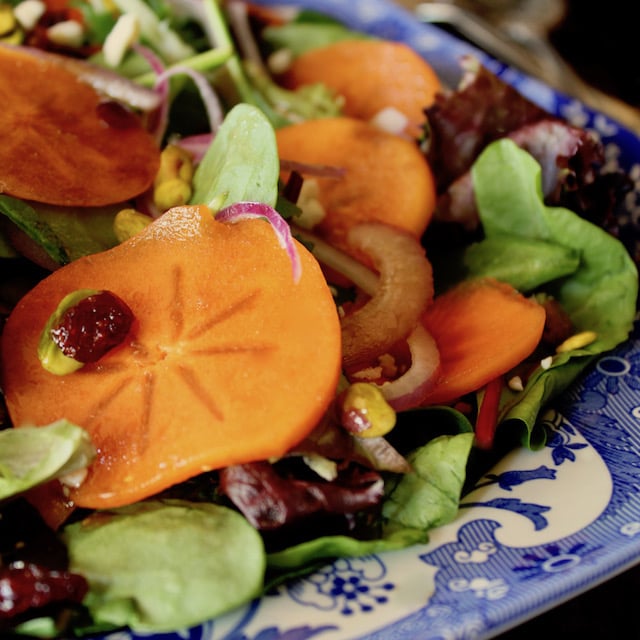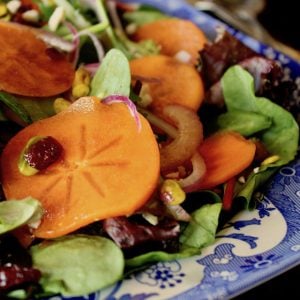 Persimmon Salad with Honey Pistachios
Persimmon Salad with Honey Pistachios is as delicious as it is beautiful! With blue cheese, creamy balsamic dressing, and cranberries in the mix, this colorful dish is perfect for the holiday season.
Ingredients
For the dressing
2

tablespoons

balsamic vinegar

1

tablespoon

orange juice

1

teaspoon

whole grain mustard

3

tablespoons

extra virgin olive oil
For the salad
about 2

Fuyu persimmons,

peeled and thinly sliced

about 6

ounces

mixed baby greens,

washed and dried

¼

cup

thinly sliced red onion

¼

cup

crumbled blue cheese

¼

cup

dried cranberries

¼

cup

pistachios

honey

cayenne pepper
Instructions
For the dressing
Mix the ingredients together. Add all of the ingredients to a small jar, screw the lid on tightly and shake. Or, add everything except the oil to a small bowl and then whisk in the oil gradually. Season to taste with salt and pepper. (Here's how.) Set aside. You will likely have more dressing than you will need. Save it for your next salad.
For the salad
Combine all of the ingredients. In a large mixing or serving bowl, combine the greens with the red onion, blue cheese, cranberries and sliced persimmons. Place the pistachios on a plate, drizzle them with honey and sprinkle them with a touch of cayenne pepper. Add them to the salad and mix.

Dress the salad. Add the desired amount of dressing, toss and serve.
NOTES
Calorie count is only an estimate.
NUTRITION
Have you tried this recipe?
I'd love to see it on Instagram! Tag me at @cookingontheweekends or leave a comment & rating below.
Cooking On The Weekends is a participant in the Amazon Services LLC Associates Program, an affiliate advertising program designed to provide a means for sites to earn advertising fees by advertising and linking to Amazon.com.