Peanut Butter Chocolate Meringue Pie is like one big, delicious S'more in the shape of a pie. It's an over-the-top dessert for any occasion!Do you like S'mores?
What about pie?
How about peanut butter?
Um . . . . well then, you're going to love this Peanut Butter Chocolate Meringue Pie Recipe!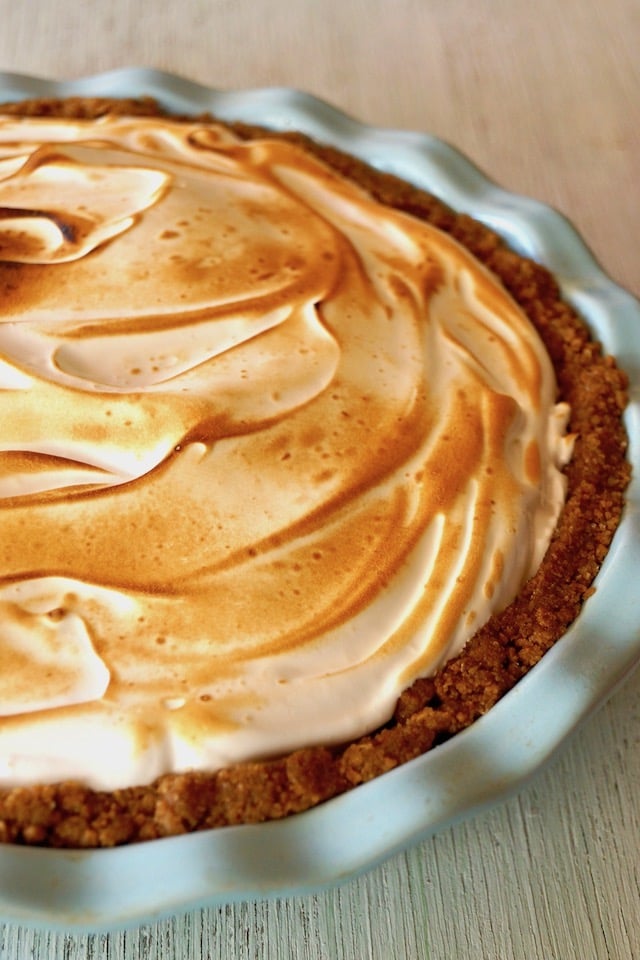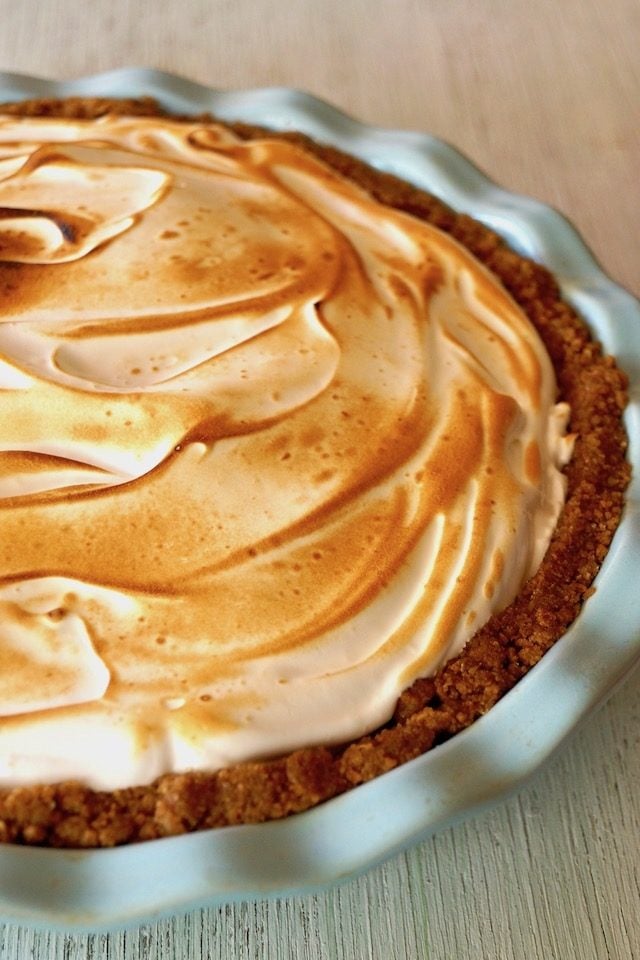 Let's talk layers.
This pie has three layers:
Graham Cracker Crust (gluten-free option) -- This is made of graham crackers, sugar and melted butter.
Milk Chocolate-Peanut Butter -- This is essentially a milk chocolate

Ganache

, with the addition of creamy, salted peanut butter.
Swiss Meringue -- Swiss meringue becomes the lightly charred "marshmallow" of the S'more.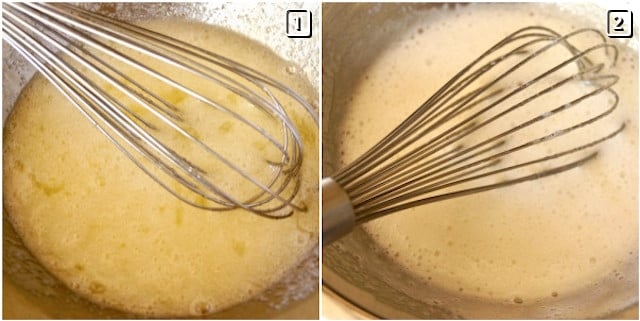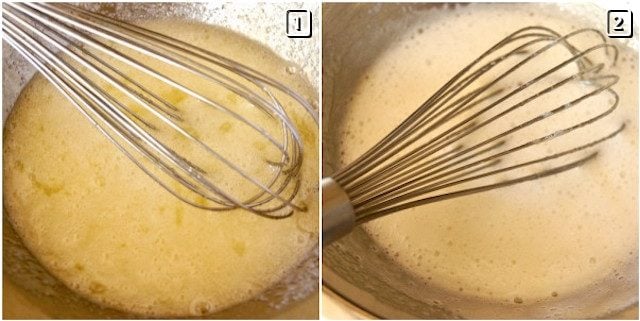 What is Swiss Meringue?
There are three types of meringue -- French, Italian and Swiss. We use Swiss meringue in this recipe. It's made by beating egg whites and sugar together over a pan of hot water until the sugar has dissolved, then beating until the mixture reaches stiff peaks.
I love the Swiss meringue for this Peanut Butter Chocolate Pie because it becomes very marshmallow, making it perfect for the S'more vibe I am going for.
(French meringue is simply made by whisking sugar with egg whites, and Italian is made by whisking a hot sugar syrup into beaten egg whites .)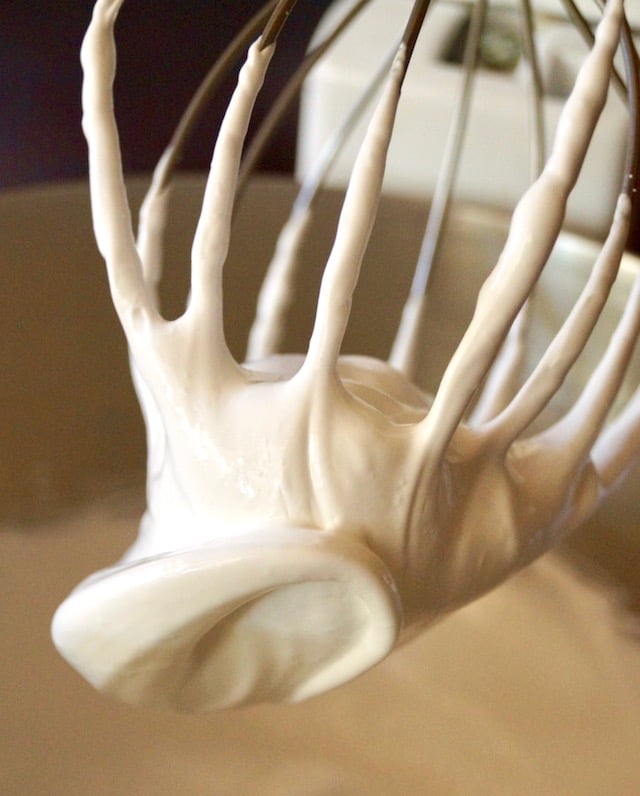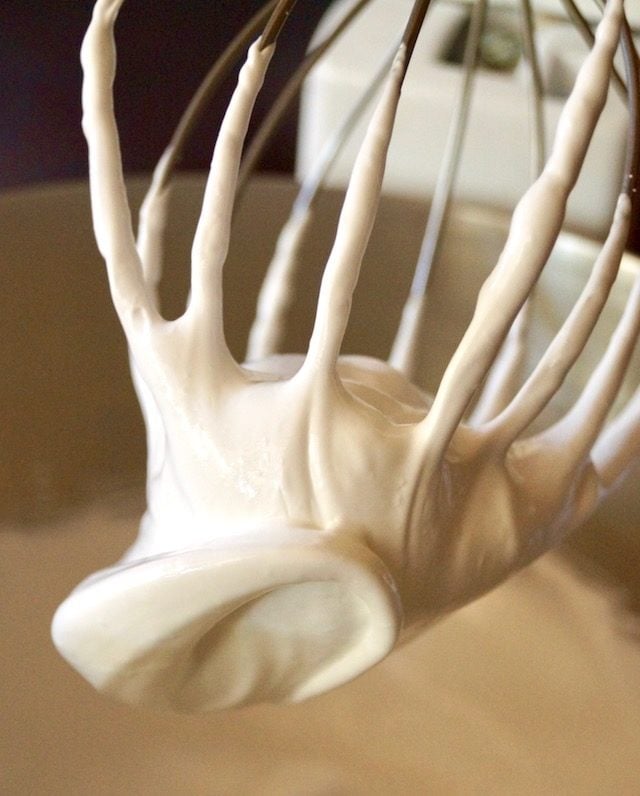 Recipe Tips
If you're gluten-free, or baking for someone who is, you can use gluten-free graham crackers.

Pamela's Gluten-Free Honey Grahams

are my favorite.
Are you a dark chocolate only person? No biggie -- use dark instead of milk.
Be sure to whip the meringue long enough, until there are stiff peaks. If you don't, the meringue will be too loose and droop over the pieces when you slice the pie. It will still be delicious, just not quite as neat.
Can't imagine this will be the case for many, but if for some reason, you don't like peanut butter, you can simply leave it out. 😉
For the prettiest slices of this pie, refrigerate it for at least an hour and a half before slicing.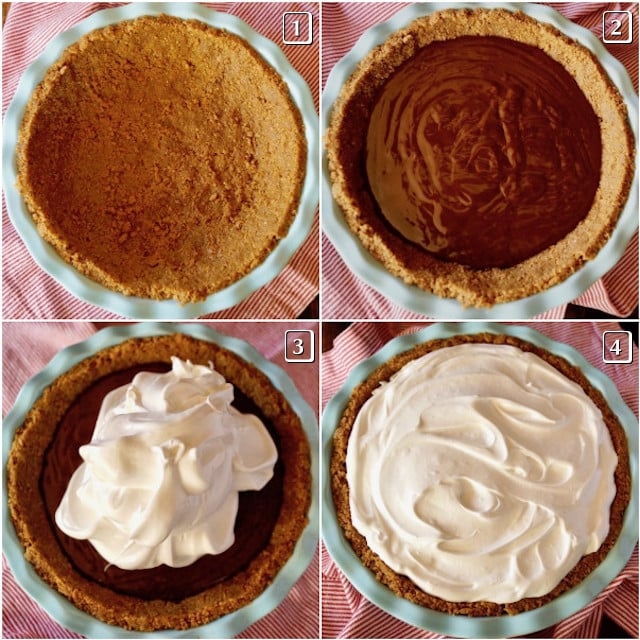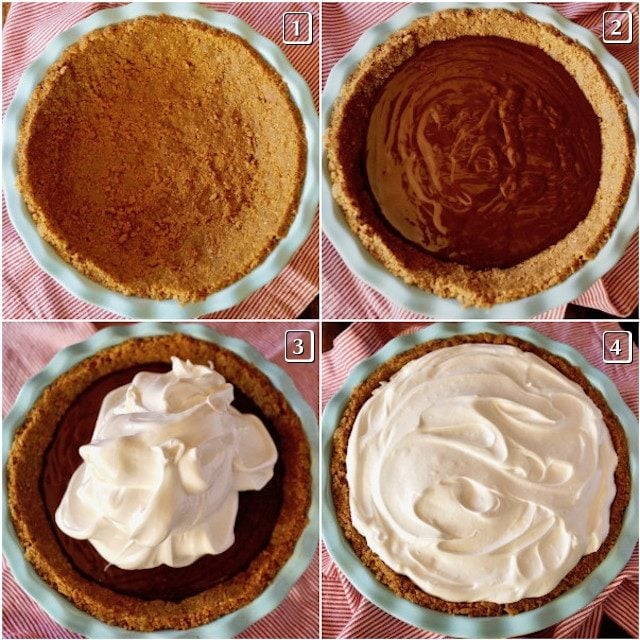 Can you make it ahead?
You can make two-thirds of this one day ahead of time, saving just 15 minutes of active work time, and and a little less than two hours of refrigeration time for the day you're serving it.
Up to 1 day and at least 3 ½ hours ahead: Make the crust and chocolate-peanut butter mixture, assemble this portion in the pie plate, cover lightly with plastic wrap and refrigerate.
Two hours ahead: Make the meringue, add it to the pie, and torch or broil it. Refrigerate until you're ready to slice.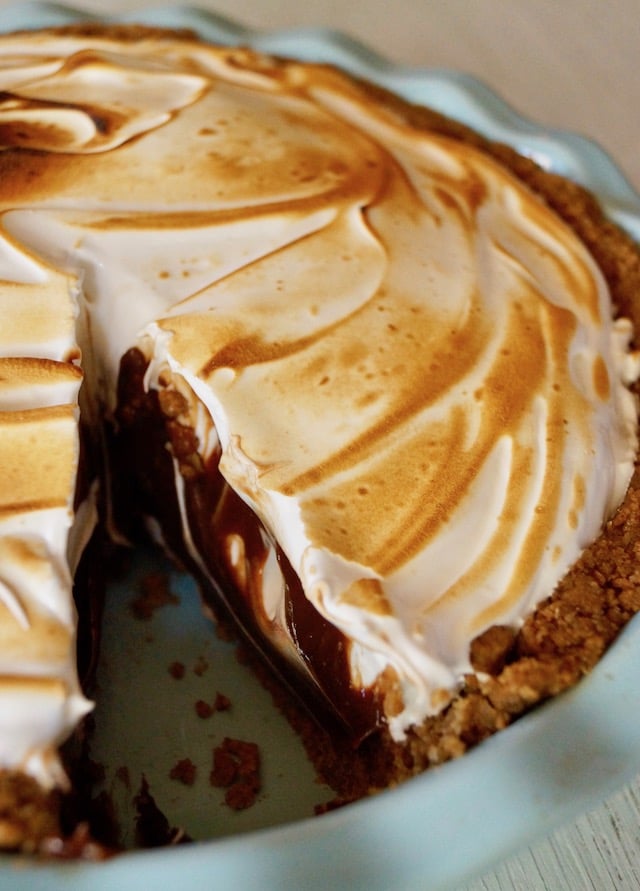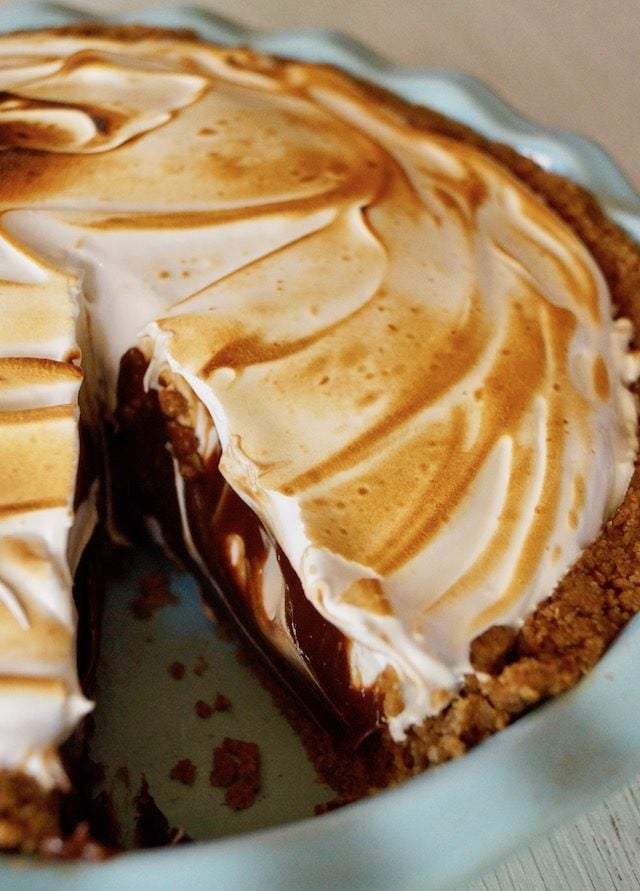 So next time you're in the mood for S'mores, rather than lighting up your fireplace or fire pit, and giving everyone foil, metal skewers, chocolate, marshmallows, and crumbling graham crackers . . . .
Rich, creamy, and reminiscent of S'mores, make this Peanut Butter Chocolate Meringue Pie! It's seriously over-the-top.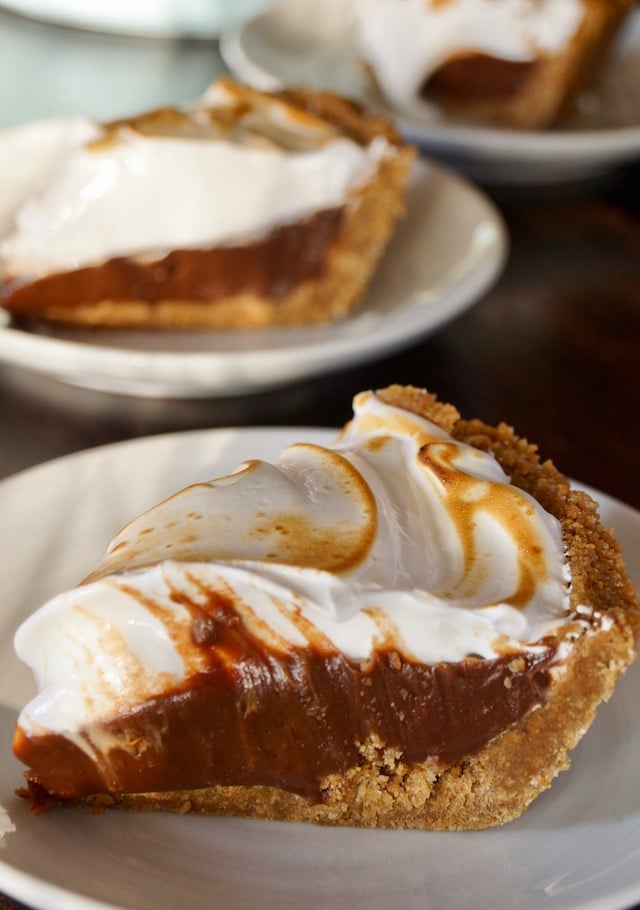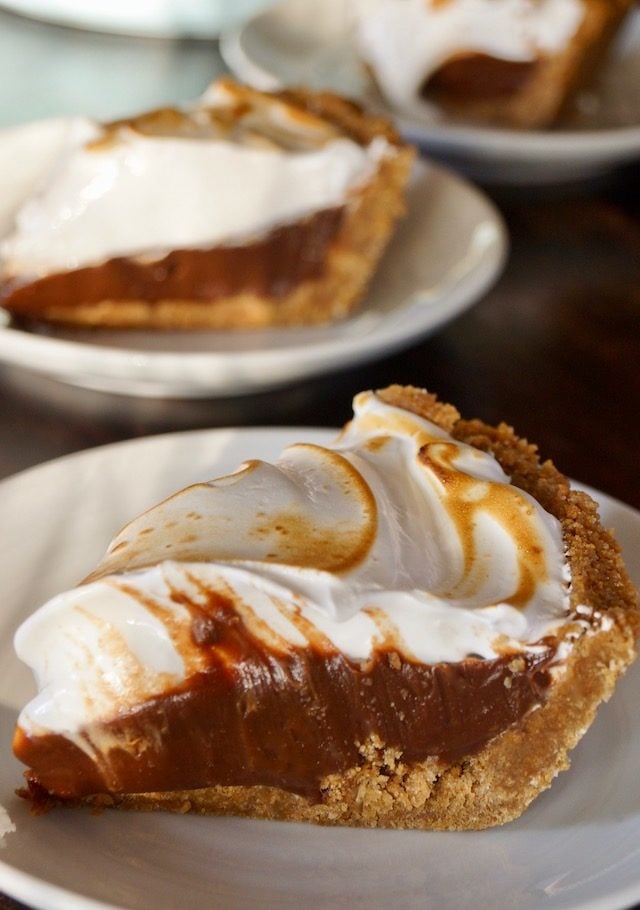 A few more mouth-watering pies: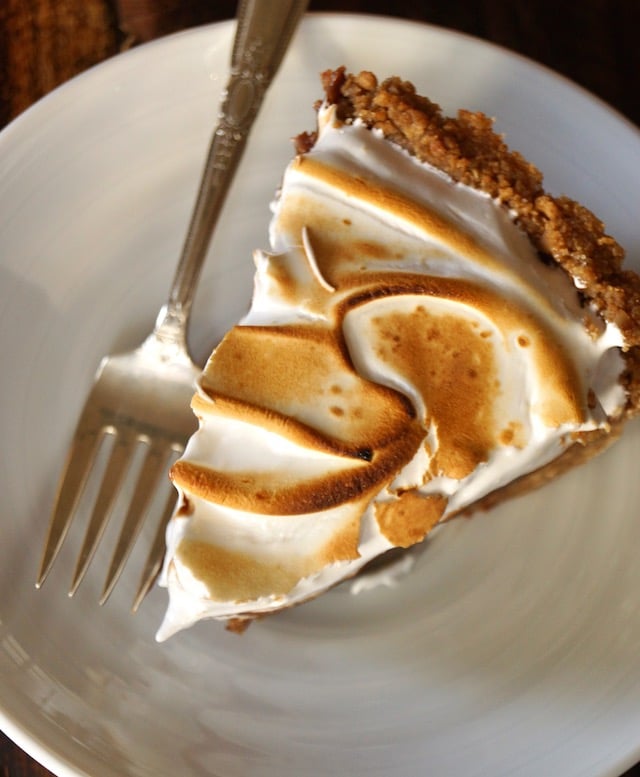 I hope you find this as amazing as my family and I do!
Peanut Butter S'mores Meringue Pie Recipe
Peanut Butter Chocolate Meringue Pie is like one big, delicious S'more in the shape of a pie. It's an over-the-top dessert for any occasion!
*If you want to make this gluten-free, use
Gluten-Free Honey Grahams
for the crust.
Instructions
Make the filling. Scald the cream in a small saucepan over medium heat. Tiny bubbles will appear on the edges of the pan -- it should be very hot, but not boiling. In a medium-sized mixing bowl, pour the hot cream over the finely chopped chocolate and let it sit for about 4 minutes. Use a spoon to stir the mixture until the cream is fully incorporated. Then, add the peanut butter and stir until it's completely smooth. Set this aside and let it come to room temperature, about 20 minutes or so.

Make the crust. Meanwhile, add the graham crackers to a food processor fitted with the blade attachment and blend until they are finely ground. Add the melted butter and ⅓ cup of the sugar and blend just to combine.

Shape the crust. Pour the graham cracker mixture into a 10-inch pie dish. Use your fingers to gently press it down evenly on the bottom and edges, to form the crust.

Add the filling and refrigerate. Then pour the cooled chocolate-peanut butter mixture into the crust. Place this in the refrigerator for at least 45 minutes. When the pie is almost done setting in the refrigerator, make the meringue. (See next step.)

Make the meringue. Fill medium-sized saucepan with a few inches of water and place it over medium heat, and bring the water to a simmer. Then in a heatproof bowl, that will fit snugly into the saucepan, combine the egg whites and remaining 1 cup of sugar. Place this bowl on top of the pan with the simmering water. Whisk constantly until the sugar has dissolved and the mixture is very warm, about 4 minutes. Now pour this into a stand mixer with the whisk attachment, or use an electric hand mixer with the whisk attachment. Whip until stiff, glossy peaks form, about 5 minutes.

Assemble. Remove the pie from the refrigerator and immediately pour the meringue on top of the chocolate. Use a rubber spatula to get every last bit, and swirl it around the top surface of the pie to make pretty patterns.

Brown the top. Use a small kitchen blow torch or the broiler to brown the sugar. If you are using the torch, simply turn it on medium-high and evenly go around until the meringue becomes golden everywhere you want it to. If you are using the broiler, keep a very careful eye on it. It will brown quickly!

Refrigerate and serve. Place in the refrigerator, uncovered, for about 1½ hours. Then slice and serve.
NUTRITION
Have you tried this recipe?
I'd love to see it on Instagram! Tag me at @cookingontheweekends or leave a comment & rating below.
Cooking On The Weekends is a participant in the Amazon Services LLC Associates Program, an affiliate advertising program designed to provide a means for sites to earn advertising fees by advertising and linking to Amazon.com.