Every chocolate lover should know how to make ganache! It's easy and has essentially two ingredients. You can use this chocolate decadence for truffles, cakes, cookies, cake decorating -- the possibilities are endless! And you can make ganache ahead of time, to boot!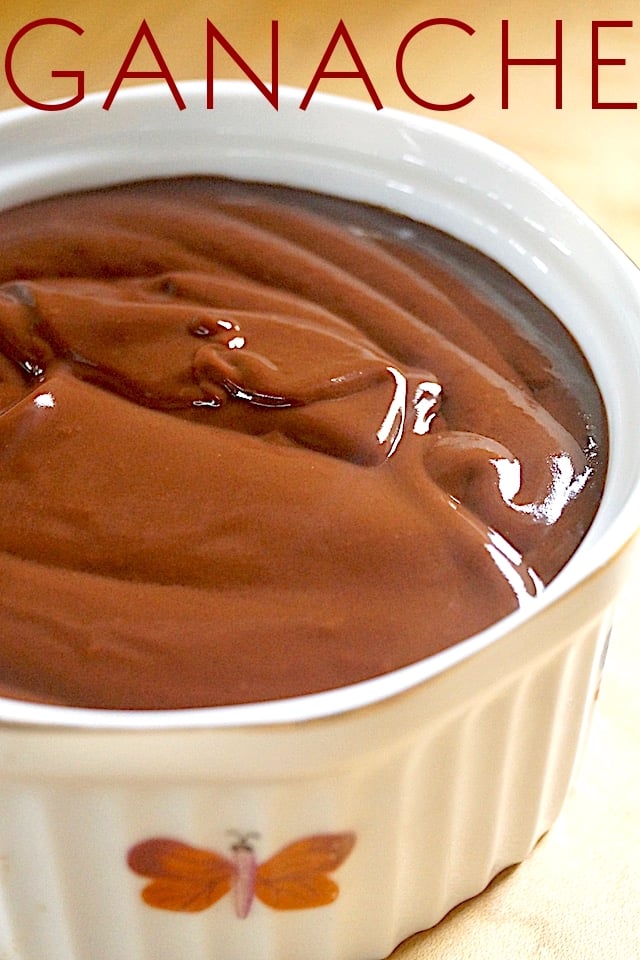 Many moons ago when I was taught how to make Ganache for the first time, I had sort of an Aha moment. "So that's that decadent, rich and creamy chocolate that's inside chocolate truffles!"
What is Ganache?
Classic Ganache is a mixture of one part chocolate and one part heavy cream. You can change the ratio to get different consistencies, as the ratio determines how thick or thin the final product is.
Ganache can be used as a dessert sauce, a glaze or filling for pastries and cakes, for making traditional chocolate truffles, and the list goes on. (I've listed a few recipes using Ganache below.)
Flavors can be added to Ganache, typically liqueurs,
When you use the Ganache for things like

truffles

, it has to set in the refrigerator first. This makes it easy to scoop it. And of course, if you're glazing a cake, it must be warm and pourable.
It's quick and easy to make ganache ahead of time. Even better!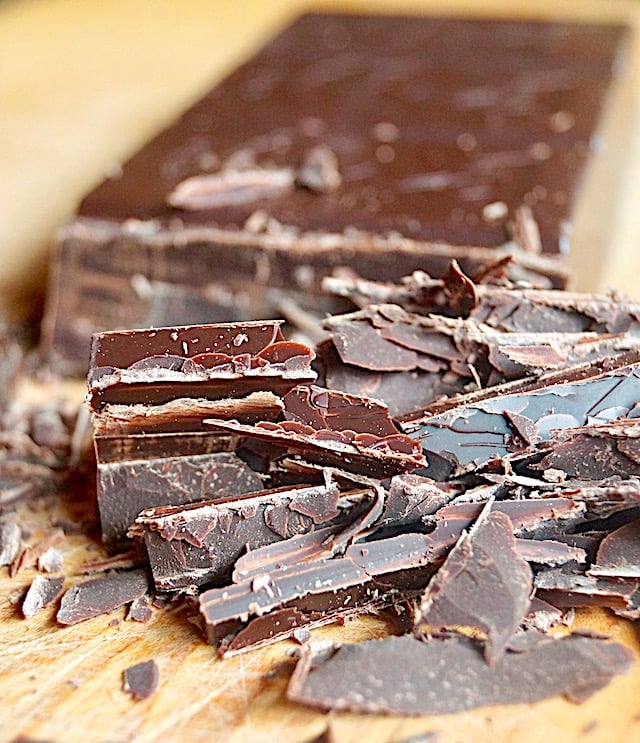 How to Make Ganache Thicker or Thinner
By changing the ratio or chocolate to milk, you can change the viscosity. Simply, add more chocolate than cream to make it thicker, and more cream than chocolate, to make it thinner.
What is the best chocolate for making Ganahe?
Usually dark or semi-sweet chocolate is used. Bittersweet being the most common.
The quality of chocolate you use is important. As with anything, the better the ingredients, the better the results will be.

Scharffen Berger

is one of my favorites, but any brand you love -- as long as it's good quality!
Can you make Ganache ahead of time?
Yes you can! I usually make it up to four days before I'm going to use it.
It should be stored in the refrigerator, and then gently warmed in a small saucepan -- just to melt it. (Unless you're making truffles, in which case, you'll want it to be solid.)
Helpful Tips for Making Ganache
*Use the best quality chocolate you can.
*Weigh your ingredients if possible.
Chocolate bars for baking will have the weight on the package. If you don't have a kitchen scale, you can use the labeled weight and adjust the cream accordingly. For example, if my chocolate bar is 9.7-ounces, (which the Scharffen Berger bars are), I would use 1 cup, plus 3 tablespoons and about ⅔ teaspoon cream (1 cup = 8-ounces, 3 tablespoons plus about ⅔ teaspoon = 1.7-ounces).
*Chop the chocolate evenly.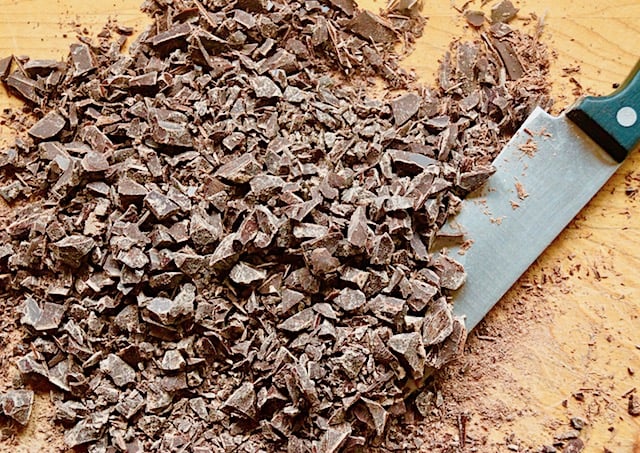 You want the pieces of chocolate to be more or less the same size, so it melts evenly. You can also use a grater attachment on a food processor for large amounts to make it a bit easier. OR, you can use chocolate chunks, like these.
*Be sure the cream is hot enough.
You want to scald the cream. That means it should be very hot, with tiny bubbles along the edges, but not boiling. (The best way for me to describe the temperature is that when you touch it with your finger, it should be like a jacuzzi -- extremely hot, but still bearable to touch -- so you can get in.)
*Be patient!
Do not mix the hot cream with the chocolate until you wait about 4 minutes! This allows for the chocolate to melt first. It will also take a good couple of minutes for the mixture to come together once you begin stirring (see below image).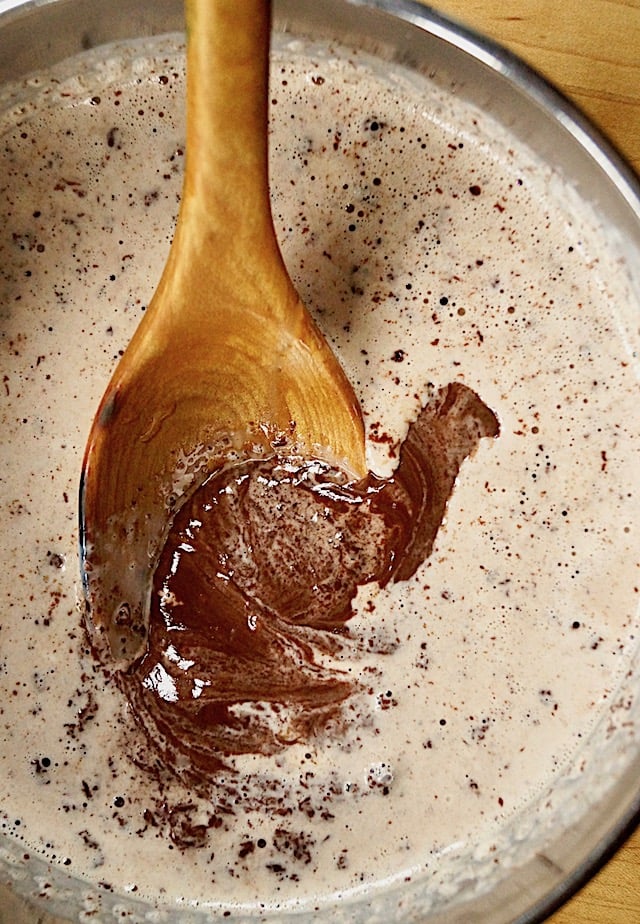 Just keep stirring and it will go from looking like it's not going to happen, to a beautiful, rich and creamy consistency.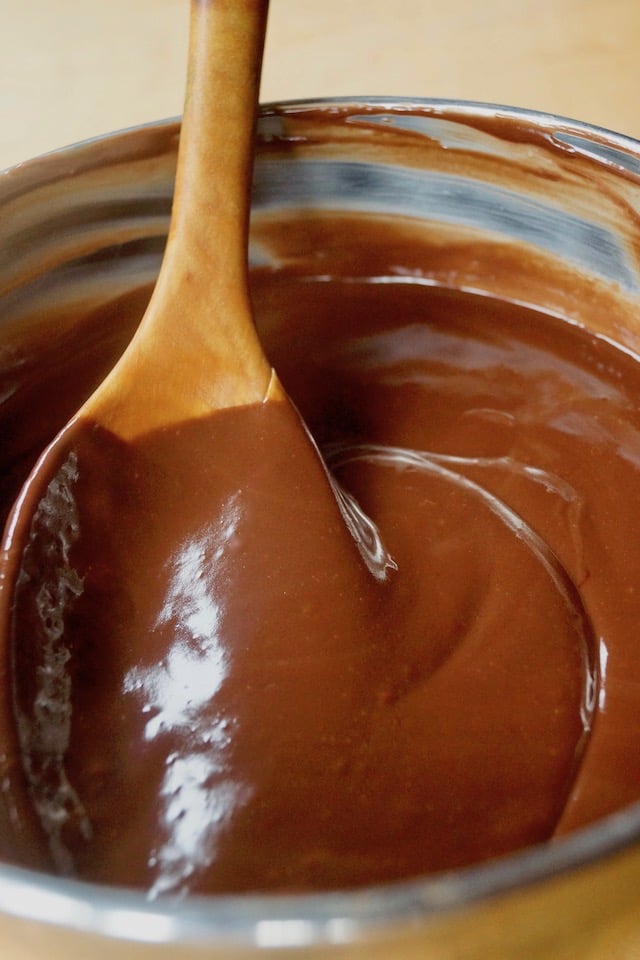 *Use a wooden spoon.
When I learned how to make Ganache the first time all those moons ago in culinary school, I was told a wooden spoon was the best choice. I like wooden spoons for mixing (almost everything) the best for a few reasons: they don't get hot, they don't react chemically with acidic foods, and they're pretty. They also hold all sorts of cooking memories, as they show signs of use as over the years wood tends to change color slightly and there might be scratches. (This is also why I love my butcher blocks!)
Dessert recipes with Ganache:
Enjoy!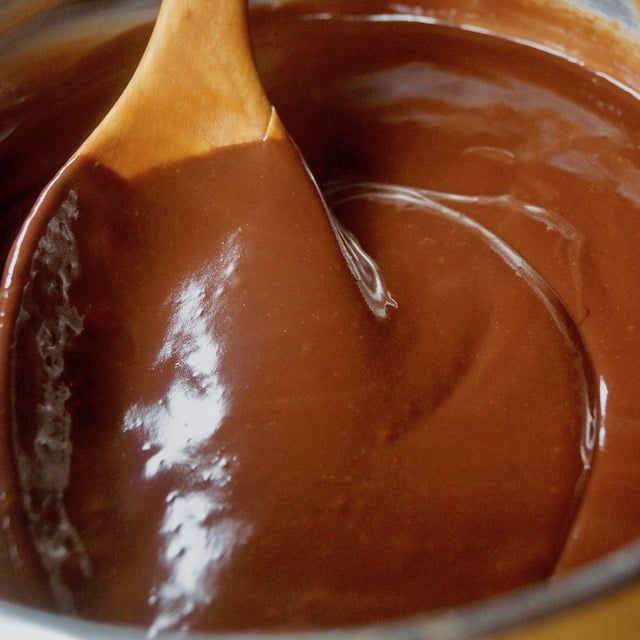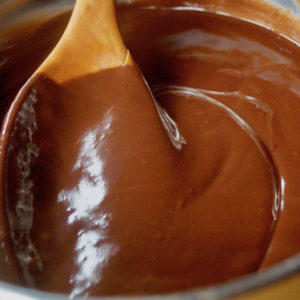 Chocolate Ganache
Every chocolate lover should know how to make ganache! It's easy and has essentially two ingredients. You can use it for truffles, cakes, cookies, cake decorating -- the possibilities are endless! Makes about 2 cups.
Instructions
Add the finely chopped chocolate to a mixing bowl and set it aside.

Pour the cream and vanilla into a small saucepan and scald it. Tiny bubbles will appear on the edges of the pan, and it should be very hot, but not boiling.

Pour the hot cream over the chocolate and let sit for about 4 minutes. Use a wooden spoon to stir until it's smooth and creamy.
NOTES
Calorie count is only an estimate.
NUTRITION
Have you tried this recipe?
I'd love to see it on Instagram! Tag me at @cookingontheweekends or leave a comment & rating below.
Cooking On The Weekends is a participant in the Amazon Services LLC Associates Program, an affiliate advertising program designed to provide a means for sites to earn advertising fees by advertising and linking to Amazon.com.