Glazed Pineapple Guava Bread is a quick bread (AKA short bread), and if we're being honest, that means cake! This sweet, subtly tropical-flavored bread is lovely for breakfast with coffee or after dinner for dessert. And any time in between, of course!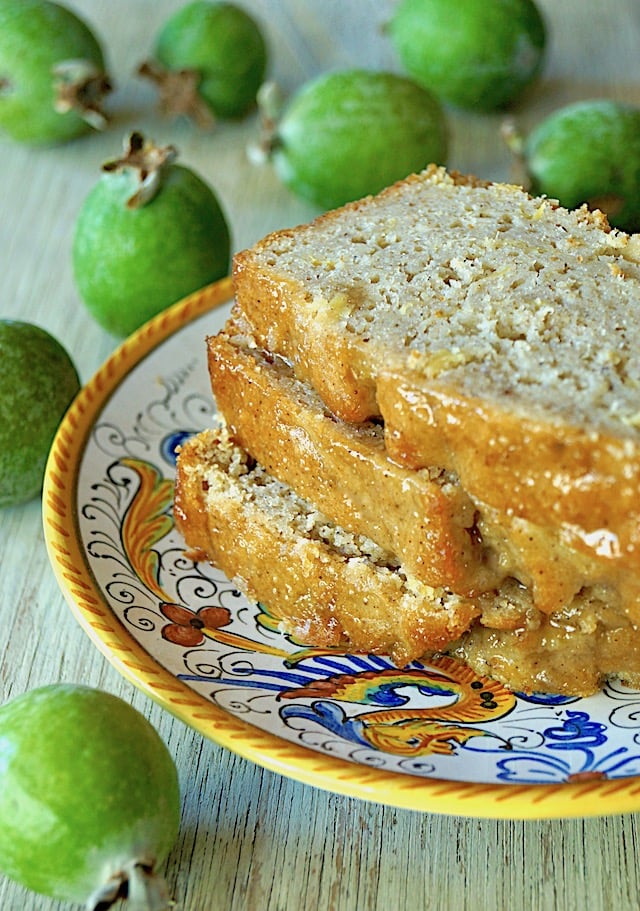 I live in LA, in the same town where I was raised, in a neighborhood nestled between the ocean and the mountains. Lucky me. 🙂
One of my closest friends, Sarah, lived in a house around the corner from when I live now, and her mom still lives in there.
A couple of weeks ago she left me a huge bag of fresh Pineapple Guavas from her tree on her porch. There was a note on the bag that said, "I have tons more!"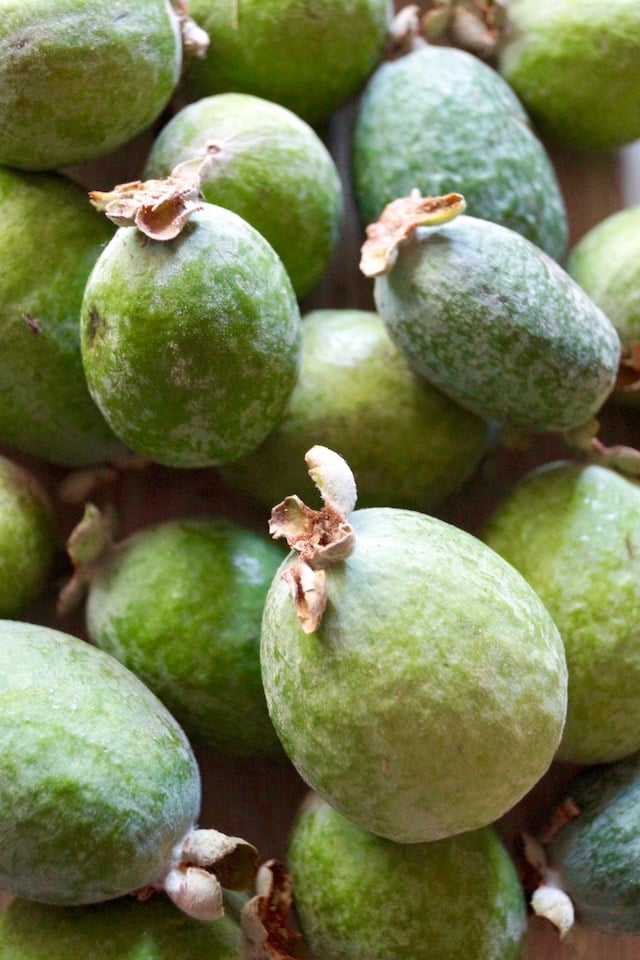 Enter, Glazed Pineapple Guava Bread!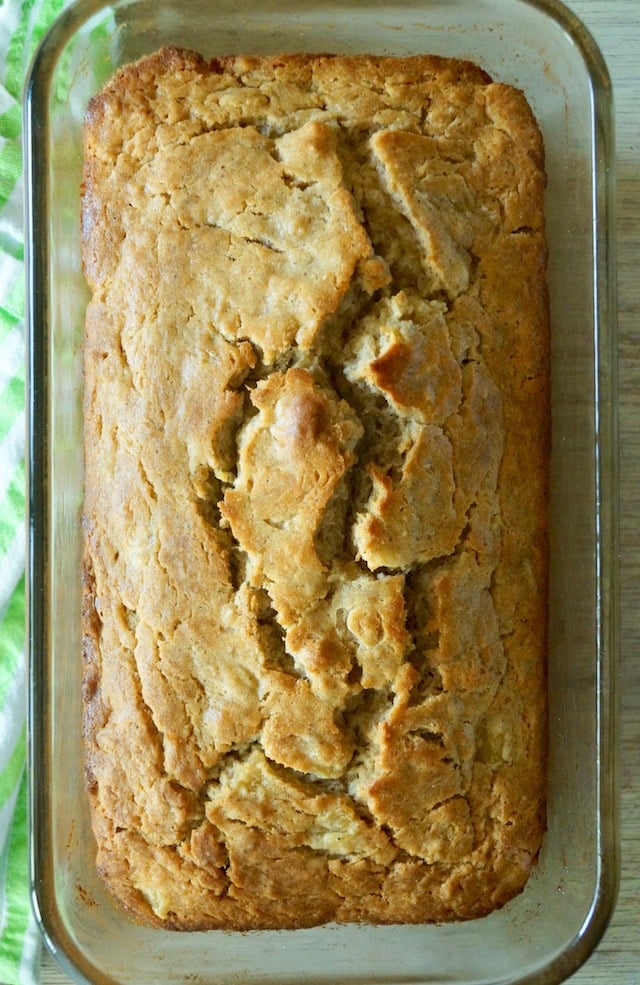 What are guavas?
Classified as a berry, guavas are a common tropical fruit, cultivated in many tropical and subtropical regions around the world.
Guava varieties can vary is size, from approximately the size of an egg to the size of a grapefruit.
Guavas are incredibly fragrant when they're ripe, and the lovely, tropical aroma can fill a room.
The skin is edible and is usually a dull green to yellow color.
Depending on the variety, guava flesh ranges in color from creamy white to salmon pink, and sometimes a deep red-pink.
Next to the skin is a thin layer of a somewhat granular flesh, and the center is very juicy and contains tiny yellow, crunchy edible seeds.
There are several

guava varieties

.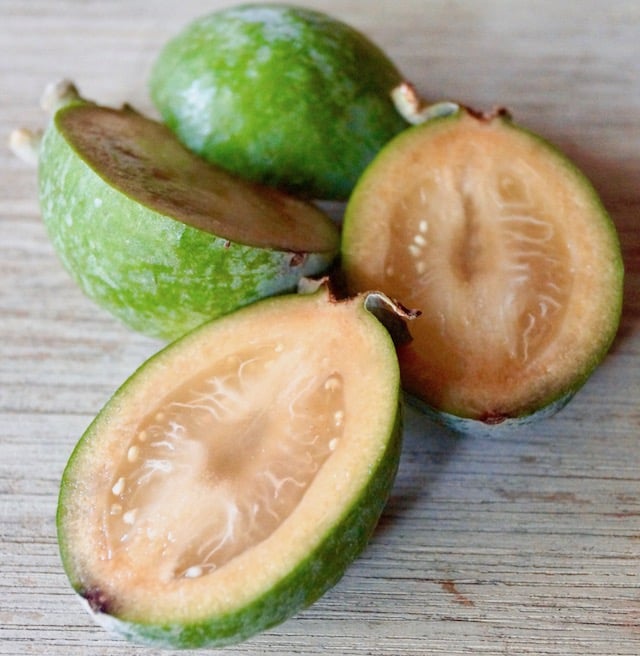 Pineapple Guavas
When is guava season?
Guavas have a fairly long season that typically starts in the fall and goes into spring.
What does guava taste like?
Guavas are subtly sweet and their taste can be likened to the flavor combination of strawberry and pear.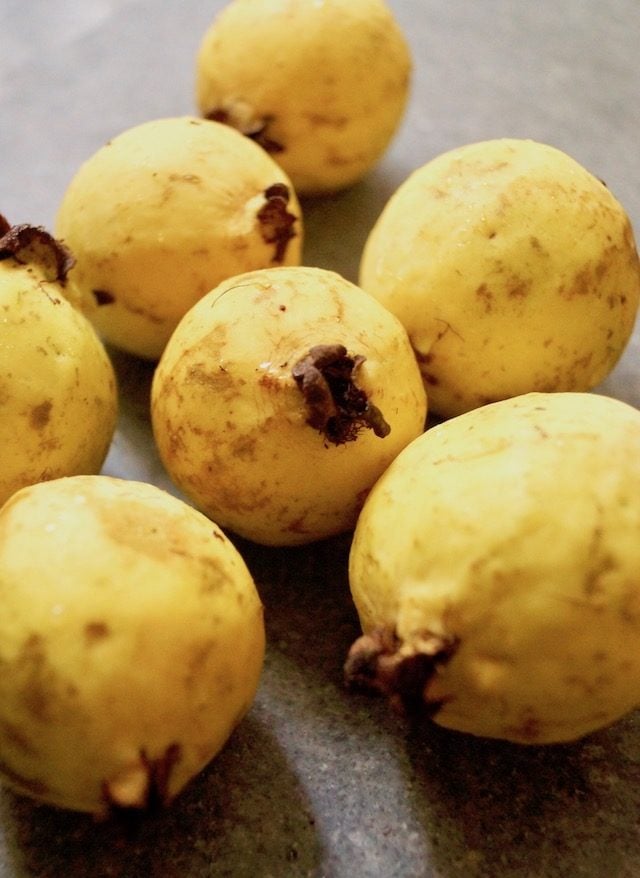 Mexican Cream Guavas

How to Eat a Guava
Guavas can be eaten fresh, juiced, or used in desserts, preserves, cocktails, sauces and more.
Some people love to bite right into a fresh, ripe guava, as if it were an apple. Though the skin and seeds are both edible, I prefer the interior flesh, sans seeds.
Once a guava is sliced in half, a spoon can be used to scoop out the flesh.
The flesh from guavas is usually strained before it's used in a recipe.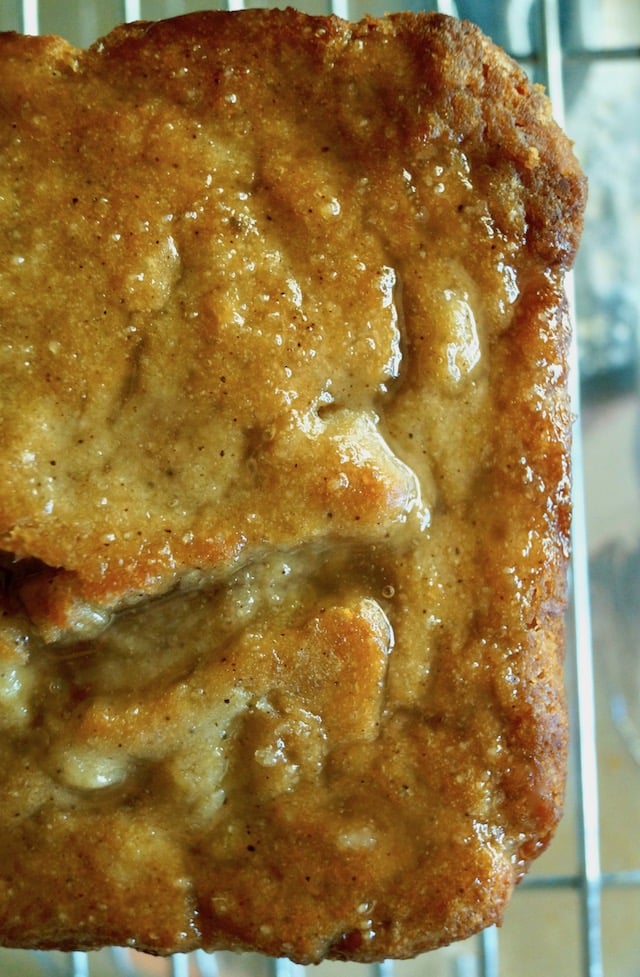 Important Things to Know Before Making this Recipe
Everyone's guavas will be different! It would be impossible for them to be the same, unless we all picked them from the same tree, the same day.
Some will be super juicy, some might not be juicy at all, and some might have a texture somewhere in between. This means the juice or flesh could either be thick or thin, and the results of this recipe will vary slightly depending on the consistency.
If the fruit isn't very juicy, once it's blended and strained, it'll be the consistency of a mashed banana. Whatever the consistency, use the given measurements in the recipe. Juicier guavas will result in a lighter bread.
The glaze will need more or less of the powdered sugar, also depending on the thickness of the juice. And if the final glaze is very thick, you can whisk in a bit of water. The thinner it is, the more powdered sugar you will add.
You can line the bread pan with parchment paper, but I find this bread easily comes out when it's just greased with butter.
To glaze the bread, it's easiest to place it on a cooling rack on a foil-lined baking sheet. Then when you pour the glaze on top, any excess will drip off and onto the foil. Easy cleanup!
While I love the Pineapple Gauvas, any variety will work well. I've also used the Mexican Cream Guavas and they're excellent, too.

This Glazed Pineapple Guava Bread is so delicious with its sweet subtly tropical flavor.
The texture is soft and it makes for a great anytime-snack, a perfect breakfast with coffee, and a delightful dessert after dinner.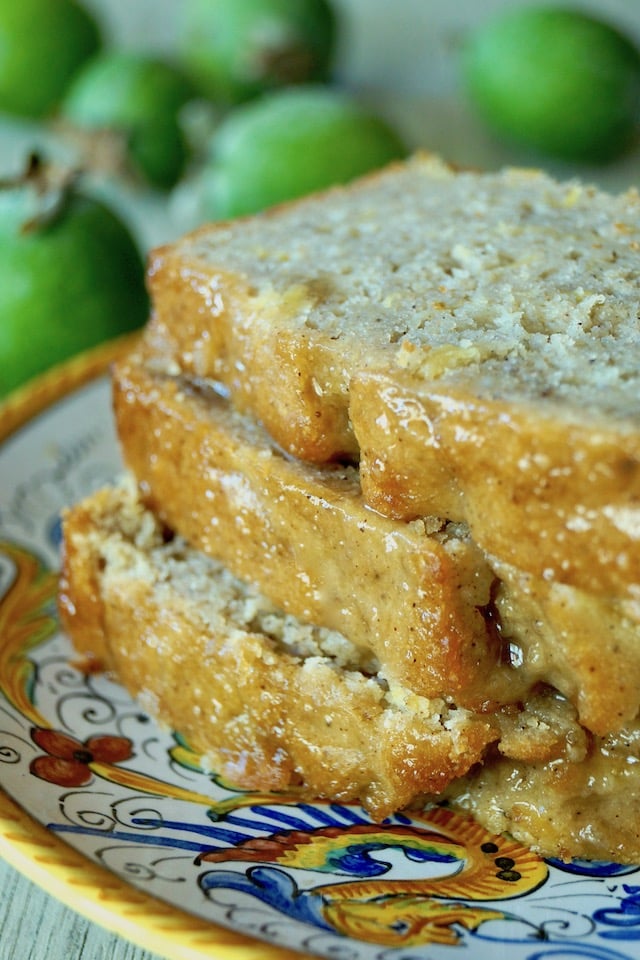 If you're loving guava season, you might also like this No-Churn Pineapple Guava Ice Cream.
Enjoy!
The Mexican Cream Guavas were sent to me from my favorite produce source, Melissa's Produce.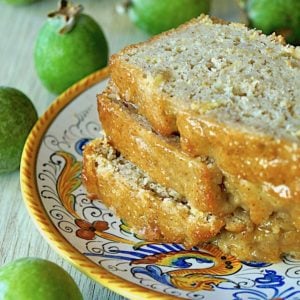 Glazed Pineapple Guava Bread
This sweet, subtly tropical-flavored bread is a lovely for breakfast with coffee, or after dinner for dessert. And any time in-between, of course!
Ingredients
½

cup plus 1 teaspoon

unsalted butter,

melted

3

pounds

fresh Pineapple guavas

(2 cups flesh = 1/2 cup juice)

1

(8.25-ounce) can

crushed pineapple in syrup,

drained

2

large

eggs

½

cup

packed golden brown sugar

2

teaspoons

pure vanilla extract

1½

cups

all-purpose flour

2

teaspoons

baking powder

½

teaspoon

salt

½

teaspoon

allspice

approximately 1¼

cups

powdered sugar
Instructions
Prepare the guavas. Cut the guavas in half, and use a small spoon to scoop out the flesh -- you need 2 cups of it. Add it to a blender and blend until you have a smooth purée, about 10 seconds on high. Over a bowl or measuring glass, add the puréed guava flesh to a fine mesh strainer and use the back of a large spoon or rubber spatula to stir and gently press the flesh and seeds against the strainer, so the juice can easily pass through without the seeds. Do this until next no more juice strains out. You need ¾ cup.

Remove ¼ cup of the juice and add it to small saucepan. Set aside.

Make the batter. Pour the remaining juice into a large mixing bowl. Add the pineapple to the guava juice in the mixing bowl, along with the eggs, brown sugar and vanilla. Stir until you have as smooth a mixture as possible.

In a second mixing bowl, evenly combine the flour, baking powder, salt and allspice.

Fold the wet ingredients into the dry, fold in the remaining ½ cup of the melted butter, and pour the batter in the prepared pan.

Bake. Place the pan in the preheated 350° F oven and bake until it's completely solid and doesn't move when jiggled, about 50 minutes. It should be golden brown and cracking on top. Let it cool for at least 30 minutes.

Make the glaze. While the bread is baking, gradually sift the powdered sugar into the saucepan with the guava juice, whisking as you go. Add enough of the sugar so that it's thicker, but pourable. Liquid can absorb a lot of powdered sugar! Place the pan over low heat and continue to whisk until there are no lumps.

Drizzle glaze, slice and serve. Once the bread has cooled to room temperature, drizzle it with the glaze. (You will likely have more than enough.) Slice and serve.
Have you tried this recipe?
I'd love to see it on Instagram! Tag me at @cookingontheweekends or leave a comment & rating below.
Cooking On The Weekends is a participant in the Amazon Services LLC Associates Program, an affiliate advertising program designed to provide a means for sites to earn advertising fees by advertising and linking to Amazon.com.