Ruby Chocolate is pretty, fun, and tasty. It's a type of chocolate that makes this chocolate chip cookie recipe extremely unique. A Ruby chocolate recipe will definitely draw a crowd and everyone will want to know all about it.
I consistently follow a handful of of other food blogs that I really like.
On one of my favorites, 2pots2cook, I recently saw a Ruby chocolate recipe for Ruby Chocolate Truffles. Unfamiliar with this chocolate, I was intrigued and immediately did a bit or research, found it online and ordered it.
(I also think these pink chocolate chips would be fun to serve these on Valentine's Day.)
What is Ruby Chocolate?
Ruby chocolate comes from ruby-colored cacao beans. These beans aren't new, but the introduction of this chocolate to the world was recent.
Sourced from from Brazil, Ecuador, and the Ivory Coast, Ruby chocolate was in development for just over ten years, before it was introduced by Callebaut in 2017 to Japan. In 2018 it was introduced to Europe, and in 2019 to the United States. (Callebaut is a Belgian–Swiss cocoa company.)
Callebaut says "one of our cacao experts discovered that components of certain cacao beans could produce a cacao taste experience with an exceptional flavor and color. Since then, we've been unraveling the secret behind this, leading to the discovery of the ruby cocoa bean and creation of a totally new flavor experience. They contain no added flavors or colors."
It's being called the "4th type of chocolate," after dark, milk, and white.
Ruby chocolate has been made into bars, chips and you can even get Ruby Kit Kat bars. (Callebaut has partnered with a few brands, including KitKat.)
The actual production of it is still kept a trade secret, but it's speculated that it's made with un-fermented cacao beans which are a naturally pinkish color.
There are skeptics who think ruby chocolate is fake, that it might be flavored and colored cacao butter, and that the beans are treated in some way after they're harvested.
Here's what I say . . . a Ruby chocolate recipe is fun, interesting and quite tasty. I love it in these chocolate chip cookies.
What does Ruby Chocolate taste like?
While I find the taste very reminiscent of white chocolate, there are definite notes of fruity and tangy flavors. I would describe the fruity taste as raspberry-like and the tangy taste as subtly lemony.
The texture is very smooth, and it melts nicely.
Where to buy Ruby Chocolate
I haven't seen it in regular markets, but it's very likely you can find it at specialty baking supply stores. (If you're in Los Angeles, it's available at Surfas.) You can also find it on Amazon.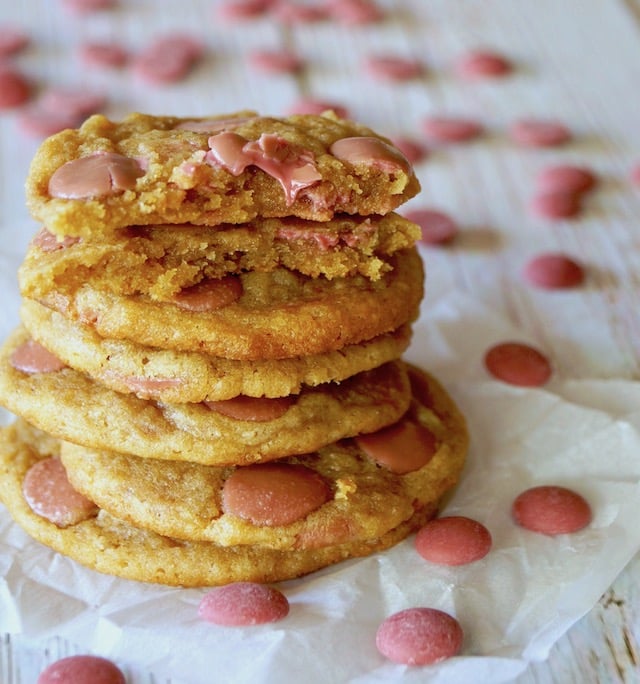 Recipe Tips
The longer you refrigerate the dough, the better. They are a flat-ish cookie, but the warmer the dough, the flatter they'll be.
I reserve ½ cup of the chips to press into the the tops of the cookies because it's pretty, but this is an extra step you can skip if you'd like.
FYI, you can use this chocolate in any chocolate chip cookie recipe. Just make the swap.
I hope you enjoy these cookies as much as I do.
More fun, pretty cookie recipes:
Ruby Chocolate Chip Cookies
Ruby Chocolate is pretty and fun, and it makes this chocolate chip cookie recipe extremely unique. It'll draw a crowd and everyone will want to know all about them.
Ingredients
1¼

cup

unsalted butter,

softened to room temperature

1

cup

brown sugar

2

teaspoons

pure vanilla extract

1

teaspoon

salt

1

large

egg,

lightly blended

2¼

cup

all-purpose flour

1¼

teaspoon

baking powder

1½

cup

Ruby chocolate chips,

divided
Instructions
Line a sheet pan with parchment paper. Set aside.

In a large mixing bowl, combine the butter, sugar, vanilla and salt. Stir until It's smooth. Then mix in the egg and again stir until smooth.

Fold in the flour and baking powder, and stir only until you no longer see dry spots. Then fold in 1 cup of the Ruby chocolate chips.

Use a 1 ¼-inch cookie scoop (about 1 tablespoon), to scoop balls of dough onto the parchment-lined baking sheet. They can be close together at this point. Gently press a few of the remaining ½ cup of Ruby chocolate chips on the surface of each one. Cover the with plastic wrap, being sure it's well sealed, and refrigerate for at least 6 hours.

When you're ready to bake, preheat the oven to 350°F and line another sheet pan with parchment paper. Take the shaped cookie dough out of the refrigerator and add about 12 to the new one, with at least a couple of inches between them.

Once the oven has preheated to 350°F, bake the cookies just until the edges look slightly golden, about 8 minutes.

Let the cookies cool on the sheet pan for at least 15 minutes. If you're not serving them right away, completely cool them before you wrap them or add them to a container, so they don't stick together. They can be stored at room temperature for a few days and frozen for up to a month.
Notes
Calorie count is only an estimate.
Have you tried this recipe?
I'd love to see it on Instagram! Tag me at @cookingontheweekends or leave a comment & rating below.
Cooking On The Weekends is a participant in the Amazon Services LLC Associates Program, an affiliate advertising program designed to provide a means for sites to earn advertising fees by advertising and linking to Amazon.com.