Super tasty Baked Tofu Ginger Vegetables is one of the most hearty and satisfying vegan, gluten-free dishes ever! It's an easy and healthy dinner for a weeknight, and impressive enough for a weekend get together.
If you've been reading Cooking On The Weekends for a while, you know I love to cook and eat just about everything — from light salads and chocolaty cakes, to fresh seafood and cheesy casseroles -- and everything in between!
I generally consider myself a mindful eater, and I try to feed my family super healthy meals as much as possible.
Of course, while doing so, I also serve a little dessert. Okay fine, sometimes a lot. 😉
I've been really inspired lately to make dishes that exemplify that mindful eating can be just as hearty and tasty as eating any other way. And that's exactly what this dish does.
I could probably eat all six portions of this tofu, and then lick the plate! It's that good.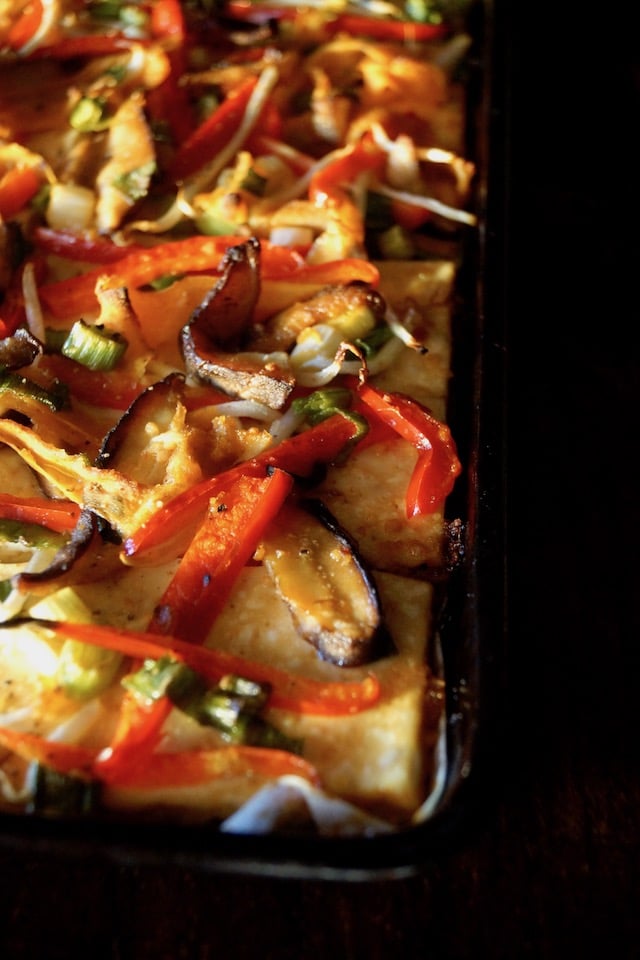 The vegetable baked tofu is baked in a way that it easily absorbs all of the pungent flavors of the sauce, and it's a vehicle to carry the delicious, delicate vegetables with each bite.
One of the reasons I love working with tofu is in fact how it can handle so many flavors! I like the texture, and you can pretty much give it the flavors you are int he mood for.
What's in this recipe?
This recipe has an Asian vibe and the mix of vegetables is incredible with the sauce and tofu. The veggies include:
Shiitake mushrooms
carrots,
red bell peppers
scallions
bean sprouts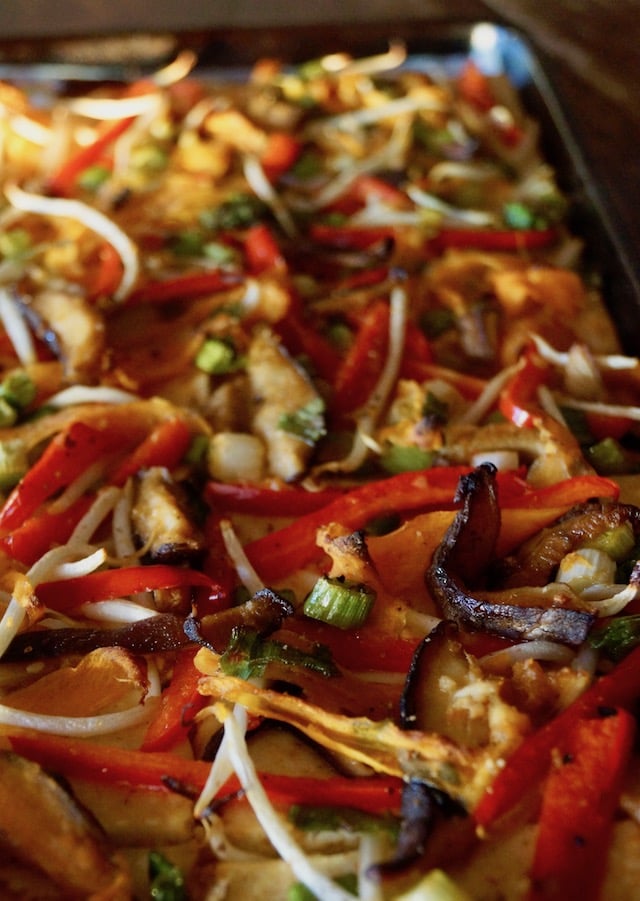 With the tofu as the "crust," you can pick each slice up with your hands and eat it pizza-style!
This is exactly what my family and I did. It makes for a fun, casual dinner.
A vegan tofu pizza if you will. And I do hope you will. 😉
Whether you use a fork or your hands, you will enjoy this vegan treat and want to savor it!
And we haven't discussed how pretty the carrot ribbons are. So pretty! It's that sort of detail that takes the Baked Tofu and Ginger Vegetables from casual to elegant. From weeknight to weekend.
I hope you enjoy these Baked Tofu Ginger Vegetables as much as I do!
More delicious tofu recipes:
Ginger-Garlic Baked Tofu and Vegetables
An easy and healthy dinner for a weeknight, and impressive enough for a weekend get together.
Ingredients
For the vegetables
1½

cups (about 6-ounces)

Shiitake mushrooms,

washed and dried, thinly sliced

1

cup

carrot peels

(see recipe instruction no. 2, under "for the vegetables")

1

cup

red bell peppers,

washed and dried, thinly sliced

4

scallions

washed and dried, finely chopped

1

cup

bean sprouts,

washed and dried

freshly ground black pepper
Instructions
Set oven. Preheat the oven to 400°F, and adjust a rack to the center.

Dry tofu. Add a double layer of paper towels to a sheet pan or a dry cutting board. Cut the tofu into ¼ to ½ inch rectangular slices, and place them in a single layer on the paper towels as you go. Then place another double layer of paper towels on top of the slices and gently press down. Leave this for about 5 minutes, and then repeat this process. (You can do the next steps — the sauce and vegetable prep, while the tofu is draining.)
For the sauce
Whisk all of the sauce ingredients together until evenly blended. Set aside.
For the vegetables
Cook mushrooms. Coat the bottom of a large sauté pan with grape seed oil and place it over high heat. Once the oil is hot, add the mushrooms. Sauté, stirring often, until they're soft and beginning to turn golden, about 7 minutes. Turn off the heat and set aside.

Prep carrots. To make the carrot peels, use a vegetable peeler. As usual, when you peel carrots, you will throw out the first layer of peels. Then, instead of grating or cutting the carrots, continue to use the vegetable peeler to peel the carrots until the entire thing is a pile of peels. (To save time you can shred/grate the carrots instead.)

Add remaining ingredients. Now add the carrot peels, red peppers, scallions and bean sprouts to the mushrooms and stir to combine all of the ingredients.
Assemble
Line a sheet pan with parchment paper and add the tofu slices to it in a single layer. Evenly drizzle the slices with about ⅔ of the sauce, and sprinkle with pepper. Drizzle the remaining sauce into the vegetables and mix. Then evenly distribute the vegetables over the tofu.

Bake. Place the sheet pan in the preheated 400°F oven and bake until the edges of the tofu are golden, about 25 minutes.

Serve!
NOTES
Calorie count is only an estimate.
NUTRITION
Have you tried this recipe?
I'd love to see it on Instagram! Tag me at @cookingontheweekends or leave a comment & rating below.
Save
Save