Miso Pork Chops with Broccolini are packed with delicious Asian flavors and are great for a weeknight when things might be rushed -- or, for a weekend when you want to impress guests! This quick and easy sheet pan dinner with pork will blow your taste buds away! Lately I've been loving sheet pan meals as much as one-pot meals.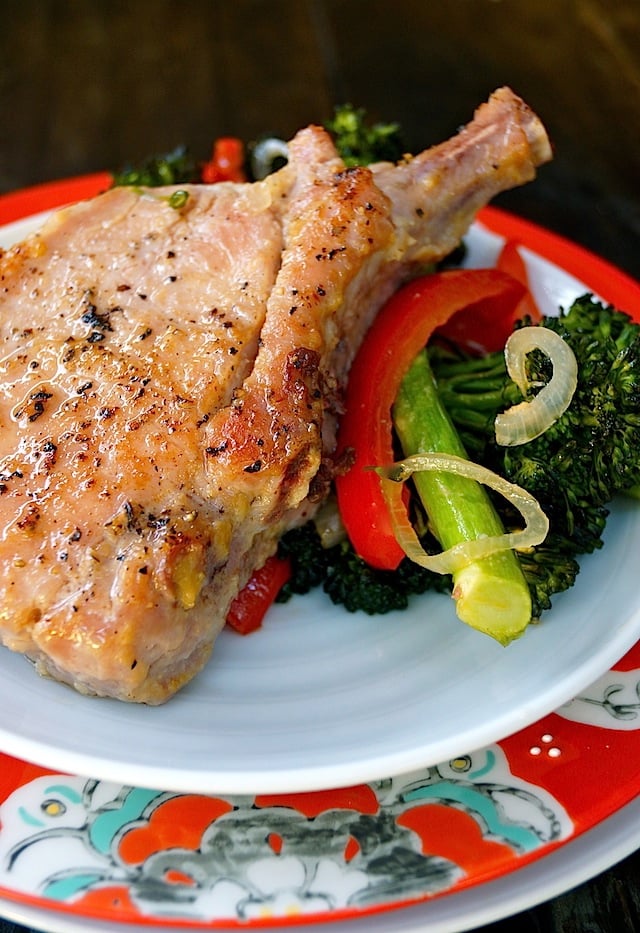 One Pot Meal vs. Sheet Pan Meal
Typically a "one-pot meal" is thought of as something that's slowly cooked, for a long period of time, in one pot -- like my Braised Brisket Stew or my Short Rib Stew. These dishes are super comforting and are packed with warm flavors and ingredients that meld together perfectly.
A "sheet pan meal" is similar in that everything comes together in one cooking vessel, but it's usually less stew-like. Regardless, I'm finding them to be quite cozy. Yep, a meal on a sheet pan can be cozy. And that's definitely the case with this scrumptious sheet pan dinner with pork.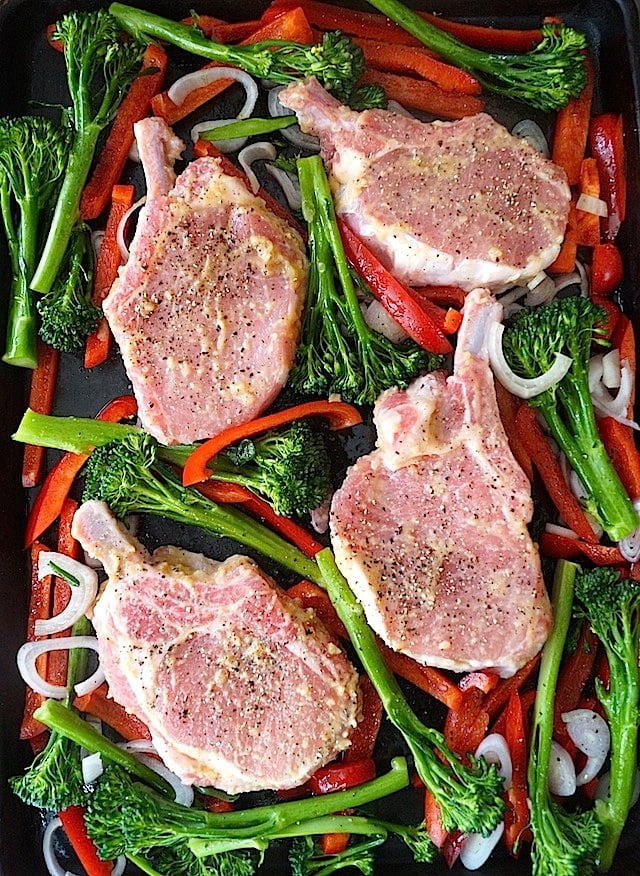 There's just something wonderfully warming about so many delicious flavors blending together in the oven -- all at once, in or on the same pan.
The Key to a Perfect Sheet Pan Meal
The key is choosing the ingredients that will be combining -- the flavors, the textures and the colors. It's all about how it will taste if a bit of everything makes its way onto your fork at once. It should create a perfect bite.
I typically choose ingredients that will cook fairly quickly -- a sheet pan dinner with pork chops is great because pork chops usually cook in a short period of time. And I selected the broccolini and peppers because they will cook in just about the same time period, and of course because they are delicious.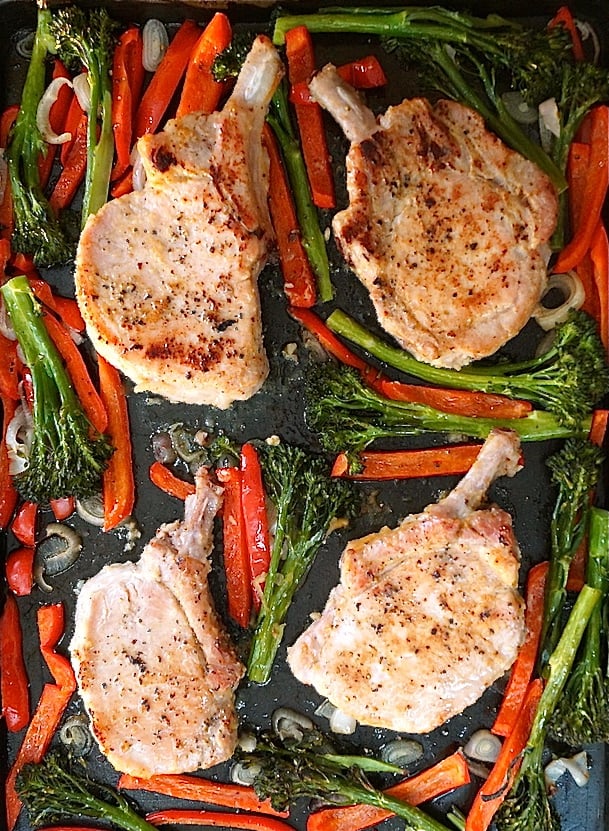 With bits of garlic and ginger in the miso glazed pork, it's sweet and savory and when it works its way into the broccolini florets, oh my!
You could serve this sheet pan dinner with pork over rice or noodles, or as is. It's delicious -- and cozy -- any which way!
A couple more delicious sheet pan dinners:
Enjoy every last bite!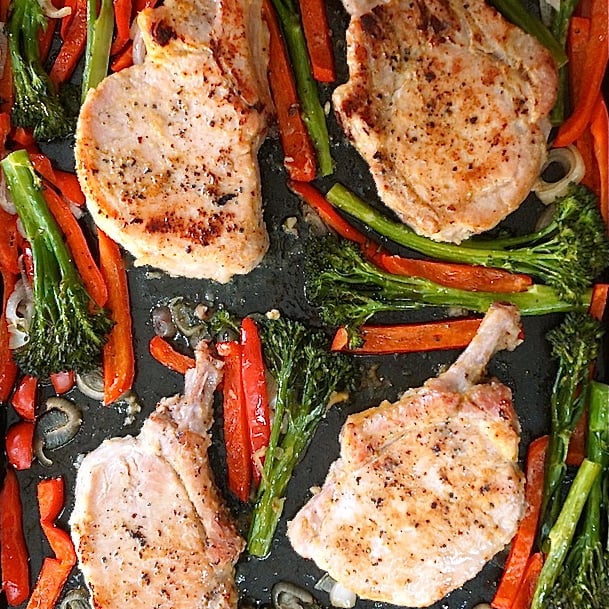 Sheet Pan Miso Pork Chops Recipe
This quick and easy sheet pan dinner with pork will blow your taste buds away! It's great for a weeknight when things might be rushed -- or, a for a weekend when you want to impress guests!*Please note that the active prep time is only about 10 minutes. One hour is marinating time.
Ingredients
¼

cup

light or white miso paste

(Shiro-Miso)

3

tablespoons

sake

2

tablespoons

Mirin

(sweet rice wine)

2

teaspoons

fresh ginger pulp

1

teaspoon

garlic,

minced

1

teaspoon

granulated sugar

4

(approximately 8-ounce)

pork chops,

bone-in

¼

cup

grapeseed oil

2

cups

red bell pepper,

thinly sliced (about 2 medium-sized peppers)

½

pound

broccolini,

washed and dried

½

cup

shallots,

thinly sliced

sea salt and freshly ground black pepper
Instructions
Make marinade. Use a whisk to blend the miso, sake, Mirin, ginger, garlic and sugar. Pour it into a heavy-duty zip-lock bag and set aside.

Marinate. Trim any excess fat off the pork chops and then place them in the bag. Move them around to be sure they're well coated with the marinade, and then gently press any air out of the bag and seal it. Let the pork marinate in the refrigerator for about 30 minutes.

Set oven. Preheat the oven to 400°F and adjust a rack to the center.

Assemble all ingredients on sheet pan. Pour the oil on a sheet pan and then toss the peppers, broccolini and shallots in it. Generously season with salt and pepper, mix and then evenly spread the mixture out in a single layer, leaving 4 empty spaces for the pork chops.

Remove the pork chops from the refrigerator and then, without wiping off any excess marinade, add them to the empty spaces on the sheet pan. If there's still marinade left in the bag, you can drizzle a bit over the vegetables. Season the pork chops with pepper and place the sheet pan in the preheated 400°F oven.

Bake. Bake just until the pork is cooked through, probably no more than 20 minutes.Toss the vegetables and check the pork about halfway through the cooking time. (If the surface of the pork isn't golden when it's done, if you'd like to, you can place the sheet pan under the broiler for about 30 seconds. It's just as delicious either way, but looks prettier when it's golden.)

Serve!
NOTES
Calorie count is only an estimate.
NUTRITION
Have you tried this recipe?
I'd love to see it on Instagram! Tag me at @cookingontheweekends or leave a comment & rating below.
Cooking On The Weekends is a participant in the Amazon Services LLC Associates Program, an affiliate advertising program designed to provide a means for sites to earn advertising fees by advertising and linking to Amazon.com.