Cast Iron Skillet Chicken with Cognac Sauce is a comforting dinner full of fresh and rich flavors. A quick and easy one pan dinner, it's great for a busy weeknight, and impressive enough for guests.
Skillet Chicken with Cognac and Lemon
This recipe is the perfect example of what recipes on Cooking On The Weekends are all about -- it's creative and comforting food for casual entertaining.
This recipe is the result of throwing a handful of delicious ingredients -- in a specific order -- together in one pan. With varying degrees of heat throughout the cooking process, within about 30 minutes an incredibly scrumptious meal will be ready.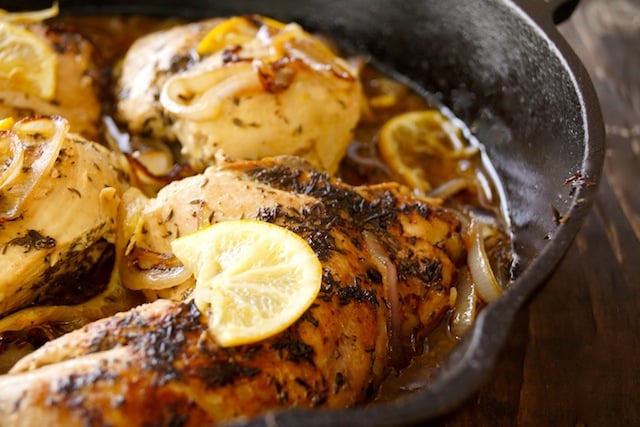 You won't believe how easy it is to create such deep flavors cooking this way. It's as much about the technique as it is the quality of the ingredients.
It's the combination of everything being cooked together in one pan. Even those tiny bits of food that get stuck to the bottom of the pan -- and are then brought into the dish by degalzing, help to make the final result so incredible.
Tips and Substitutions
Use yellow or white onions if you don't have shallots.
If you don't have cognac, this recipe also works well with sherry.
When you're braising the chicken, the breasts will take longer to cook than the other pieces of chicken. Check all of them towards the end of the cooking time and removed those that are done, and leave the breasts a bit longer, until they're cooked through.
If you don't have a cast iron skillet, use one with the heaviest/thickest bottom you have.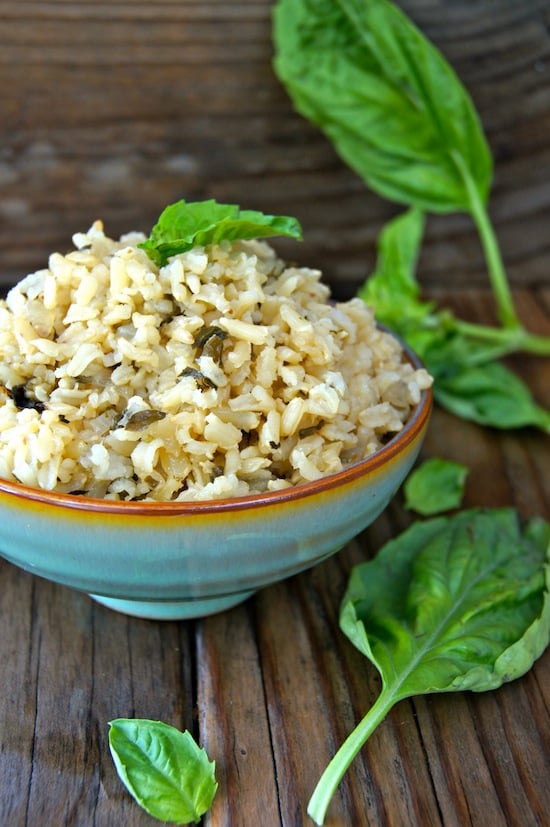 What to Serve with it
More cast iron skillet dinners . . .
Skillet dinners are my favorite for a weeknight -- I'm all about the comfort of a one pan meal, and Cast Iron Skillet Chicken with Cognac Sauce is one of the best!
Enjoy!
Cast Iron Skillet Chicken with Cognac Sauce Recipe
A comforting, quick and easy, one pan dinner full of fresh aromatic, delicious flavors. It's great for a busy weeknight, and impressive enough for guests.
Ingredients
2

tablespoons

olive oil

2

tablespoons

unsalted butter,

divided

¾

cup

shallots,

thinly sliced

1

teaspoon

minced garlic

2

teaspoons

dried thyme

1

approximately 3¾-pound whole, cut-up chicken, skin-off, bone-in

½

cup

chicken stock

¼

cup

cognac

2

tablespoons

fresh Meyer lemon juice

1

medium-sized Meyer lemon,

washed, very thinly sliced

sea salt and freshly ground black pepper
Instructions
Sauté the shallots, garlic and thyme. Add the oil and 1 tablespoon of the butter to an extra large skillet - ideally cast iron. Place it over medium heat and add the shallots and garlic. Sauté until the shallots are soft and beginning to brown. Add the thyme, stir, and let it become aromatic -- about 30 seconds.

Brown the chicken. Season both sides of the chicken pieces with salt and pepper. Turn the heat to high and add it to the skillet. Brown both sides of the chicken and then turn the heat to low-medium. (You're not cooking the chicken through here, just browning the surface.)

Make the sauce and add it to the skillet with lemon slices. In a small dish, mix the chicken stock, cognac and lemon juice together and then evenly pour it over the chicken. Add the lemon slices around, on top and below the chicken.

Braise. Cover the pan, reduce the heat to low and braise just until the chicken is cooked through, about 20 minutes. (Cooking times will vary slightly, and larger pieces, like the breasts, will take more time than smaller pieces.)

Finish the sauce and serve. Add the remaining tablespoon of butter and let it melt into the sauce. Season to taste with salt and pepper and serve! (Here's How to Season to Taste.)
Notes
Calorie count is only an estimate.
Have you tried this recipe?
I'd love to see it on Instagram! Tag me at @cookingontheweekends or leave a comment & rating below.
Cooking On The Weekends is a participant in the Amazon Services LLC Associates Program, an affiliate advertising program designed to provide a means for sites to earn advertising fees by advertising and linking to Amazon.com.