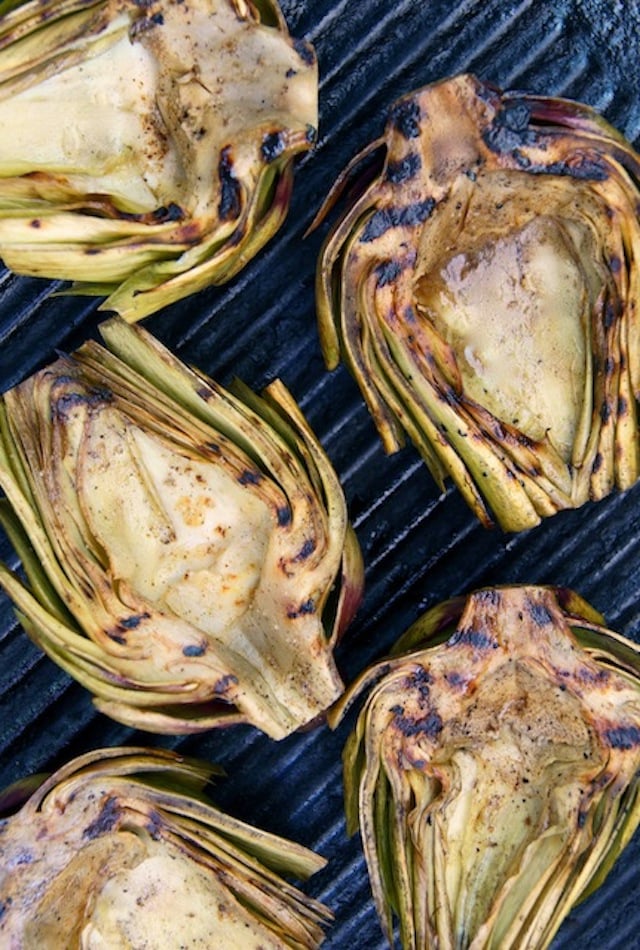 Whenever I add the words smoky or grilled to a recipe title, it automatically sounds delicious.   Though these words aren't necessarily interchangeable, the they often go hand in hand.  When you grill food it adds a nice char, and with the char, comes smoky flavors.
Now that summer's here (well in a few weeks, anyway), it's the perfect time to start thinking about cooking outside.
One of my favorite things about summer is entertaining on our deck.  Grilling becomes social.  I love when everyone's hanging out and talking with my while I'm doing my thing at the grill.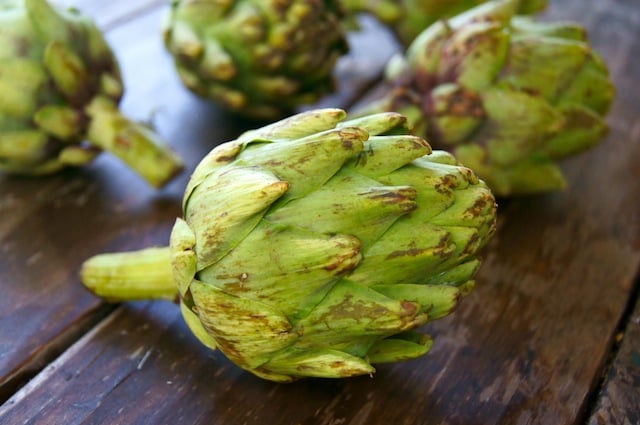 Artichokes might be one of those foods that are daunting for you to think about grilling, or maybe cooking in any fashion.  When I first worked with artichokes I didn't know what was going on with them.  They're a flower, they have heart, there's a spiny part you can't eat, you have to "trim" them — what is going on!?
Before we get into all of that, let's take a moment to simply admire the beauty of this unopened flower bud (which is what an artichoke is).  I think they're absolutely stunning.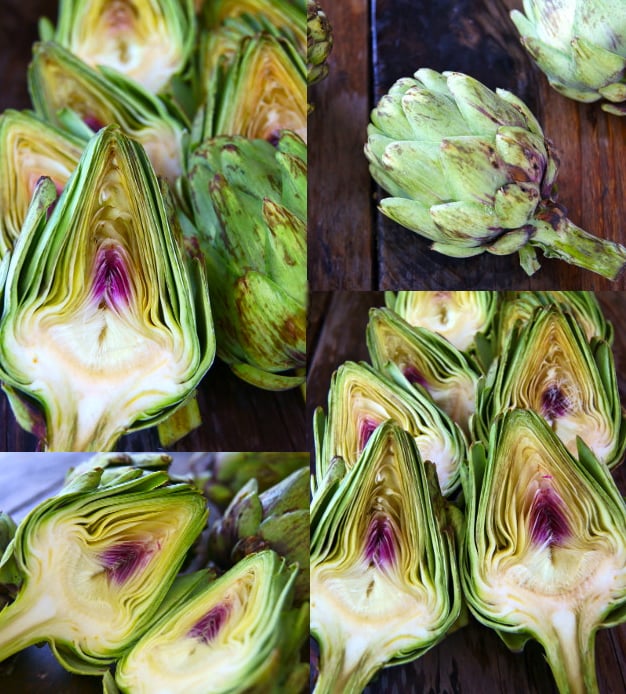 So let's get to it, shall we?
Wash the artichokes and then slice them in half, lengthwise.
Next, cut the tough portion of the stems off and use kitchen scissors to snip off all of the pointy tips. (This makes for a pretty presentation and and a better eating experience.)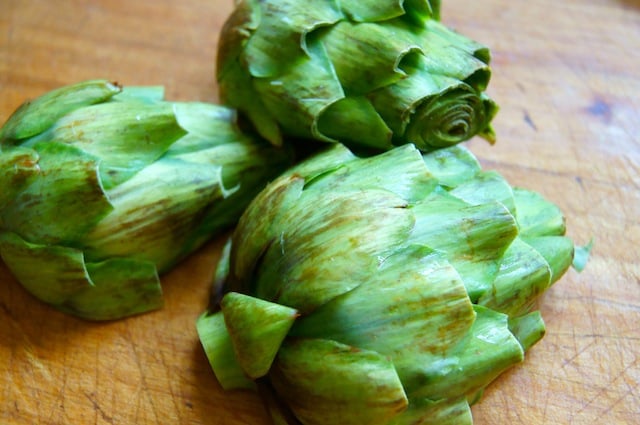 Now use a paring knife and a small spoon to remove the chokes.  You'll cut almost a "V" shape around the thistles (the "choke") at the bottom, just above the heart.  Use the spoon to gently scrape any thistles that remain after you've used the knife.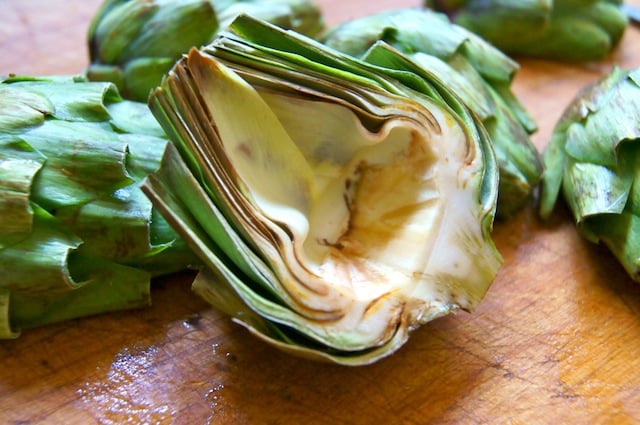 We're ready to steam the artichoke halves.  Put a steamer into a pot with the water level just below it.  Over high heat, bring the water to a boil and then add the artichokes to the rack, sprinkle them with sea salt, and cover.
Steam until they're tender — to see if they're done, pull a leaf from close to the center of the leaves. If is easily pulls off, they're done. (Cooking times will vary depending on the size of the artichokes.  The artichokes pictured here are quite small and took about 15 minutes.)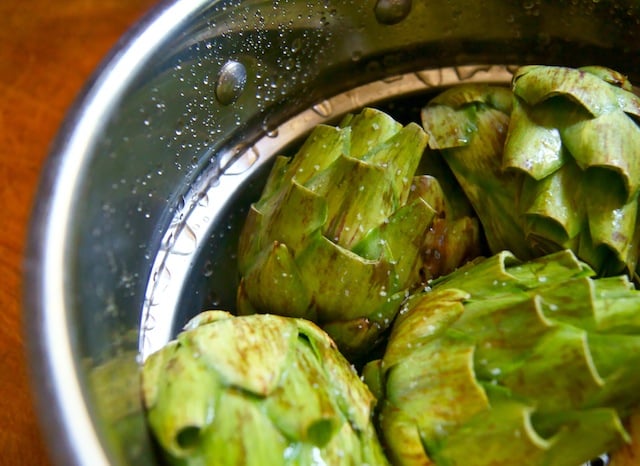 Ready to grill?
Okay, great.
Preheat your stove-top or outdoor grill and drizzle olive oil over a large baking sheet.  Place the artichokes, cut side down, on the oiled baking sheet.  Flip them over and season generously with sea salt and freshly ground black pepper. (Without using too much oil, be sure they are well coated.)  Once the grill is very hot, place the artichokes, cut side down, on the grill.  You should hear a sizzling sound — if you don't, it's not hot enough.  Wait for the sizzle!  Grill until the artichokes are nicely charred, 1 to 2 minutes.
And there you have it.  Simple and delicious.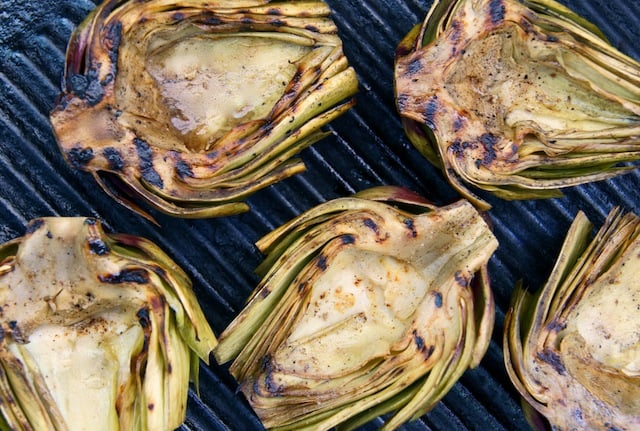 Notes:
Don't cut the artichokes until you're ready to get started as they'll discolor.  If they'll be sitting out for any period of time, squeeze lemon juice over them to avoid this.
Save
Save