This Chipotle Aioli From Scratch will take any sandwich, burger or salad to next level deliciousness! It's rich, creamy and bursting with flavor.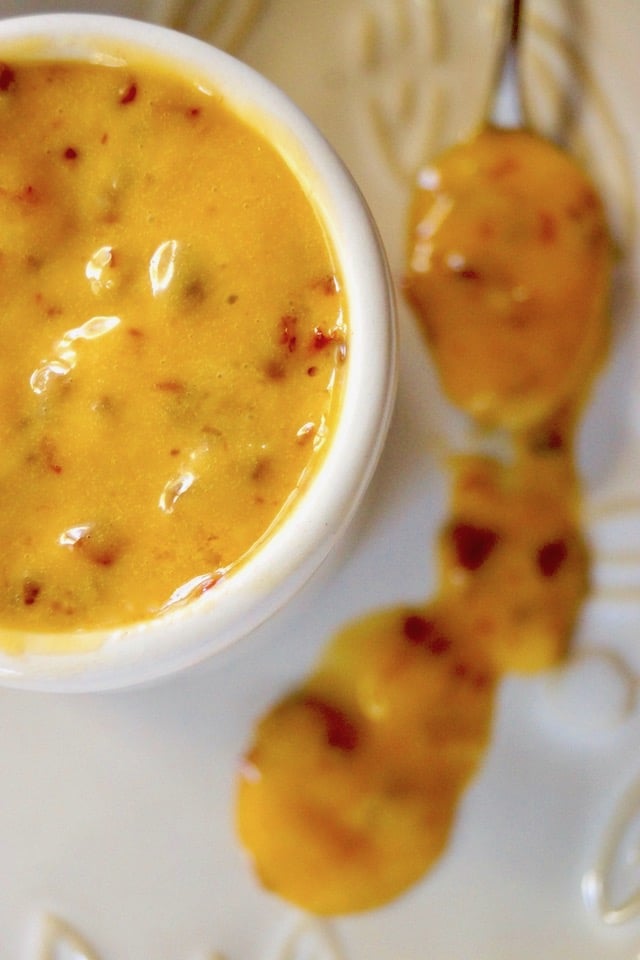 What is aioli?
Aioli is garlic mayonnaise that's traditionally made with garlic, lemon juice and olive oil.
You can add all sorts of flavors to aioli to mix it up. Fresh herbs, spices, different citrus varieties, peppers . . . the possibilities are endless.
Chipotle Aioli is my favorite!
What's is Chipotle Aioli?
Chipotle Aioli is aioil with the addition of finely minced chipotles in adobo sauce.
It's spicy with a delicious smoky flavor that's balanced with a touch of honey.
Uses for Chipotle Aioli
This Chipotle Aioli recipe will elevate any sandwich or burger to a higher level of deliciousness!
Serve it as a dip with French fries!
It would also be delicious thinned out with a bit of extra virgin olive oil, and used as a salad dressing.
Serve it with grilled chicken, fish or steak. It will be fabulous.
Dip artichoke leaves into it.
How to make Chipotle Aioli From Scratch
Add the egg yolk and minced garlic to a mixing bowl.
Whisk the yolk with the garlic until it's blended.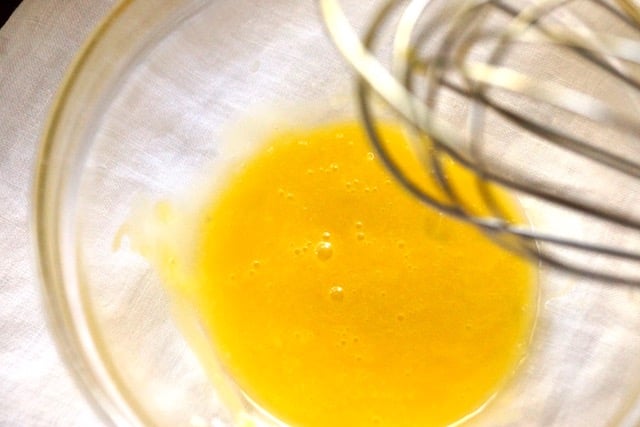 Add the olive oil bit by bit, drop by drop at first, and whisk after each addition. This is what is should look like at the halfway point.
As the aioli thickens, you can add larger amounts of the oil at a time, continuing to whisk. It should be quite thick when it's done.
Use a spoon to mix in the chipotles and lemon juice. Then season to taste. (Here's how.)
Voila, Chipotle Aioli From Scratch!
(Detailed instructions are below.)
Recipe Tips and Substitutions
It's very important to add the oil bit by bit (drop by drop in the beginning) as you whisk, so that the aioli emulsifies and thickens properly. It will be tempting to add more to speed things up -- don't do it or it will be thin.
Chipotle with lime is as delicious as chipotle with lemon, so you can try the recipe with lime juice instead to change it up if you like.
For an earthier flavor in this Chipotle Aioli recipe, add about

¼

teaspoon of ground cumin.
For less heat, remove the seeds from the chipotles.
The whisking in the recipe definitely takes a little muscle. If you're not up for it and want to save time, you can simply mix the garlic, lemon juice, chipotles and honey into

½

cup of a high quality prepared mayonnaise.
Is it safe to use raw egg?
Eggs have a low risk of foodborne illness, but that doesn't mean you shouldn't be careful. Therefore, it's important to use pasteurized eggs. There are brands that sell eggs already pasteurized, like this brand. And in the instructions below, you'll see how to pasteurize eggs yourself.
How long will it keep?
The aioli will keep in a tightly sealed container in the refrigerator for at least two weeks.
I would suggest having a jar of this Chipotle Aioli at the ready at all times. Next time you make burgers you'll be ready.
I hope you love it as much as I do!
More recipes using chipotles: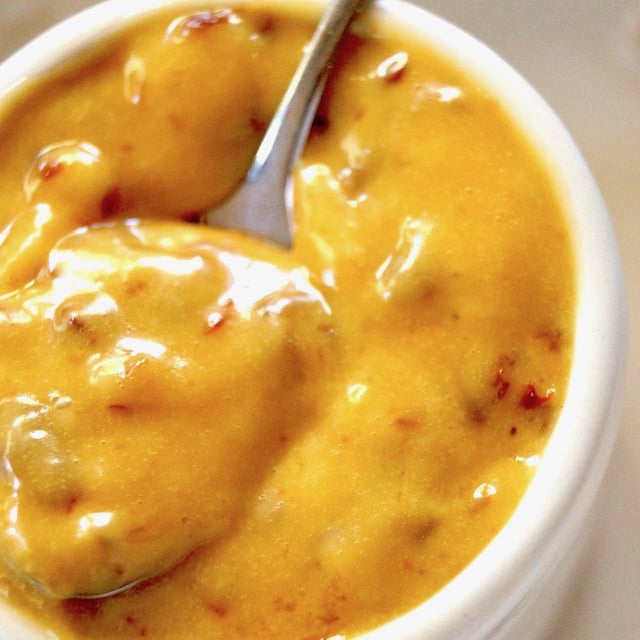 Chipotle Aioli From Scratch
This Chipotle Aioli recipe can take any sandwich, burger or salad to next level deliciousness! It's rich, creamy and bursting with flavor.Makes about ½ cup
Instructions
Pasteurize the egg. Place the egg in a small pot with enough water to cover it. Turn the heat to medium-low. Use a cooking thermometer and bring the temperature to 140°F. Keep the water at this temperature for about 3 minutes. (If the temperature is going up, turn the heat to a lower setting.) Remove the egg from the water with a slotted spoon and rinse it with cold water.

Emulsify the egg yolk with the oil and garlic. Separate the yolk from the white of the egg. Then add the yolk and garlic to a small mixing bowl and whisk to blend. Then add the olive oil bit by bit, vigorously whisking after each addition. The oil should be added drop by drop at first (literally). As the mixture thickens, you can add a bit more with each addition. I suggest drop by drop, then about 1 teaspoon at a time. Once about half of the oil has been added, you can add about 1 tablespoon at a time -- always whisking until each addition is blended before adding the next.

Flavor the aioli. Use a spoon to mix in the chipotles, lemon juice and honey.
NOTES
Calorie count is only an estimate.
NUTRITION
Have you tried this recipe?
I'd love to see it on Instagram! Tag me at @cookingontheweekends or leave a comment & rating below.
Cooking On The Weekends is a participant in the Amazon Services LLC Associates Program, an affiliate advertising program designed to provide a means for sites to earn advertising fees by advertising and linking to Amazon.com.