There's not much better than the sweet taste of fresh fruit at the peak of its season.  I am in love with summertime strawberries, mangoes, melons and of course pineapples!
This gorgeous fruit might be daunting for some to break into, and that might lead them to the canned fruit isle of the market.  Don't do it!  (Well, unless it's in the middle of winter and you're really craving tropical flavors — or — if you want to simultaneously use the juice from the can as part what you're making.)
Once you peel and cut a pineapple for the first time you'll realize how easy it is.
And the best part?  For me, it's after I make the first cut and the pineapple scent seeps into the room — if I close my eyes, I'm in Hawaii.
Off we go . . .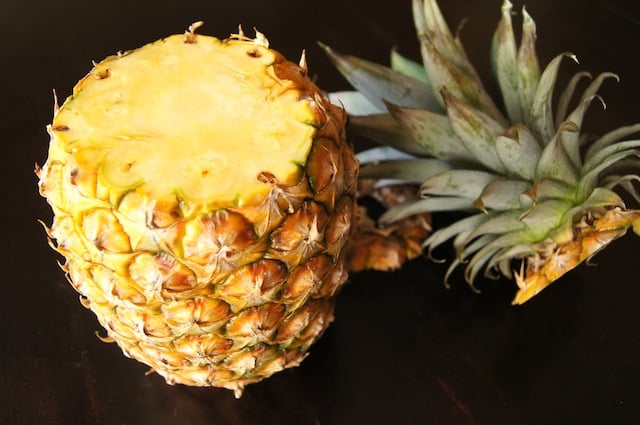 On a clean, dry cutting board, place the pineapple on its side.  Us a Chef's knife to cut about 1/2 to 1-inch off of the top and bottom.
Stand the pineapple upright on the bottom base you've just created.  Then to remove the skin, cut, moving your knife downwards into the fruit, just inside the skin.  You'll curve your knife slightly to follow the shape of the pineapple.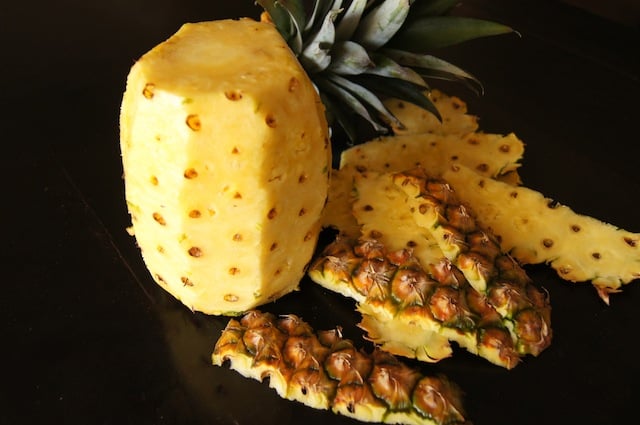 Go around until the pineapple until you've removed all of the skin.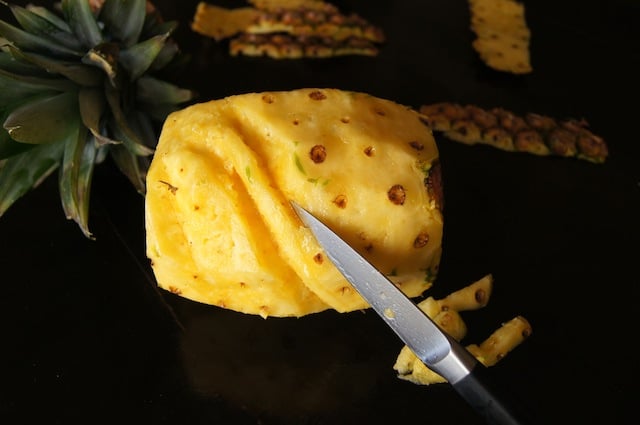 Remove the "eyes"  — these are the remaining spots of skin on the surface of the pineapple.
Rather than removing each one, one at a time, use a Paring knife to make diagonal cuts, following the line of the eyes.  Then do this on the opposite side of them, making a V-shaped space.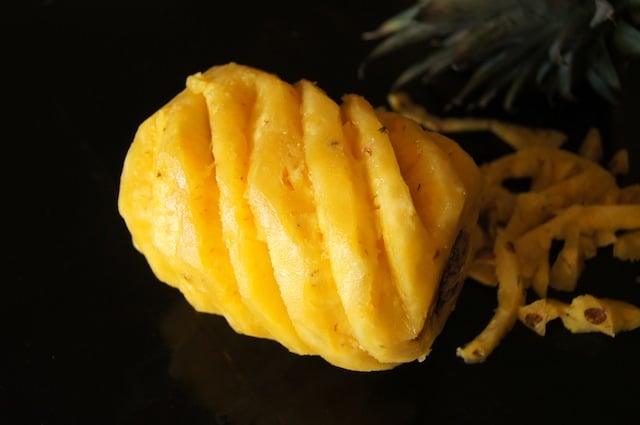 If you had cut all of these off when you removed the skin, you would have lost a lot of the pineapple.
Using this method, you'll get the maximum amount of fruit possible.
Slice the pineapple.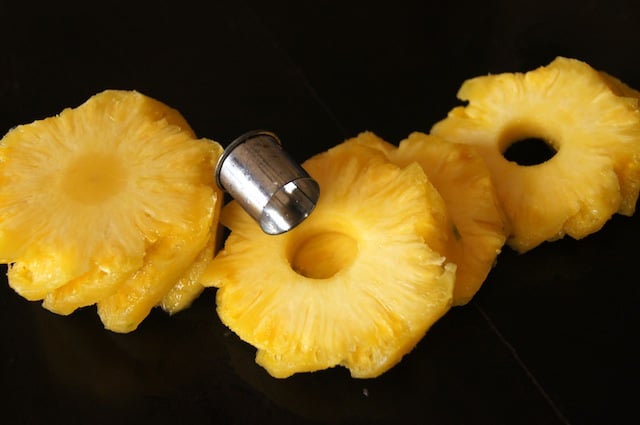 More often than not, the center of the pineapple will be quite tough.  You can use your Paring knife, or if you have it, a circle cutter, to remove this area.
Now you can slice and dice your pineapple any which way you want, and enjoy it's deliciously sweet flavor.
Save