Quinoa Salad Bowl with Shrimp bursts with fresh, bright, tropical flavors. This light lunch or dinner is super satisfying, healthy and pretty!
A perfect summer dinner for a relaxing weekend or busy weeknight. This is a hearty dish that's somehow also light, and is all in one bowl!
What is quinoa?
Quinoa is a grain, but not a grass like wheat and rice.
Considered a "superfood," botanically, quinoa is closely related to spinach.
It's a very healthy food and is a whole protein, which means that it contains all nine essential amino acids.
Quinoa is also naturally gluten-free, high in dietary fiber, B vitamins, and dietary minerals.
What are the differences in quinoa varieties?
There are over one hundred types of quinoa! I know, who knew?
The most common quinoa colors that we see in stores are white/yellow, red, and black.
The varieties vary slightly in taste and texture. I used a mix of red and white/yellow in this recipe, but you can use any one you'd like to.
I find that the darker colors tend to have a slightly firmer texture and nuttier, earthier flavor, while the lighter colors are a bit more bitter.
When to Serve it
This is a fantastic "one bowl" meal that works really well for lunch or dinner.
It's lovely for a dinner party, and quick and easy enough for a busy weeknight.
For guests, arranging the salad on a large serving platter, or in individual bowls, is a beautiful presentation, and shows off its more elegant side.
Can you make it ahead?
Yes! Here's how:
Cook the Tropical Quinoa a day ahead of time, let it cool to room temperature and then refrigerate.
A few hours ahead of time, cook the shrimp, and chop the greens and onion.
Mix it all together -- or -- arrange it all in bowls or a serving platter, about thirty minutes before you're ready to serve.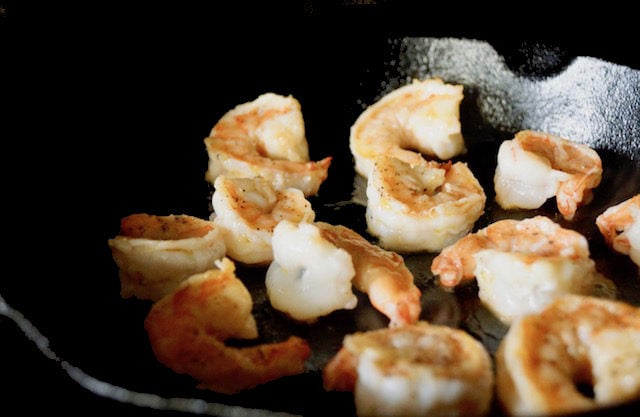 How to Change up the Tropical Quinoa Salad . . . .
If shrimp isn't your thing, you can switch it out for a protein you prefer. I think either chicken or tofu would be a good alternative. Or you can keep it vegan and skip the protein all together, in which case you should use more pineapple and lettuce.
I use a mixture of fresh mint and basil -- you can also use one or the other, or use cilantro, parsley, or any combination thereof.
Not into coconut? Use all pineapple juice to cook the quinoa. You get the idea.
(And yes, if you want to, you can use fresh pineapple and pineapple juice from a can. I use the pineapple chunks in pineapple juice from the 20-ounce can because it works perfectly for this recipe, as you'll see in the instructions.)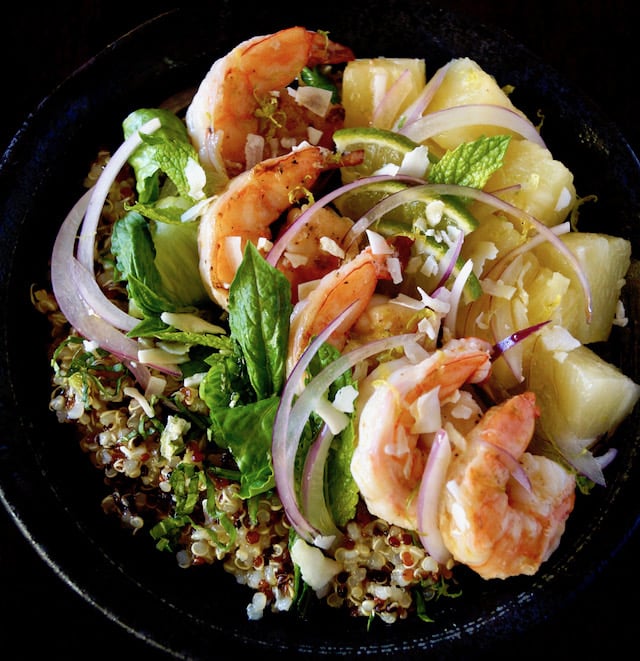 More unique and delicious quinoa recipes:
I hope you enjoy this Tropical Quinoa Salad Bowl with Shrimp, and any of the other quinoa recipes you try.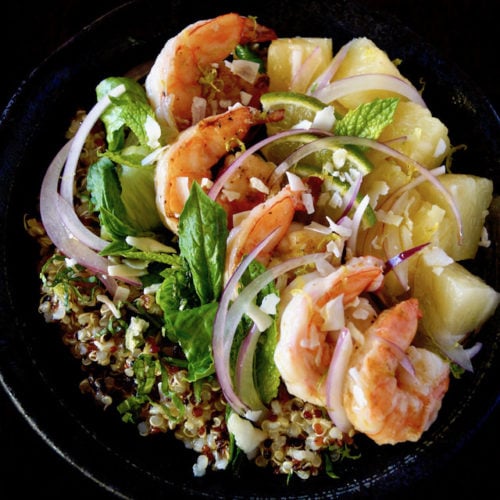 Quinoa Salad Bowl with Shrimp
Quinoa Salad Bowl with Shrimp is bursting with fresh, fruity flavors. This light lunch or dinner is super satisfying, healthy and pretty!
Ingredients
1

(20-ounce) can

pineapple chunks in 100% pineapple juice

1

cup

coconut water

1

teaspoon

low sodium, gluten-free soy sauce

(see notes)

1

cup

quinoa,

rinsed

zest of 1 lime

2

tablespoons

lime juice

¾

cup

red onion,

very thinly sliced

2

cups

loosely packed lettuce (baby greens, romaine, your choice)

¼

cup

fresh mint,

washed and dried, roughly chopped

¼

cup

fresh basil,

washed and dried, roughly chopped

pinch

cayenne pepper
Instructions
Cook shrimp. Add enough grapeseed oil to coat the bottom of a large sauté pan. Heat the pan with the oil over high heat. Season both sides of the shrimp with salt and pepper, and once the pan is hot, add them to the pan. You should hear a sizzling sound -- if you don't, your pan's not hot enough. Wait until the pan is very hot and listen for the sizzle! Sauté the shrimp just until cooked through, about 1 to 1½ minutes per side. Set aside to cool.

Prepare pineapple. Drain the pineapple chunks over a medium-sized saucepan. Make sure to get all of the juice from the can -- it should measure exactly 1 cup. Set the pineapple chunks aside for later.

Cook quinoa. Add the coconut water and the soy sauce to the saucepan with the pineapple juice, along with the quinoa. Bring to a boil, cover, reduce the heat to low, and cook for 15 minutes.

Cool quinoa and mix everything together. Place the quinoa in a large serving or mixing bowl and let it cool completely. Add the lime zest and juice, onions, greens, pineapple chunks, raspberries, shrimp, and herbs. Mix it gently to combine, and season to taste with salt and pepper.
NOTES
You can use

regular soy sauce

if you don't need the dish to be gluten-free.

Tamari

is also always a great gluten-free alternative to soy sauce, and tastes more or less the same.
Calorie count is only an estimate.
NUTRITION
Have you tried this recipe?
I'd love to see it on Instagram! Tag me at @cookingontheweekends or leave a comment & rating below.
Cooking On The Weekends is a participant in the Amazon Services LLC Associates Program, an affiliate advertising program designed to provide a means for sites to earn advertising fees by advertising and linking to Amazon.com.