With this beautiful and instructional, photographic guide, you will learn how to easily peel pearl onions, and be daunted by this task no more!  They are so delicious when freshly peeled and added to all kinds of recipes.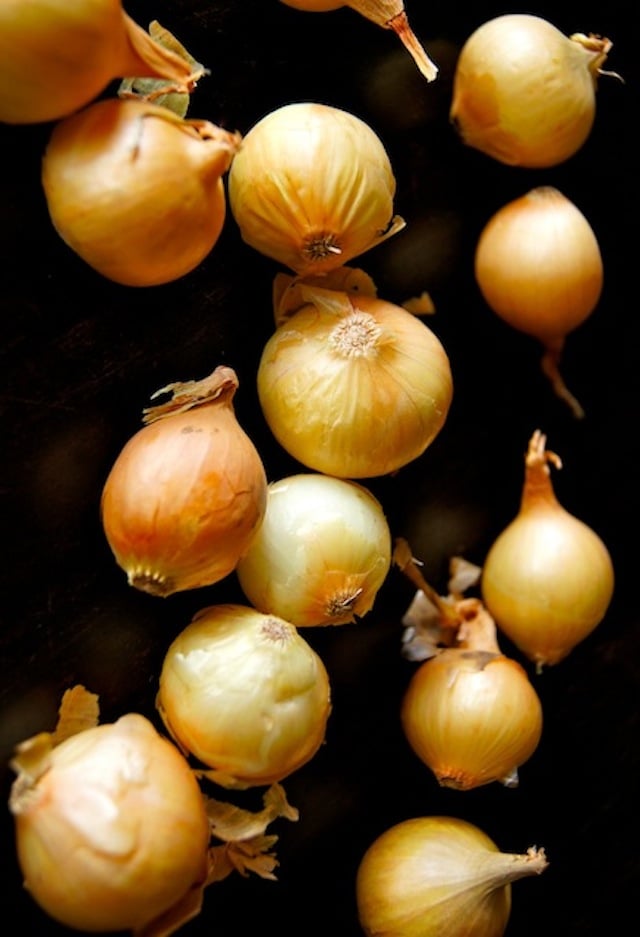 Are you on the edge of your seat?  Could there be a more exiting topic?
Here's the deal . . . as I was peeling Pearl onions when I made Blueberry Balsamic Braised Brisket, I was remembering how I used to peel them — before I actually knew how.
I'm not sure what I was doing, but I'm sure it took me way, way too long.
Of course, you can peel them any which way you like, but learning this method will take a fraction, showing you how to easily peel pearl onions. I Promise.
Pre-peeled peeled onions are available in the freezer section of most markets — and while you can certainly purchase them, I would highly recommend doing it yourself instead. The final result of the recipe they're being added to, will be far superior.
Let's learn How to Easily Peel Pearl Onions, shall we?
Off we go . . .
Step 1:  Prepare a bowl with ice water and set it aside.
Step 2:  Place the onions in a sauce pan, and add just enough water to barely cover them.
Step 3:  Bring to a boil, turn off the heat, and let them sit for about two minutes.
Step 4:  Drain, and then add the onions into the bowl with ice water and let them sit just long enough to cool off a bit.
Step 5:  Drain the onions again, and gently pour them onto a cloth towel to absorb any excess water.
Step 5:  Use a paring knife to cut the root off the bottom of each onion.
Step 6: Then gently pinch the other end and the skin should slide right off.
And there you have it.
Now you know how to easily peel pearl onions.  I hope you'll give it a go!
Save
Save