Sweet and Spicy Pineapple Pork Chops are ridiculously delicious and easy! Cooked on the grill, they're packed with tropical and spicy flavors. This can be beautifully presented for a dinner party, or whipped up fairly quickly for a busy weeknight.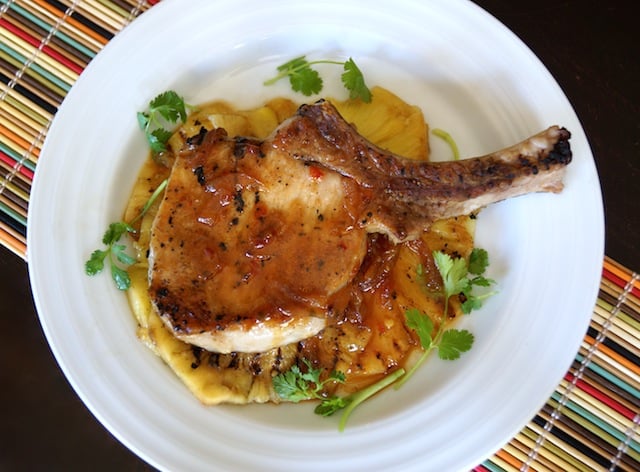 We're going on a family vacation to a tropical beach very soon -- so naturally, I have pineapple on my mind.
When I've been cooking lately, I've found myself thinking of how to add tropical twists to my recipes.
This one came to be because I remembered a delicious spicy pineapple pork dish I had in a restaurant a long time ago. I've been craving it.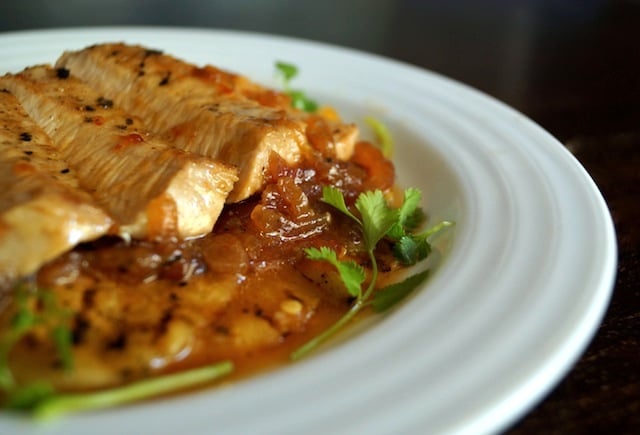 Can you use Sweet and Spicy Pineapple sauce with other meats, poultry or fish?
Of course.
While the sweet, juicy pineapple combines perfectly with the grilled, succulent pork, this recipe could also easily be made with steak, chicken or fish.
For substitutions, I would suggest Flank steak, boneless, skinless chicken breasts, Halibut or Tilapia.
Whichever one suits your fancy, I think you'll love the blend of sweet and spicy flavors.
Can you make this without a grill?
Yes! Follow the same instructions below for for grilling, but apply them to a sauté pan -- preferably one that's cast iron.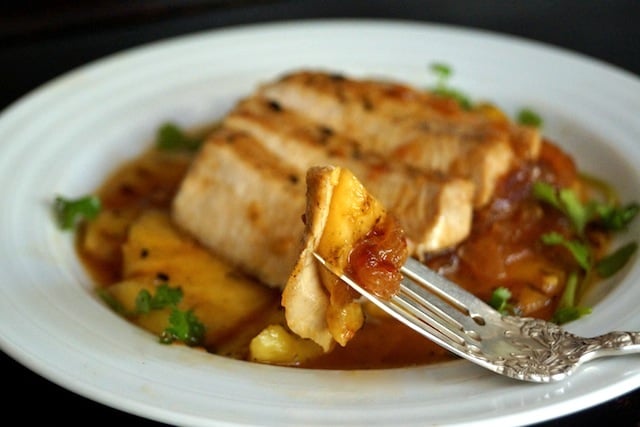 I really love when recipes are interesting and pretty enough for guests, but also work for a busy weeknight dinner.
And that's exactly what I thought when I plated the Sweet and Spicy Pineapple Pork Chops.
Enjoy every last bite!
More recipes with pineapple: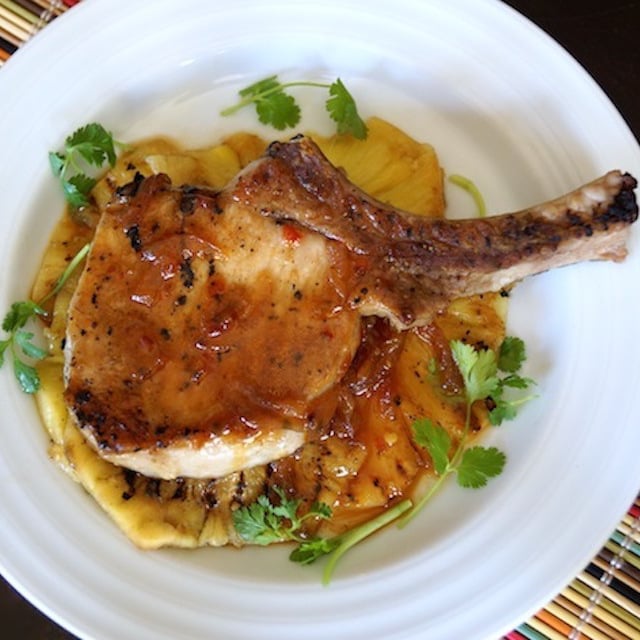 Sweet and Spicy Pineapple Pork Chops
This recipe is ridiculously delicious and easy! Packed with tropical, spicy flavors, it can be beautifully presented for a dinner party, or whipped up fairly quickly for a busy weeknight.
Ingredients
1⅓

cup

red onion,

thinly sliced

2

teaspoons

garlic,

minced

1

tablespoon plus 1 teaspoon

chili paste

(see notes)

2

cups

pineapple juice

1

tablespoon plus 1 teaspoon

low sodium Tamari

4

(approximately 8-ounce)

pork chops,

bone-in, about 1-inch thick

salt and freshly ground black pepper

a few sprigs of cilantro for garnish
Instructions
Make the sauce. Coat the bottom of a medium-sized saucepan with the oil and place it over medium heat. Add the onions and garlic and cook until the onions are soft and caramelized, stirring every so often, 10 to 15 minutes.

Mix in the chili paste, stir to combine, and then deglaze the pan with the pineapple juice.

Add the Tamari and bring to a boil. Then, immediately reduce the heat to low, and simmer until the sauce thickens a bit, 10 to 15 minutes. Set aside.

Heat grill. Preheat a stove-top grill or outdoor BBQ.

Prep pork chops and pineapple slices. Season both sides of the pork chops with salt and pepper, and season both sides of the pineapple slices with pepper only. Drizzle both the pork chops and the pineapple slices with grapeseed oil, being sure both sides are well coated.

Grill. Once the grill is very hot, add the pork chops and pineapple slices. You should hear a sizzling sound when they hit the pan -- if you don't, wait! The grill needs to be very hot for everything to caramelize and char properly.Turn the pork chops over when the bottoms are well marked from the grill, about 2 minutes. Then turn the heat to low, cover loosely with foil, and let them finish cooking just until the pork is cooked through, about 8 minutes. (The pineapple slices should grill for about 3 minutes per side. Remove them from the grill when they're done, while you continue to cook the pork.)

Assemble and serve. On a large serving platter, or on individual serving plates, place each pork chop on top of 2 of the grilled pineapple slices.

Drizzle the pineapple-onion sauce over the pork chops, and spoon a bit beneath them, too. (For a more elegant presentation, you can slice the pork off the bone and fan it out over the pineapple.)

Garnish with cilantro and serve!
NOTES
The chili paste measurement is a suggested amount -- use as much as you'd like, depending on how much heat you want. My favorite is

Sambal Oelek

, and I always have a jar at the ready.
Calorie count is only an estimate.
NUTRITION
Have you tried this recipe?
I'd love to see it on Instagram! Tag me at @cookingontheweekends or leave a comment & rating below.
Cooking On The Weekends is a participant in the Amazon Services LLC Associates Program, an affiliate advertising program designed to provide a means for sites to earn advertising fees by advertising and linking to Amazon.com.