Learning how to peel and pit lychee fruit is easier than it might seem. This lovely and unique, tropical fruit, native to China, is a delicate, sweet treat.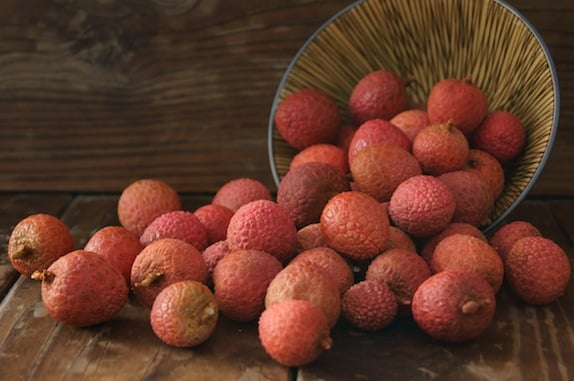 Lychee Inspiration
This past weekend I was fortunate enough to go on a Vietnamese "food crawl" with Kim of Rustic Garden Bistro.
We walked around Westminster, CA., where Kim's favorite Vietnamese eating spots are. The food was delicious, the company was delightful, and one of the highlights for me was shopping in the Vietnamese market. Among other wonderful things, I purchased a big, gorgeous bag of fresh lychees.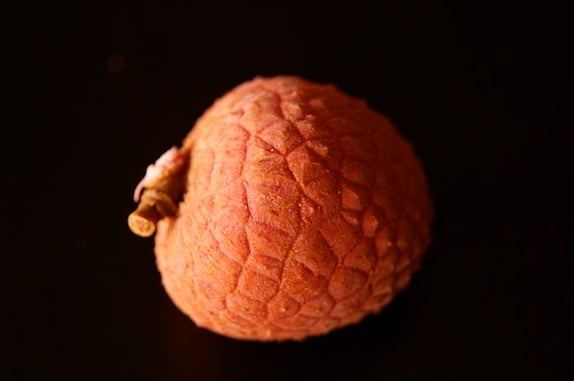 About Lychees
Native to Southern China, Lychees are grown in tropical climates all over the world.
Lychees are very small, just a little bigger than an average grape, and the skin is reddish-pink and slightly bumpy.
The skin is inedible while the flesh is edible and deliciously sweet and juicy.
The flesh of a lychee is translucent and white and has a dark brown seed.
The texture is soft, chewy and jelly-like.
Fresh Lychees are available in late spring through mid-summer.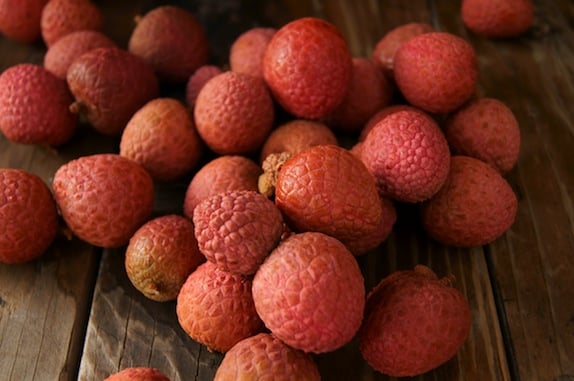 I've them many times, but had never known how to peel and pit lychee fruit. Turns out, it's easy! And as with most produce, eating them fresh is the absolute best.
I am excited to share them with you! If you haven't eaten a fresh lychee before, you'll want to know how to peel and pit one. It's an easy and quick process.
Lychees are an incredible eating experience and I urge you to go get some. When in season, you'll be able to find them in most Asian markets.
A sweet and a savory recipe with Lychees:
Lychee Ice Cream with Chocolate
Enjoy!
How to Peel and Pit Lychee Fruit
How to Peel and Pit Lychee Fruit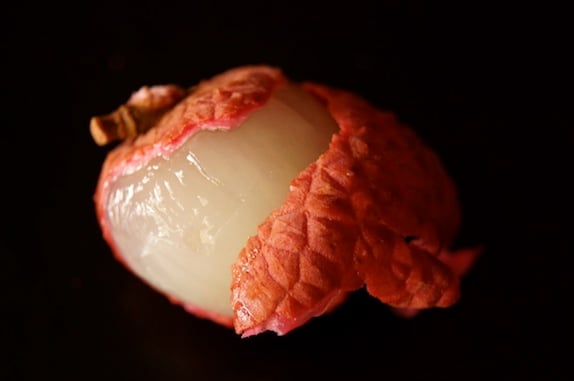 Learning how to peel and pit lychee fruit is easier than it might seem. This lovely and unique, tropical fruit, native to China, is a delicate, sweet treat.

Prep Time 5 minutes

Total Time 5 minutes

Difficulty easy
Instructions
A ripe lychee should be easy to peel with your fingers. Be very gentle as you carefully remove the thin skin from the fruit. It will likely come off in just a few pieces.
Use your fingers to dig into the lychee a bit to remove the pit. It should slide right out. You'll notice a very thin, brownish layer from the pit, that will remain on the the inside of the fruit. Don't try to remove this — it's
very soft and doesn't detract from the flavor of the fruit. (If you try to remove it, you'll loose a lot of juice in the process.)
Save
Save