This year we had a smaller Thanksgiving than usual and it was lovely — warm, peaceful and intimate.  Eleven of us fit around my parents' beautiful dining room table, candles lit, kids giggling, dogs under the table, and my dad carving the turkey.  It was perfect — except for one thing . . .
Circumstances were such that my brother couldn't be there.  While his absence was felt deeply and he was missed dearly, we found comfort in knowing he's doing well and we'll get to see him soon.  My brother is without question one of the sweetest, most kind people on the planet.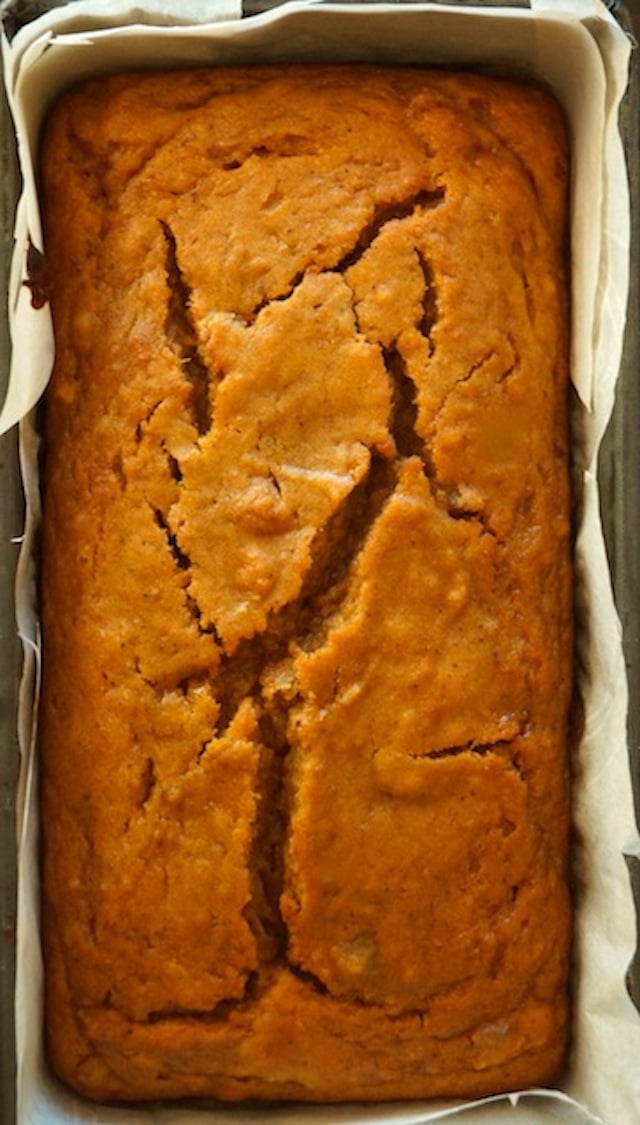 On another note, this bread is out of control delicious!  It's almost creamy, the texture is so divine.  The ginger and squash together are dreamy.
I guarantee you, if you make this bread and have a warm slice with a perfect cup of coffee — it will be an incredibly pleasant and delightful eating experience.
Enjoy!
Roasted Butternut Squash Gingerbread Recipe
Makes 1 (approximately 8½ x 4½-inch) loaf of bread
Ingredients
1¼

cup

butternut squash purée

Here's How to Roast Butternut Squash. - see notes

2

large eggs

1

egg yolk

1

cup

golden brown sugar

2

tablespoons

honey

2

teaspoons

vanilla

½

cup

extra virgin olive oil

⅓

cup

finely chopped candied ginger

1½

cups

all-purpose flour

2

teaspoons

baking powder

1½

teaspoons

ground cinnamon

1

teaspoon

ground ginger

½

teaspoon

ground cloves

1

teaspoon

salt
Instructions
Preheat the oven to 350 degrees F, adjust a rack to the center, and line an (approximately 8½ x 4½-inch) loaf pan with parchment paper. (Use a large piece that will cover the sides and cut slits in each corner so that it will lay flat along the edges.)

Add the squash, eggs, egg yolk, sugar, honey and vanilla to a large mixing bowl. Use a whisk to blend until it's as smooth as possible.

While whisking gently, pour in the oil gradually. Set aside.

In another bowl, combine the flour, baking powder, all of the spices and the salt. Then add this to the wet mixture use a large spoon to mix -- just until you no longer see dry spots of the flour.

Fold in the candied ginger and then pour the batter into the prepared parchment-lined loaf pan.

Place the pan on a baking sheet, and bake in the preheated 350 degree F oven until it's set, slightly golden, and is cracked on top -- this will take approximately 1 hour. Turn the baking sheet around about half way through the cooking time.

Let it cool in the pan for at least 20 minutes. Then use the parchment paper to lift it out.

Slice when you're ready to serve. (Keep it whole until you're ready because it will help hold in the moisture.)
Recipe Notes
You can switch the butternut squash for pumpkin if desired.
Save