My Roasted Butternut Squash Gingerbread recipe is a comforting celebration of the warm, delicious flavors of fall.
This year we had a smaller Thanksgiving than usual and it was lovely — warm, peaceful and intimate.
Eleven of us fit around my parents' beautiful dining room table, candles lit, kids giggling, dogs under the table, and my dad carving the turkey.
Inspiration for Roasted Butternut Squash Gingerbread
I'm always inspired to bake in the fall — especially between Thanksgiving and the December holidays. It's so comforting to be in the warm kitchen creating treats.
Even after the big feast, I find comfort in baking, and then of course sampling what I've made. 🙂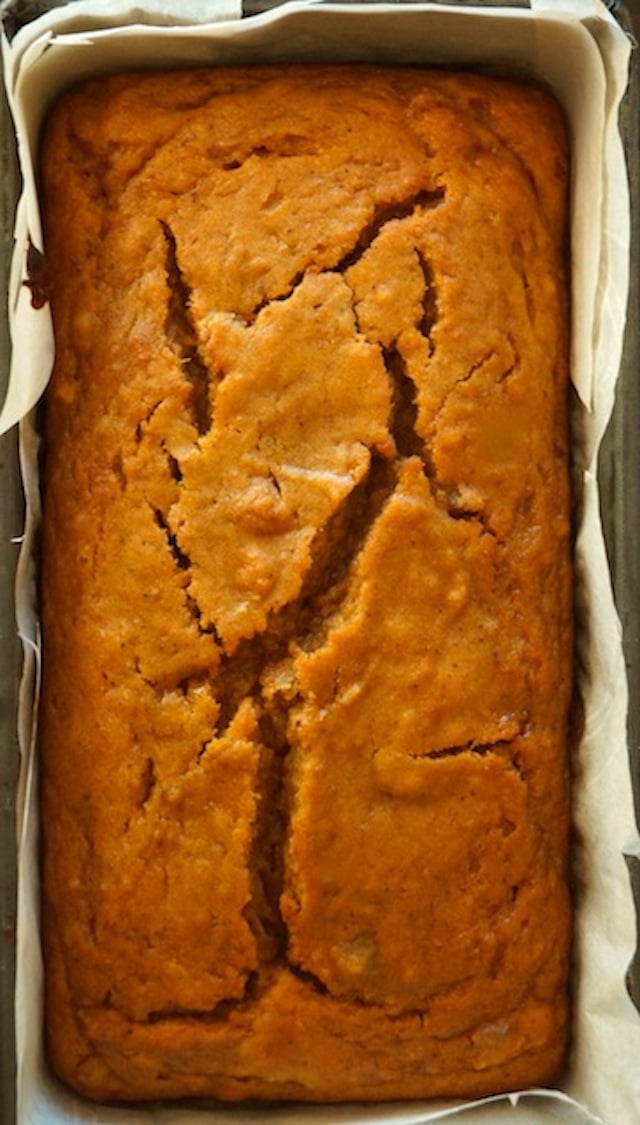 On another note, this bread is out of control delicious. It's almost creamy, the texture is so divine. The ginger and squash together are dreamy.
About Butternut Squash

Butternut Squash and Pumpkins are both from the same squash family (the Cucurbitaceae family), and have a similar flavor and texture.
When cooked, butternut squash is creamy and has mild squash flavor with sweet and nutty nuances.
It's one of the most widely known and most popular of the winter squashes.
With few seeds, depending on their size, butternut squash offer a lot of "meat" to be used.
Butternut squash is wonderful for comfort foods, both sweet and savory, as it pairs perfectly with warming spices like cinnamon and cardamom, nutmeg and cloves.
I guarantee you, if you make this bread and have a warm slice with a perfect cup of coffee — it will be an incredibly pleasant and delightful eating experience.
Enjoy every last crumb of this oh-so-perfectly-delicious Roasted-Butternut-Squash-Gingerbread!
More delicious butternut squash recipes:
Roasted Butternut Squash Gingerbread Recipe
Makes 1 (approximately 8½ x 4½-inch) loaf of bread
Course:
Breakfast, Dessert
Keyword:
fall comfort food recipes, brunch cakes
Instructions
Add the squash, eggs, egg yolk, sugar, honey and vanilla to a large mixing bowl. Use a whisk to blend until it's as smooth as possible.

While whisking gently, pour in the oil gradually. Set aside.

In another bowl, combine the flour, baking powder, all of the spices and the salt. Then add this to the wet mixture use a large spoon to mix -- just until you no longer see dry spots of the flour.

Fold in the candied ginger and then pour the batter into the prepared parchment-lined loaf pan.

Place the pan on a baking sheet, and bake in the preheated 350°F oven until it's set, slightly golden, and is cracked on top -- this will take approximately 1 hour. Turn the baking sheet around about half way through the cooking time.

Let it cool in the pan for at least 20 minutes. Then use the parchment paper to lift it out.

Slice when you're ready to serve. (Keep it whole until you're ready because it will help hold in the moisture.)
Recipe Notes
You can switch the butternut squash for pumpkin if desired.
Cooking On The Weekends is a participant in the Amazon Services LLC Associates Program, an affiliate advertising program designed to provide a means for sites to earn advertising fees by advertising and linking to Amazon.com.