Roasted Butternut Squash Chili is the perfect vegetarian, one-pot meal for cooler weather. As delicious as it is pretty, it's full of warming spices and hearty vegetables, and is a true bowl of comfort.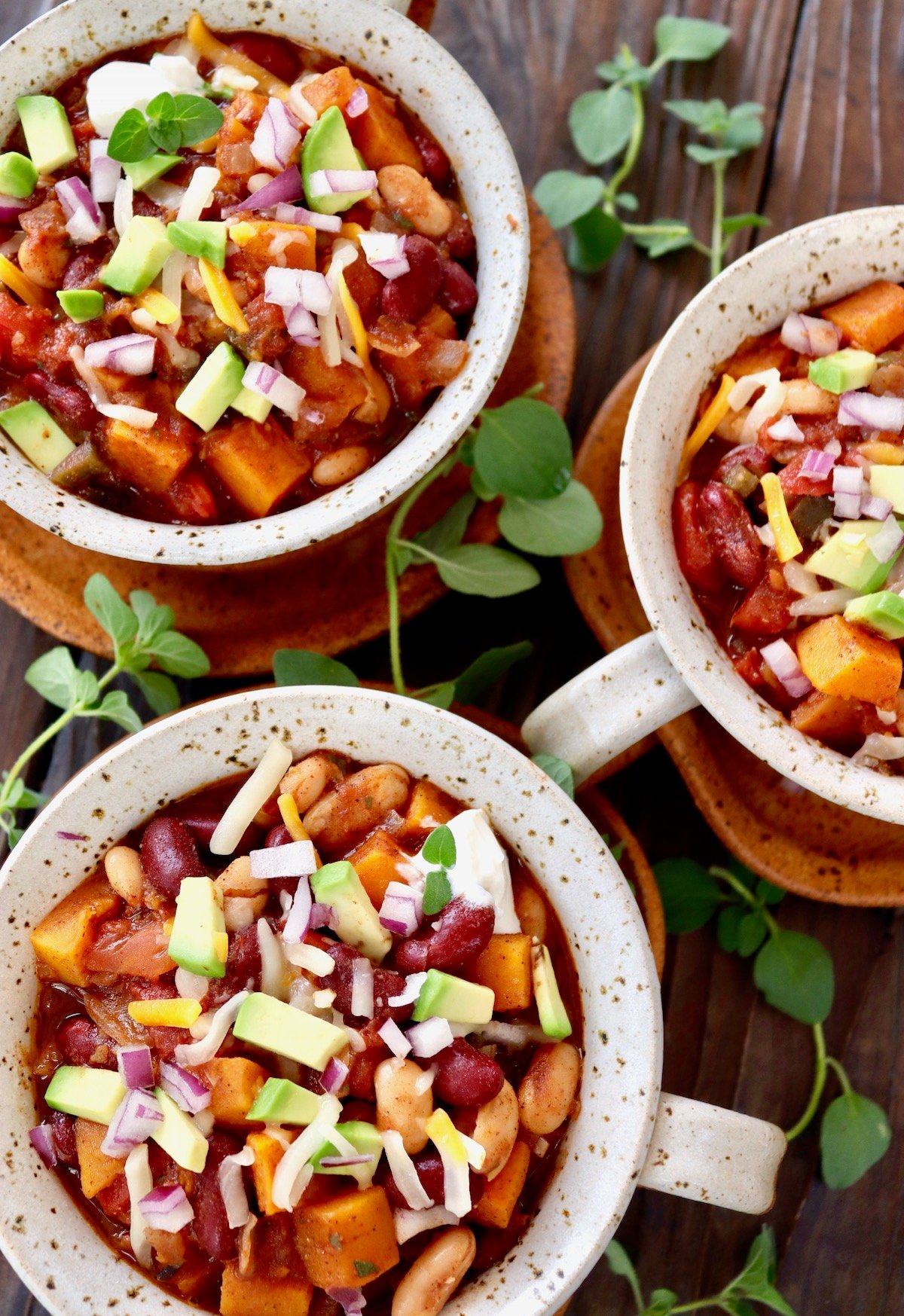 People sometimes have the misconception that if certain meals don't include meat, they will be less filling and hearty.
Not true at all!
This Roasted Butternut Squash Chili is the perfect example.
Incredibly satisfying, it's rich with both subtly sweet and deep savory flavors. The layers of spices will warm you, and with a few fresh garnish ingredients, it's a healthy and bright meal.
If you want more heat, do not remove the seeds (or some of the seeds) from the jalapeños. Did you know the membrane (holding the seeds) is actually the hottest part of the pepper?
What ingredient makes this vegetarian chili unique?
---
Red wine!
I'm not saying there aren't chili recipes with wine in them, but it's not typical, and it adds a significant amount of depth and flavor.
How to Make Butternut Squash Chili
---
Start to finish, you can have this chili on the table in about an hour. Here is the process, broken down into easy steps.
- Broil the jalapeños.
This is what the jalapeños should look like after they're broiled for a minute or so.
- Roast the squash.
- Cook the onion with the roasted jalapeños and spices.
- Deglaze the pot with red wine.
- Mix in the tomatoes, beans, and the roasted butternut squash.
- Add fresh herbs and season.
(More detailed instructions are in the recipe card below.)
Recipe Tips and Substitutions
---
To save time, you can purchase already roasted and peeled (jarred or canned) peppers.
Some delicious squash substitutes for butternut in the recipe are: Acorn, Delicata, Kabocha, Pumpkin or

Red Kuri

. It would also be fabulous with sweet potatoes.
If you don't have fresh oregano, you can use about 1 teaspoon of dried oregano, and add it when you add the other spices, after cooking the onion.
For added heat, don't remove all of the jalapeño seeds.
Can you add a protein? Sure. You can add ground chicken, turkey or meat. It should be added and sautéed in the pot, just after the onions cook.
I always serve chili with a few "toppings." This way everyone can pick and choose what they'd like to add -- if anything. I usually include avocado, diced red onion, grated cheddar cheese, and sour cream. This is your call -- serve whatever you'd like with it, and it's great without the additions too.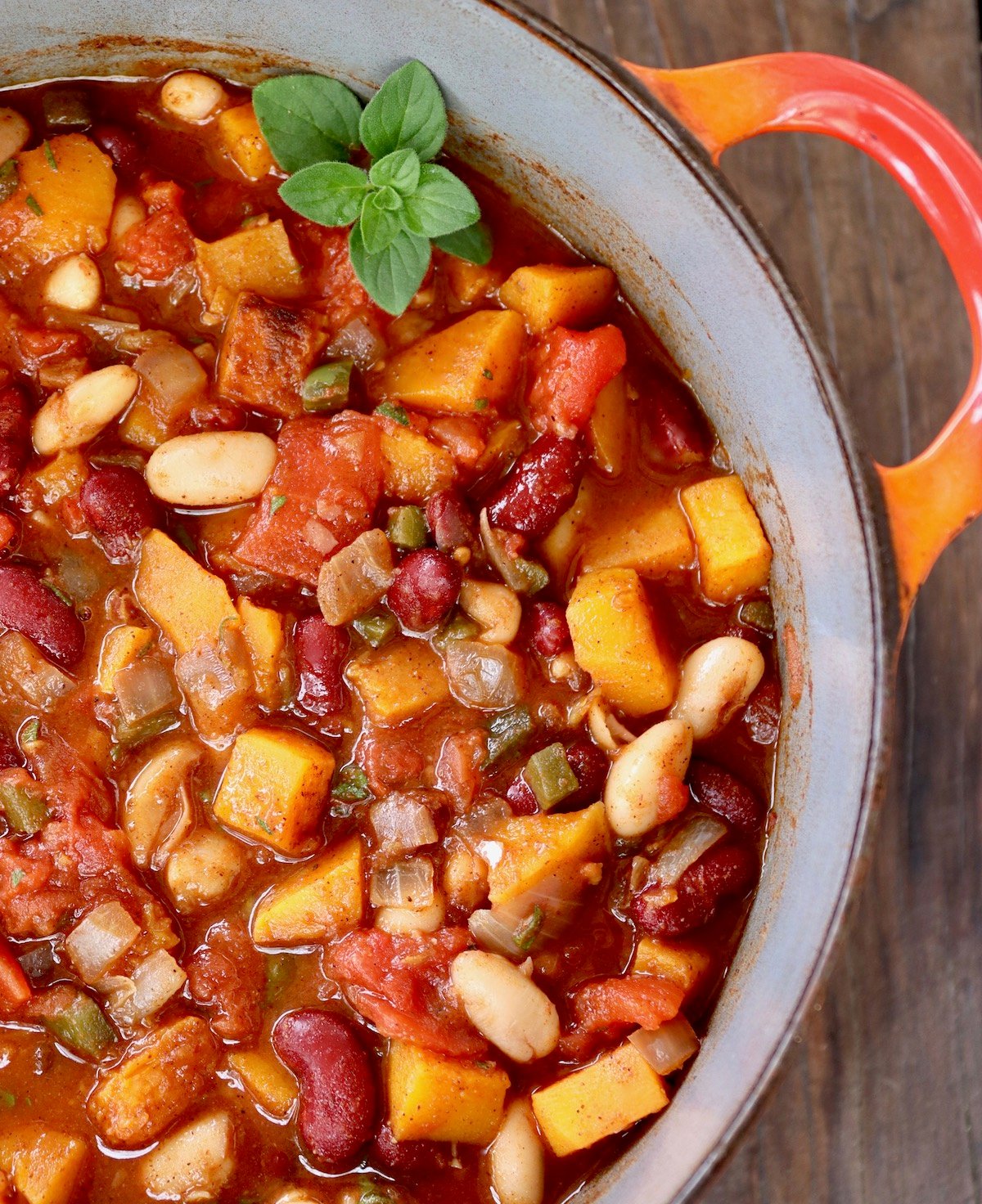 Can you make it ahead?
---
Absolutely! Like many one pot meals, butternut squash chili will only get better with time. You can make it up to a few days ahead. Reheat it on the stove when you're ready to serve.
You can also freeze this chili. Be sure it cools completely first, and that it goes in a tightly sealed container. You can store it in the freezer for about a month. Defrost it completely before heating it on the stove when you're ready to serve.
Serving Suggestions
---
While this dish can definitely stand on its own, my favorite sides with chili are a salad and/or cornbread. This cornbread casserole would be brilliant with it.
I hope you love this roasted butternut squash chili as much as I do.
More delicious chili recipes:
Enjoy every last bite!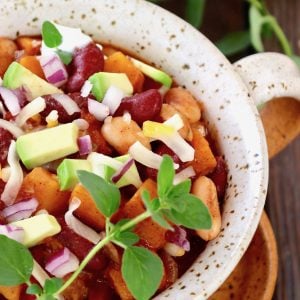 Roasted Butternut Squash Chili Recipe
Roasted Butternut Squash Chili is the perfect vegetarian, one-pot meal for cooler weather. As delicious as it is pretty, it's full of warming spices and hearty vegetables, and is a true bowl of comfort.
Ingredients
about 4

small

jalapeño peppers (about 4 ounces)

2½

pounds

butternut squash,

peeled, cut into approx. ½ inch dice (you will need 4 cups)

¼

cup

olive oil,

divided

1

tablespoon

brown sugar

1

teaspoon

ground cinnamon

1

cup

finely chopped onion

1

generous teaspoon

minced garlic

1

teaspoon

finely chopped chipotles in adobo sauce

1½

teaspoons

ground cumin

1

tablespoon

chili powder

½

cup

red wine

1

(28 ounce can)

diced tomatoes in their juices

1

(15 ounce can)

red kidney beans,

drained

1

(15 ounce can)

northern beans,

drained

1½

tablespoons

finely chopped fresh oregano,

washed and dried

salt and pepper to taste

optional toppings: avocado, cheddar cheese, red onion, sour cream
Instructions
Roast and peel peppers: Turn on the broiler and adjust a rack a few inches below it. Cut each pepper in half lengthwise, and remove the seeds. Place them round side up on a foil-lined baking sheet and set it under the broiler until the skin is fairly evenly charred, about a minute. Remove them and then wrap them in the foil they're on, leaving some space for air inside. Let them steam this way for about 5 minutes. Use your hands or the dull side of a knife to remove the skin. Finely chop them, and fill a ¼ cup measure. Set a side.

Roast the squash: Adjust the oven rack back to the center of the oven and preheat to 475°F. Line a sheet pan with parchment paper and add the squash to it.

In a small bowl, mix 3 tablespoons of the olive oil with the brown sugar and cinnamon. Then drizzle the squash with it and use your hands or rubber spatula to mix until all of the pieces are well coated.

Sprinkle with salt and place them in the preheated oven until golden brown, about 20. Use a rubber spatula to flip them after the first 10 minutes.

Cook the onion and garlic: While the squash is roasting, coat the bottom of a large stock pot or Dutch oven with the remaining olive oil (and more if necessary). Add the onion and garlic and over medium heat, cook until the onion begins to brown, about 7 minutes.

Add peppers and spices: Add the ¼ cup of finely chopped jalapeños, along with the chipotles, cumin, and chili powder. Cook until it becomes very aromatic, about 1 minute.

Deglaze the pan: Then turn the heat to low and add the wine. Then turn the heat up to medium-high and cook until the wine is reduced by about half, about 4 minutes.

Add remaining ingredients and squash. Add the tomatoes, beans, and roasted squash. Turn the heat to low, cover, and simmer for about 15 minutes to blend all of the flavors.

Season: Add the oregano and season to taste with salt and pepper

If desired, serve with toppings (avocado, cheddar cheese, red onion, sour cream)
NOTES
Calorie count is only an estimate.
NUTRITION
Have you tried this recipe?
I'd love to see it on Instagram! Tag me at @cookingontheweekends or leave a comment & rating below.
Cooking On The Weekends is a participant in the Amazon Services LLC Associates Program, an affiliate advertising program designed to provide a means for sites to earn advertising fees by advertising and linking to Amazon.com.