Purple Asparagus Recipe with lime and shallots takes only 15-minutes, and it's as delicious as it is beautiful. This is a perfect vegan or vegetarian spring or summer side.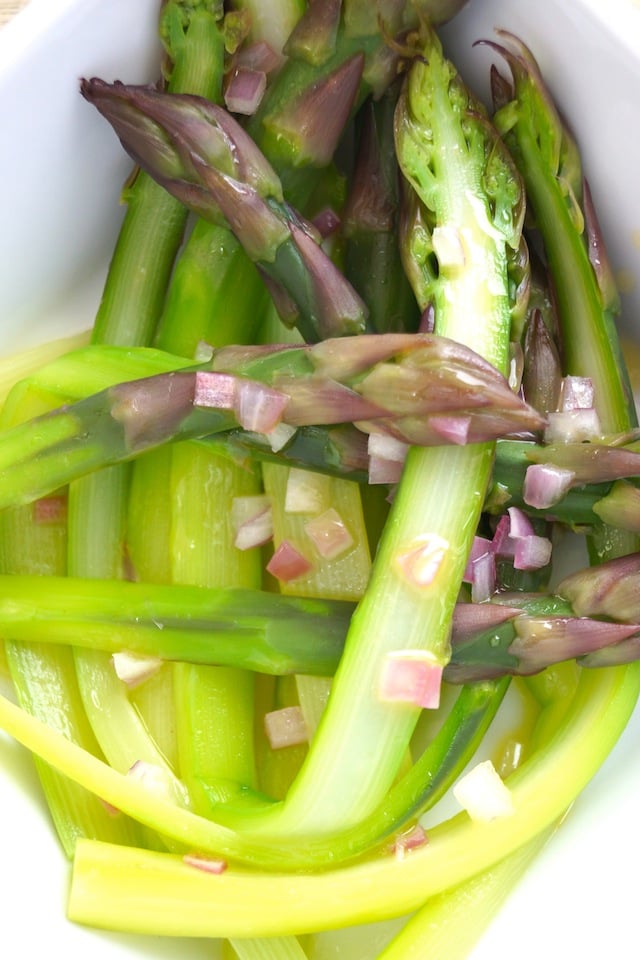 Purple Asparagus
Did you expect it to be a vibrant green beneath it's purple-reddish exterior?
It's beautiful inside and out.
One of my favorite things to do on Cooking On The Weekends is simply to celebrate the beauty of food.
I often look at raw ingredients as paint. When I look at this photograph below I see purple textured brushstrokes. Delicious brushstrokes. 😉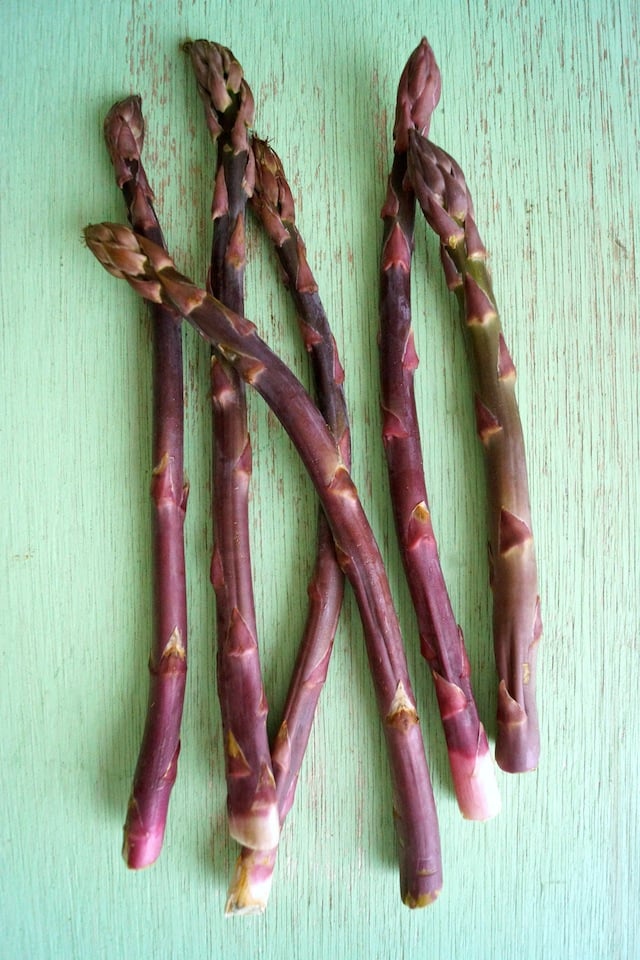 Green Asparagus vs. Purple Asparagus
Purple asparagus is only slightly different in flavor and texture from green asparagus.
The purple is sweeter with a sugar content that's about 20% higher.
And purple asparagus is typically less fibrous and is therefore often more tender.
With these subtle differences, purple asparagus recipes are interchangeable with green asparagus recipes.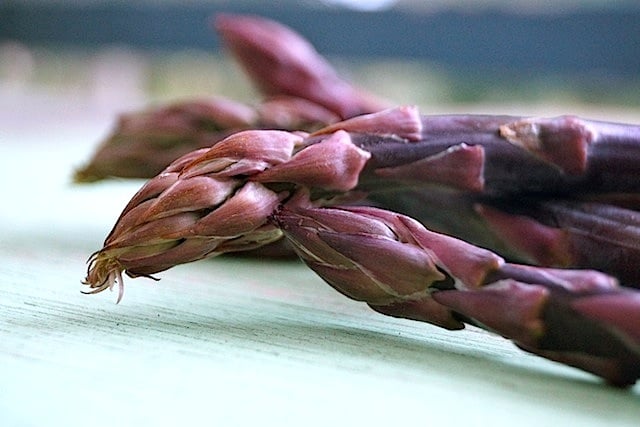 Do you have to peel asparagus?
Asparagus doesn't necessarily have to be peeled, but unless it's very thin, it's a good idea.
Peeling it removes the more tough and fibrous portions -- and it makes it even prettier. Especially with purple asparagus recipes -- when you peel it, it's suddenly becomes two stunning colors. The contrast is lovely, and makes purple asparagus recipes a work of art!
Peeled or not, purple asparagus recipes are beautiful!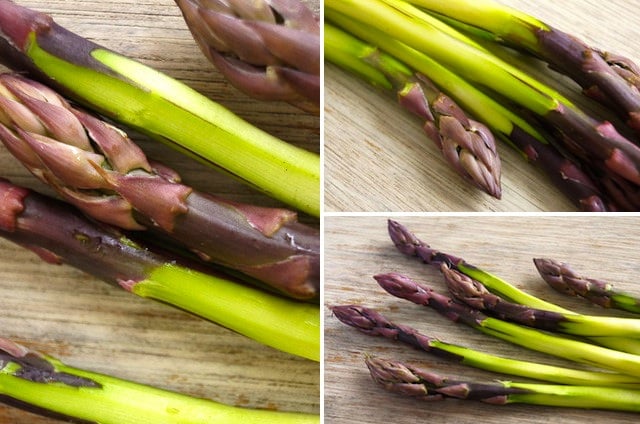 As pretty as a bouquet of freshly cut flowers.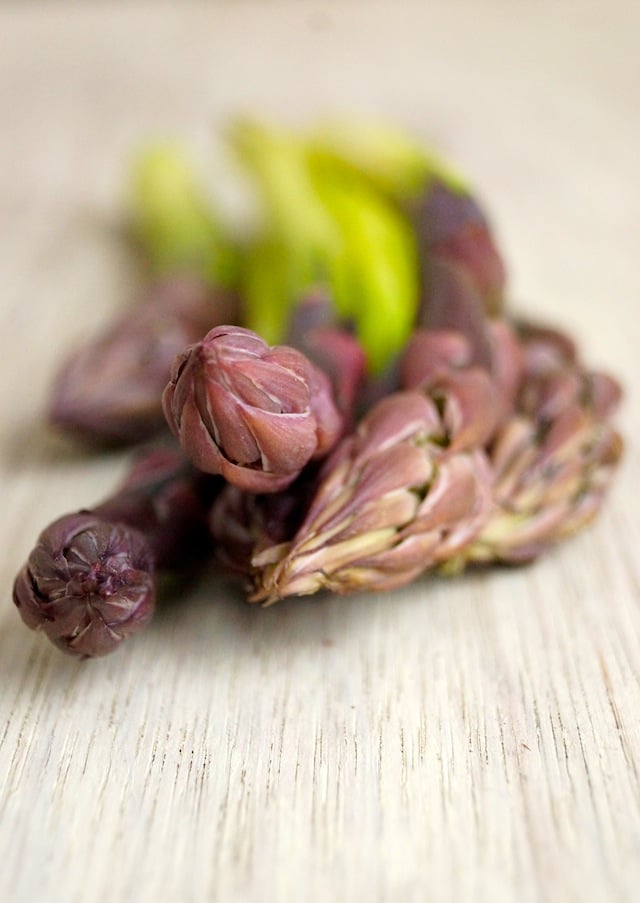 Even the scraps are a bundle of beauty.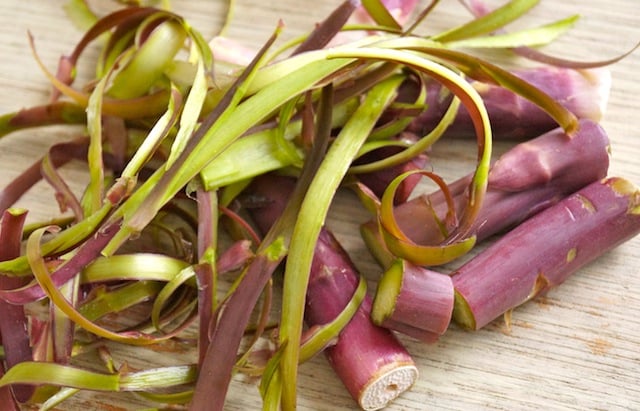 What makes purple asparagus purple?
Purple asparagus is rich in anthocyanins (don't even try to pronounce it!), which is what makes it purple.
Anthocyanins are antioxidant compounds -- those that are also found in blueberries and blackberries among a handful of other purple, red, and blue-like foods.
This purple asparagus recipe below is super simple and would be delicious with any asparagus variety -- purple or not.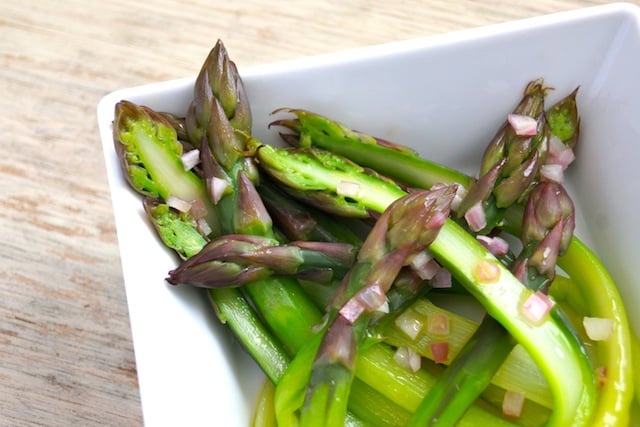 You should be seeing purple asparagus in the specialty section of some grocery stores and at your local Farmer's Market.
Enjoy this light and healthy Purple Asparagus Recipe!
More asparagus recipes: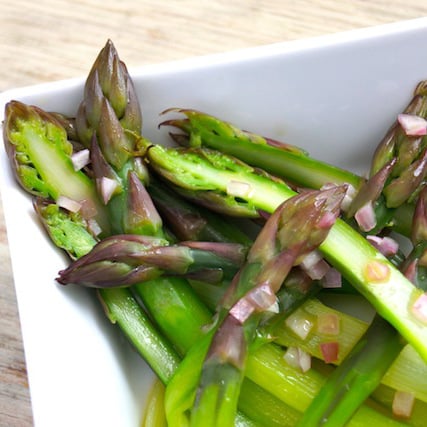 Purple Asparagus Recipe with Lime and Shallots
This Purple Asparagus Recipe takes only 15-minutes, and it's as delicious as it is beautiful. It's the perfect vegan or vegetarian spring or summer side dish!
Ingredients
1

pound

purple asparagus

2

tablespoons

unsalted butter

2

teaspoons

fresh lime juice

1½

tablespoons

shallots,

super finely diced
Instructions
Place a medium-sized bowl of ice water on your work space.

Prep asparagus. Cut the bottom few inches (the tough portion), off of the asparagus and discard. You can actually "snap" the ends off with your hands -- it almost always breaks right where it should.

Rinse the asparagus and then peel from just below the floret to the bottom, using a vegetable peeler.

Steam. Place a steamer in a pot with the water level just below it.  Over high heat, bring the water to a boil, add the asparagus to the rack, sprinkle it with salt and cover.  Reduce the heat to low and steam until tender, 5 minutes. (The cooking time will vary, depending on the thickness of the asparagus.)

Shock. Immediately add the steamed asparagus to the bowl of ice water and let it sit for a couple of minutes. (This is called shocking.)Then remove, pat dry with paper towels, and add them to a medium-sized mixing bowl. Set aside.

Make and add sauce. In a very small saucepan, melt the butter with the lime juice and shallots. Then season to taste with salt and pepper. (Here's How to Season to Taste.)

Drizzle the butter sauce over the asparagus and carefully toss to be sure it's well coated.

Serve! (I like cutting the asparagus spears in half vertically because I love how it looks.)
NOTES
Calorie count is only an estimate.
NUTRITION
Have you tried this recipe?
I'd love to see it on Instagram! Tag me at @cookingontheweekends or leave a comment & rating below.
This post contains Amazon affiliate links for your convenience at no additional cost to you. I received the purple asparagus from Melissa's Produce -- as always all opinions are my own.
Recommended for this recipe:

Save