Grilled Asparagus in Foil has just a few ingredients and big delicious flavors. It's so easy to prepare and throw on the grill alongside your main course for outdoor spring and summer meals.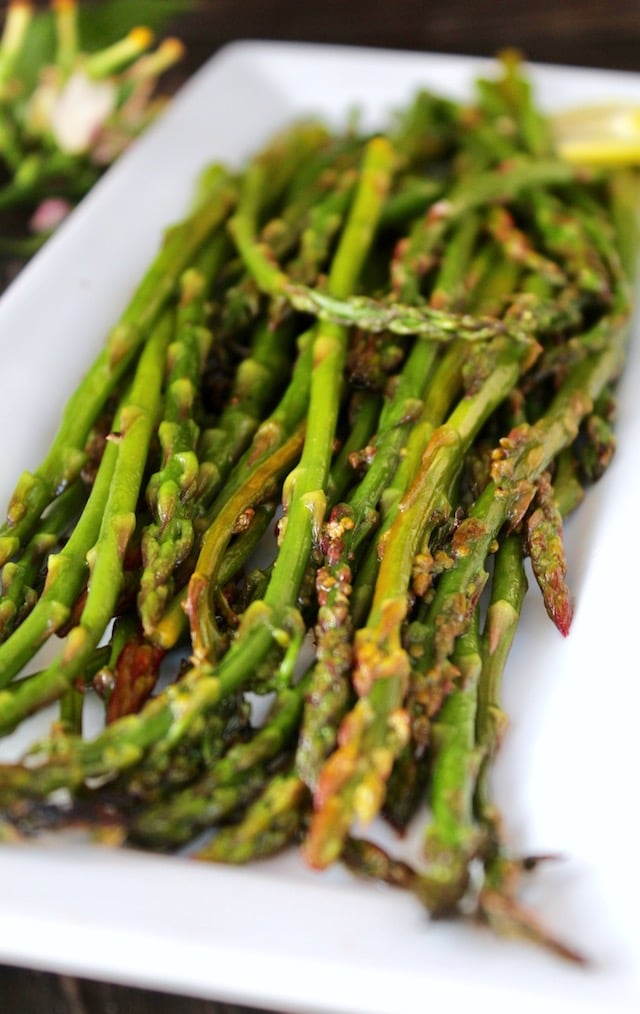 It's amazing how even wrapped in foil, this asparagus takes on a subtle smoky flavor from the grill.
That, combined with lemon makes for an absolutely fantastic side dish.
The fresh bright flavor is perfect for spring and summer.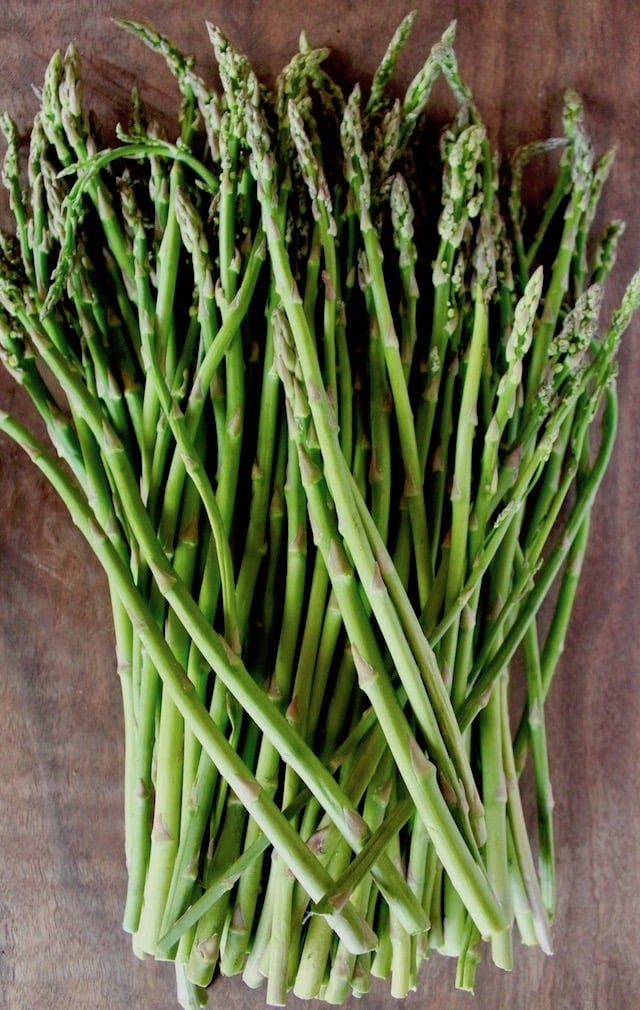 How to Grill Asparagus in Foil
The preparation for this recipe is quite simple, which makes it ideal to throw on the grill with other things like steak, Portobello mushrooms, or whatever you fancy.
Wash and dry the asparagus, and then snap or cut off the
bottom few inches.
Toss the asparagus in olive oil with salt, pepper and lemon
slices.
Wrap it in foil and place it on a hot grill. Grill for about 7
minutes, flipping it over about half way through. (How long to grill asparagus in foil will vary, depending on the thickness of the spears.)
Voila!
(More detailed instructions are below.)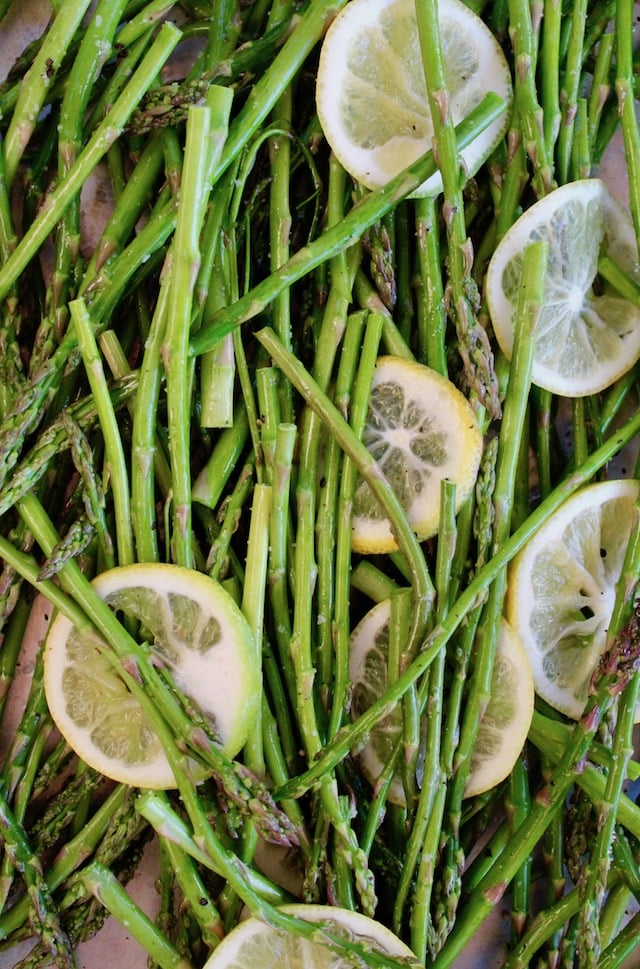 Recipe Tips and Substitutions
This recipe calls for

skinny asparagus

(also called thin or Pencil asparagus), which makes the grilling time very quick. You can use any thickness of asparagus for the recipe, just be aware that the thicker it is, the longer the grilling time will be. Also, if the spears are thick, it's a good idea to peel them.
I use olive oil in this recipe to keep it light, but you can switch it out for melted butter if you'd like.
I love adding slices of of lemon to the asparagus because in the foil packet they become very soft and the flavor mellows. You can actually eat them without the overpowering sour flavor. That said, you can also opt to mix about 1

½

tablespoons of lemon juice into the asparagus when you add the oil.
Lime juice is also delicious with the asparagus if you want to switch it up.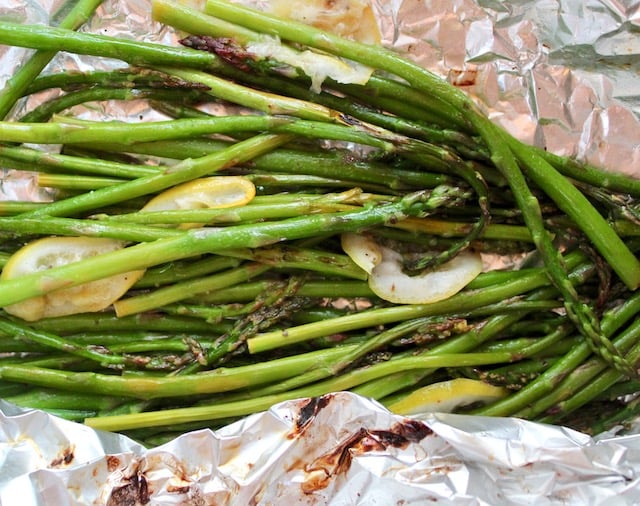 When is asparagus in season?
Asparagus season is from approximately February through June, peaking in April.
Choose asparagus that's bright green and firm. (The tips of the asparagus are often slightly purple, and that's okay!)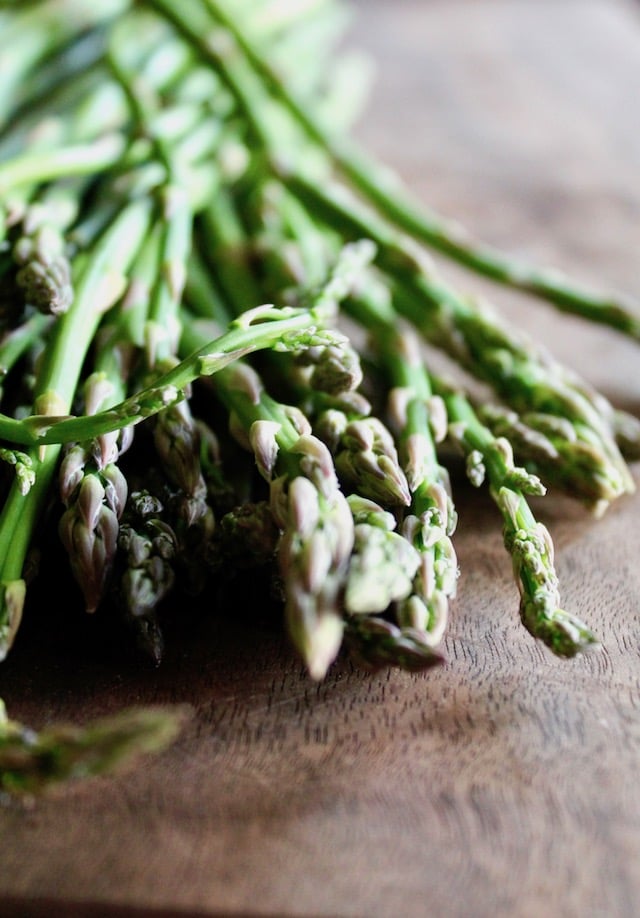 I hope you love this method of grilling asparagus in foil as much as I do.
More spring and summer asparagus recipes: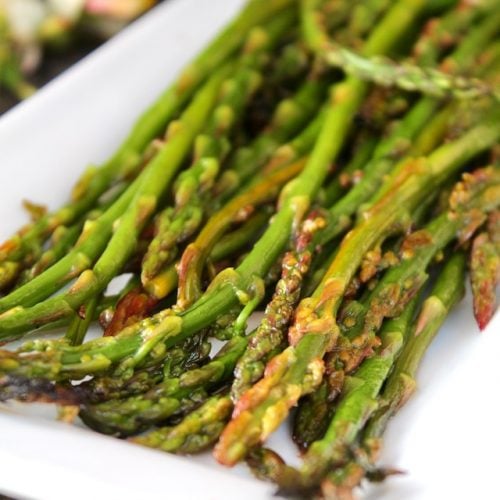 Lemon Grilled Asparagus in Foil
Grilled Asparagus in Foil with lemon has just a few ingredients and big delicious flavors. It's so easy to prepare and throw on the grill alongside your main course for outdoor spring and summer meals.
Ingredients
1¼

pounds

skinny asparagus (also called thin or pencil),

washed and dried

2

tablespoons

olive oil

1

small to medium-sized

lemon,

washed and dried, thinly sliced

1

teaspoon

salt

freshly ground black pepper
Instructions
Prepare the asparagus. Cut the bottom few inches (the tough portion), off of the asparagus spears and discard. You can actually "snap" the ends off with your hands -- it almost always breaks right where it should.

Combine ingredients. Add the asparagus to a sheet pan and toss the spears with the olive oil, salt, pepper and lemon slices.

Wrap in foil and grill. Divide the asparagus into four portions. Lay out four large pieces of foil (at least a couple of inches larger than the pile of asparagus, which will not be a single layer. ) Place each portion on a sheet of foil and top each one with another piece. Crimp the edges of the foil together to seal them. Do not wrap it tightly -- there should be some air in the packet. Each pile will ultimately be a few layers of the asparagus.

Grill and serve. Preheat an outdoor barbecue or stove-top grill. The flame should be high-medium to heat it. Once it's hot, add the foil packets and grill for about 7 minutes. After about 4 minutes, flip them over and turn the heat dow low-medium. Open the packets carefully as there will be steam inside. Serve!
NOTES
Calorie count is only an estimate.
NUTRITION
Have you tried this recipe?
I'd love to see it on Instagram! Tag me at @cookingontheweekends or leave a comment & rating below.
Cooking On The Weekends is a participant in the Amazon Services LLC Associates Program, an affiliate advertising program designed to provide a means for sites to earn advertising fees by advertising and linking to Amazon.com.