Vegan Asparagus Soup is so rich and creamy, that you won't believe there's no cream in it! With asparagus as the star ingredient, there are also a few unexpected flavors that add to the interest and deliciousness of the soup.
I wasn't sitting around thinking up vegan asparagus recipes when this idea came to me. Here's how it went down . . .
The asparagus caught my eye at the market, as it was looking especially bright and pretty. Without a specific plan, I bought a couple of pounds and headed home. That evening I was craving rich, comforting soup and this recipe is the result!
What makes Vegan Asparagus Soup special?
In addition to what you'd expect: the asparagus, vegetable stock, onion, etc., there are a couple of surprises in this recipe.
Potatoes. What do potatoes do in soups? They can be one of the best ways to make a vegan soup creamy. With just a small amount, potatoes make the consistency thick and rich. (This can be done with rice also.)
Dry white wine. What does wine do in a soup? W

ine will enhance the flavor in most recipes. The alcohol evaporates while the soup is cooking, and only the flavor remains.

Sherry vinegar. What does vinegar do in soups? A splash of vinegar adds brightness and dials up the flavor.
A touch of sugar. What does sugar do in a soup? In any recipe, a touch of sugar can enhance the natural flavors of the ingredients, much like salt does.

How to Prepare the Asparagus
The preparation of the asparagus is super easy for this recipe.
1. Wash and dry it.
2. Snap off the tough ends. There's a spot a few inches from the bottom, on every spear, where it naturally snaps off.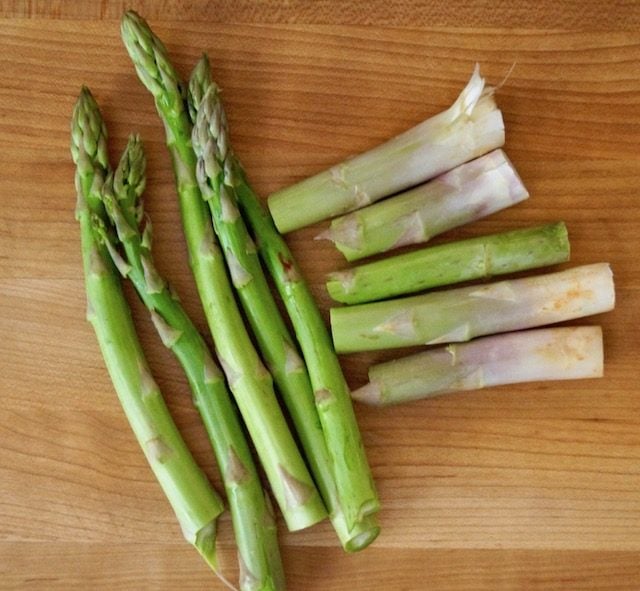 3. Roughly chop it. Since this is a puréed soup, it's not necessary to peel it or chop it nicely. (Here's an example of when I would peel asparagus.)
Recipe Tips for Vegan Asparagus Soup
It's important to use a good quality vegetable stock. You can also use broth, but note that broth is typically seasoned and stock is not.
The color of the vegetable stock will vary. You can see in my photos that the soup is more yellow than green — that's the result of the the color of the stock I used. Don't expect the color of the soup to be the same. It might be, but could be completely different, too.
When you cover the pot for the simmering time, check it a few minutes in to be sure it isn't boiling. Sometimes you have to move the pot a bit to the side of the burner, even when the heat is at the lowest setting. Asparagus should be cooked gently.
I prefer a blender to the immersion blender to purée the soup. I tend to get smoother results this way.
I think it's pretty to add a few spears of asparagus and a drizzle of olive oil for garnish. The asparagus should be steamed first.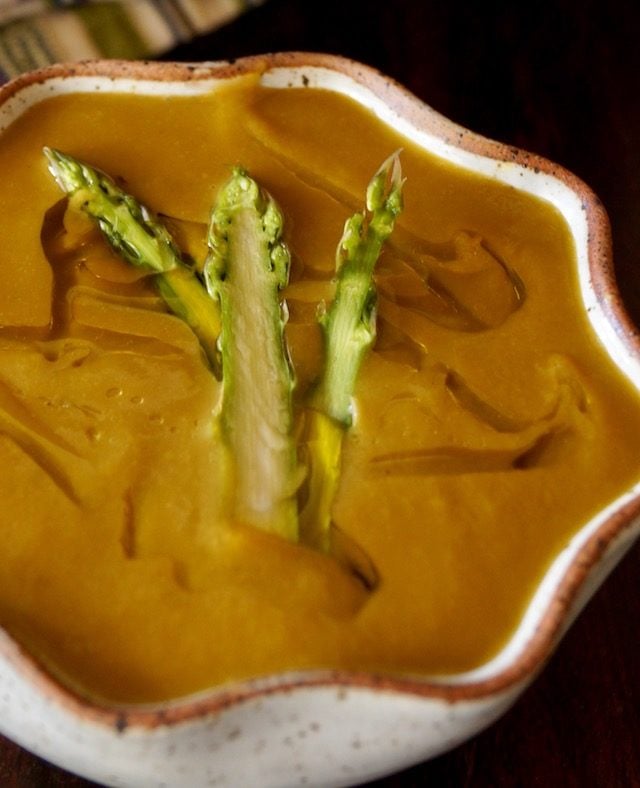 I hope you enjoy this soup as much as I did!
And here are a few more of my favorite vegan asparagus recipes for you to try:
Vegan Asparagus Soup
Vegan Asparagus Soup is so rich and creamy, that you won't believe there's no cream in it! With asparagus as the star ingredient, there are also a few unexpected flavors that add to the interest and deliciousness of the soup.
Course:
Soup, First Course
Keyword:
creamy vegan soups, vegetarian comfort foods
Ingredients
2

pounds

asparagus

olive oil for the pan

1

cup

yellow onion,

roughly chopped

1

tablespoon

garlic,

roughly chopped

1

cup (approximately ⅓ pound)

Russet potato,

peeled, roughly chopped

1

tablespoon

water

¼

cup

dry white wine

(such as Sauvignon Blanc or Pinot Grigio)

4¾

cups

vegetable stock

1

tablespoon

sherry vinegar

2

teaspoons

granulated sugar

salt and freshly ground black pepper
Instructions
Wash and dry the asparagus. Then use your thumb to break the bottom tough ends off. A few inches from the bottom, it will naturally snap off where it should. Discard the tough portions, roughly chop the spears, and set aside. You should have 5 cups of asparagus.

Lightly coat the bottom of a large soup pot with olive oil and place it over medium heat. Add the onions and stirring often, cook until soft, about 5 minutes. Now mix in the garlic and cook for another 2 minutes or so.

Add the potatoes, stir, and cook for about 1 minute. Then add the tablespoon of water, turn the heat to low, cover, and let them steam for about 5 minutes.

Remove the lid, turn the heat back to medium, and add the asparagus. Cook, stirring often, for about 2 minutes. Pour in the wine and vegetable stock, turn the heat to high and bring to a boil. Then immediately reduce the heat to the lowest setting, cover and simmer for 15 minutes.

Remove from the heat and use an immersion blender or standing blender to purée the soup until it's as smooth as possible. (It will be relatively thick and creamy when it's done.) Pour it back into the pot (if you used the standing blender), add the vinegar, sugar, and season to taste with salt and pepper. (Here's How to Season to Taste.) Serve!
Cooking On The Weekends is a participant in the Amazon Services LLC Associates Program, an affiliate advertising program designed to provide a means for sites to earn advertising fees by advertising and linking to Amazon.com.