Mexican Hot Chocolate Cookies are little bites of melted chocolate, a subtle kick of heat from spices, and a whole lot of sweetness. Delicious for Cinco de Mayo, or any day!
I have three points I want to discuss in this post.
the Mexican Hot Chocolate Cookies
a Mexican restaurant I love
the coffee mug in the pictures
The timing for all of this is perfect since Cinco de Mayo is Saturday, and I'm heading to Mexico tomorrow!
First, the cookies . . . 
I've had this recipe for Mexican Hot Chocolate Cookies in my mind for weeks, and can't wait for you to try it!
What is Mexican Chocolate?
Mexican chocolate is typically made with roasted, ground cacao nibs, sugar, and cinnamon.
Allspice, nutmeg, chiles and/or nuts are sometimes added as well.
Mexican chocolate is usually a bar shaped like a disc. It can be a bit granular in texture, but it melts beautifully.
In Mexico, this type of chocolate is commonly used to make a hot chocolate.
Ibarra is my favorite Mexican chocolate, and my goal with the Mexican Hot Chocolate Cookies was to create a similar flavor profile, with a bit of heat to put them over the top.
I like to use my 1 inch cookie scoop to shape these cookies. I love them tiny because they're the perfect bite of sugar and spice.
Second, my favorite local Mexican restaurant, KAY

N

DAVES  . . .

I met Dave many years ago when he started a small Mexican restaurant in Malibu, KAYNDAVES Mexican Cantina.
Dave is a warm, super nice, incredibly hospitable guy. My family and I connected with him over our mutual interest in food right away. My parents quickly became regulars, going to the restaurant at least once a week from then on.
Photo credit: Dave Licht
Now Dave and his partner and wife, Jintana, own two KAYNDAVES Mexican Cantinas in the Los Angeles area — both are packed all the time. Jintana is equally as lovely as Dave, and together they are a powerful force of kindness.
Should you be so lucky as to find one or both of them at the restaurant, they'll treat you like family. No matter how busy the restaurant was, Dave and Jintana always made my parents feel special and welcome. The last few years, when my mom wasn't well, I couldn't see Jintana without her asking how things were, and handing me a flan for her.
My husband and boys at KAYNDAVES, making a rare appearance here on COTW. 🙂 
After losing my mom last year, we went to the restaurant on her birthday and I ordered the tortilla soup and flan — her two favorite things on the menu. A new tradition.
Dave and Jintana aren't chefs. The kitchens are run by Alejo and his brothers, Ruben and Roberto. Referred to as "Nos Tres Hermanos," they learned to cook traditional dishes, using farm fresh ingredients, when they were kids, from their great grandmother in Oaxaca.
Everything on the menu is consistently delicious. My husband and I absolutely love the Molcajete, which is steak, shrimp, chicken, relleno & guajillo chili sauce slow cooked in a sizzling molcajete. It's served with rice, beans & tortillas. (We usually share one order, but if you're famished, get your own!)
And finally third, the coffee mug . . .



I was at KAYNDAVES for breakfast one day, and I was served coffee in a beautiful new mug. When I told Jintana what a great choice they were, she insisted I take this one home.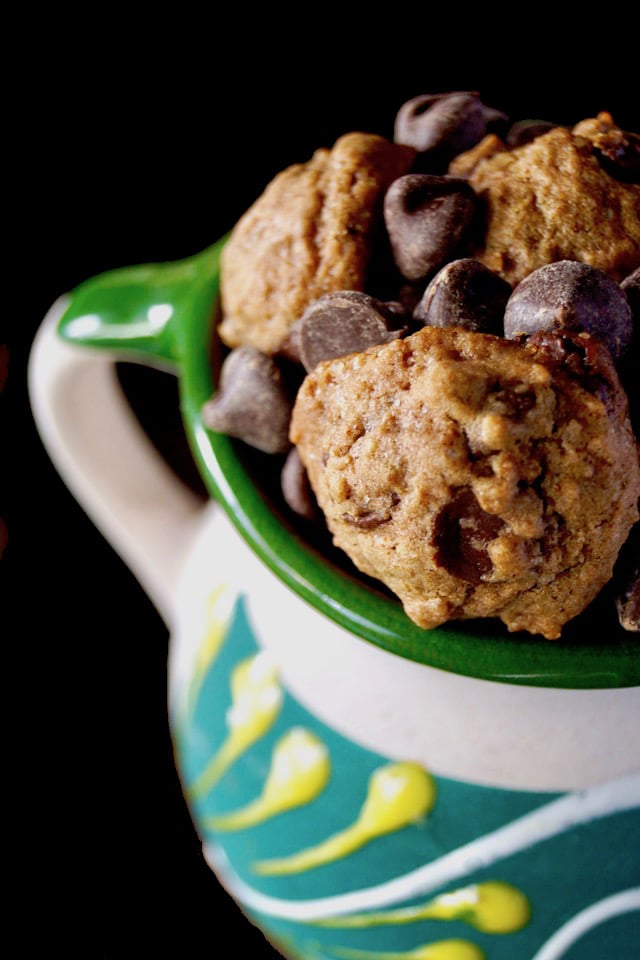 Now, let's make Mexican Hot Chocolate Cookies!
If you live in the LA area, you can find KAYNDAVES in Pacific Palisades and Culver City. Get more information here.
I was not compensated in any way for this post.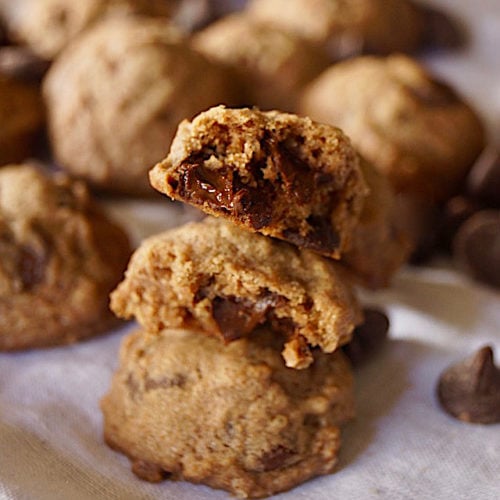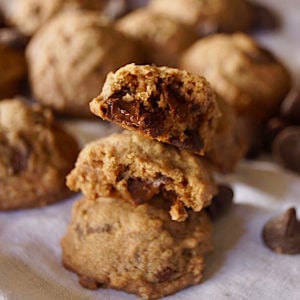 Mexican Hot Chocolate Cookies
Mexican Hot Chocolate Cookies are little bites of melted chocolate, a subtle kick of heat, and a whole lot of sweetness.*Makes about 4½ dozen / serving size: about 3 cookies
Instructions
Preheat the oven to 375°F and line two baking sheets with parchment paper.

In a large mixing bowl, combine the butter, sugar, vanilla, cinnamon, salt and cayenne. Mix until smooth.

Add the egg and mix until it's fully incorporated.

Now fold in the flour, cocoa powder, baking soda, and chocolate chips. Mix only until you no longer see dry spots.

Use a 1-inch cookie scoop or about ½ tablespoon to shape the cookies, adding them to the parchment-lined baking sheets as you go. There should be a couple of inches between them, as they will spread a little.

Bake in the 375°F preheated oven just until they're solid, about 10 minutes.

Let them cool on the baking sheets for about 10 minutes before serving.
NOTES
Depending on the the space size between the dollops of cookie batter, you may not use all of it between the two baking sheets. Simply repeat once you remove the cookies from the baking sheets — you can reuse the parchment paper.
Calorie count is only an estimate.
NUTRITION
Have you tried this recipe?
I'd love to see it on Instagram! Tag me at @cookingontheweekends or leave a comment & rating below.
Cooking On The Weekends is a participant in the Amazon Services LLC Associates Program, an affiliate advertising program designed to provide a means for sites to earn advertising fees by advertising and linking to Amazon.com.