My mom sautéed delicious onions daily, and whenever dining out, she'd say "double the onions, please."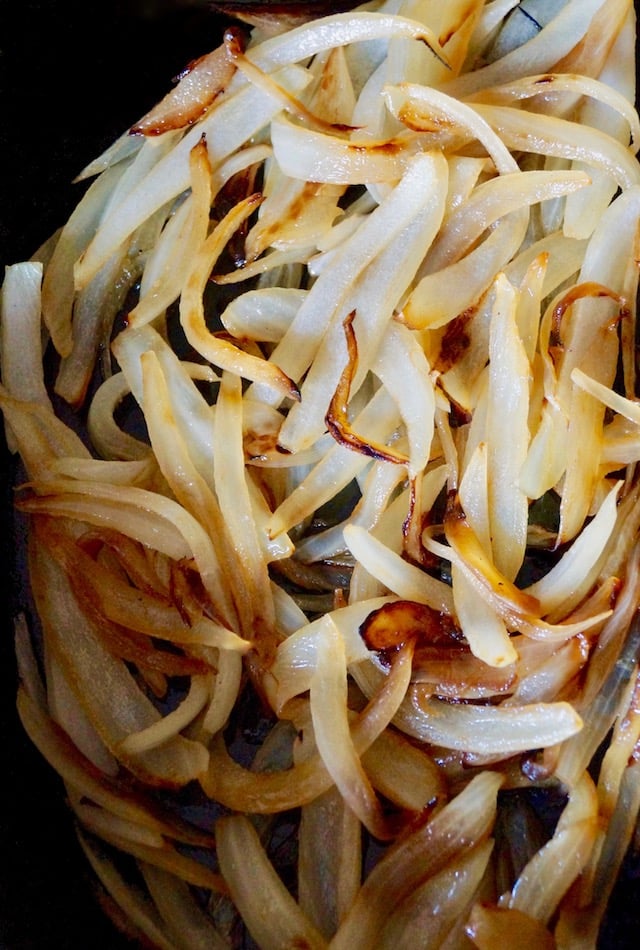 After a long and difficult struggle with Parkinson's Disease, my mom passed away on July 29, 2017. While I will miss her terribly, I'm also flooded with wonderful memories, and am relieved she's finally at peace.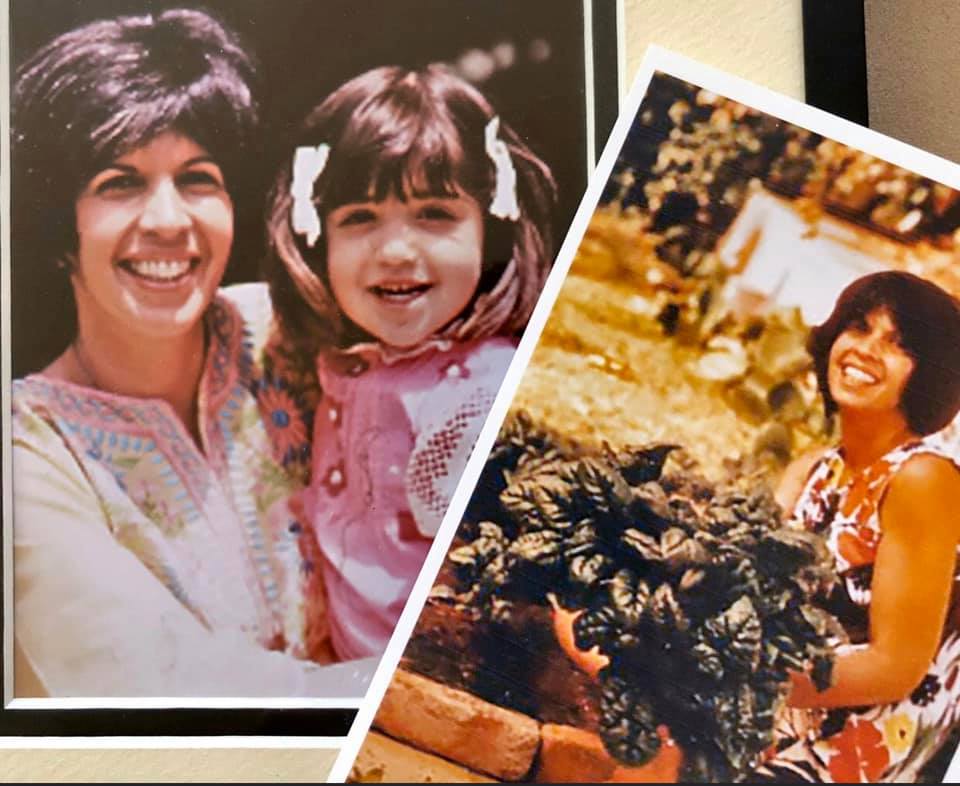 There are so many things I could talk about in my mom's memory: her exquisite antique collection, the stunning home she designed and lived in with my dad for over 50 years, the 2,000 plus trees she was responsible for planting in our community, what a loving mother she was and so on . . . today I would like to share her cooking and love of onions.
The scent of sautéing onions . . . .
When I'd come home from school, as soon I'd enter the house, the aroma of onions wafted to the front door. Every single school day.
When I'd sleep in on the weekends, I'd awake to the delicious smell of the caramelizing onions. Every single weekend.
And every day around five in the afternoon, the scent of the sautéing onions would travel through the hallways, making its way into every room. Every day!
In addition to whatever delicious food my mom was cooking on her beautiful O'Keefe and Merritt stove (which had belonged to her mom), there was always a pan of onions going. Always. She was simply not in the kitchen without cooking onions. It was the start of every savory dish — the foundation. Oh, sure, garlic would likely make its way in eventually, but it was never quite as important as the onions were.
No recipes needed . . .
My mom rarely, if ever, used a recipe. If she did, it was only as a guide, and it featured her own notes penciled into the margins.
Her every dish was spot on. The flavors were always magnificent.  We're talking about the types of flavors you could never get enough of, even if you were full.  Second and third helpings were always had in my house. Always.
And she cooked with whole, healthy ingredients. Whenever possible, they were from my dad's backyard garden.
Beginning with onions of course, my mom created masterpieces from leftovers. Her meals had many secret ingredients, which were often from the surplus of dipping sauces she would collect from her favorite Thai restaurant.
My mom never — never ever — ordered anything in a restaurant without extra onions. Whether it was a pizza, a chicken dish, a salad, you name it, she'd say, "double the onions, please."
Donations can be made in honor of my mom to The Michael J. Fox Foundation — or, you could fill your home with the scent of sautéing onions, as my mom would . . . .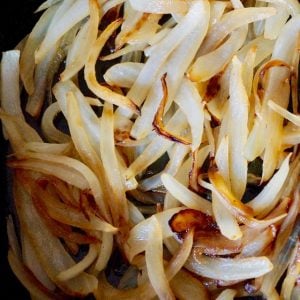 Quick Caramelized Onions
My mom sautéed delicious onions daily, and whenever dining out, she'd say "double the onions, please." My entire family loves her quick caramelized onions with pretty much everything.
*Use whatever measurements you'd like.
Ingredients
olive oil

onions,

thinly sliced
Instructions
Add enough olive oil to coat the bottom of a heavy-bottomed sauté pan.

Add thinly sliced onions and place the pan over medium heat.

Sauté, stirring occasionally, until they are as golden as you'd like. My mom liked them caramelized, but with a bit of a crunch, which for about 2 cups of sliced onions, would be about 15 to 20 minutes.
Have you tried this recipe?
I'd love to see it on Instagram! Tag me at @cookingontheweekends or leave a comment & rating below.
Save
Save
Save
Save
Save
Save
Save
Save
Save
Save