Mini Lemon Berry Pavlovas are quite possibly the most delightful and delicious treat at the dessert table. These beauties are ideal for cocktail parties, casual dinners, and spring and summer soirées.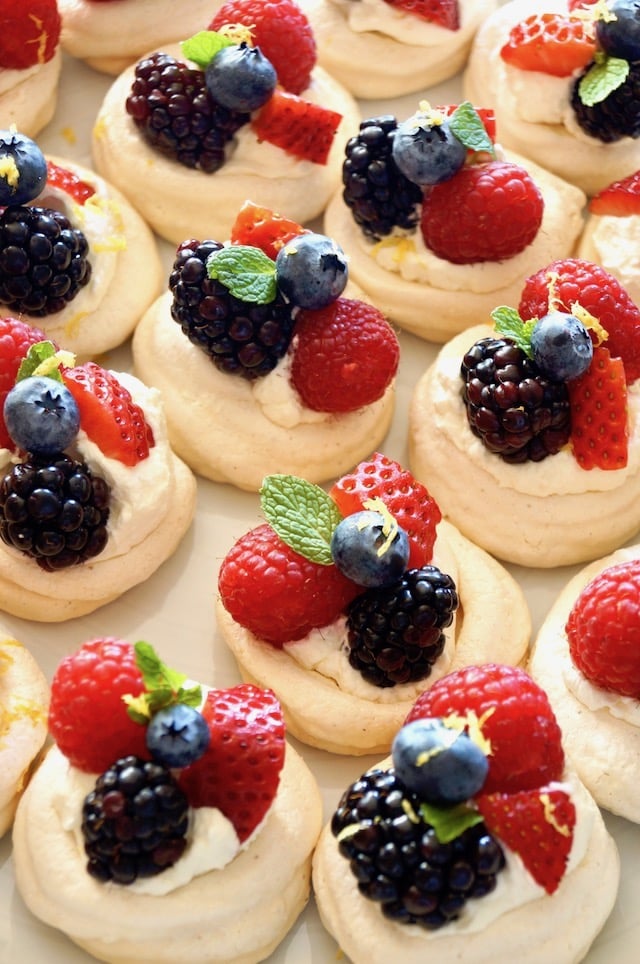 Doesn't just looking at this lovely dessert make you happy?
And hungry?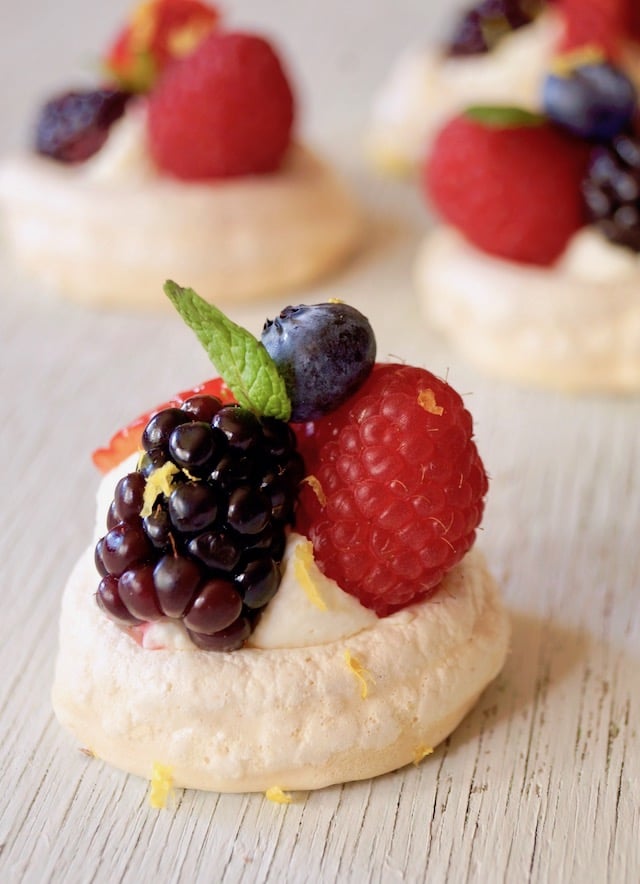 While I absolutely adore rich chocolate desserts, sometimes a splash of color and little sweetness is just what I want to finish a meal.
These Mini Lemon Berry Pavlovas are the answer!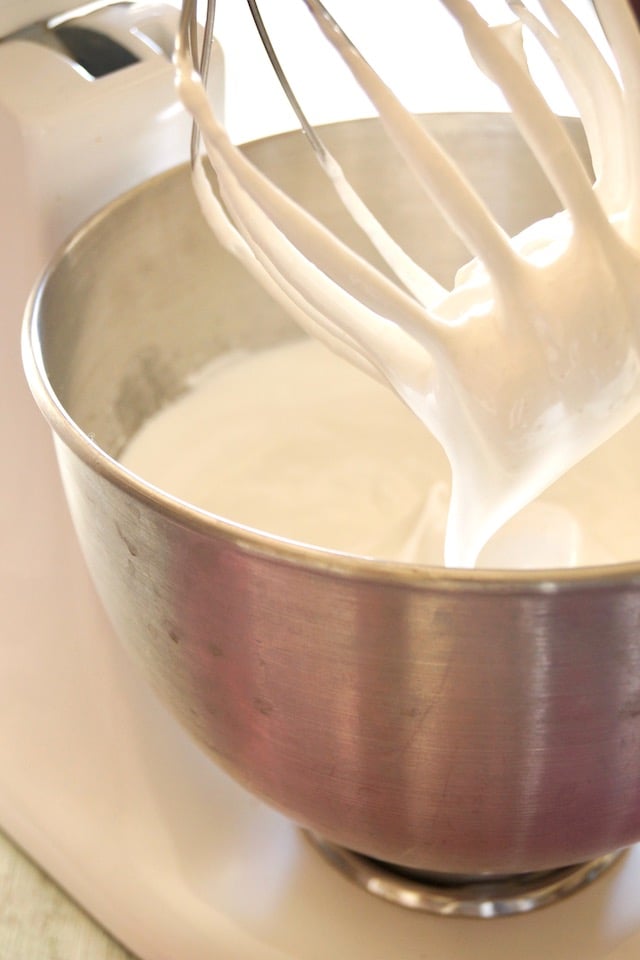 Tip: To get perfect mini Pavlovas, trace a small spice jar lid to pipe the meringue onto.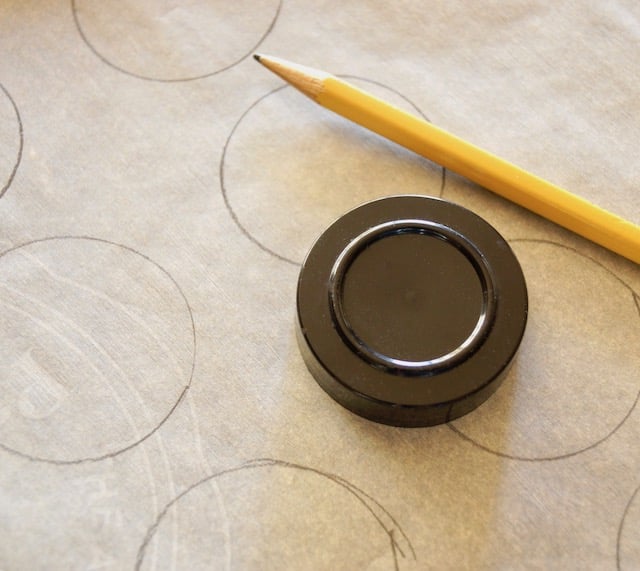 Just like this . . .
What is Pavlova?
Pavlova is a meringue-based cake-like dessert with a crisp crust and soft interior. It's typically topped with whipped cream and fresh fruit.
There has been an incredible amount of research on the origins of Pavlova, and debate over whether Australia or New Zealand gets credit for it. Australians and New Zealanders agree on one thing: Pavlova was named after the Russian ballerina Anna Pavlova, who visited both countries in the 1920s.
In 2008, The Pavlova Story: A Slice of New Zealand's Culinary History, was published and says the first true Pavlova recipe was from New Zealand in 1929. The Australians believe that Pavlova began with a recipe by Bert Sachse, a chef in Perth, Western Australia. An

article in Good Food

states that "Dr Andrew Paul Wood, a New Zealander, and Australian Annabelle Utrecht have been tracing the origins of the dish for years. They can categorically state that the modern Pavlova began life as a German torte, eventually traveling to the United States where it evolved into its final form." Wherever it's from, I love it.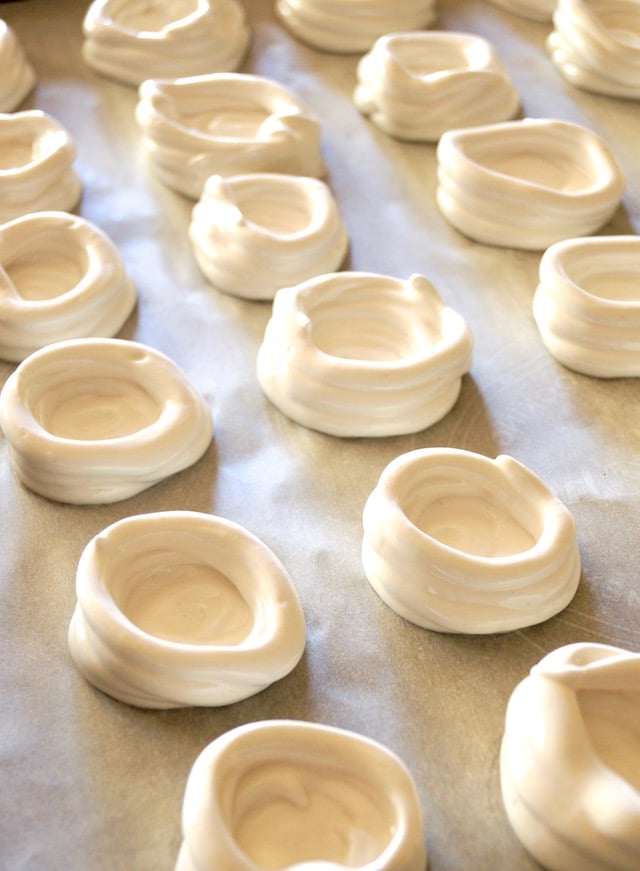 How to Make Them
These Pavlovas are made in three parts: the meringue base, the filling of whipped cream, and the fruit topping with garnishes.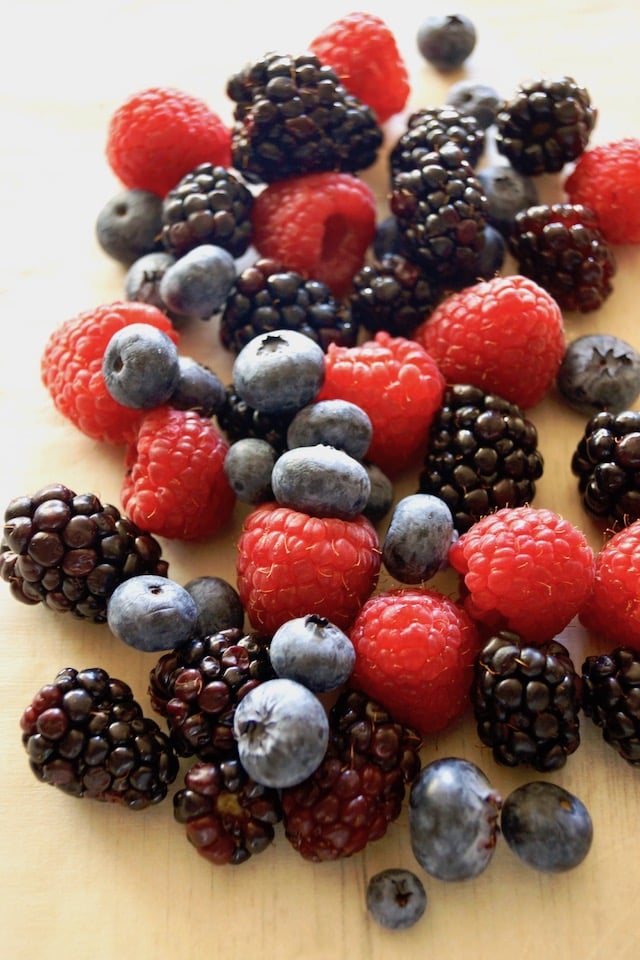 Meringues. The meringues are made by whisking the ingredients together for 10 minutes, piping the bases (which in this case, I call "bowls"), and then slowly baking them in a low oven.
Filling. The whipped cream is made with a little bit of sugar and lemon zest, and is spooned into the meringue bowls once they're baked and cooled.
Topping. Fresh berries are added to the top with a bit of mint and lemon zest.
(More detailed instructions are below.)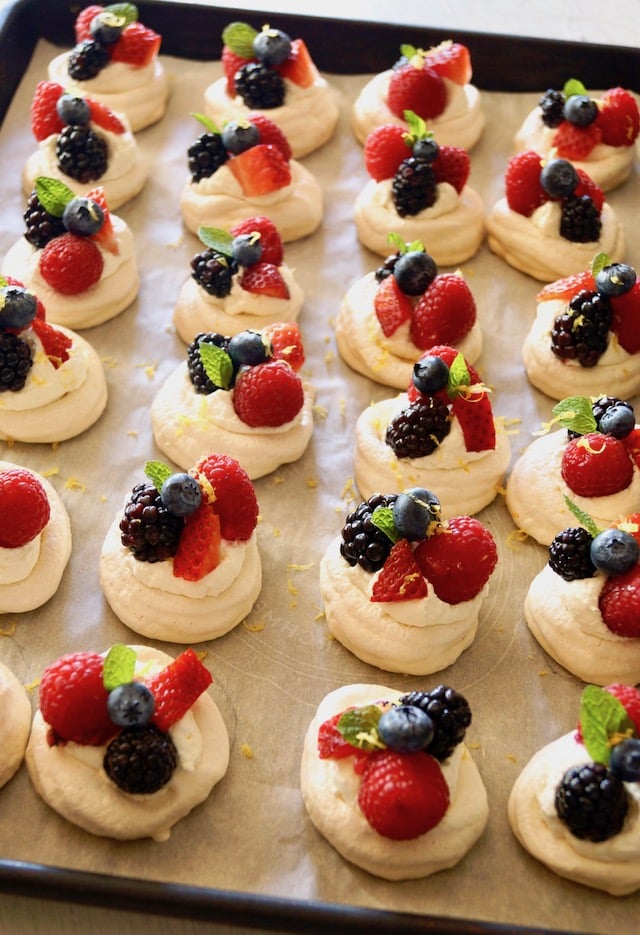 When to Serve Them
I love making individual-sized desserts – and "mini" means you can splurge on more than one! They're fun, pretty and oh-so-tasty!
Since these are easy to pick up with your hands and eat in one or two bites, they're perfect for a cocktail party.
I also love them for dessert at a dinner party and they're fabulous at a spring or summer brunch or barbecue.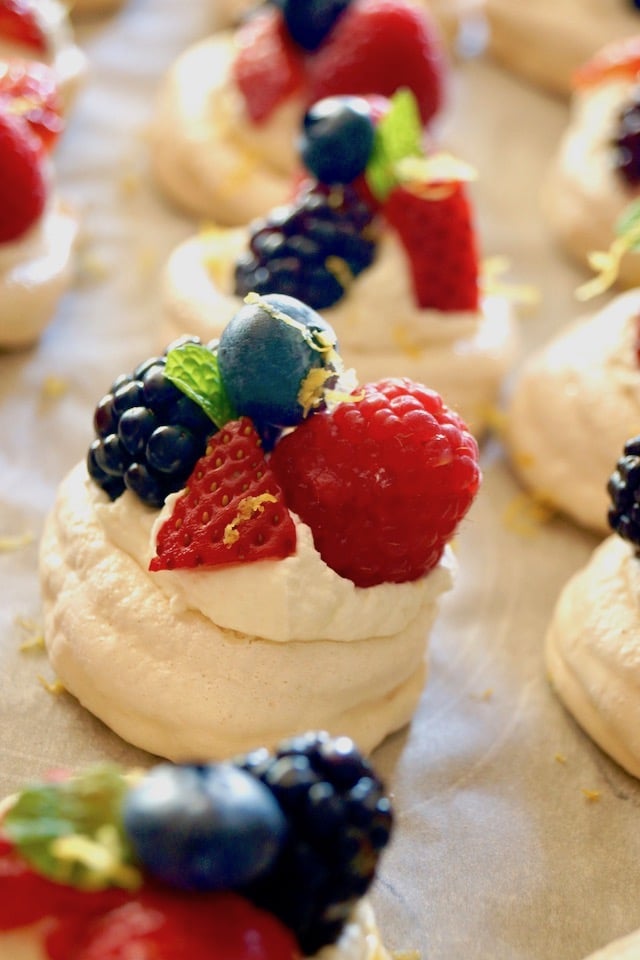 I hope you love making and eating these Mini Lemon Berry Pavlovas as much as I do.
Cheers!
Mini Lemon Berry Pavlovas
A delightful and delicious treat, these beauties are ideal for cocktail parties, casual dinners, and spring and summer soirées.Makes 56 Mini Pavlovas / serves about 28

Ingredients
Filling
1½

cups

heavy whipping cream

2

tablespoons

powdered sugar

2

tablespoons

lemon zest, plus a bit more for garnish
Topping
2

cups

fresh berries (your choice of any or all -- strawberries, blueberries, blackberries),

washed and dried, diced if large

small mint leaves for garnish

washed and dried

lemon zest for garnish
Instructions
Meringue
Preheat the Oven to 225˚F.

Line 2 baking sheets with parchment paper. Use a pencil to trace a 1 3/4 inch round cutter, or spice jar lid, on each sheet of parchment paper 28 times, in even rows, with a bit of space between them. Press firmly with the pencil, so you can see it from the other side. Then flip each parchment paper over in the sheet pan. Set aside.

Ideally using a stand mixer with the whisk attachment, beat the egg whites on high speed until soft peaks form, about 30 seconds. With mixer still on, gradually add the sugar, and continue to beat until stiff peaks form, about 6 minutes. You have achieved stiff peaks when you lift the whisk and the peak that forms stays in place, and it should be shiny. (You can also use a hand mixer with the whisk attachment.) Fold in the cornstarch, vanilla and lemon juice.

Now pipe round disks, using the traced circles showing through the parchment paper as a guide. Then go on top of the edges of the disks 2 to 3 times to form a short wall, creating a bowl of sorts. Repeat this process until all 56 are made between the two sheets of parchment paper.


Place in the 225˚F oven for 1 hour. Then turn off the oven and leave them inside for another 30 minutes. The outside should be dry to the touch, and the insides should be soft. Remove them from the oven and let them cool to room temperature on the baking sheets.
Filling
Use either a hand or stand mixer with the whisk attachment to whip the cream with the powdered sugar until soft peaks form. Fold in the lemon zest.
Assembly
Use two spoons or a piping bag to add about 1½ teaspoons of the whipped cream to each meringue "bowl." Top each one with a few berries. Add a mint leaf and a sprinkle of lemon zest to each one.
Notes
Once cooled, the meringues can be stored in an airtight container for at least 4 days.
Assemble the Pavlovas as close to serving time as possible. If you have to do it any earlier than 30 minutes ahead, keep them refrigerated, uncovered until you're ready to serve them. You should not assemble more than 2 hours ahead of time.

Have you tried this recipe?
I'd love to see it on Instagram! Tag me at @cookingontheweekends or leave a comment & rating below.
Cooking On The Weekends is a participant in the Amazon Services LLC Associates Program, an affiliate advertising program designed to provide a means for sites to earn advertising fees by advertising and linking to Amazon.com.