This Strawberry Swirl Ice Cream is no churn and super easy to make. It's absolutely delicious and is the essence of summer!
If I were pressed to tell you what my favorite dessert categories are, I'd say cookies and ice cream.
To be more specific I would say, chewy chocolate chip cookies without nuts and coffee ice cream with ground coffee beans and chunks of milk chocolate.
So why am I writing about Strawberry Swirl Ice Cream?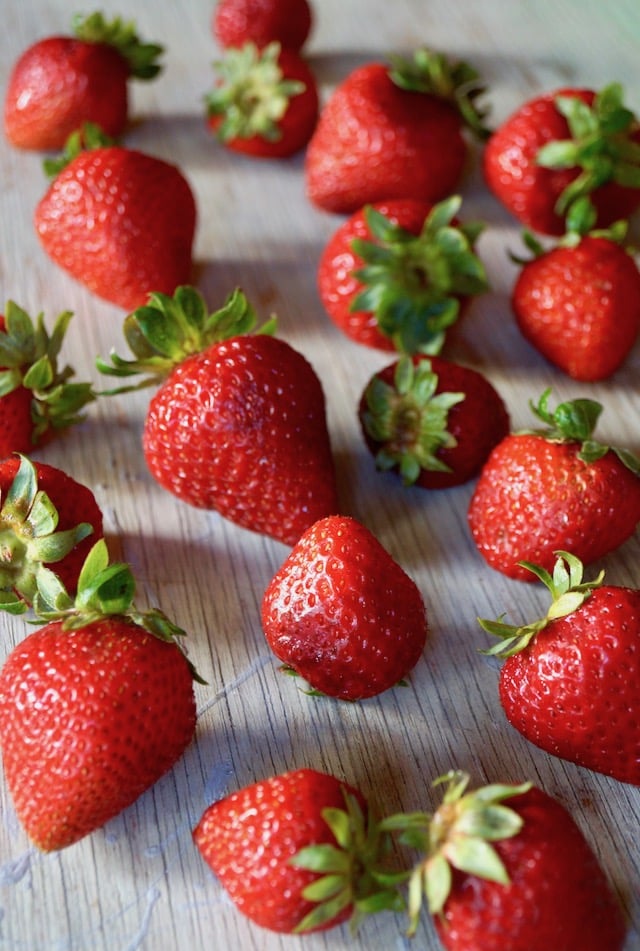 Well, it's summer, and in the summer all bets are off because it's all about seasonal fruit. I can't get enough. Especially super sweet strawberries!
What Does Churning Mean?
Churning means to move around vigorously. And in the case of making ice cream, it means to turn milk or cream in a machine to make butter.
What is No-Churn Ice Cream?
No-churn ice cream is exactly that — ice cream that has not been churned. No machine is needed to make it.
No-churn ice cream is the probably the fastest way to make ice cream.
You don't have to pre-freeze a container for no-churn ice cream. It's put together with a few ingredients, and generally frozen for just a few hours.
There are essentially only two necessary ingredients for no-churn ice cream: heavy cream and sweetened condensed milk. Beyond that, it's simply a matter of what flavors you want to add.
What's in Strawberry Swirl Ice Cream?
sweetened condensed milk
pure vanilla extract
fresh strawberries
sugar
heavy cream
Can you use frozen strawberries?
You can use frozen strawberries if fresh are not in season — just let them thaw before you begin the recipe.
No-Churn vs. Churn Ice Cream
I think both no-churn and churned ice creams can be delicious. I love them both. In my experience churned ice creams can have a smoother, creamier texture. Does that make them better? No, just different.
Sometimes I love getting out my ice cream machine and making a day of it, and other times, like the day I made this delicious Strawberry Swirl Ice Cream, I wanted to keep things simple, not use too many dishes, and start eating it sooner than later. 😉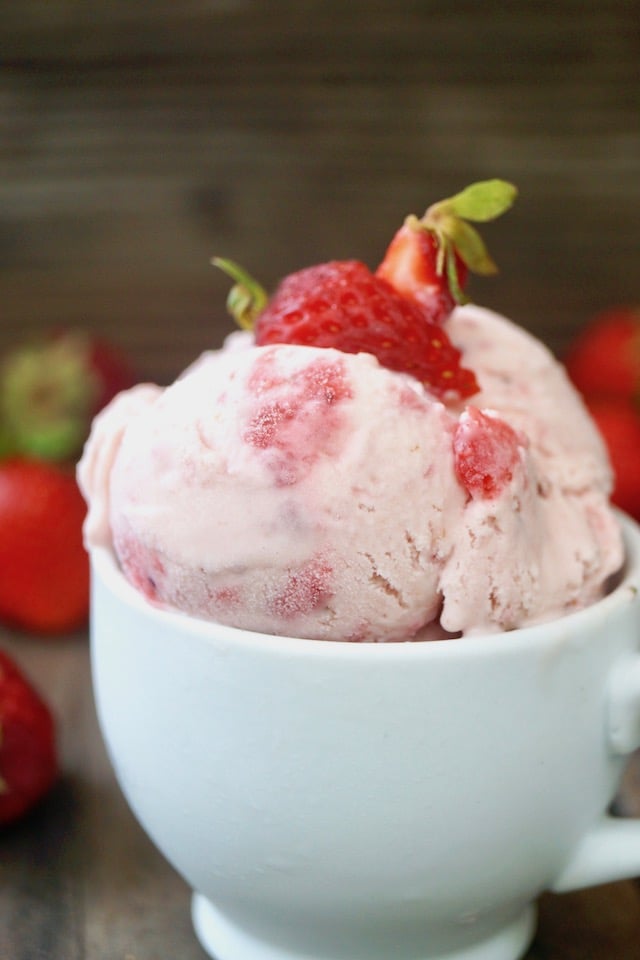 More summer no-churn ice cream recipes:
More summer strawberry recipes:
Now enjoy every last scoop of your no-churn Strawberry Swirl Ice Cream!
Strawberry Swirl Ice Cream (No-Churn)
This Strawberry Swirl No-Churn Ice Cream is super easy to make, absolutely delicious and is the essence of summer!*Makes about 1½ quarts
Instructions
Prepare the strawberries. Wash, dry and remove the stems from the strawberries. Add 1-pound of them to a food processor fitted with the blade attachment and set aside. Finely chop the remaining ½ pound of strawberries. Set aside.

Cook the chopped strawberries with the sugar and vanilla. Add them to a small sauce pan with the sugar and 1 teaspoon of the vanilla. Place over medium heat and once the strawberries are very hot, turn the heat to a low simmer. Let them cook until they break down, and it become almost like a thick syrup, about 7 minutes. Set aside to cool to room temperature.

Blend the other strawberries with the sweetened condensed milk and vanilla. Add the sweetened condensed milk and remaining 1 teaspoon of vanilla to the food processor with the other strawberries and blend until smooth. Set aside.

Whip the cream and mix with other ingredients. Pour the cream into a large mixing bowl and use an electric mixer to whip until stiff peaks from. Then add the mixture from the food processor to the bowl and use a large rubber spatula to fold everything together until it's evenly blended.

Freeze and swirl. Pour into a container that will hold at least 1½ quarts, preferably a large/long bread pan. Cover tightly with plastic wrap and place in the freezer for 1 hour. Then drizzle it with the strawberry mixture from the sauce pan and use a knife to swirl it in, being sure it reaches deep into the mix. Cover with the plastic wrap again, and freeze for at least another 4 hours and ideally overnight.
Notes
Calorie count is only an estimate.
Have you tried this recipe?
I'd love to see it on Instagram! Tag me at @cookingontheweekends or leave a comment & rating below.
Cooking On The Weekends is a participant in the Amazon Services LLC Associates Program, an affiliate advertising program designed to provide a means for sites to earn advertising fees by advertising and linking to Amazon.com.