Fresh Raspberry Cupcakes are a delicious treat for Valentine's Day when dressed up with buttercream and raspberries on top. Or skip the frosting and it's a muffin for breakfast. This easy recipe includes a gluten-free option.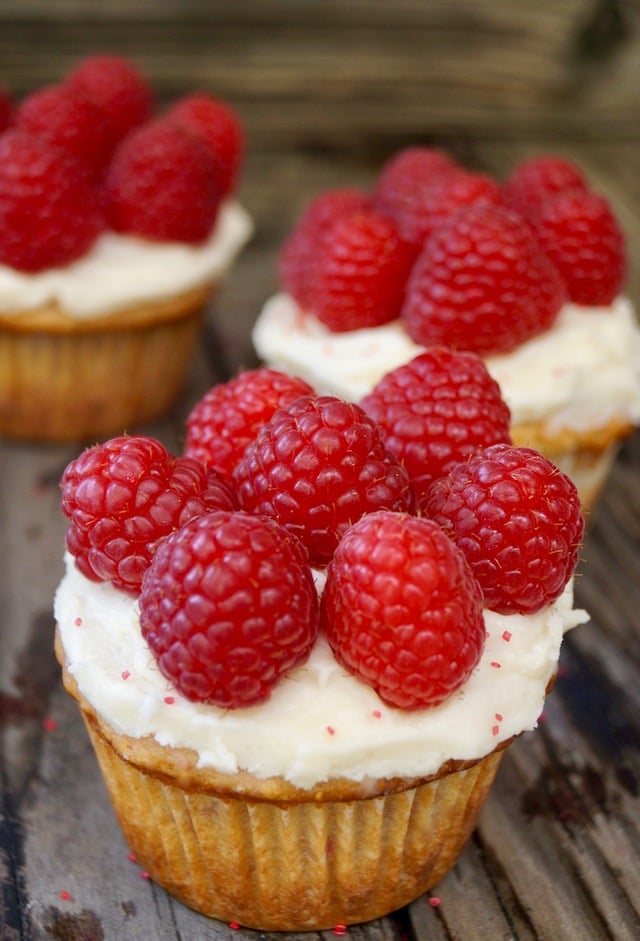 Are you doing anything for Valentine's Day? My plan is to make these raspberry cupcakes and share them with friends and family.
With a lovely pink hue and the fresh flavor of raspberries, these cupcakes will delight everyone.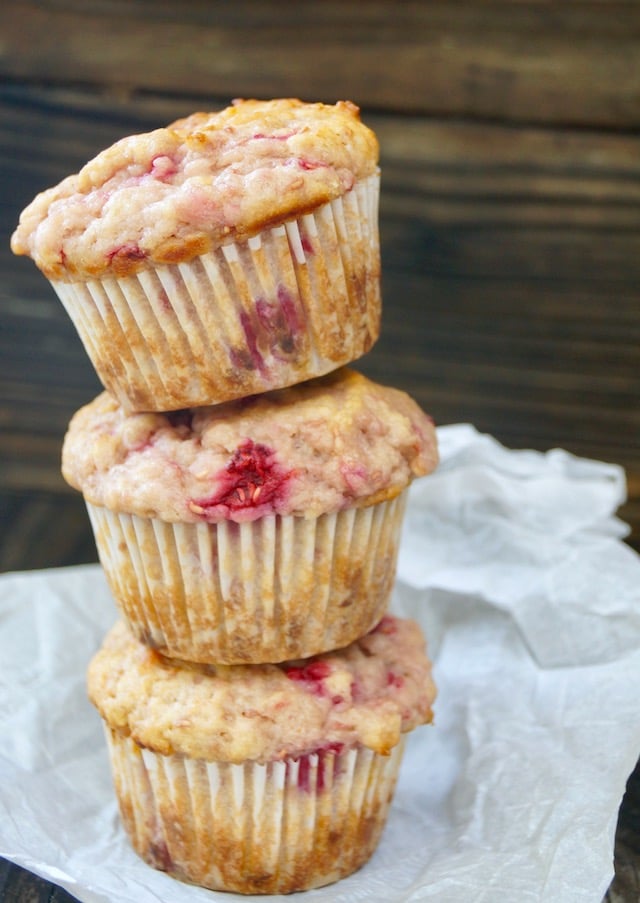 What's in Fresh Raspberry Cupcakes?
fresh raspberries
butter
sugar
salt
eggs
vanilla
flour
baking powder
That's it! They're so easy to pull together.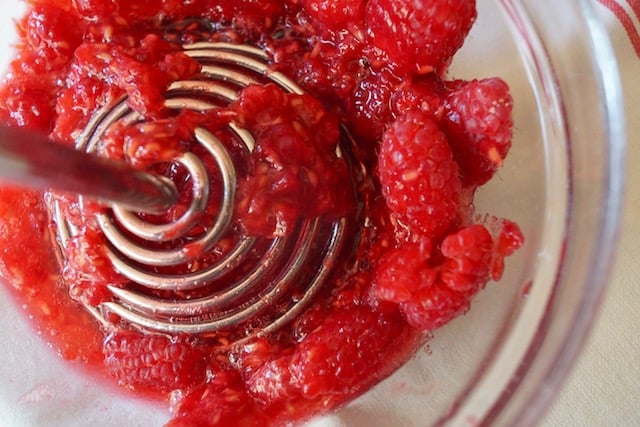 How to Make Naturally Pink Cupcakes
It's easy to make baking products pink with pink or red food coloring — however, to do so with natural ingredients is trickier.
Raspberries and beets are the first ingredients that come to mind. Raspberries create pink, while the beets bring more of a red-burgundy color.
You'll notice that these Fresh Raspberry Cupcakes (or muffins) are only slightly pink — really, they're only pink-ish. That's because they include baking powder and there's a chemical reaction that fades the color. It's necessary to use though, as it's what creates an airy, cake-like texture.
Don't try baking soda. The pink will turn green. (You can learn why here.)
Without baking soda or powder, products using raspberries will be quite pink. In the case of cupcakes though, the consistency will be off with using one of them.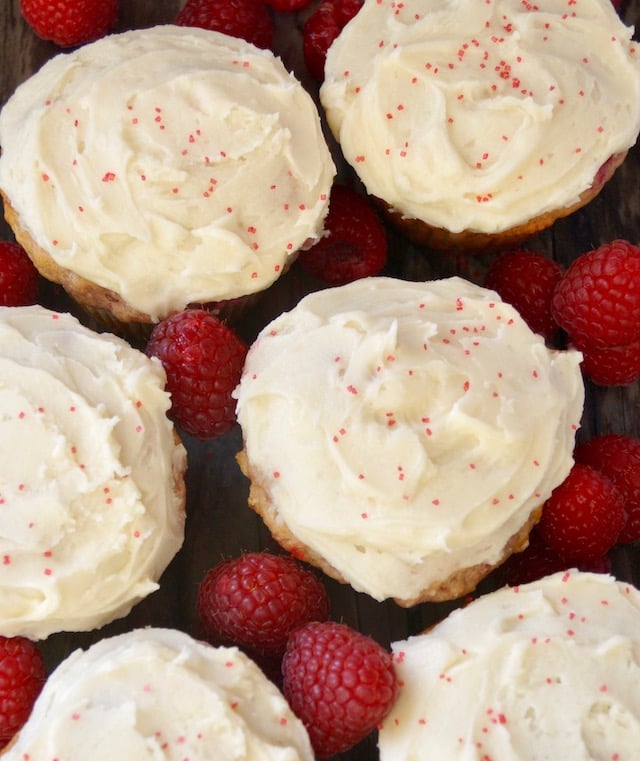 I'm not fancy with my cupcakes. They're a bit rustic, just the way I like them — casually pretty. 😉
When developing this recipe for raspberry cupcakes, I did many color tests using different leavening agents. In the end, I went with baking powder which created a pink hue and they were delicious.
Here are my recipe testing results, summarized:
Using baking soda. The consistency was good, but they turned out green.
Using stiff egg whites. They were a deep and beautiful pink — but, the texture was wasn't good. They were too heavy.
Using baking powder. They weren't a deep pink, they had a pretty pink hue and the texture was lovely.
My Raspberry Chocolate Chip Cookies (below) are also fantastic for Valentine's Day. Since they're a cookie that didn't need leavening, I didn't use baking soda or powder and the pink is perfect.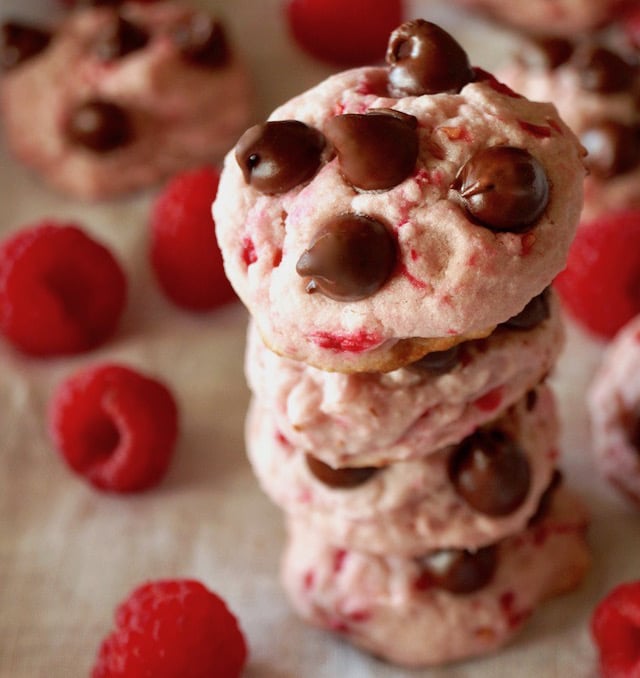 Variations for Fresh Raspberry Cupcakes
Not overly sweet, you can leave off the frosting and they're a super tasty muffin.
Frost them. (I use this delicious

Buttercream Recipe

. One recipe will be more than enough for 12 cupcakes.)
Frost and decorate them with sprinkles.
Add fresh berries to the top.
Mix white or dark chocolate chips into the batter.

Recipe Tips
These cupcakes will be the most pink right out of the oven. So I wouldn't bake them any sooner than need be, if you want that.
The fresher the better. In addition to the color being brighter, they're best served the day they're made or next day, if necessary.
If you opt to frost them, wait until they've completely cooled to room temperature. They should also be frosted as close to serving time as possible.
You will see a gluten-free option in the recipe below. I tested them with

Gluten-Free Cup 4 Cup Flour

. They will actually rise a bit more with this flour, and are equally as delicious.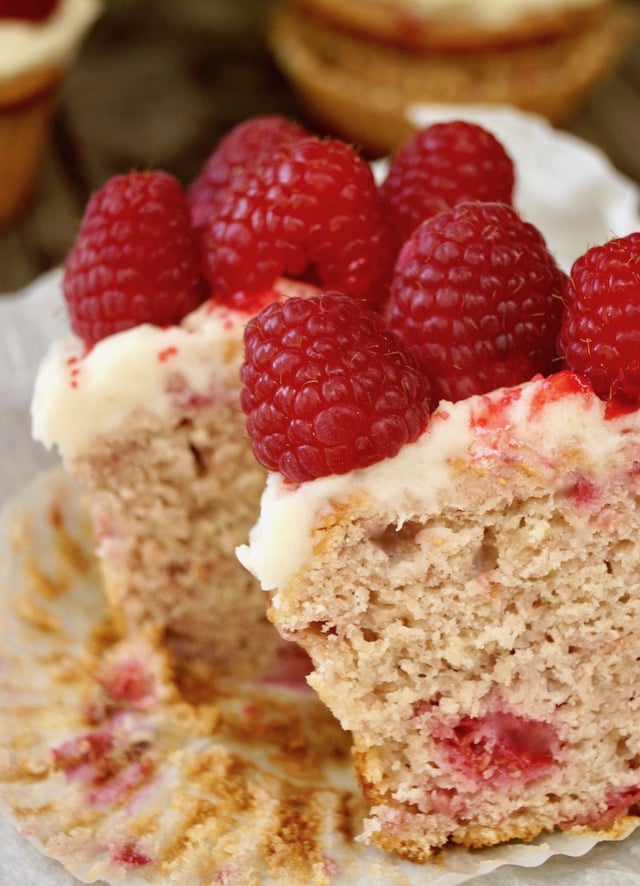 Storing Fresh Raspberry Cupcakes
As I mentioned, the fresher the better. However, they will still be good after storing in the following ways:
Room temperature. Without frosting, Raspberry Cupcakes can be kept at room temperature in a tightly sealed container for two days.
Refrigerator. You can refrigerate them them for four days, but as I mentioned, it's best to eat them as fresh as possible. If you do refrigerate them, they should be brought to room temperature before serving.
Freezer. In a tightly sealed container, they can be frozen for a couple of weeks, again being brought to room temperature before serving.
Whether you decorate them for Valentines' day or serve them as muffins with your coffee, I hope you love them!
More recipes for Valentine's Day: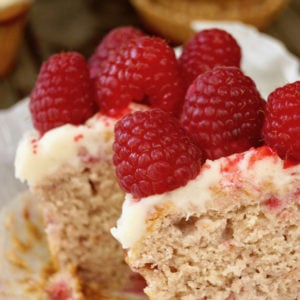 Fresh Raspberry Cupcakes
Fresh Raspberry Cupcakes are a delicious treat for Valentine's Day when dressed up with buttercream and raspberries on top. Or skip the frosting and it's a muffin for breakfast. This easy recipe includes a gluten-free option.
Ingredients
2

cups

fresh raspberries,

washed and dried, divided

1

cup

granulated sugar

1

teaspoon

salt

¾

cup (1 ½ sticks)

unsalted butter,

softened to room temperature

4

large

eggs

1

tablespoon

pure vanilla extract

2

cups

all purpose flour

(see notes)

1

tablespoon

baking powder

1

recipe

Buttercream (click here for recipe)

(optional)
Instructions
Add 1 cup of the raspberries to a small bowl and mash them with a fork or potato masher. (I love this one.) Do this until they're as smooth as possible, but know the result will be somewhat of a lumpy juice. Set aside.

In a large mixing bowl, use electric beaters to mix the butter with the sugar and salt. Mix until it's a bit lighter and very smooth, about 1 minute on a high speed. Add the eggs and vanilla and mix until smooth. Then add the puréed raspberries and mix again. (You can use a spoon to mix also, it will just take a bit of muscle.)

Roughly chop the remaining 1 cup of raspberries and fold them into the batter with the flour and baking powder. Do not mix too much — only do so until you no long see dry spots of flour.

Divide the batter evenly among the paper cup-lined muffin pan. Each one should be filled almost to the top, but not quite.

Place the pan in the 350°F oven and bake until the cupcakes have risen, are starting to crack slightly, and are a tiny bit golden — about 25 minutes.

Let them cool in the pan for about 10 minutes before removing them.
Have you tried this recipe?
I'd love to see it on Instagram! Tag me at @cookingontheweekends or leave a comment & rating below.
Cooking On The Weekends is a participant in the Amazon Services LLC Associates Program, an affiliate advertising program designed to provide a means for sites to earn advertising fees by advertising and linking to Amazon.com.