Savory pie recipes can be such a treat. This Mushroom Bacon Savory Pie with a gluten-free potato crust is an ideal centerpiece for a scrumptious brunch! It's rich and hearty and beautiful.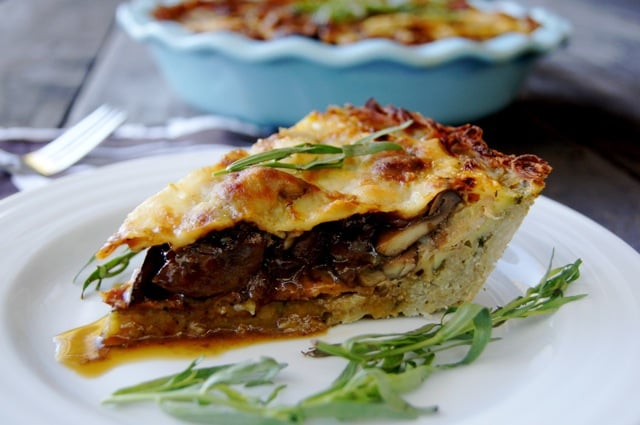 I spent this past Sunday morning brunching with the ladies in my family. It was delightful, relaxing, and delicious!
My mom made her Ginger Applesauce, my Aunt brought incredibly delicious chocolate croissants  -- from a Chinese restaurant, oddly enough. My cousin and her sweet 4-year-old daughter hosted our get together and made superb coffee. And I brought the main course, Mushroom Bacon Savory Pie  wi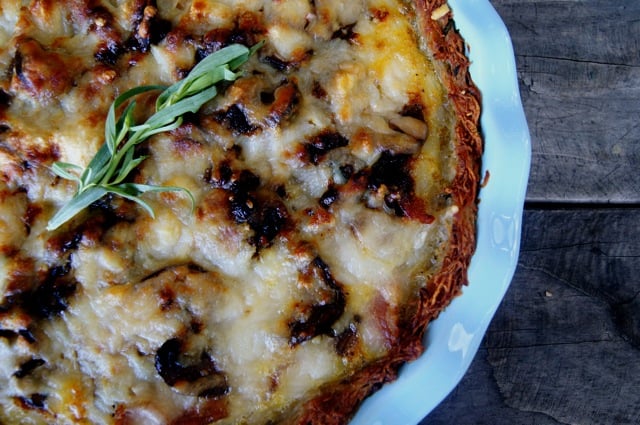 I'm always looking for new, innovative ways to make gluten-free meals, and love creating savory pie recipes. While I'm not the first to make a crust with potatoes, I think it works brilliantly!
The rich, earthy combination of flavors makes this a really satisfying dish.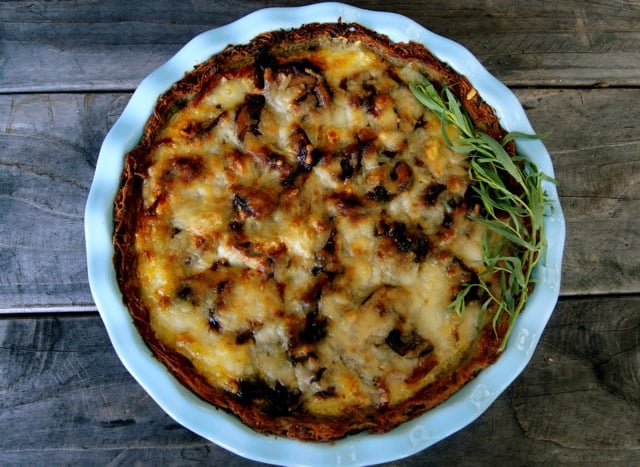 How to Make a Gluten-Free Potato Crust
Potatoes are first grated and then as much liquid as possible is removed from them.
Next they are mixed with a little egg, salt, pepper and whatever flavors you like. In the case of this crust, I added fresh tarragon, which is delicious and perfect with mushrooms.
Then the potato mixture is pressed into a pie dish and baked.
Can you make this ahead?
Yes, you can make and assemble the whole pie up to 3 days ahead of time! Reheat the pie in a 325°F oven until it's hot, about 30 minutes.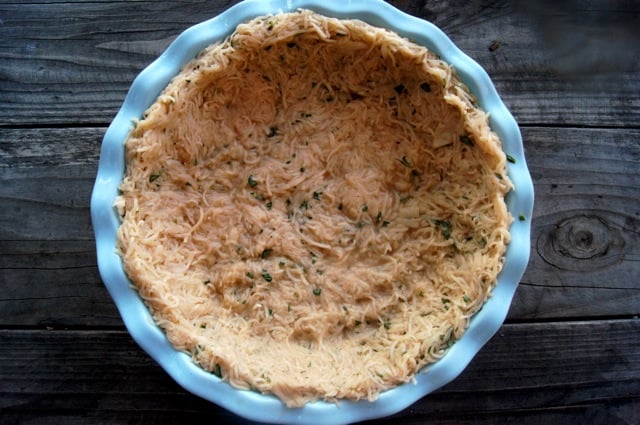 As you might remember, I truly love brunch and always highly recommend it. Let's have one this weekend. 🙂
This is one of my favorite savory pie recipes and I hope you love it, too!
A few more savory pie recipes:
Mushroom Bacon Savory Pie Recipe
This is an ideal centerpiece for a scrumptious brunch! It's rich and hearty, beautiful and gluten-free.
Ingredients
For the crust
4

cups

Russet potatoes,

peeled and finely grated

¼

cup

olive oil

1

large

egg,

lightly beaten

1

tablespoon

fresh tarragon,

finely chopped

¾

teaspoon

salt

freshly ground black pepper
For the filling
7

strips

applewood smoked bacon

olive oil for the pan

1½

cups

yellow onion,

thinly sliced

1

teaspoon

garlic,

minced

1

pound

Crimini mushrooms,

washed and dried, thinly sliced

¼

cup

dry sherry

1

tablespoon

fresh tarragon,

finely chopped

8

large

eggs

¾

cup

Gruyère,

grated

salt and freshly ground black pepper
Instructions
Preheat the oven to 425°F.

For the crust
Use a food processor fitted with the fine grater attachment -- or a hand held fine grater -- to grate the potatoes.  (The former is much easier!)

As you grate the potatoes, add them to a large strainer over a big bowl. Then use your hands to squeeze as much liquid as possible. Potatoes have a very high water content, so you'll be surprised at the quantity of liquid that you can actually "wring out" of the potatoes!

Add the potatoes to a large mixing bowl with the egg, olive oil, tarragon, salt and a few turns of pepper. Mix until everything is evenly incorporated.

Gently press the potato mixture into a 10-inch pie plate, covering the bottom and sides evenly. Place in the preheated oven for about 20 minutes -- the potatoes along the sides should be beginning to brown. Now reduce the heat to 350 degrees F and continue cooking for about another 10 minutes, until the bottom is only slightly golden brown or dry. Remove from the oven and turn the heat down to 325°F.

While the crust is baking, cook the bacon in a large sauté pan and set it aside on a plate with a paper towel to drain. (Don't clean this pan!)
For the filling
Add the onions and garlic to the pan with the bacon grease. Over medium heat, cook until the onions are soft and slightly caramelized, about 7 minutes. Add the mushrooms in two batches and cook until they are nicely browned and until no liquid remains in the pan, about 10 to 15 minutes. (If the pan is looking dry at any point before the mushrooms are cooked, add a bit of olive oil.) Deglaze the pan with the sherry and use a flat wooden spatula to scrape any delicious bits of mushroom and onion off the bottom and into the mixture. Cook until all of the sherry has been cooked off. Add the tarragon and season to taste with salt and pepper. (Here's How to Season to Taste.)


In a medium-sized mixing bowl, whisk the eggs just until they are well-blended. Season them with salt and pepper and set aside.

To assemble
Place the cooked bacon strips in one layer over the potato crust. Add the mushroom mixture on top of the bacon and pour the egg evenly over everything. Sprinkle the top with the grated Gruyère cheese.

Bake in the preheated 325°F oven just until the egg solidifies, about 30 minutes. If the top hasn't browned, place the pie under the broiler for about 30 seconds. Cover the pie loosely with foil and let it sit for at about 20 minutes before serving.
NOTES
Vegetarian? Omit the bacon and start cooking the onion and garlic with olive oil.
Please don't worry if the bottom of your potato crust appears less cooked than the sides.  It will cook more with the filling and the texture will be delicious, and a lovely contrast to the crispy sides.
Calorie count is only an estimate.
NUTRITION
Have you tried this recipe?
I'd love to see it on Instagram! Tag me at @cookingontheweekends or leave a comment & rating below.