Healthy, or shall I say healthier eating should never preclude delicious desserts.
Now when I made my recipe for Non-Fat Chocolate-Cherry Frozen Yogurt, and shared my high cholesterol story, I told you that I wouldn't go all healthy on you.  That's still the case. 😉
That said though, I've been discovering that I can create rich and wonderful desserts without the usual amounts of saturated fat that I would have normally used.
Did you know that Mediterranean diets are generally extremely healthy?  And that olive oil is the main source of fat in the Mediterranean?
True and true!
There's just something magical about a good chocolate chip cookie, and I don't think that the magic is at all lost in what I'm calling a Mediterranean style cookie.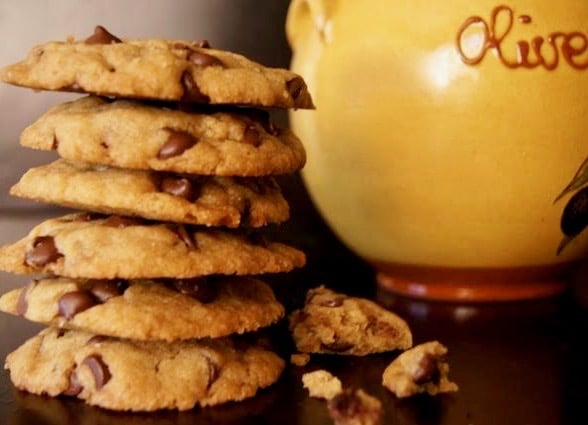 Melting, soft chocolate, surrounded by a sweet, melt-in-your-mouth, crunch.
Perfect!
Enjoy!
Oh, and more Friday Flowers coming soon.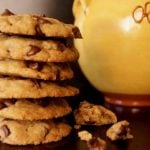 Olive Oil Chocolate Chip Cookie Recipe
Makes 2 dozen
Ingredients
1

cup

extra virgin olive oil

1

tablespoon

vanilla extract

3/4

cup

granulated sugar

3/4

cup

golden brown sugar

1

teaspoon

Kosher salt

plus extra for garnish

1

large egg

2

cups

all-purpose flour

1/2

teaspoon

baking soda

2

cups

semisweet chocolate chips
Instructions
Preheat the oven to 350 degrees F, and line two baking sheets with parchment paper. Set aside.

Add the olive oil, vanilla, both sugars and the 1 teaspoon of salt, to a large mixing bowl. Mix until you have a smooth consistency.

Now mix in the egg. Blend until it's completely smooth again.

Add the flour and baking soda to the bowl and mix just until it's fully incorporated and you don't see any dry spots of flour.

Fold in the chocolate chips.

Use your hand to shape the batter into balls, about 2 tablespoons each. (Your hand will be greasy from the oil, but I find for this recipe, hands are best.) Add the shaped balls of batter to the parchment-lined baking sheets as you go. They should have at least 2-inches between them, about a dozen per sheet.

Use the palm of your hand to gently flatten the balls of batter, only about halfway.

Then lightly sprinkle each one with Kosher salt.

Place the baking sheets in the preheated 350 degree F oven until the cookies are golden brown along the edges, 10 to 12 minutes. Let them cool on the baking sheet for about 5 minutes, then place them on a cooling rack to come to room temperature.
Save