If you're looking for delicious Mediterranean Diet desserts, these Olive Oil Chocolate Chip Cookies are for you. Perfect for dessert after dinner, or an afternoon pick-me-up snack with coffee, they have a perfect crunch, just the right amount of chocolate and a hint of vanilla.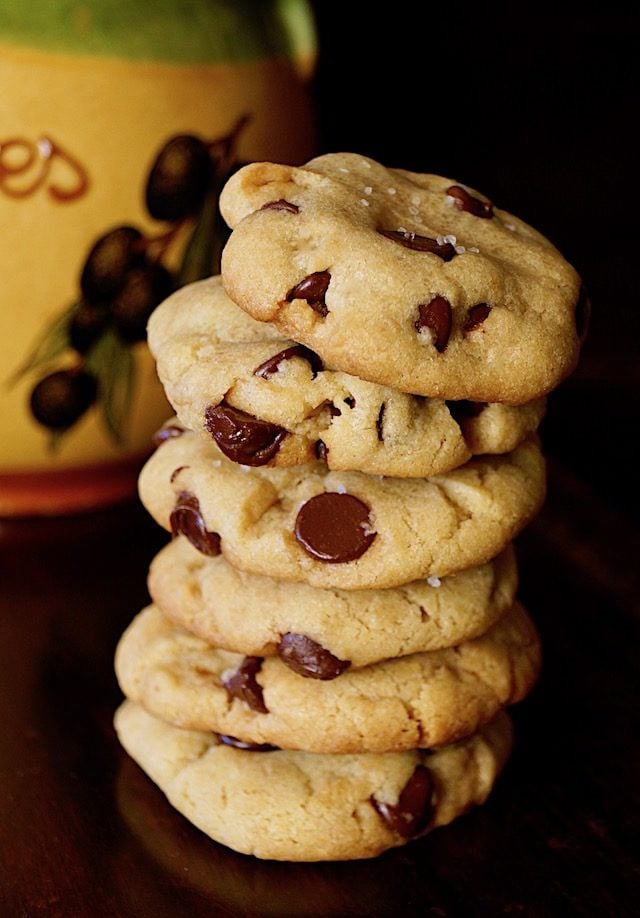 Disclaimer: Other than a gluten-free diet, which I know quite well because my son has Celiac Diesase, I do not claim to be an expert on nutrition or other special diets. I'm calling these Mediterranean Diet cookies because I use Extra Virgin olive oil instead of butter, because it is much lower in saturated fat, and is a big part of the Mediterranean diet.

---
Healthy, or shall I say healthier eating shouldn't have to preclude delicious desserts.
I'm not going all healthy on you. 🙂
I am however, a fan of the Mediterranean diet and generally love the recipes that fall within that category. It's more or less how I naturally eat, which makes it easy.

Desserts with Olive Oil
I've been discovering that I can create rich and wonderful Mediterranean diet desserts without the usual high amounts of saturated fat that I would have normally used.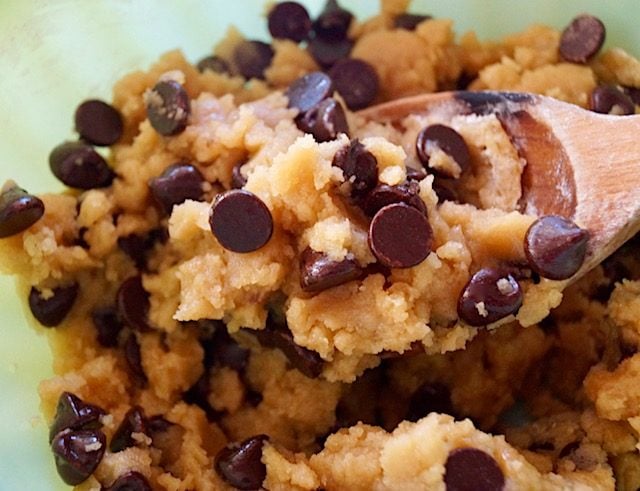 And the oil creates super delicious, moist baked goods.

What is the Mediterranean Diet?
-The Mediterranean diet is a low-fat way of eating that is characterized by a high consumption of vegetables and moderate consumption of protein.
-Fat is actually encouraged in this diet -- though only healthy varieties, like monounsaturated fat from olive oil and polyunsaturated fat, like omega-3 fatty acids, from certain fish and shellfish.
-It's generally a healthy way of eating, and olive oil is the main source of fat.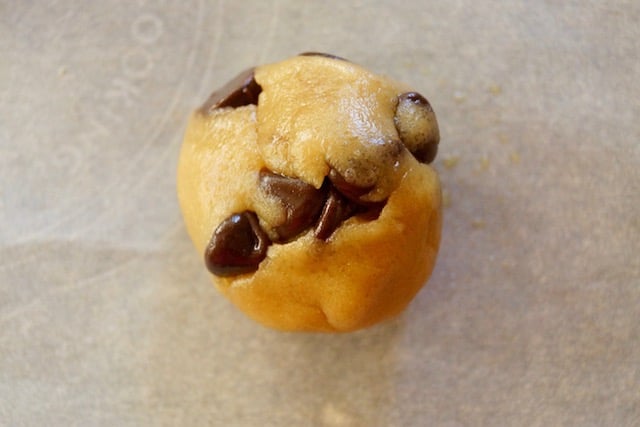 There are many more elements to this diet, and you can get more information about it here.

Recipe Tips and Substitutions
Be aware that this dough will not behave like a typical cookie dough.
The oil changes things. Therefore, when you're shaping the dough into balls, you have to use your hands and squeeze them together gently. Otherwise the chocolate chips easily slip out.
I use semisweet chocolate chips in this recipe, but feel free to use any type you like.
Can you freeze Olive Oil Chocolate Chip Cookies?
Yes you can.
Just as you would any other cookie -- wrapped very well so no air can get in. Defrost them at room temperature a few hours before you want to eat them.
What's in Olive Oil Chocolate Chip Cookies?
extra virgin olive oil
vanilla
granulated sugar
golden brown sugar
kosher salt
eggs
all-purpose flour
baking soda
semisweet chocolate chips
There's just something magical about a good chocolate chip cookie, and I don't think that the magic is lost here without the butter.
Enjoy every last crumb of these delectable Olive Oil Chocolate Chip Cookies!
More recipes that can squeeze their way into the Mediterranean Diet: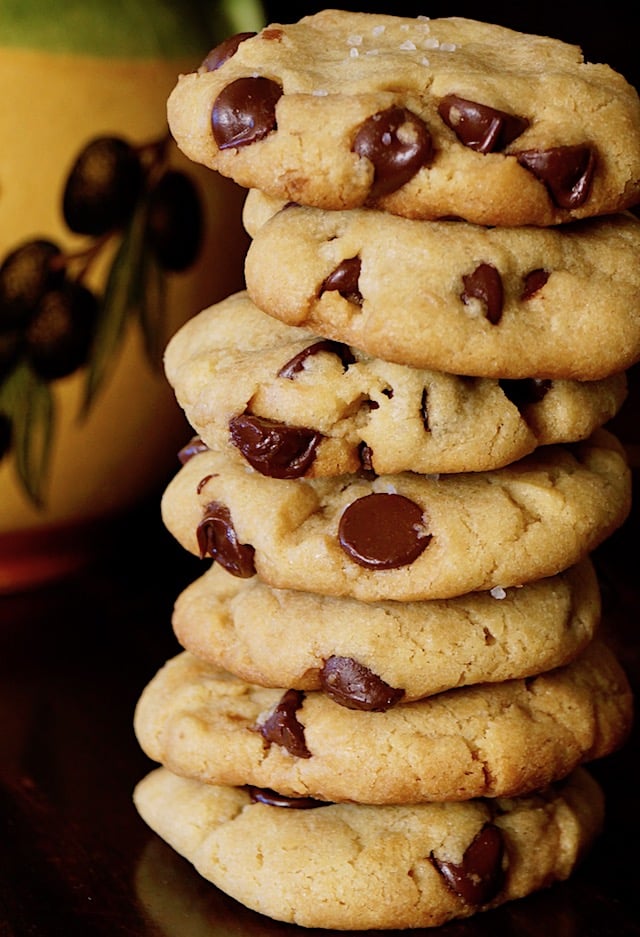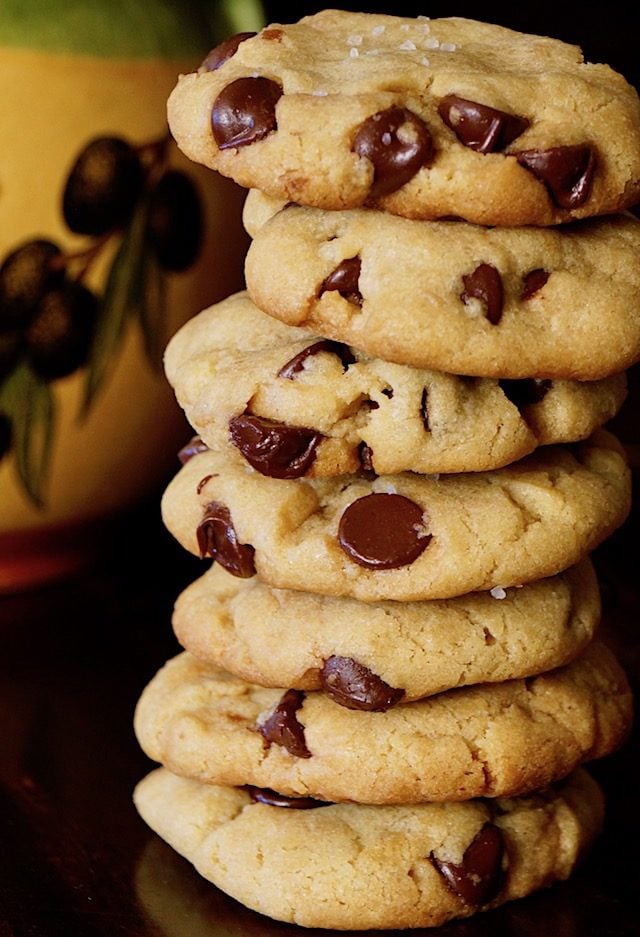 All of these desserts made with olive oil are fantastic!

And more of my favorite chocolate chip cookies:
These are all unique and fun recipes!
Enjoy every last crumb of the Olive Oil Chocolate Chip Cookies.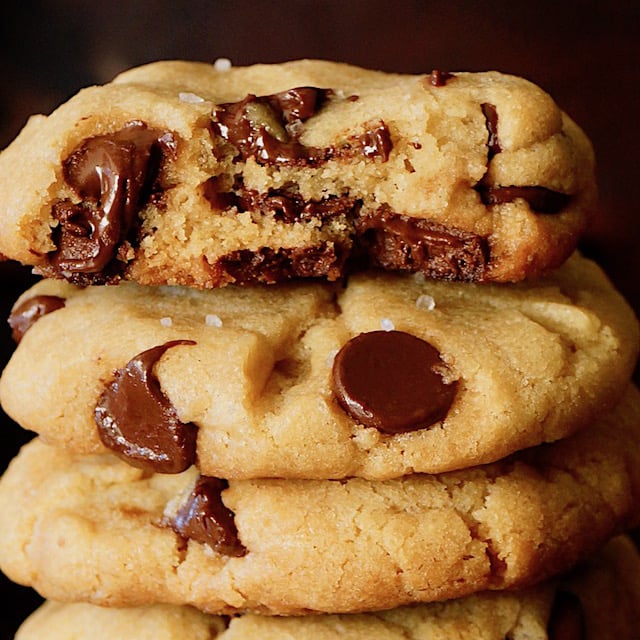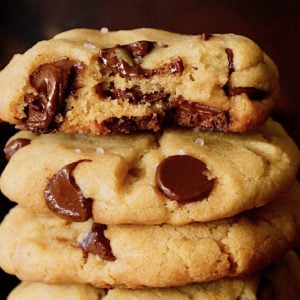 Olive Oil Chocolate Chip Cookies
Perfect for dessert after dinner, or an afternoon pick-me-up snack with coffee, they have a perfect crunch, just the right amount of chocolate and a hint of vanilla.*Makes 2 dozen
Instructions
Preheat the oven to 350°F, and line two baking sheets with parchment paper. Set aside.

Make the batter. Add the olive oil, vanilla, both sugars and the 1 teaspoon of salt, to a large mixing bowl. Mix until you have a smooth consistency. Now mix in the egg. Blend until it's completely smooth again.

Add the flour and baking soda to the bowl and mix just until it's fully incorporated and you don't see any dry spots of flour.

Fold in the chocolate chips.

Shape. Use your hands to shape the batter into balls, about 2 tablespoons each. (Your hands will be greasy from the oil, but I find for this recipe, hands are best.) Add the shaped balls of dough to the parchment-lined baking sheets as you go. They should have at least 2-inches between them, about a dozen per sheet.

Use the palm of your hand to gently flatten the balls of batter, only about halfway.

Then lightly sprinkle each one with Kosher salt.

Bake and cool. Place the baking sheets in the preheated 350°F oven until the cookies are golden brown along the edges, 10 to 12 minutes. Let them cool on the baking sheet for about 5 minutes, then place them on a cooling rack to come to room temperature.
NOTES
Nutritional information is only an estimate.
NUTRITION
Calories:
254
kcal
|
Carbohydrates:
28
g
|
Protein:
2
g
|
Fat:
15
g
|
Saturated Fat:
5
g
|
Polyunsaturated Fat:
1
g
|
Monounsaturated Fat:
8
g
|
Trans Fat:
0.01
g
|
Cholesterol:
9
mg
|
Sodium:
109
mg
|
Potassium:
98
mg
|
Fiber:
2
g
|
Sugar:
19
g
|
Vitamin A:
19
IU
|
Calcium:
23
mg
|
Iron:
1
mg
Have you tried this recipe?
I'd love to see it on Instagram! Tag me at @cookingontheweekends or leave a comment & rating below.
Cooking On The Weekends is a participant in the Amazon Services LLC Associates Program, an affiliate advertising program designed to provide a means for sites to earn advertising fees by advertising and linking to Amazon.com.