This Chocolate Frozen Yogurt with Cherries easy to make, rich and creamy, fat free and the ideal refreshing summer dessert.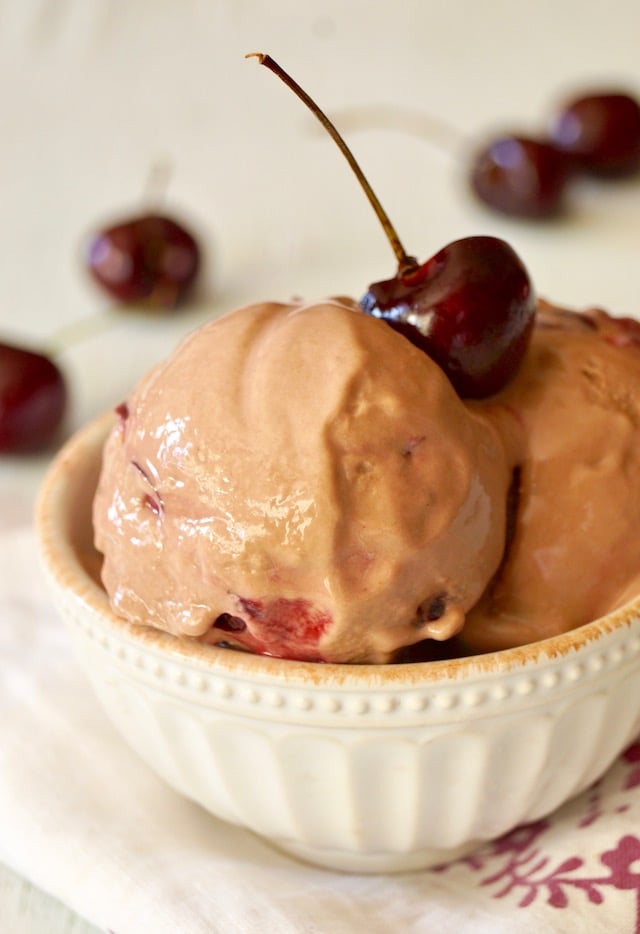 I'm usually a purist when it comes to chocolate, but cherries and chocolate are my exception.
The deep, intensely sweet flavor of cherries at the peak of their season naturally pairs beautifully with chocolate, and I love it!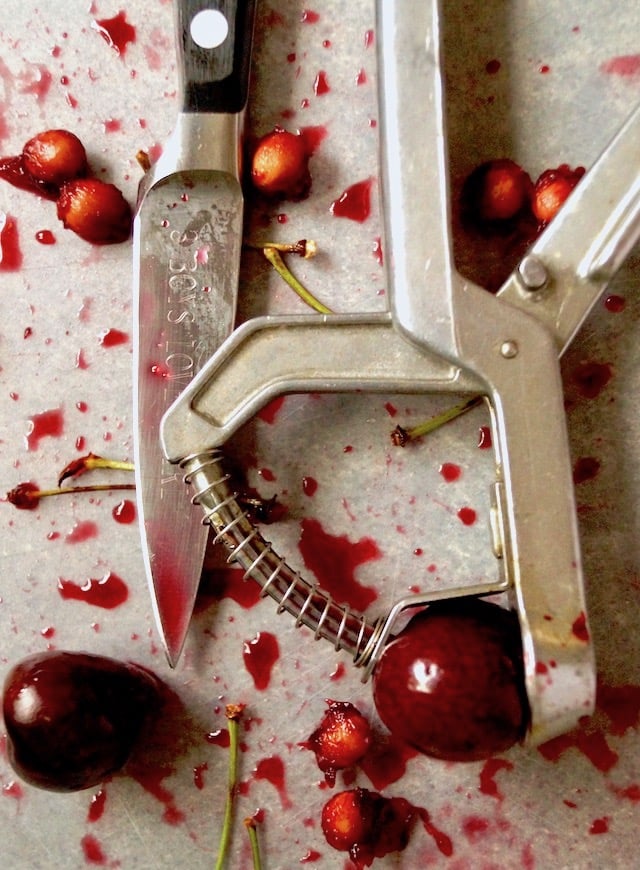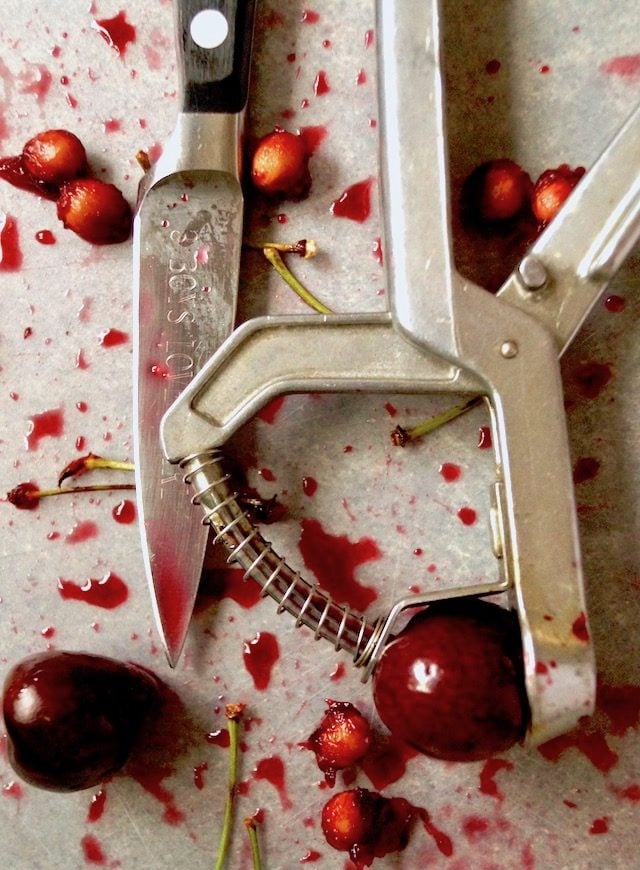 Tip: Invest in a cherry pitter. I use mine for olives too!
Can you use any cherry variety?

Yes, you can use your favorite cherry variety to add to chocolate frozen yogurt.
I love using Bing cherries because they hold their shape well in the yogurt while maintaining their juicy interior.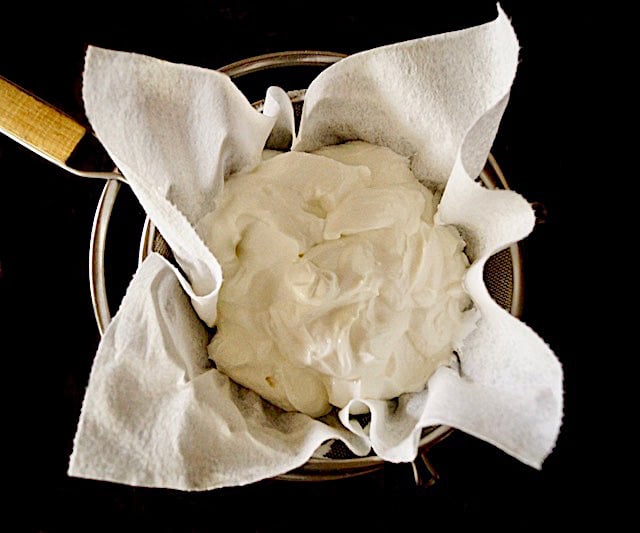 How to Make Homemade Frozen Yogurt Creamy
There are two secrets to making homemade frozen yogurt creamy -- and if it's fat free, like we're making today, taking these steps is even more important.
Use Greek yogurt. Starting with a richer, creamier yogurt will always be better, and that's what you get with Greek yogurt.
Drain the yogurt. Yogurt, especially fat free yogurt, has a high liquid content. The more liquid in your frozen yogurt, the icier it will be. We want creamy, so draining out as much of this liquid as we can is super helpful. (Full fat yogurt will give you even creamier results, but it should still be drained.)
Sugar. Of course we don't want too much sugar because obviously it's not the healthiest ingredient out there. That said, sugar does help create a softer texture. So we can't go too light.
Dissolving the sugar before adding it to the recipe. This is an easy extra step that will ensure that your frozen yogurt doesn't have a granular texture. To do this, heat the sugar with a touch of water. (More detailed instructions are below.)
Soft serve. Serve the yogurt right out of the machine, or after only an hour or so in the freezer. This will be "soft serve" (creamy). It tends to freeze pretty hard, so if you do freeze it longer than a few hours, let it sit out for a while before serving -- until it's as soft as you want it.
*I'm not against full fat, or low fat frozen yogurt at all -- sometimes I just like lighter, and I wanted to challenge myself to see how creamy I could make it without the fat. And it turned out VERY creamy!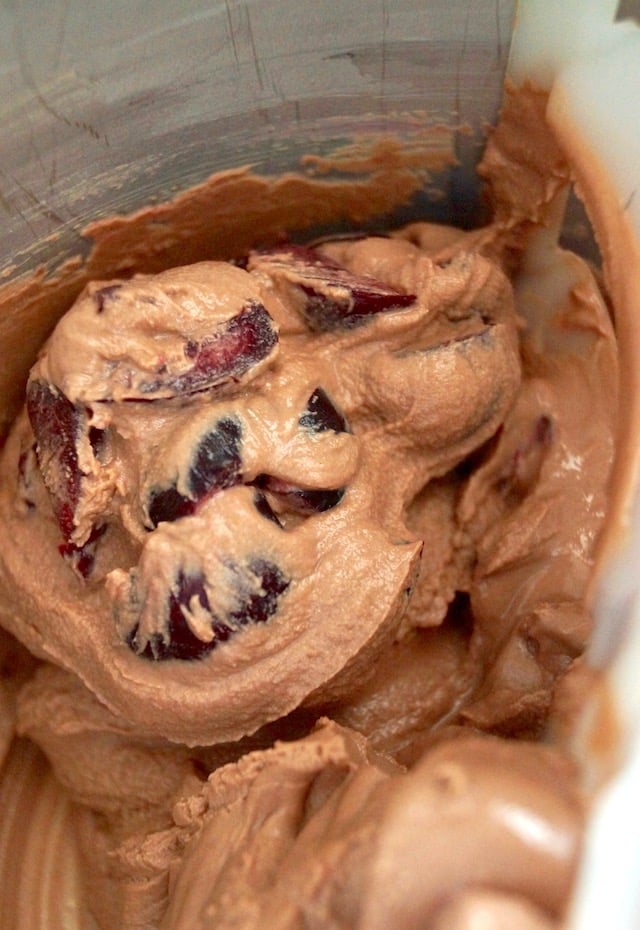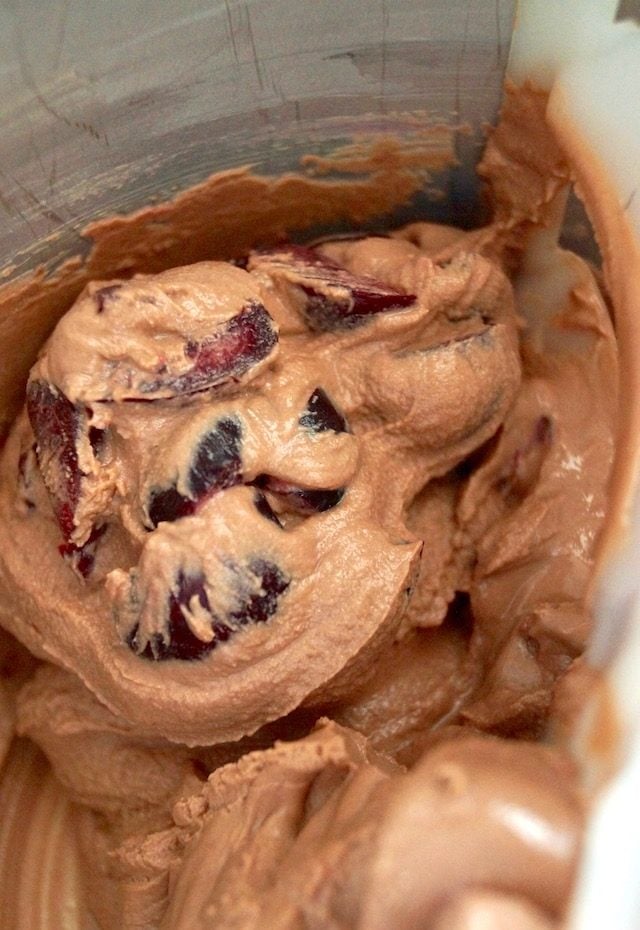 Is frozen yogurt healthy?
This clearly will depend on the recipe -- whether you make it at home or not.
Sometimes -- but not always -- fat free can mean added chemicals and/or more sugar. Always ask when you're out because most fro yo shops have a list of the ingredients that you're free to look at.
I would call my Chocolate Frozen Yogurt recipe healthy-ish. Healthier than a full fat ice cream, but is it like eating a bowl of fruit? Not quite.
In general, frozen yogurt has fewer calories and less saturated fat than ice cream. (My Fat Free Chocolate Frozen Yogurt recipe has about 229 calories per serving.)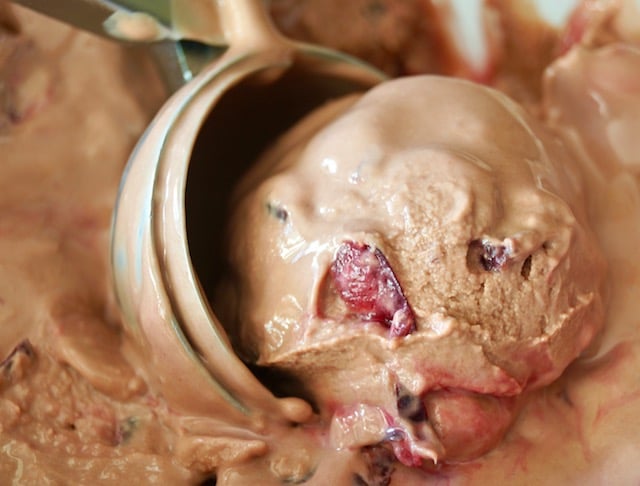 This Chocolate Frozen Yogurt with Cherries is a lovely summer dessert - any time of the day. I hope you enjoy making the recipe and every last bite!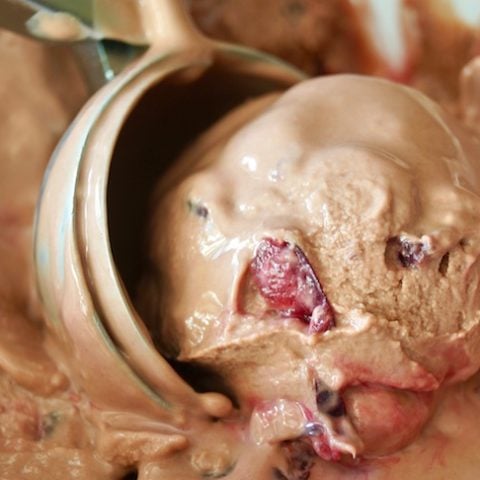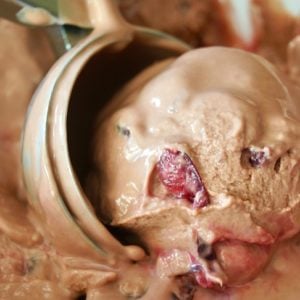 Chocolate Frozen Yogurt with Cherries
This Chocolate Frozen Yogurt with Cherries is easy to make, rich and creamy, fat free and the ideal, refreshing summer dessert.*Please note that most of the prep time is inactive.
Ingredients
4

cups

fat free plain, Greek yogurt

¾

cup

sugar

1

tablespoon

pure vanilla extract

⅓

cup

cocoa powder,

sifted

1½

cups

fresh cherries,

pitted and halved or quartered if very large
Instructions
Line a large, mesh strainer with a double layer of paper towels, and place it over a large, deep mixing bowl. Add the yogurt, cover with plastic wrap, and let it strain the refrigerator for at least 6 hours, and ideally overnight. (Straining the liquid from the yogurt will help prevent your frozen yogurt from being too icy.)

Add the sugar, vanilla and ¼ cup of water to a small saucepan and place it over medium-low heat. Whisk it and and warm it just long enough to dissolve the sugar. Set aside to cool.

Remove the yogurt from the refrigerator. Discard the drained off liquid, and add the yogurt to a large mixing bowl. Whisk in the cocoa powder, followed by the dissolved sugar. If the sugar is still on the warm side, whisk very quickly. Fold in the cherries, cover the bowl tightly with plastic wrap, and refrigerate for at least a couple of hours.

Transfer to an ice cream maker, and freeze according to the machine instructions.

For soft serve, serve immediately. Otherwise, place the frozen yogurt in an airtight container in the freezer overnight.
NOTES
Calorie count is only an estimate.
NUTRITION
Have you tried this recipe?
I'd love to see it on Instagram! Tag me at @cookingontheweekends or leave a comment & rating below.
Cooking On The Weekends is a participant in the Amazon Services LLC Associates Program, an affiliate advertising program designed to provide a means for sites to earn advertising fees by advertising and linking to Amazon.com.