This Chinese Longevity Noodles recipe for Chinese New Year is spiced with delicious Asian flavors and is filled with chicken and healthy greens. It's a hearty comfort food meal.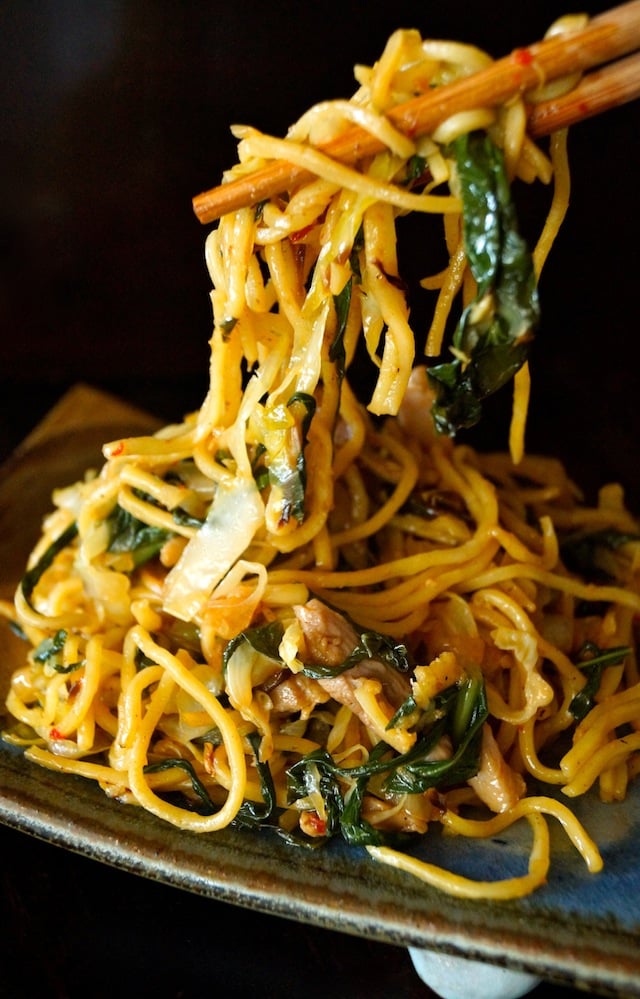 A lot of people have food for their Super Bowl parties on their minds.
I totally get it, but I'm not thinking guacamole and chips, salsa, or dips at the moment -- I'm thinking about Chinese New Year.
Disclosure: I do not fancy myself an expert of any sort on Chinese New Year -- below is basic information about it I've learned through my interest in the food.
What is Chinese New Year?
Chinese New Year, also referred to as the Lunar New Year, is a Chinese festival that marks the beginning of the new year.
It starts on the second new moon after the winter solstice and ends on the full moon fifteen days later.
The celebration typically revolves around spending time with family and friends, special meals, fireworks, and gift giving.
What do People Eat for Chinese New Year?
Here are seven foods considered to be lucky to eat during Chinese New Year.
fish - for an increase in prosperity
dumplings  - for wealth
spring rolls - for wealth
sweet rice balls - for family bonding
good fortune fruits - these include grapes, lychee, plums, jujube (a type of date) and Kumquats, and are for fullness and wealth

rice cakes - for a higher salary and career status
longevity noodles - for happiness and longevity
You can find out more about Chinese food symbolism here.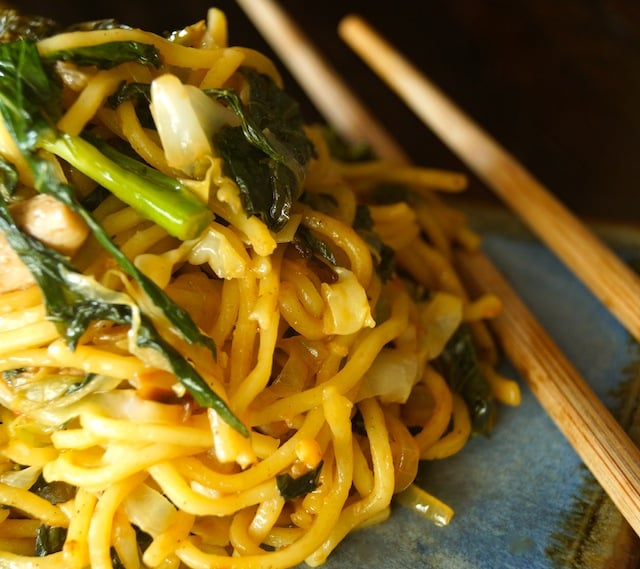 What are Longevity Noodles?
Chinese Longevity Noodles, or long noodles, are eaten all over China.
These noodles are never cut or broken by the cook, and if they can be eaten without biting through the strands, it's considered even more auspicious.

Longevity Noodles are a type of Yi Mein, which is a Cantonese egg noodle made with wheat flour and soda water, which makes them a bit chewier.

Longevity noodles are usually stir fried.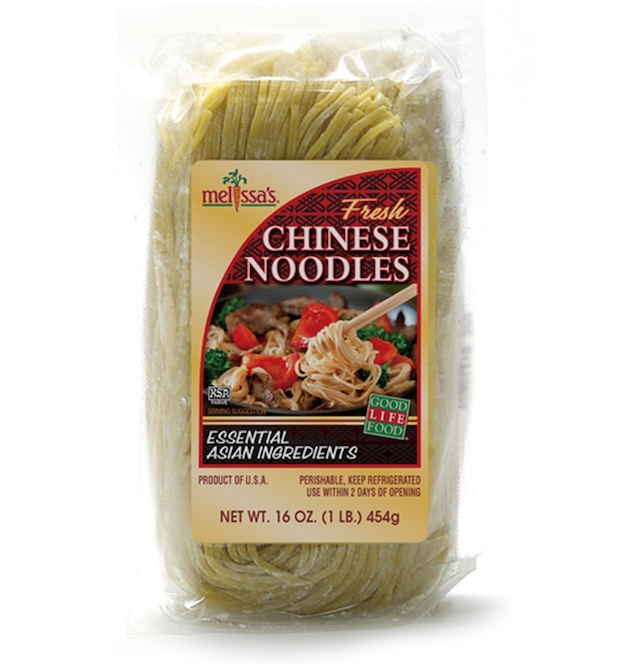 My friends at Melissa's Produce sent me a package of their fresh Chinese noodles hiding among bundles of gorgeous greens.
What's in this Chinese Longevity Noodle Recipe
Chinese noodles
grapeseed oil
onion
ginger
garlic
cabbage
Gai Lan
chicken
butter
chili paste
soy sauce or black vinegar
How about that unexpected magical secret ingredient in these Chinese Longevity Noodles?
The butter. (GASP!)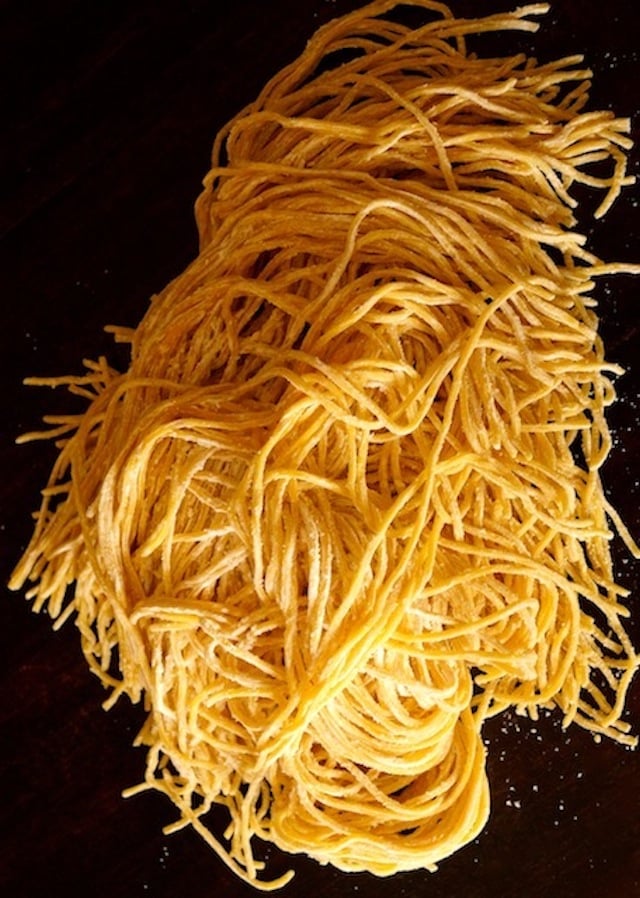 Recipe Tips
You can also use dry Longevity Noodles for this recipe, as you'll see in the below directions. Simply follow the cooking instructions on the package.
Spinach is a great alternative for the Gai Lan if you can't get it.
If you want to keep it lighter, you don't have to add the butter. You can use a touch more grapeseed oil instead, or a little of each. I must tell you though, the butter creates a really beautiful luscious texture.
This dish is a comfort food like no other -- it's incredibly flavorful, the noodles are so soft, and it's as hearty as can be.
This Chinese Longevity Noodles recipe is totally unforgettable. And that's a promise!
Here are a few more Chinese New Year Menu Ideas . . .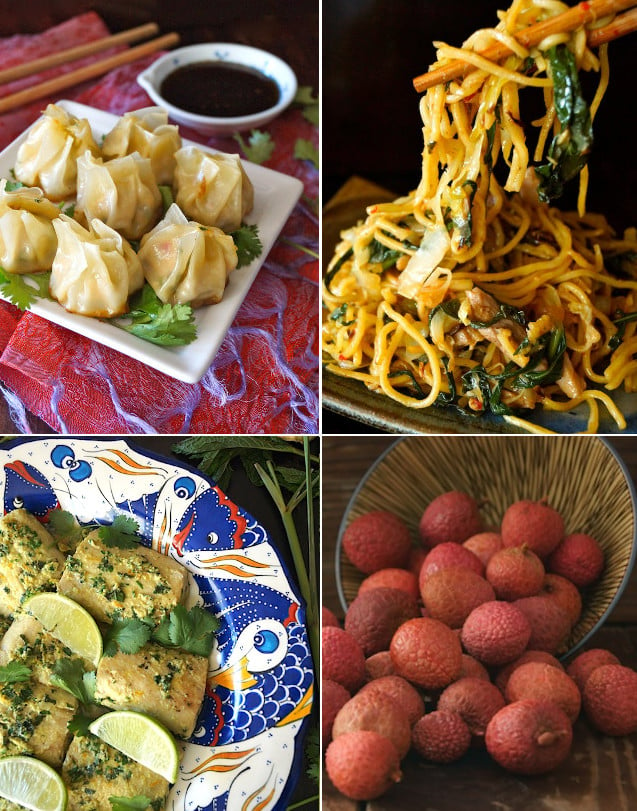 This is not a sponsored post -- Melissa's sent me the noodles and greens for recipe testing, and as always, all opinions are my own.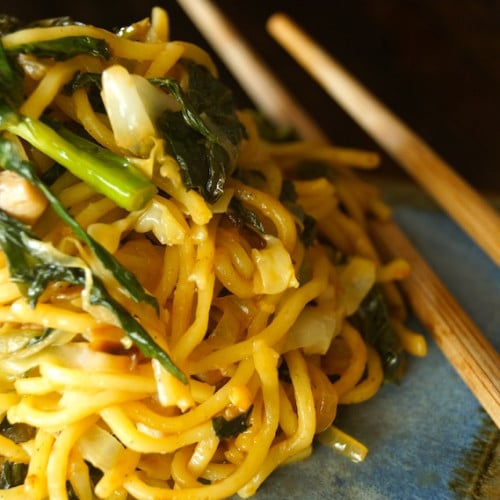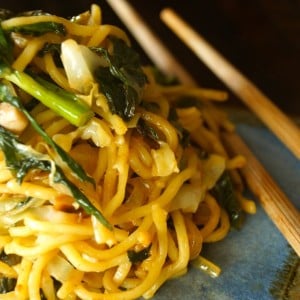 Chinese Longevity Noodles Recipe
This Chinese Longevity Noodles recipe is spiced with delicious Asian flavors and filled with chicken and healthy greens. It's a healthy and hearty comfort food meal.
Ingredients
1

(1-pound) bag

fresh or dry Chinese noodles

(see notes)

1¼

cup

yellow onion,

thinly sliced

1½

tablespoons

ginger pulp

1½

tablespoon

garlic,

minced

5

cups

Kool or Napa Cabbage,

washed and dried, thinly sliced

5

cups

Gai Lan

washed and dried, thinly sliced

¾

pound

boneless chicken breasts or thighs,

cut into bite-sized thin strips

3

tablespoons

unsalted butter

1

tablespoon plus 1 teaspoon

chili paste

1

teaspoon

Chinese black vinegar or soy sauce

salt and freshly ground black pepper
Instructions
Bring a large pot of water to a boil and add the fresh Chinese noodles. Immediately stir with a fork to be sure they don't stick together. Let them cook just until they're tender, about 3 minutes. Drain, add them back to the pot, and toss them with grapeseed oil. Set aside.

Coat the bottom of a large sauté pan with grapeseed oil and place it over medium heat. Add the onions, garlic and ginger. Cook, stirring periodically, until the onions are soft, about 7 minutes.

Add the Gai Lan and cabbage and stir. Cook until all of the greens are wilted, about 5 minutes.

Then use a spatula to gently push all of the ingredients to one side of the pan. Keeping the heat at medium, add a bit more oil to the empty side of the pan and add the chicken. Season it with salt and pepper and then move it around from time to time until it's cooked through, about 7 minutes.

Mix everything together and again, move it to the side of the pan. Melt the butter in the empty side, and add the chili paste and vinegar to it. Stir until it's blended and then gently incorporate it into the rest of the ingredients.

In a very large serving dish and toss the cooked noodles with the contents of the sauté pan. Serve!

NOTES
If you use

dry Longevity Noodles

, simply follow the cooking instructions on the package.
Calorie count is only an estimate.
NUTRITION
Have you tried this recipe?
I'd love to see it on Instagram! Tag me at @cookingontheweekends or leave a comment & rating below.