A true comfort food, these Chile Spiced Chinese Noodles are packed with spice, chicken, and healthy greens.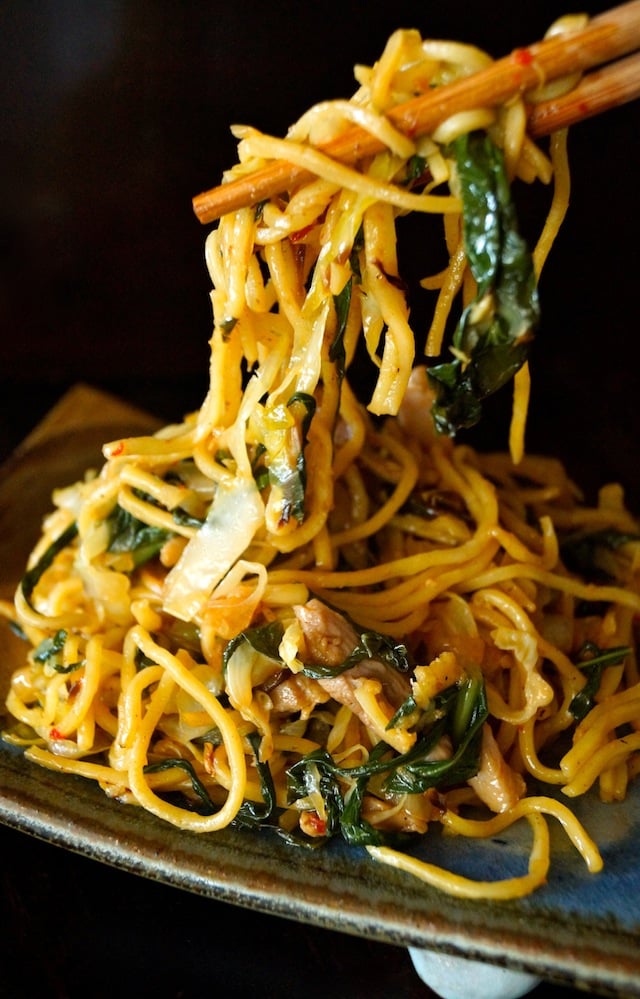 What Super Bowl?  Is that today?
I know, I know, but I'm not thinking guacamole and chips, salsa, or dips today (as I should be, or you might be) — I'm thinking it's only 19 days until Chinese New Year!
There's a super secret ingredient in this recipe and it makes these Chinese noodles absolutely amazing — I think they must be made ASAP.  I'm telling you, this is a comfort food like no other — it's incredibly flavorful, the noodles are so soft, and it's as hearty as can be.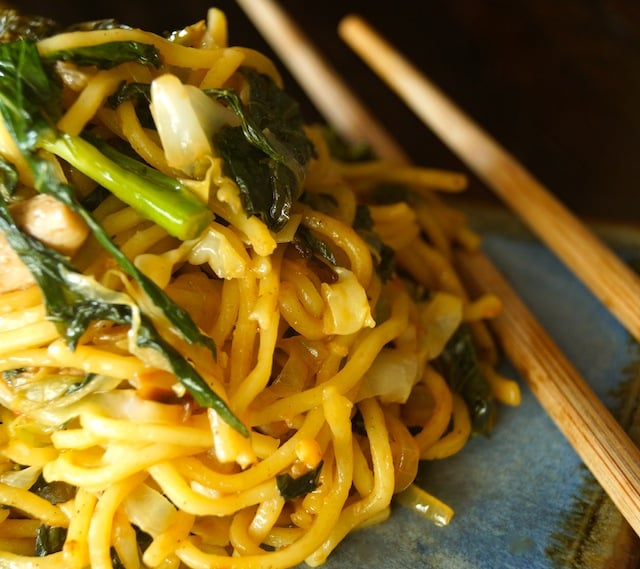 My friends at Melissa's Produce sent me a package of their fresh Chinese noodles hiding amongst bundles of gorgeous greens.  I mean come on, what would you do?  Let the dark green Gai Lan leaves and the soft Kool Cabbage perish?  Leave the yummy noodles that cook in just 3 minutes unopened?
I didn't think so.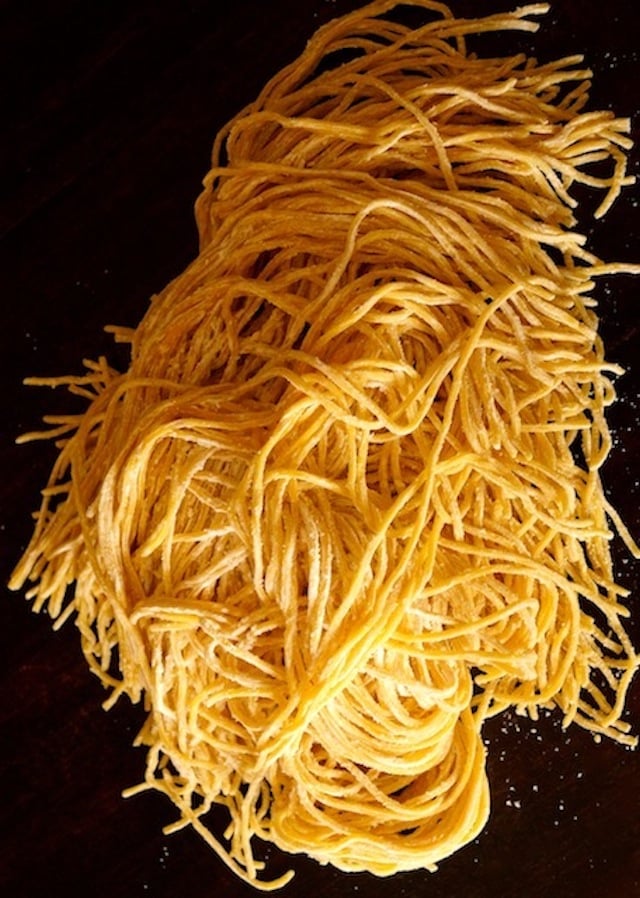 Which ingredient in the recipe do you think I'm calling "secret?"   Hint:  It's not mentioned above.
P.S. Enjoy the game! (I'm betting on the Seahawks.)
This is not a sponsored post — Melissa's sent me the noodles and greens for recipe testing, and as always, all opinions are my own.
Chile Spiced Chinese Noodles Recipe
Ingredients
1

1-pound bag fresh Chinese noodles (you can get them here)

grape seed oil for the pan and to toss with noodles

1

cup

thinly sliced onion

1

tablespoon

ginger pulp

1

tablespoon

minced garlic

4

cups

thinly sliced Kool Cabbage

Napa is great too, washed and dried

4

cups

thinly sliced Gai Lan

washed and dried

½-

pound

boneless chicken breasts or thighs

cut into bite-sized thin strips

2

tablespoons

unsalted butter

1

tablespoon

plus 1 teaspoon chile paste (I like Sambal Oelek)

1½

teaspoons

Chinese black vinegar

sea salt and freshly ground black pepper
Instructions
Bring a large pot of water to a boil and add the fresh Chinese noodles. Immediately stir with a fork to be sure they don't stick together. Let them cook just until they're tender, about 3 minutes. Drain, add them back to the pot, and toss them with grape seed oil. Set aside.

Coat the bottom of a large sauté pan with grape seed oil and place it over medium heat. Add the onions, garlic and ginger. Cook, stirring periodically, until the onions are soft, about 7 minutes.

Add the Gai Lan and cabbage and stir. Cook until all of the greens are wilted, about 5 minutes.

Then use a spatula to gently push all of the ingredients to one side of the pan. Keeping the heat at medium, add a bit more oil to the empty side of the pan and add the chicken. Season it with salt and pepper and then move it around from time to time until it's cooked through, about 7 minutes.

Mix everything together and again, move it to the side of the pan. Melt the butter in the empty side, and add the chile paste and vinegar to it. Stir until it's blended and then gently incorporate it into the rest of the ingredients.

Serve!
Save
Save