Fall-Apart Dutch Oven Chicken is nothing short of amazing! One of my all time favorite Dutch oven recipes, we're talking succulent, juicy, tender-as-can-be, and bursting with warm flavors. Delectable on its own and in dozens of other recipes.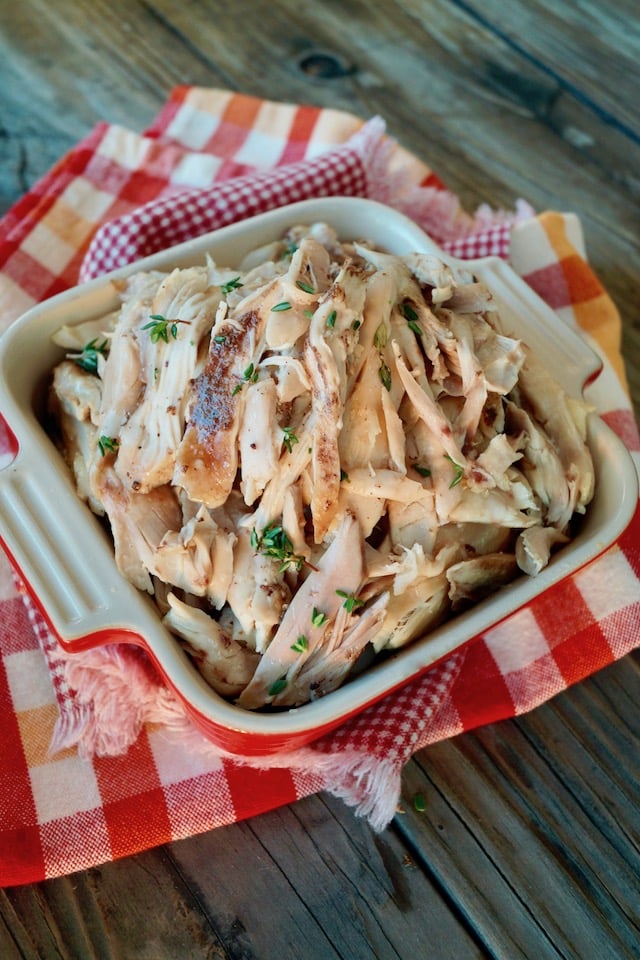 I'm used to cooking tough cuts of meat for hours on end, at a low temperature, in order to create super juicy, "fall apart" results.
It's one of my favorite things to do — my Braised Brisket Stew and Spiced Pulled Pork recipes are perfect examples.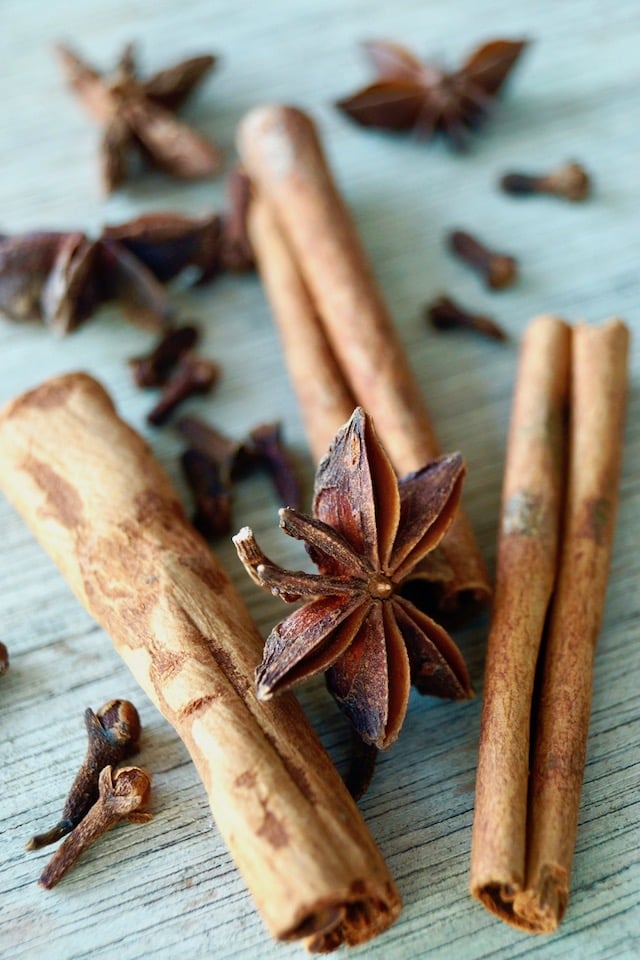 These warming spices -- cinnamon, cloves and star anise -- are part of what leads to the success of this chicken. Wait until you taste the juices left in the Dutch Oven after these spices have made their way in.
Slow Cooking
I love slow cooking of all sorts. Especially when whatever I'm slowly cooking, slowly and continuously permeates my home — and sometimes the neighborhood — with its delicious aroma.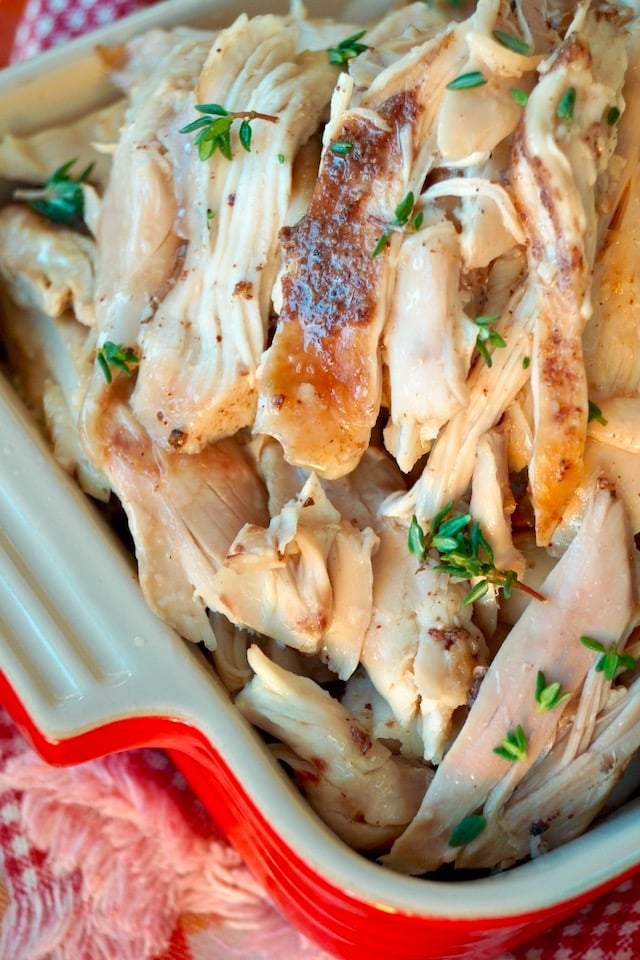 Look at how juicy the pieces of chicken are -- and with those warming spices . . . oh my!
I wondered what would happen if I did the same thing with chicken — something I would normally cook at a high temperature for a relatively short period of time.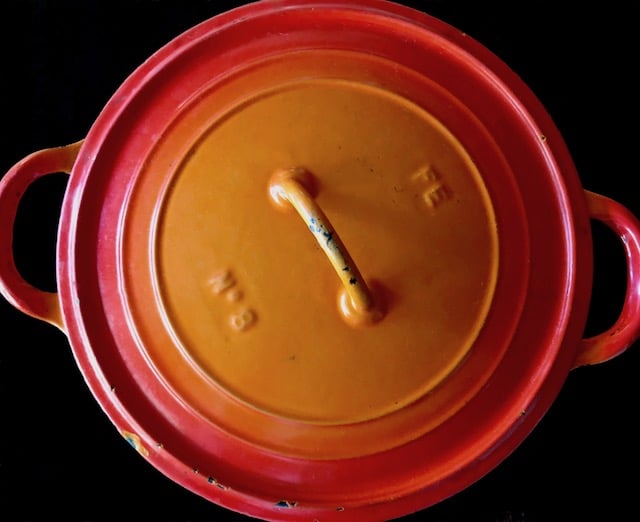 This was my mom's Dutch Oven -- I think she bought it in the 60's. There's a whole lotta love in this pot!
I am certainly not the first person to think of this. After a quick Google search, it turns out, I'm more like the ten millionth! Ha!
This is just before the chicken "fell apart."
What is Fall-Apart Chicken?
Fall-Apart Dutch Oven Chicken is a whole chicken that is cooked in a covered Dutch Oven (go figure). The chicken is cooked in a way that it actually falls apart — in a most delicious way — with just a little prodding when it's done.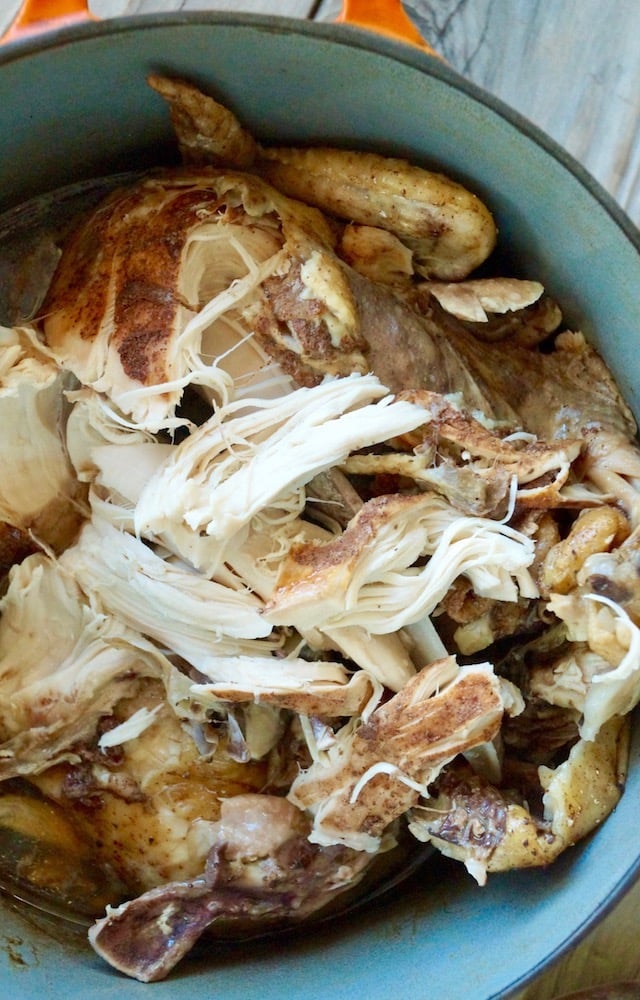 And here it is, "fallen-apart."
What are the keys to making it?
The oven must be set to a very low oven temperature of about 250°F.
The chicken should cook for a little more than 1 hour per pound. The chicken is cooked through after about 1 hour, but you must keep going . . . and going, to get the best results.
As with many Dutch oven recipes that cook for a while, the active work time is short. In this recipe, it's truly only about five minutes, then you can go about your business while it does its thing in the oven. Easy!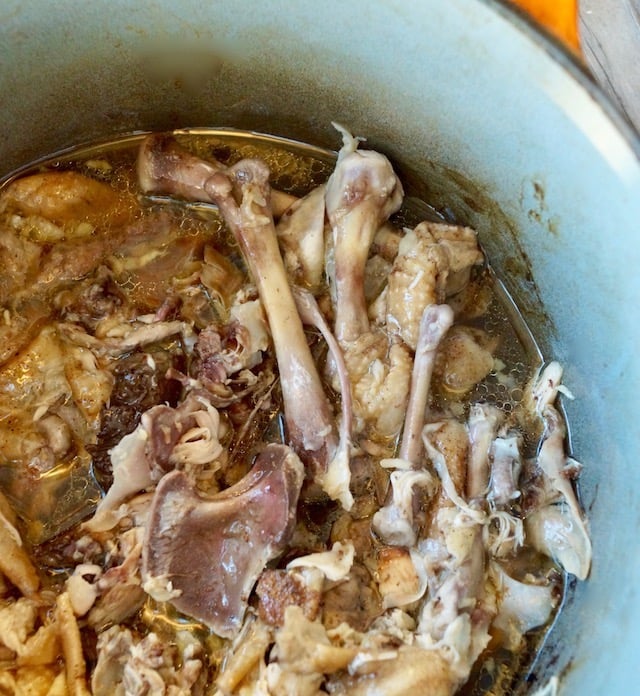 This is what's left after the whole chicken "fell apart." Do you see how clean the bones are? That's a clue that you've done everything correctly.
You guys! This Fall-Apart Dutch Oven Chicken recipe is really unbelievable! It's so over-the-top juicy, succulent and flavorful.
You simply won't be able to get enough.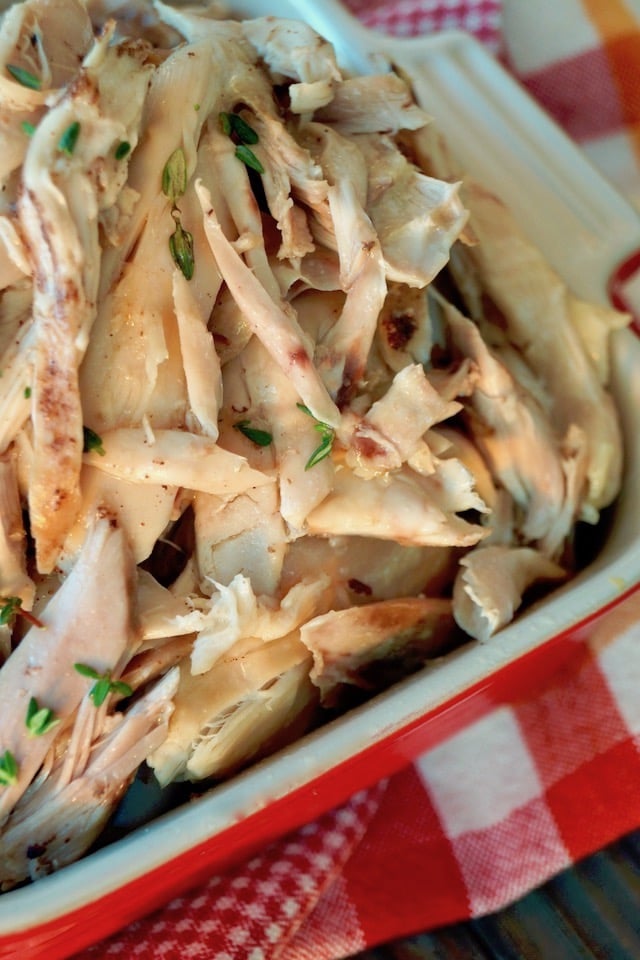 Not only is it spectacular (yep, spectacular!) on its own, but you can use it in dozens of other recipes. It would be excellent to use in salads, tacos, burritos, stews, sandwiches, and the list goes on.
Enjoy every last bite and may this become one of your favorite Dutch oven recipes too.
Fall Apart Dutch Oven Chicken
This chicken is so succulent, juicy, tender-as-can-be! Delectable on its own and in dozens of other recipes.
Ingredients
2

teaspooons

kosher salt

1

teaspoon

ground cinnamon

½

teaspoon

ground cloves

½

teaspoon

ground star anise

1

approximately (3½ pound)

whole chicken

about 2

teaspoons

grapeseed or other neutral oil
Instructions
Preheat the oven to 250°F and adjust a rack to the middle.

In a small dish, combine the salt, cinnamon, cloves and star anise.

Pat the chicken dry with paper towels, and then gently loosen the skin all over, being as careful as possible not to tear it. Sprinkle all but about ¼ teaspoon of the spice mixture as evenly as possible under the skin, all over. Use your fingers to rub it in. Then sprinkle the rest on top of the skin, along with the oil and gently rub that in as well.

Place the seasoned chicken in an approximately 4 quart Dutch oven, breast side down, cover, and place it in the preheated 250°F oven. Let it cook until it literally falls apart when you try to lift any part of it, about 4 hours.

Take off the the lid, and let it sit until it's cool enough to handle.

Remove the skin — it should come right off, and then use your hands or a fork to help the chicken fall apart. This should happen pretty effortlessly just by picking up the legs. You can leave it in large pieces or shred it into bite-sized pieces.

Once the chicken has been removed from all of the bones, drizzle it with some of the juices remaining in the Dutch oven.

NUTRITION
Have you tried this recipe?
I'd love to see it on Instagram! Tag me at @cookingontheweekends or leave a comment & rating below.
Cooking On The Weekends is a participant in the Amazon Services LLC Associates Program, an affiliate advertising program designed to provide a means for sites to earn advertising fees by advertising and linking to Amazon.com.