Ginger Chicken Dumplings are packed with juicy chicken, tender vegetables, garlic and ginger. Also referred to as Nepalese Momo, and quite similar to Chinese chicken dumplings, they're the perfect hors d'oeuvre or appetizer that you won't be able to stop eating!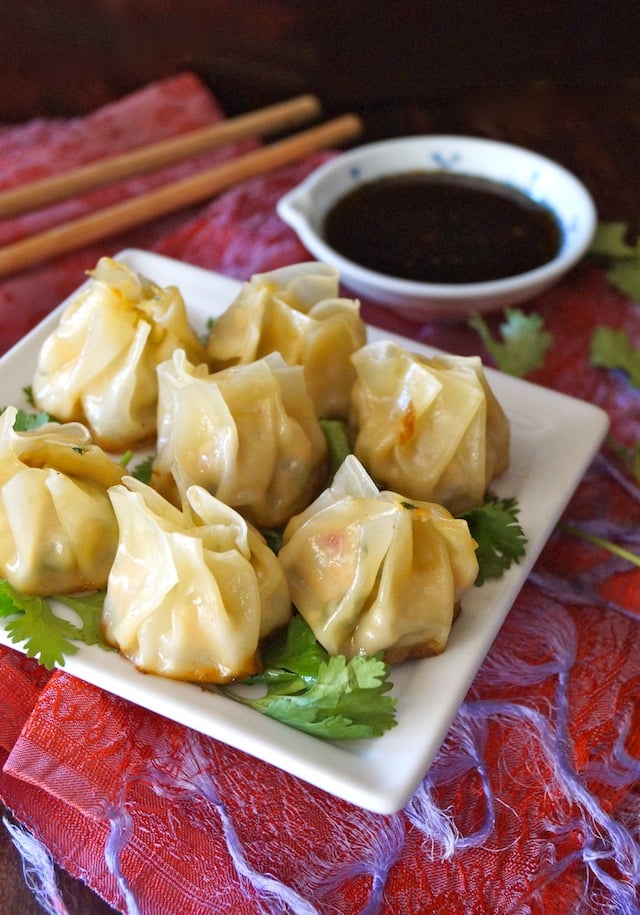 Recipe Inspiration
My 10-year-old came downstairs recently with tears in his eyes, saying we had to help the red pandas. "They're in danger of becoming endangered," he said.
When I asked him to explain, he said that he was googling red panda facts, because he thinks they're cute. He discovered that their habitat in the Eastern Himalayas is in decline – and he really wanted to help. I may be biased, but certainly this is one of the sweetest souls around.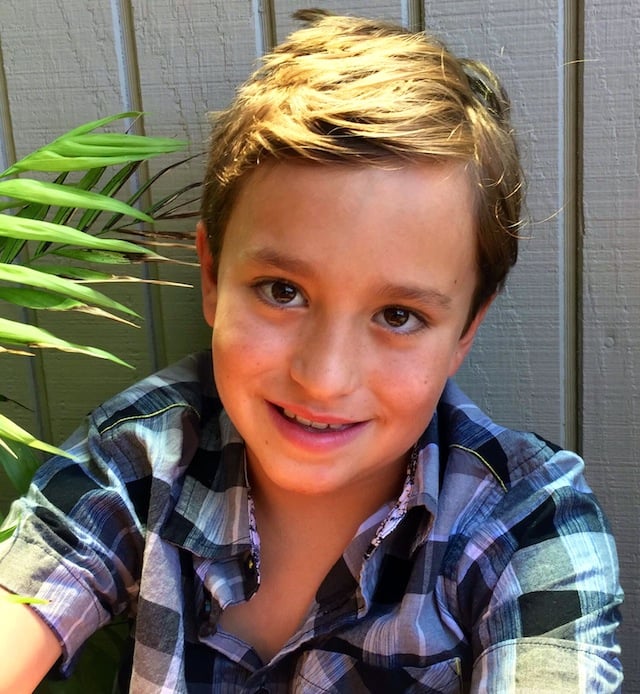 He then googled, "How can I help the red pandas?" and found the Red Panda Network.
After confirming this was a good organization, we symbolically adopted a red panda.
I mean, how could we not?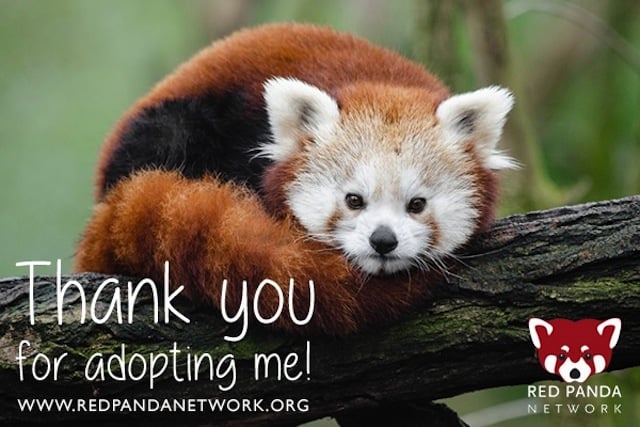 What does any of this have to do with Ginger Chicken Dumplings, you ask?
Well, here's what came next . . .
My son felt good about the little we'd done for the red pandas, but it wasn't enough. He wanted to spread the word, and came up with a great (delicious) idea!
On his own, he began searching for "foods from Nepal," where a great percentage of the red pandas live. He said we should come up with a typical Nepalese recipe that I could put on Cooking On The Weekends, and that, that would be a great segue for me to tell my readers how to help the red pandas.
Brilliant, I tell you!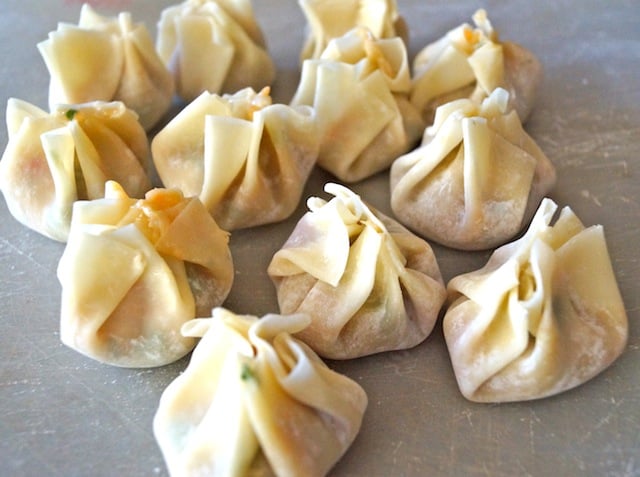 What is Momo?
Momo is a traditional delicacy in Nepal -- it's a bite-size dumpling with a meat or vegetable filling, wrapped in a dough and accompanied by spicy sauce.
If like Chinese chicken dumplings and the flavor ginger and garlic together, I think you'll love our Momo recipe. It's by no means authentic Nepalese Momo, but I'm hoping you'll find it incredibly delicious.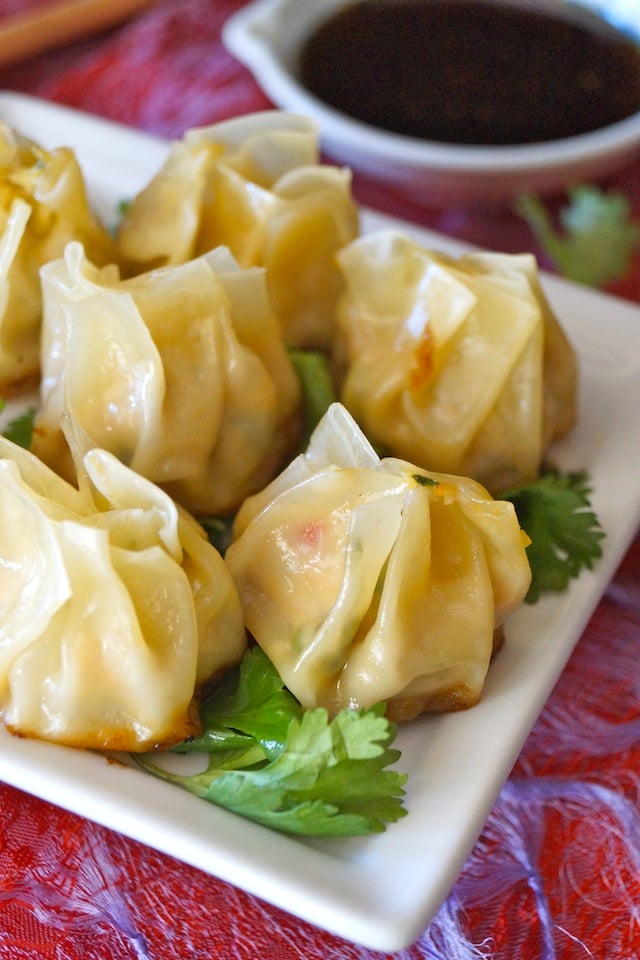 Recipe Tip
The wrappers for this recipe are Gyoza/Posticker wrappers.
You can find them in most Asian markets, and sometimes in the regular grocery stores. If you don't see the round wrapper, a square wonton wrapper, which is easier to find, will work also. Simply use a round cutter or paring knife, to cut it into a circle.
Please check out the Red Panda Network and learn more about red pandas and their situation.
Believe me, I know there are dozens upon dozens of animals – and other causes that need our help. We can all only do what we can, and today I'm honoring my son, and his desire to help red pandas.
I hope you'll try my version of Nepalese Momo, these Ginger Chicken Dumplings.
And of course, enjoy!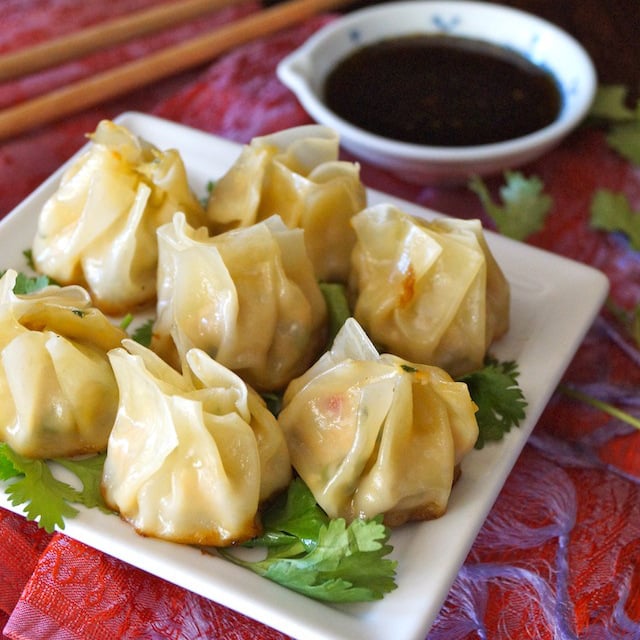 Ginger Chicken Dumplings (Nepalese Momo)
Juicy chicken, tender vegetables and aromatic flavors are in every bite of these Ginger Garlic Chicken Dumplings.
Ingredients
For the dumplings
1

pound

ground chicken

⅓

cup

carrots

peeled, finely grated

3

tablespoons

fresh cilantro

washed and dried, finely chopped

2½

tablespoons

Mirin

(sweet rice wine)

2

green onions

finely chopped

2

tablespoons

ginger pulp

1

tablespoon

garlic

minced

1½

tablespoons

grapeseed oil

plus more for the pan

¾

teaspoon

salt

a few turns freshly ground black pepper

4

dozen

round (3½ inch) gyoza/potsticker wrappers

¼

cup

water
Instructions
For the sauce
In a small dish, combine the black vinegar with the honey and chile paste. Set aside.
For the dumplings
In a large mixing bowl, combine all of the ingredients except the gyoza/potsticker wrappers. Mix only long enough to evenly combine the ingredients.

Place several of the gyoza/potsticker wrappers on a clean, dry surface and drop about 1 ½ teaspoons of the chicken mixture in the center of each one. (If you have a cookie scoop this size, that's perfect.)

Next, wet your fingertip with water and run it along the entire edge of the wrappers (one at a time) -- this will work as glue. Now carefully, bring all of the edges together, to wrap up the chicken mixture, into a little bundle, and then gently pinch the top so it adheres together.

Coat the bottom of a medium-sized sauté pan (about 10-inch) generously with grape seed oil and place it over medium-high heat. Once it's sizzling hot, add as many of the dumplings as you can without crowding the pan -- there should be about an inch between them. (You will do this in a few batches.) Let them sauté for about 1 minute, to brown the bottoms. Then add about ¼ cup of water to the bottom of the pan, turn the heat to the lowest setting, and cover the pan with a lid or foil. Let the dumplings steam for about 3 minutes, just long enough to cook the chicken. Use a small metal spatula to lift them from the pan. Repeat this until all of the dumplings are cooked.

While they're still hot, serve them with the sauce on the side.
NOTES
Calorie count is only an estimate.
NUTRITION
Have you tried this recipe?
I'd love to see it on Instagram! Tag me at @cookingontheweekends or leave a comment & rating below.
Cooking On The Weekends is a participant in the Amazon Services LLC Associates Program, an affiliate advertising program designed to provide a means for sites to earn advertising fees by advertising and linking to Amazon.com.