This Satsuma Mandarin recipe is bright and refreshing and has a tangy lime dressing with bits of crunchy shallots and aromatic basil. This winter citrus salad comes together in just a few minutes and makes for a beautiful first course or side.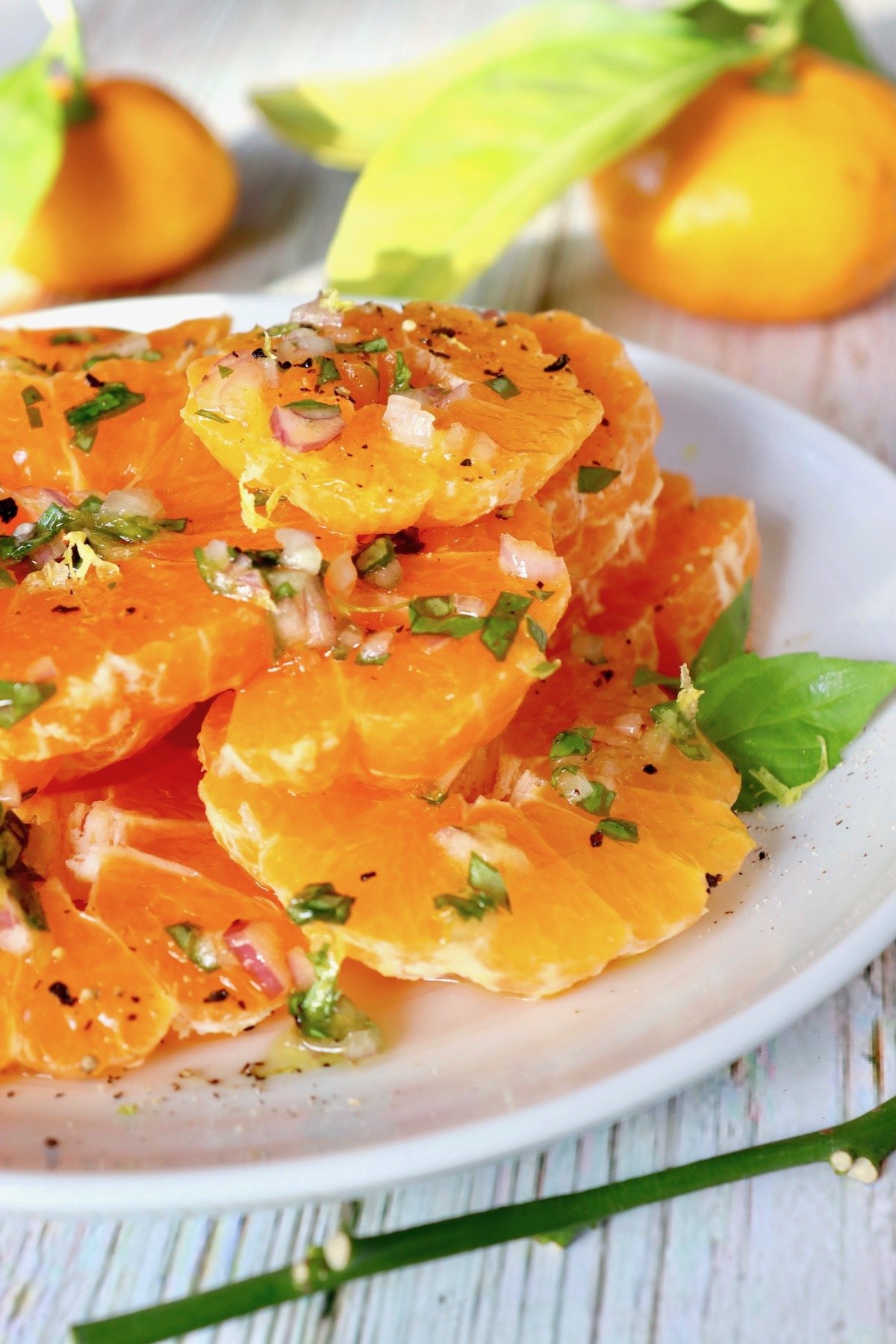 Satsuma Mandarins are often called Satsuma Tangerines, Satsuma Oranges or Citrus Unshiu.
They are of the most delicious winter treats -- I could make Satsuma recipes every day!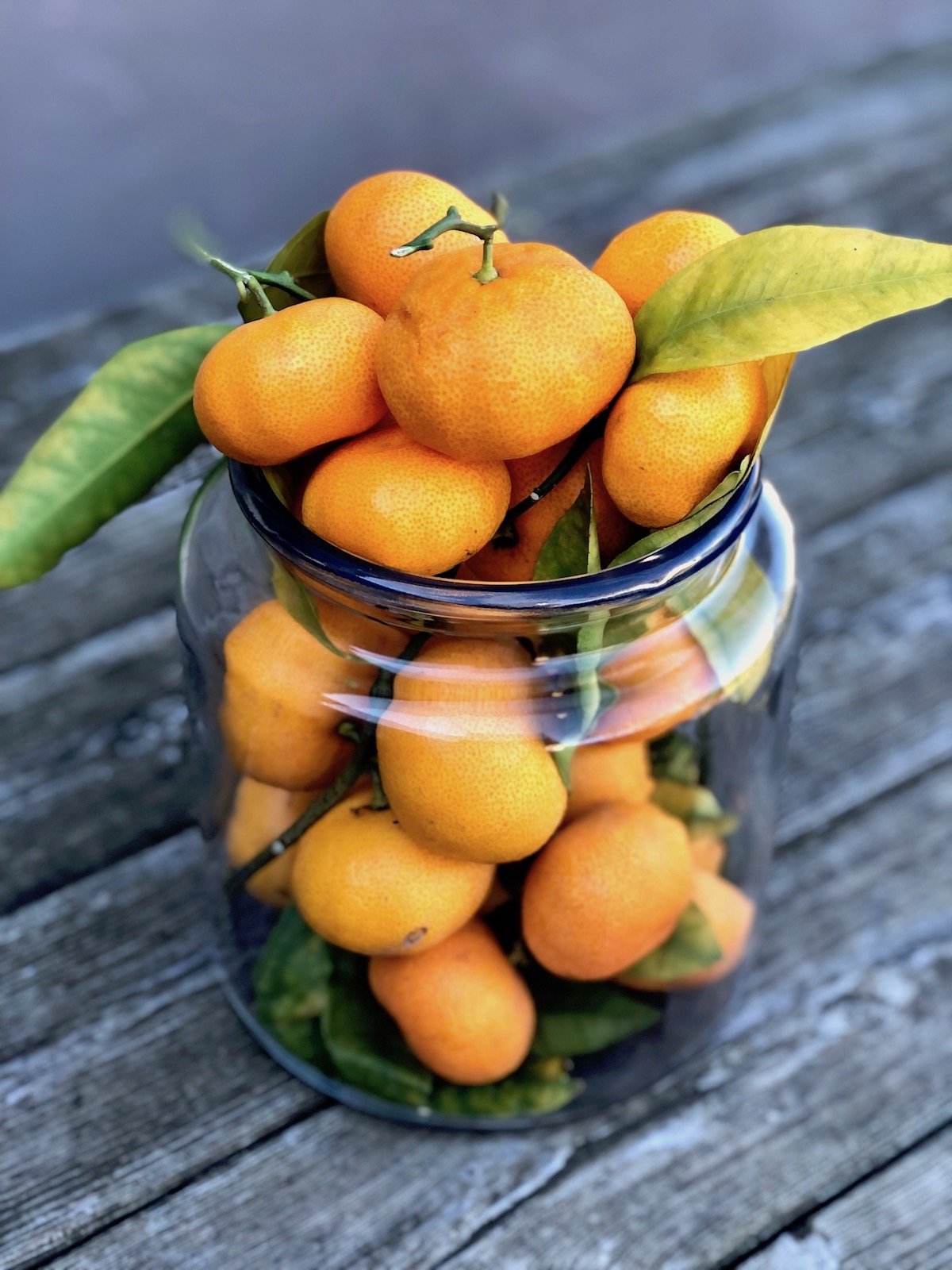 What are Satsumas?
---
Satsumas are smaller than oranges and have a somewhat flattened sphere shape.
Mostly seedless, they peel quite easily and are a variety of mandarin oranges, related to tangerines, clementines, and other citrus fruits.
They are one of the most juicy citrus fruits, with a balanced sweet and tart flavor.
Native to Japan, and likely discovered as early as the 14th century. They were introduced to the United States around 1876.
The name 'Satsuma' was officially given to this citrus in the 1880's after a former province in Japan named Satsuma, located on the southern tip of Kyushu Island.
Satsuma mandarins are usually eaten fresh, but are often added to green salads and used in cocktails and desserts.
You can read much more about their history

here

.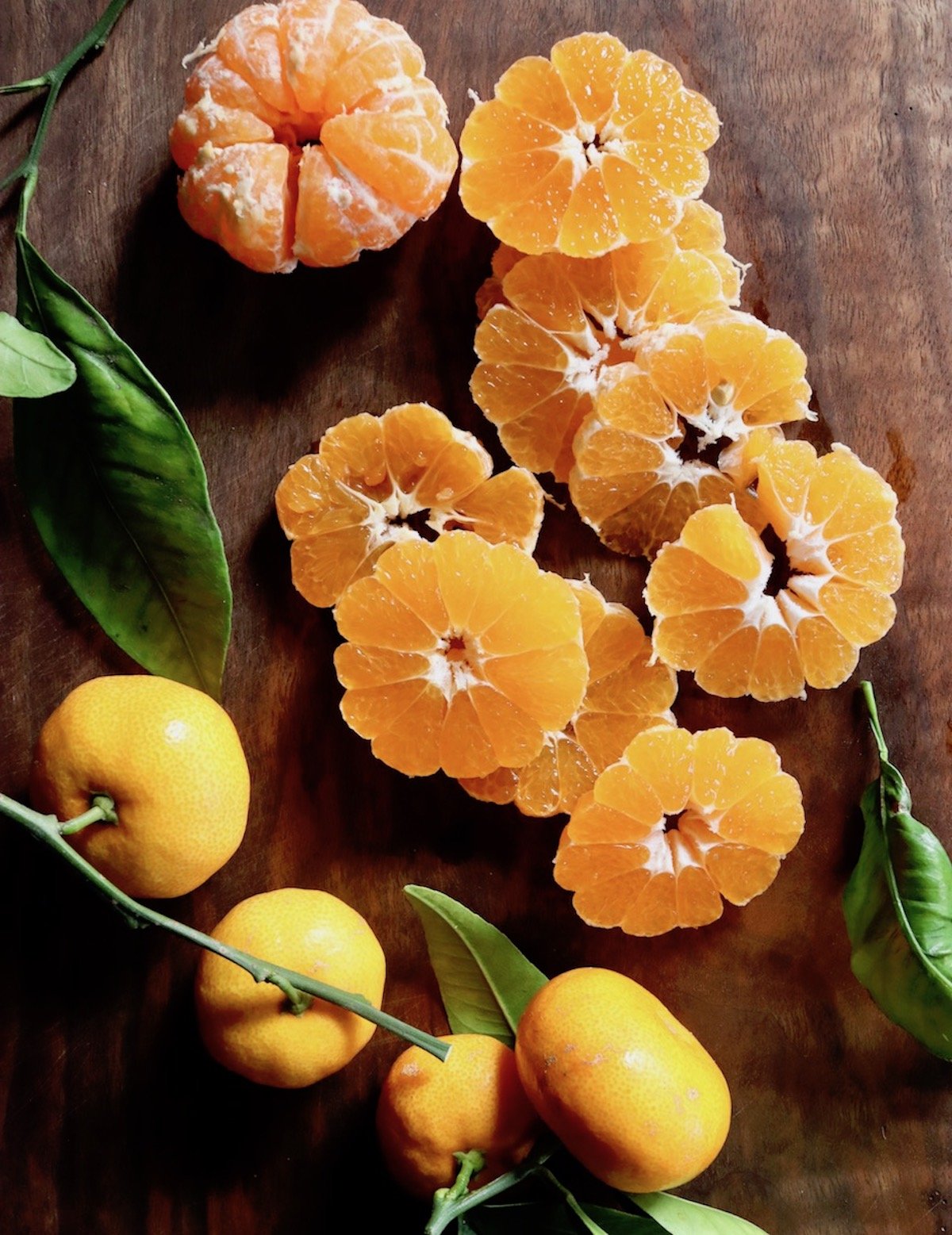 Ingredients for this Satsuma Recipe
---
Satsuma tangerines - Look for Satsumas that are firm to slightly soft with a deep orange color. They should be heavy for their size.
lime zest
lime juice
honey
shallots - Shallots a slightly more mild and delicate than red onions. Choose shallots that are heavy for their size and without bruises.

Extra virgin olive oil - I use

this one

.
fresh basil - Look for perky bunches of basil and avoid any brown, bruised or yellow leaves.
salt - I like cooking with with Kosher salt over other types of salt for because of its larger flake size, which makes it easy to pick up and sprinkle over food.
black pepper - Preferably freshly ground.
When is Satsuma Mandarin season?
---
Like most citrus fruits, they're typically in season mid-November through February.
Save
SaE
Recipe Tips and Substitutions
---
Sometimes Satsumas are super sweet and less tart, and sometimes it's the other way around. I only add the honey (on the ingredient list) when they're more on the tart side. Taste them first and then it's your call.
Since my dad has a gorgeous Satsuma tree in his backyard, I always make this recipe during their season. That said, you can also make it with any citrus you like. I'd recommend using one that's seedless, as it will be much easier to slice and presents beautifully.
Fresh Satsuma Salad is best served cold, and can be made up to two hours ahead of time, if kept refrigerated and tightly sealed with plastic wrap. (The flavor becomes more complex when they've marinated a bit in the dressing.)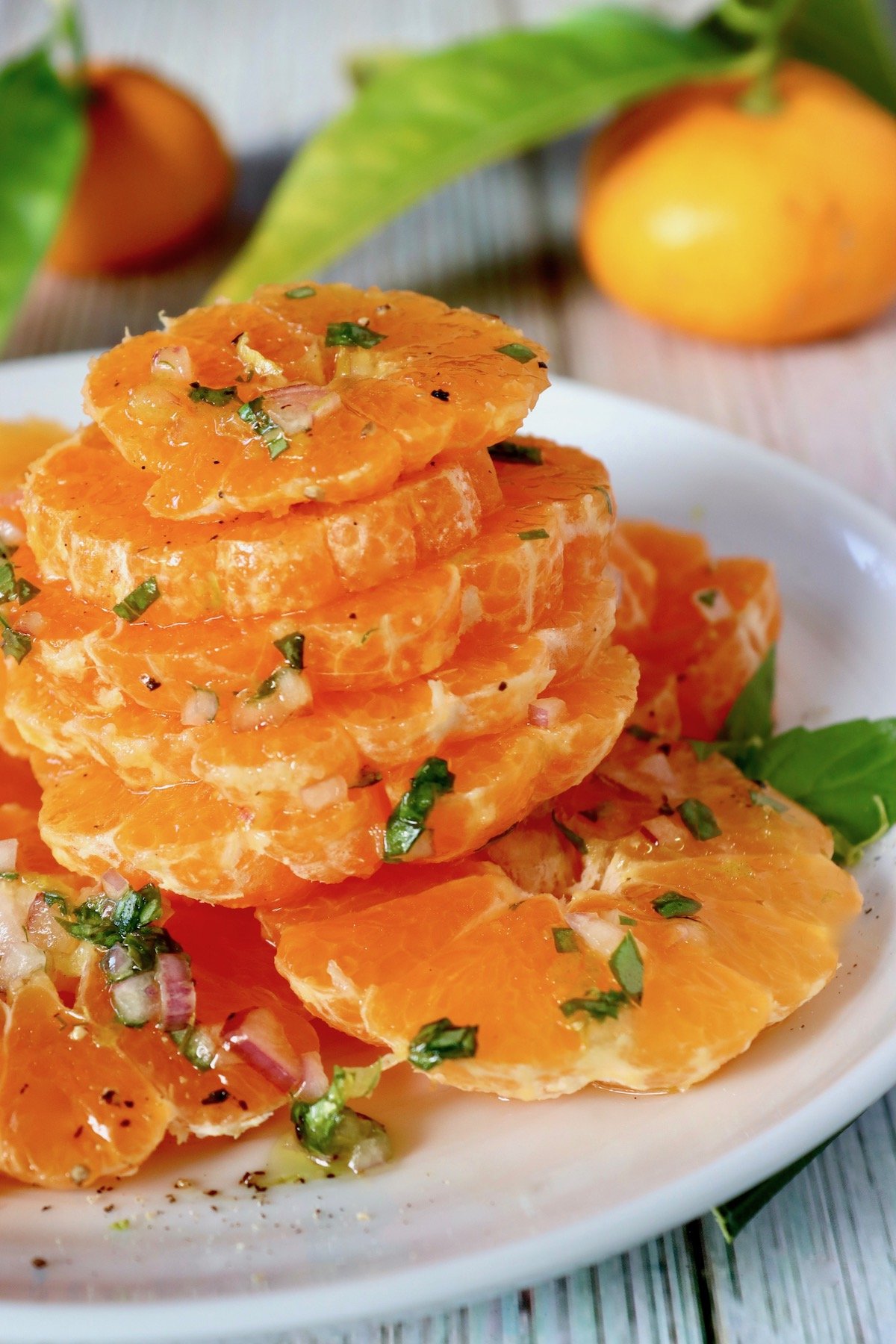 I hope you love this Satsuma Mandarin dish as much as I do, and that you make Satsuma recipes throughout their season.
More citrus recipes:
And this beautiful Citrus Carrot Salad. . .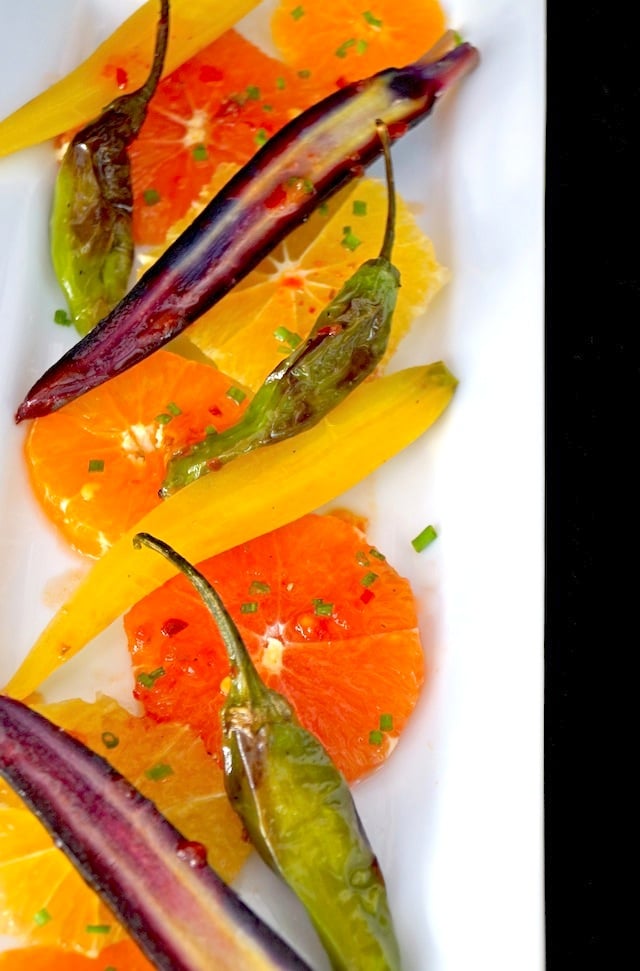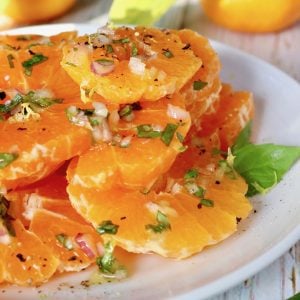 Satsuma Mandarin Recipe
This Satsuma Mandarin recipe is bright and refreshing and has a tangy lime dressing with bits of crunchy shallots and aromatic basil. It comes together in just a few minutes and is a beautiful first course or side.
Ingredients
zest of about ½ of a lime

juice of 1 lime

(about 2 tablespoons)

1

teaspoon

honey

1

tablespoon

finely chopped shallots

1½

tablespoons

extra virgin olive oil

⅛

teaspoon

salt

1

tablespoon

finely chopped basil,

washed and dried

1

pound

Satsumas

(about 6 satsumas)

freshly ground black pepper
Instructions
Make the dressing. In a small mixing bowl, combine the lime zest, lime juice, honey, basil, shallots and salt. Then add the oil and whisk.

Prepare the fruit. Peel the Satsumas, and then slice them horizontally, into slices that are about ¼ inch thick.

Assemble. Either mix the Satsuma slices into the dressing, or arrange them on a plate or platter and drizzle the dressing over them. Sprinkle with freshly ground black pepper.
NOTES
Calorie count is only an estimate.
NUTRITION
Have you tried this recipe?
I'd love to see it on Instagram! Tag me at @cookingontheweekends or leave a comment & rating below.
Save
Save