This Lavender Lemon Frozen Custard Recipe is one of the smoothest, creamiest and most delicious frozen desserts of all time. Perfect for a warm summer evening.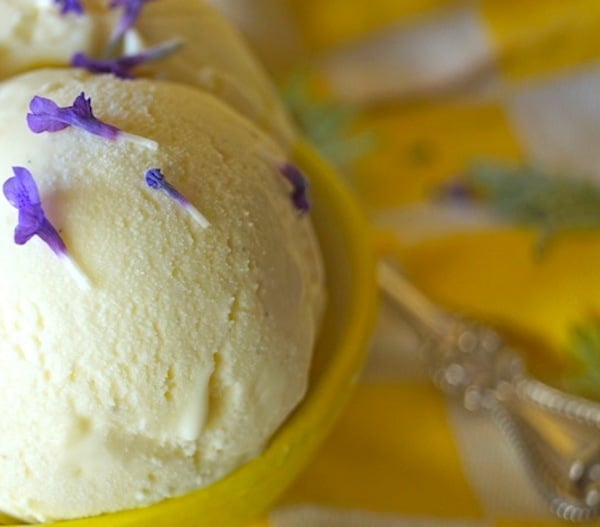 This has to be one of the smoothest, creamiest, most lovely and delicious frozen desserts on the planet. Just saying.
Although, it's possible it's tied with this Chocolate-Chocolate Gelato.
Inspiration for Lavender Lemon Frozen Custard
The other day my friends dropped off a bag of beautiful Meyer lemons from their very bountiful tree (thank you!). Almost immediately I decided I had to make frozen custard with them.
About a week before I was given this bundle of citrus, my cousin mentioned how much he loves frozen custard. Specifically Lemon Frozen Custard. So you see, I had to do it. 🙂
And lemons and lavender — they taste just as good together as they look together.
What is Frozen Custard?

Frozen Custard is made from milk, cream, and egg yolks.
You can't call it Frozen Custard if it does not contain egg yolks — 1.4 percent by weight to be exact. The result is a very rich product.
Frozen Custard is made in a machine, just as ice cream is, but it has less air incorporated into it, making the texture quite dense.
How is Frozen Custard Different From Ice Cream?
Ice Cream, to be called Ice Cream, must contain milk and/or cream — 10 percent milk fat to be exact. Unlike the custard, it does not always contain egg yolks.
Much more air is incorporated into ice cream, giving it a lighter texture.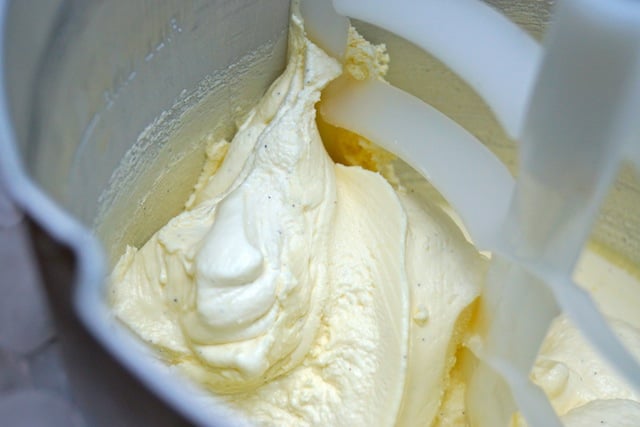 It doesn't get much better than opening the lid to the ice cream machine when it's done. Just look at that texture!
I think it's my favorite part of the entire process. It's a beautiful sight, don't you think?
I hope you'll try this perfect, scrumptious, summery dessert as soon as you can because — well — because I think you'll love it!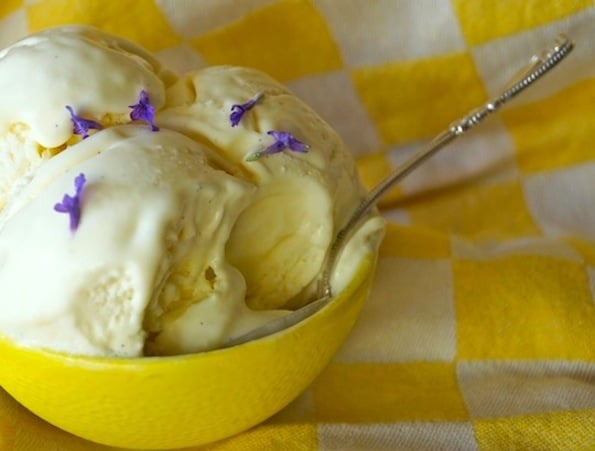 Enjoy every scoop of your Lavender Lemon Frozen Custard Recipe!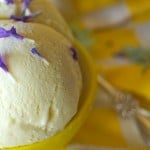 Lavender Lemon Frozen Custard Recipe
This frozen custard recipe is one of the smoothest, creamiest and most delicious frozen desserts of all time.

*Makes about 1 quart
In addition to the prep time, the custard will need to refrigerate overnight. Also, included in the prep time is the time it takes for your ice cream maker to freeze the custard -- times will vary depending on the type of machine you have.
Keyword:
ice cream with fruit, dessert for summer party
Ingredients
2½

cups

heavy cream

1

whole

vanilla bean pod

1

tablespoon

lemon zest,

finely chopped (from about 1 large lemon)

1

tablespoon

lavender

(see notes)

6

large

egg yolks

1

cup

granulated sugar

¼

cup

freshly squeezed lemon juice

(Meyer lemons if you have them - from about 2 medium-sized lemons)
Instructions
Pour the cream into a medium-sized saucepan.

Use a paring knife to slice open the vanilla pod, lengthwise. With the back of the knife, scrape the vanilla beans directly into the saucepan with the cream, and add the emptied pod as well.

Add the lemon zest and lavender to the cream and place the pan over low-medium heat. Gently whisk every so often until the mixture just begins to simmer, about 3 minutes. Cover and let the flavors steep for about 30 minutes. Then strain the mixture over a bowl and discard the zest, lavender and vanilla pod. Pour the mixture back into the saucepan. (At this point it should be only slightly warm or close to room temperature.)

Add the sugar to the egg yolks in a medium-sized mixing bowl, and beat with an electric mixer or by hand with a whisk. Beat until they're slightly thick and pale yellow, about 1 minute on high with the mixer, or a few minutes by hand.

Add lemon juice to the cream mixture in the pan and whisk until smooth. Then add about half of this into the eggs and whisk to blend. Now pour this into the pan with the remaining cream mixture.

Turn the heat to low-medium and cook, whisking slowly, almost constantly until it's thick and coats the back of a spoon, about 8 minutes. Remove the pan from the heat just as it begins to simmer, but isn't quite simmering. Do not let it boil! And now you've made the custard.

Immediately pour the custard into a large bowl.

Gently press plastic wrap directly on top of the custard so the entire surface is covered. (This prevents it from forming a "skin.") Chill in the refrigerator overnight.

When you're ready, freeze the custard according to your ice cream machine's directions.

When it's done, spoon the frozen custard into an air tight container and place it in freezer until you're ready to serve.
Recipe Notes
I used the lavender growing in my garden -- if you don't have that option, you can get it here.
Cooking On The Weekends is a participant in the Amazon Services LLC Associates Program, an affiliate advertising program designed to provide a means for sites to earn advertising fees by advertising and linking to Amazon.com.