Lychee Ice Cream Recipe with Chocolate is so much fun! Its tropical, fresh flavor is delicious, and the bits of chocolate put it over the top.
I'm having a bit of a love affair with lychees right now.
If you tried a sweet, fresh, melt-in-you-mouth lychee, you would be, too!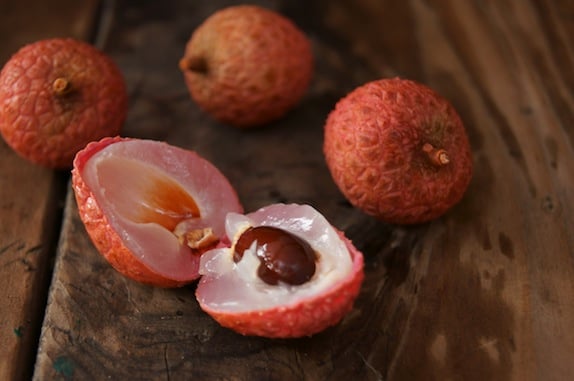 I even just love to look at them -- they are so beautiful!
What are Lychees?
Lychees are native to Southern China, although they are grown in tropical climates all over the world.
The Lychee is petite, about the size of size of a walnut, and its skin is reddish-pink and is slightly bumpy.
The skin is inedible while the flesh is edible and delicious! It's translucent and white and has a dark brown seed.
The texture of the fruit is soft, chewy and jelly-like.
Fresh Lychees are available in late spring through mid-summer.
Lychees are most popular in Southeast Asian countries.
What's in this recipe?
lychee
milk and cream
egg yolks
sugar
salt
vanilla
mini chocolate chips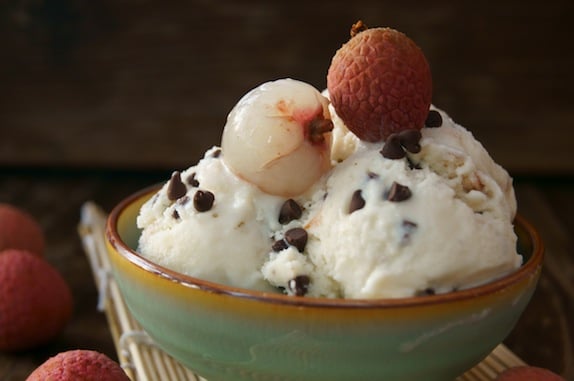 How to Use Lychee Fruit
First, you're going to need to know how to peel and pit Lychee. Here's how.
Like most fresh fruits at the peak of their season, lychees are absolutely delicious on their own.
However, if you know me, you know how much I love creating new and interesting ways to incorporate ingredients like this into my recipes.
This Lychee Cream recipe is so good!
They're also delicious in cocktails and fruit salads.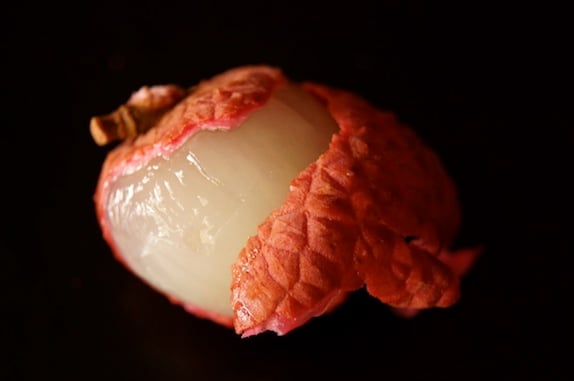 What does Lychee Ice Cream taste like?
Its tropical flavor is very aromatic, sweet, rich and light -- all at once! And adding tiny bits of chocolate makes each bite of lychee ice cream even more of a treat!
It's a divine summer dessert!
More recipes using Lychee fruit:
Lychee Ice Cream Recipe with Chocolate
Lychee Ice Cream Recipe with Chocolate is so much fun! Its tropical, fresh flavor is delicious and the bits of chocolate make it perfect!Please note that most of the prep time is inactive.Makes 1 quart

Instructions
After you've peeled and pitted the lychees (here's how), purée them in a blender or a food processor fitted with the blade attachment. It will not be 100% smooth, but get it as smooth as you can. Set aside.

Pour the milk and cream into a medium-sized sauce pot and over medium heat and scald it. Tiny bubbles will appear on the edges of the pot and it should be very hot, but not boiling. Remove from the heat to cool a bit.

In a medium-sized mixing bowl, use an electric mixer or a whisk to whip the egg yolks with the sugar. Mix until it's very thick and is pale yellow. When you drizzle it with a spoon, it should rest for a moment before sinking into the rest of the mixture -- this is called the "ribbon stage."

Add the salt and vanilla, and then on a low speed, very gradually pour in about half of the slightly cooled cream mixture and blend until it's evenly combined. Pour this back into the sauce pot with the remaining cream mixture, and over medium-low heat, stirring almost constantly with a wooden spoon, cook until it becomes a beautiful, thick custard, about 6 minutes.

Remove from the heat immediately, let it cool for 15 minutes or so, and then stir in the lychee purée. Let this cool, stirring from time to time, for about 2 hours.

Pour into an airtight container and place in the refrigerator for at least 4 hours and ideally overnight.

Freeze according to your ice cream machine's directions.

Stir in the chocolate chips and serve! (Or mix in the chips and freeze until you're ready.)
NOTES
For a smoother consistency, you can strain the puréed lychee -- using a spoon to push it through through strainer. However, I love having the tiny bits of fruit, especially where the pits were attached, as I think it adds a subtle nutty flavor.
If your finished ice cream has been frozen for a while, let it sit out for a bit to soften before serving.
Calorie count is only an estimate.
NUTRITION
Have you tried this recipe?
I'd love to see it on Instagram! Tag me at @cookingontheweekends or leave a comment & rating below.
Cooking On The Weekends is a participant in the Amazon Services LLC Associates Program, an affiliate advertising program designed to provide a means for sites to earn advertising fees by advertising and linking to Amazon.com.