Dulce De Leche Coconut Macaroons are sweet, salty, chewy, and chocolatey! Made with homemade Dulce de Leche, they're gluten-free to boot!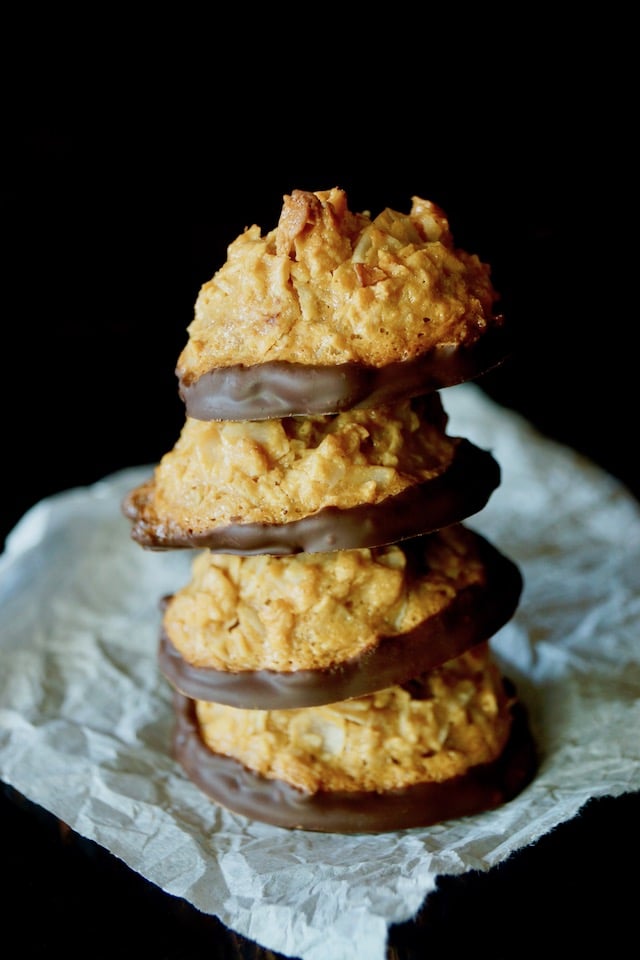 The holiday season is always cookie season! At least in my kitchen.
We give cookies, we get cookies, we eat cookies, we exchange cookies, and so on.
Macaroons seem to be especially popular around Easter and Passover.
What are Macaroons?
Macaroons are usually very sweet, coconut based and can be made fairly quickly.
Super popular in Jewish communities, Macaroons are said to have been a part of a mid-20th century campaign by kosher companies, to capitalize on the Jewish holiday market.
They are an American twist on the French Macaron.
Macaroons rarely contain dairy which makes them Pareve, which is

a food or dish that's doesn't contain meat or dairy. (Kosher laws prohibit serving meat and dairy together.)

So this could be why macaroons became a favorite dessert among Jewish communities.
Macaroons are sort of rustic, lumpy looking cookies that vary in shape.
So then, what's a French Macaron?
Other than the very minor difference in spelling, French Macarons are quite different from Macaroons.
French Macarons are not overly sweet, meringue based, and can be quite difficult and time consuming to make.
Made with almond flour, Macarons are delicate, very refined and are made in a wide variety of colors and flavors.
Originally from Italy, when they made their way to France, Macarons transformed from a single cookie to a sandwich cookie, with a filling of jam,

ganache

or buttercream.
One of the reasons these Dulce De Leche Coconut Macaroons are so magnificent is because of the homemade Dulce de Leche.
These are also gluten-free Macaroons, with no substitutions. This is typically an inherently gluten-free cookie.
Yes, you can definitely buy a prepared dulce de leche to save time, but it's super cool to make your own. Check out how easy it is to make, and with only one ingredient.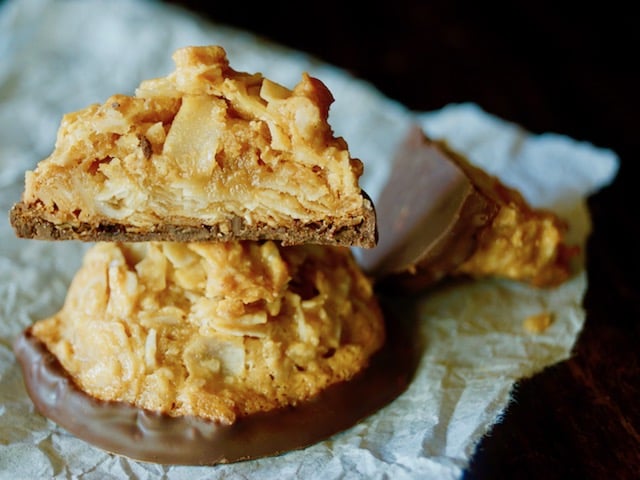 I love the thick layer of chocolate on the bottom of each macaroon, but you can also -- or in addition -- drizzle the chocolate on top.
Can you freeze them?
These cookies will keep in an airtight container for a few days, but are best the day they are made. You can also freeze them in an airtight container for up to two months.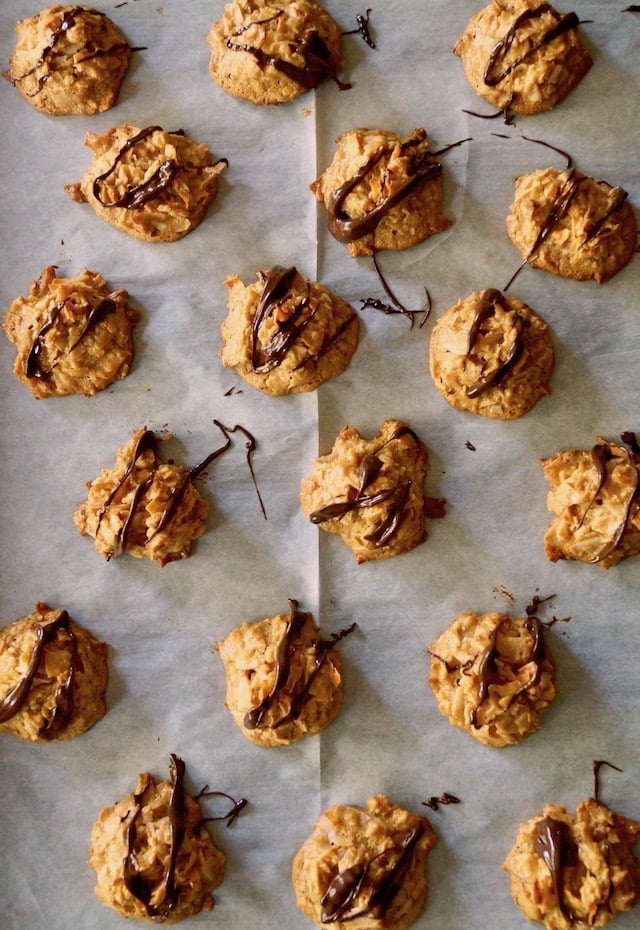 Enjoy every last delectable crumb of these Dulce De Leche Coconut Macaroons!
Salted Dulce De Leche Coconut Macaroons
If you would like to make your own Dulce de Leche, which is super simple, you should definitely do so the day before! Here's How to Make Dulce de Leche. (You can of course purchase it to save time.)
*Makes about 36 | about 2 per serving
Instructions
Preheat the oven to 325°F and cover two baking sheets with parchment paper. Set aside.

In a medium-sized mixing bowl, use a whisk to whip the egg white until it's frothy, about 30 seconds. Add the sugar, salt, vanilla, and dulce de leche -- mix to blend. Then use a spoon to mix in the coconut.

Using a 1¼ inch ice-cream scoop or a spoon, form approximately 1 to 2 inch balls of dough and place them on the parchment-covered baking sheets, spacing them about 2 inches apart. Bake in the preheated oven just until the cookies become golden brown along the edges, about 15 minutes.

Once they are cool, dip the bottom of each cookie in the melted chocolate, and then place it back on the parchment-lined baking sheet to let it set. This should take about an hour. Alternately, you can drizzle them with the melted chocolate (It should be left to set the same way.)

NOTES
Making your own dulce de leche is super easy!
Here's how

!
There's a chance you may need a little more coconut. This will depend on the size of the coconut flakes, and/or the consistency of the dulce de leche. These are things that will just vary for every person who makes it. The key is that you want the batter to keep its shape when it hits the baking sheet. If it begins to spread/fall, there's not enough coconut. Add more!
NUTRITION
Have you tried this recipe?
I'd love to see it on Instagram! Tag me at @cookingontheweekends or leave a comment & rating below.
Cooking On The Weekends is a participant in the Amazon Services LLC Associates Program, an affiliate advertising program designed to provide a means for sites to earn advertising fees by advertising and linking to Amazon.com.