Basil Pizza is essentially a "green" pizza that bursts with the wonderful, fresh flavor of basil — with both pesto and whole basil leaves throughout. This unique pizza can stand on its own as a meal, and is also fantastic to serve with a side salad.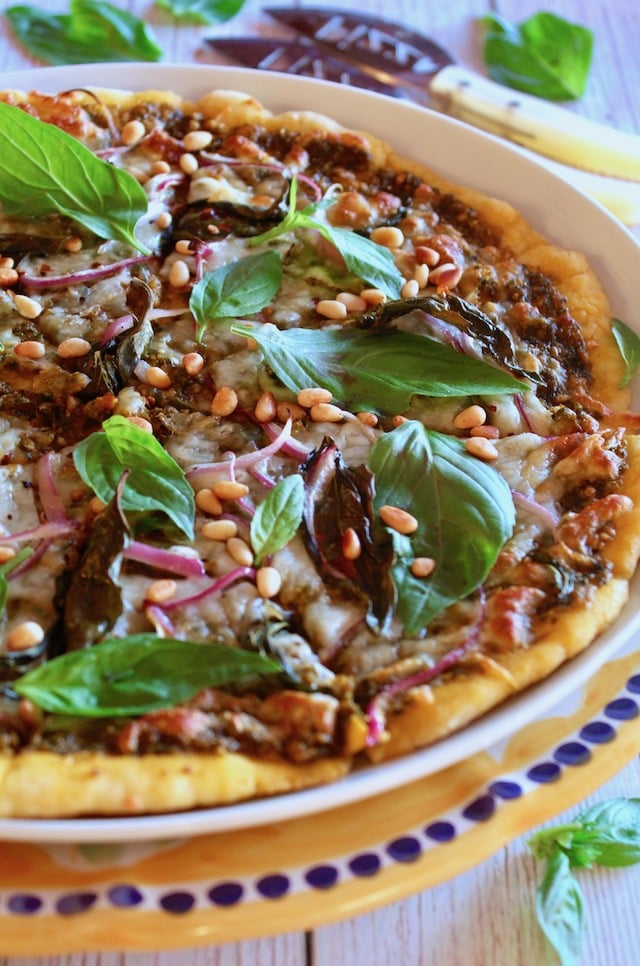 Basil on pizza is simply put, dreamy.
While there's an abundance of basil in the summertime, we're fortunate that we can typically find good basil year round.
There's often basil in pizza recipes, but basil on pizza is different.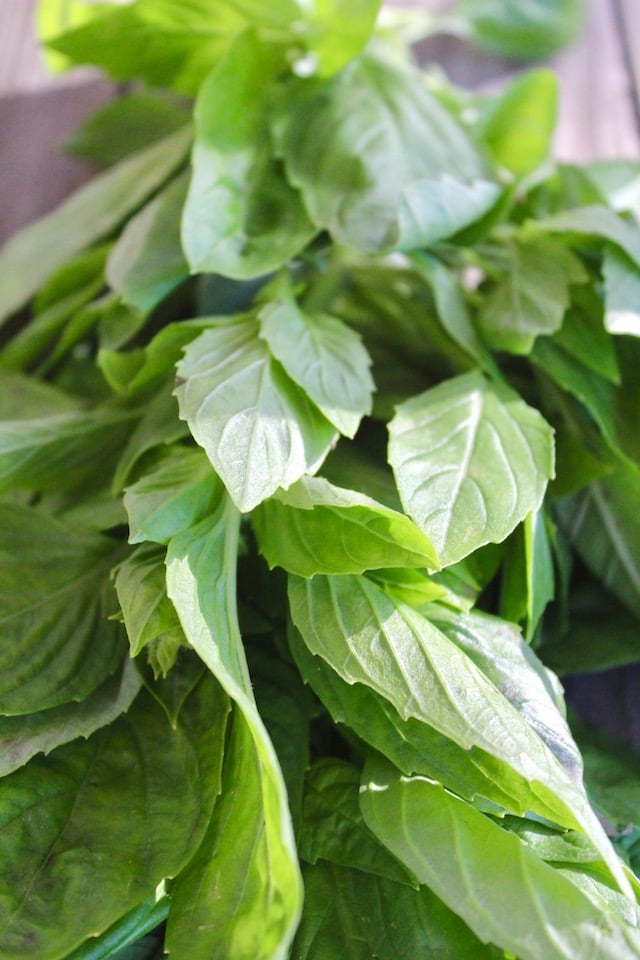 How to Make Basil Pizza
Without tomato sauce or typical toppings, this pizza is far from traditional.
The "sauce" on this pizza is pesto that's made with basil, garlic, pine nuts, Parmesan, olive oil, a touch of lemon and tomato paste.
In addition to the pesto, the pizza is baked with whole basil leaves which crisp to perfection in the oven. Then, once baked, more basil leaves are added. So we have basil three ways: in the pesto, crisped, and fresh.
This combination of textures, along with the flavors, puts this basil pizza over the top.
What pizza crust should you use?
You should use your favorite crust for this basil pizza.
You can make your own (this recipe is excellent), use a pre-baked crust, or use pre-made dough (I especially like the Trader Joe's dough). Whatever you go with, you will want enough to make two (approximately 12-inch) crusts.
You can also use gluten-free pizza crust (I make this one and love it), or a cauliflower crust. Just be aware that cauliflower crusts are typically softer and you might need a fork and knife to eat the pizza.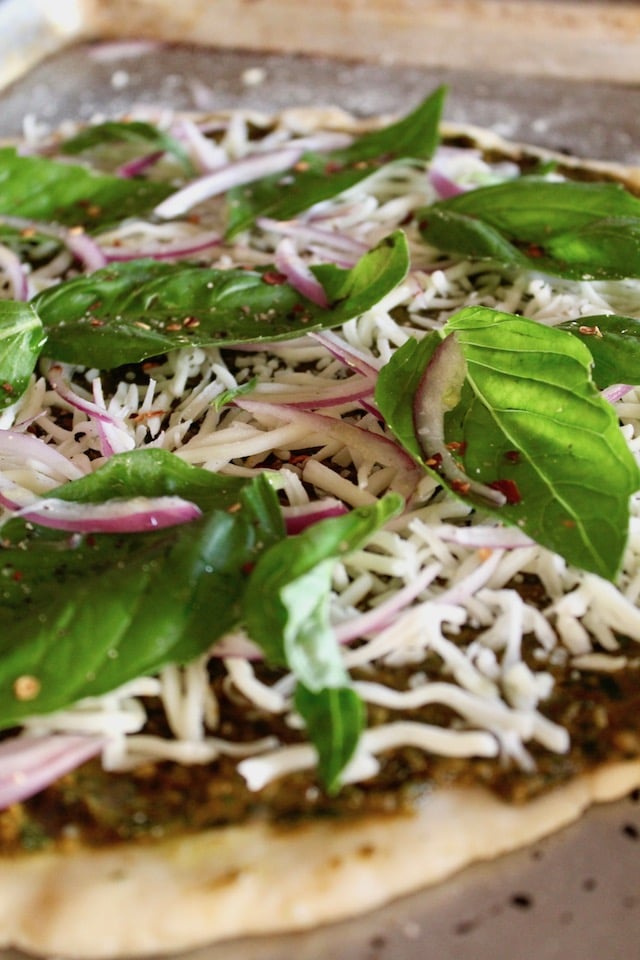 Recipe Tips and Substitutions
If you have a pizza stone, use it. If not, you can use a

sheet pan

. To do so, preheat it, just as you would the stone.
Feel free to add more toppings. (Suggestions are below.)

Whether you're using a homemade pizza dough, store-bought dough, or pre-baked pizza crusts (see above suggestions), they should be ready to go when you begin the recipe.

The baking times might vary, depending on the pizza dough/crust you're using.
Suggested Additions for Basil Pizza

roasted red peppers – The subtle sweet and smoky flavors of the peppers would be fantastic and the red color will pop.
fresh tomato slices – Adding fresh tomato slices after the pizza is baked is pretty and adds a wonderful contrasting texture.
caramelized onions – You just can't go wrong here. Sweet caramelized onions tend to add well to almost everything!
grilled chicken or ground turkey – Adding poultry will make this an even heartier meal.
goat cheese – In combination with the other cheeses (Parmesan and Mozzarella), the goat cheese adds a soft, slightly tart flavor that blends in perfectly.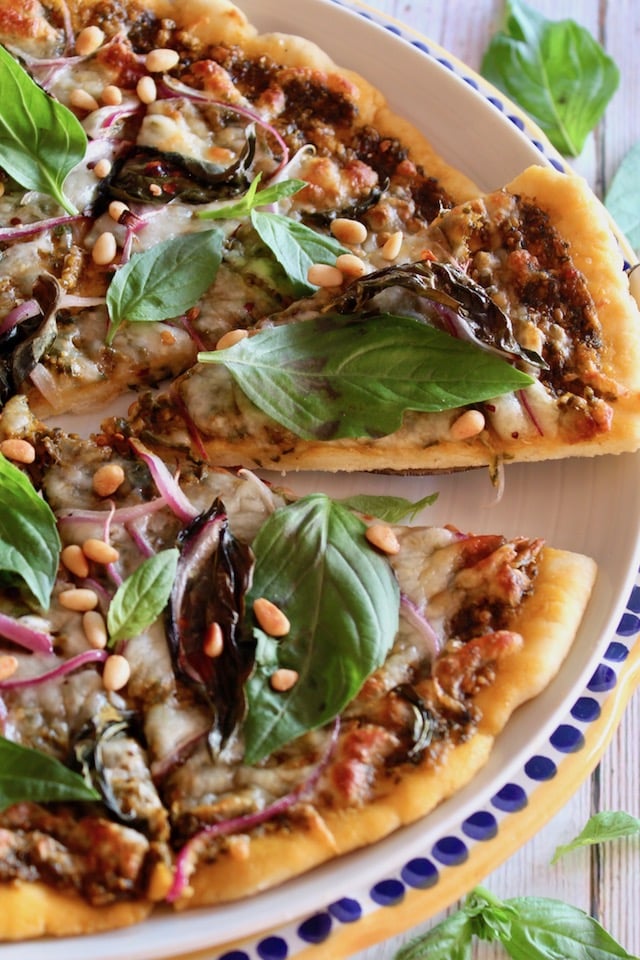 I hope you love basil pizza as much as I do!
Enjoy!
More recipes with fresh basil:
Basil Pizza with Pesto
Basil Pizza is a "green" pizza that bursts with the wonderful, fresh flavor of basil — with both pesto and whole leaves throughout. *Whether you're using homemade dough, or pre-baked crusts, have them ready to go when you start.
Ingredients
For the pesto
4

ounces (approx. 4 loosely packed cups)

basil leaves,

washed and dried

⅓

cup

pine nuts,

toasted

2

tablespoons

Parmesan cheese,

grated

2

teaspoons

garlic,

roughly chopped

2

tablespoons

tomato paste

1

tablespoon

lemon juice

¼

cup

extra virgin olive oil

pinch

granulated sugar
Remaining pizza ingredients
1½

pounds

raw pizza dough -- OR, 2 (approx. 12-inch) pre-baked pizza crusts

1½

cups

mozzarella cheese,

grated

¼

cup

red onion,

thinly sliced

1¼

ounces (approx. 1 ¼ loosely packed cup)

basil leaves,

washed and dried

2

tablespoons

pine nuts,

toasted (for garnish, if desired)

3

tablespoons

extra virgin olive oil,

for drizzling

red chili flakes

(if desired)
Instructions
Preheat the oven and stone/sheet pan. Preheat the oven to 500°F, with a pizza stone on center rack. If you don't have a pizza stone, place a sheet pan on the rack a few minutes before you assemble the pizzas.

Make the pesto. Add the basil, pine nuts, Parmesan and garlic to a food processor fitted with the blade attachment. Blend until the basil is in tiny pieces. Then add the tomato paste, lemon juice, olive oil and pinch of sugar, and blend until smooth. Season to taste with salt and pepper. (Here's How to Season to Taste.)

Prepare the pizza crust. Either shape your pizza dough into approximately 12-inch rounds, or set out your pre-baked approximately 12-inch rounds, on a lightly floured work surface.

Assemble the pizzas. Evenly divide the pesto among the two crusts, spreading it thinly. Then sprinkle each with equal amounts of the grated Mozzarella. Now divide the red onion slices between the two, and about half of the basil leaves.

Bake. Transfer the pizzas to the stone or baking sheet and drizzle about ½ tablespoon of the olive oil along the edges of the crusts. Place in the preheated 500°F oven, and bake until the crust is golden along the edges, about 10 minutes.

Garnish, cut and serve. Once out of the oven, add the remaining fresh basil leaves to the pizzas, and the pine nuts and chili flakes (if desired). Then drizzle with the remaining olive oil, slice and serve.
Notes
Calorie count is only an estimate.
Have you tried this recipe?
I'd love to see it on Instagram! Tag me at @cookingontheweekends or leave a comment & rating below.
Cooking On The Weekends is a participant in the Amazon Services LLC Associates Program, an affiliate advertising program designed to provide a means for sites to earn advertising fees by advertising and linking to Amazon.com.