Sheet Pan Chicken with Corn Salsa is absolutely bursting with sweet, spicy and smoky flavors from chipotles. It will totally wow your guests! This is the perfect dinner for a busy weeknight or a fancy dinner party.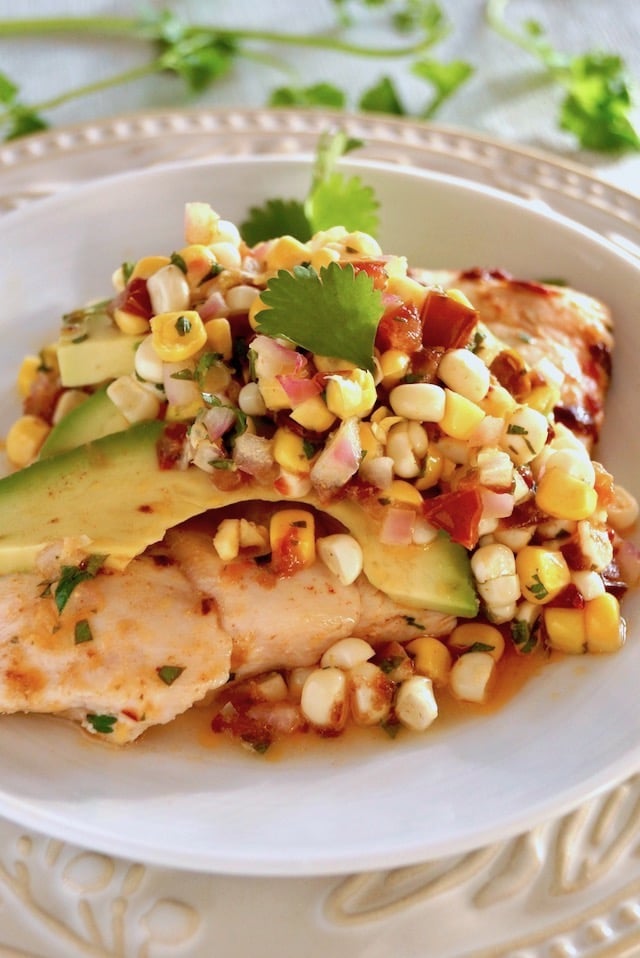 If you know me, you know how much I love to spend time in the kitchen.
That said, I have two very hungry teenagers, one hungry husband, and two adorable, needy dogs.
So, time is very often tight during the week. This is of course, part of why I love Cooking On The Weekends. 😉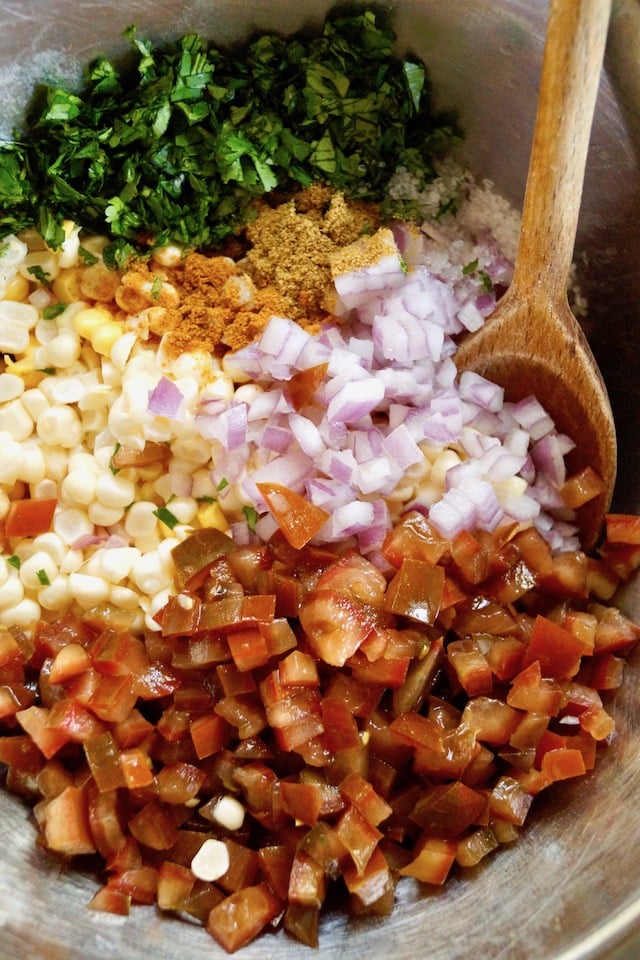 Sheet Pan Chicken with Corn Salsa is one of my favorite dinners that my whole family loves, and from start to finish, I can get it on the table within thirty minutes.
And get this . . . it's lovely enough, and certainly delicious enough, for a fancy dinner party, too!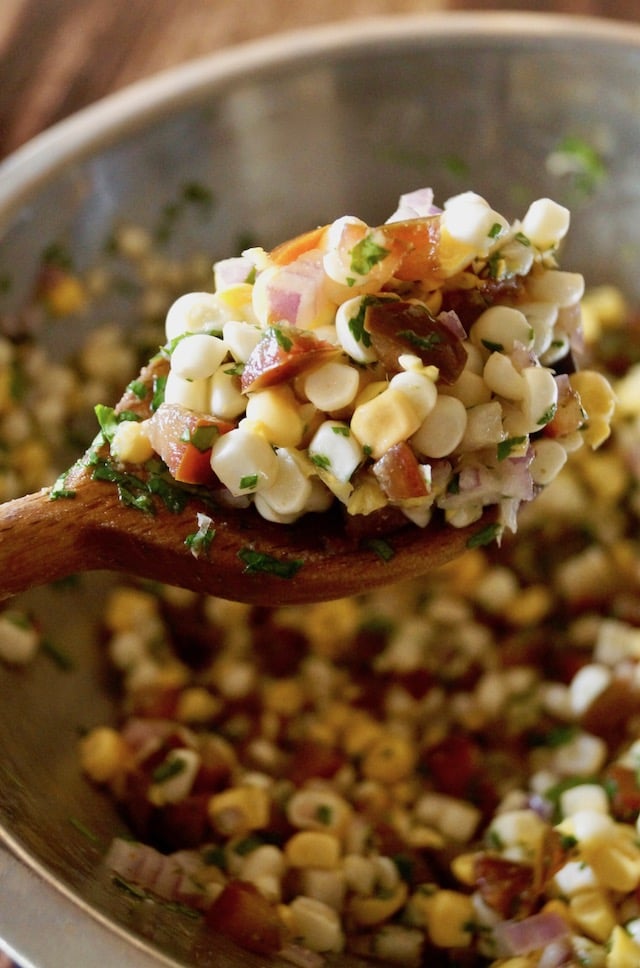 Sheet Pan Chicken with Corn Relish and Chipotles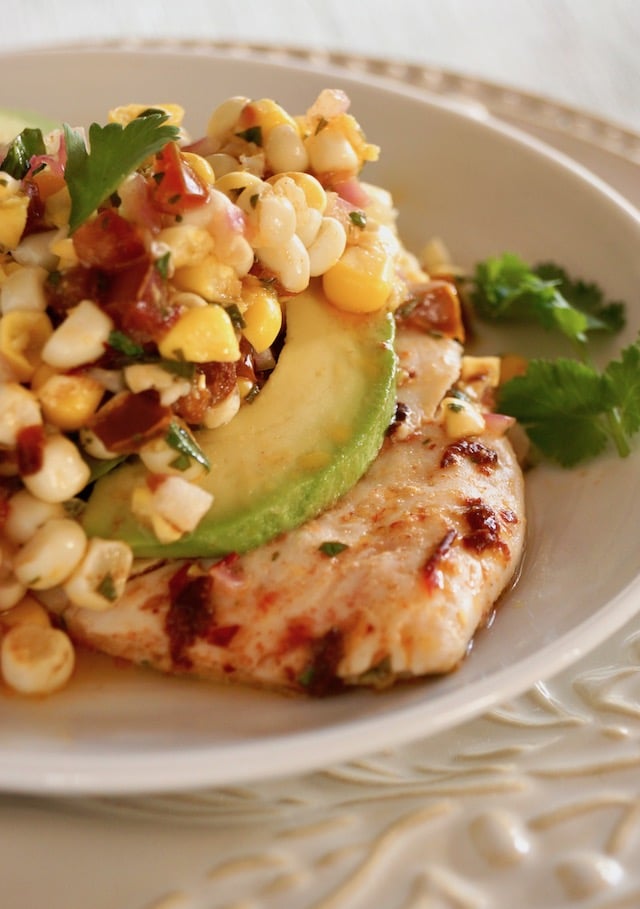 Let's break it down . . . .

The sheet pan. After the salsa and chipotle butter are made, it's all put together with boneless, skinless chicken breasts on a sheet pan and baked for ten minutes. The chicken cooks during this time, but just as important, all of the flavors meld together.
And there's only one pan to bring to the table — oh, and a side of sliced avocado, which is so good with this!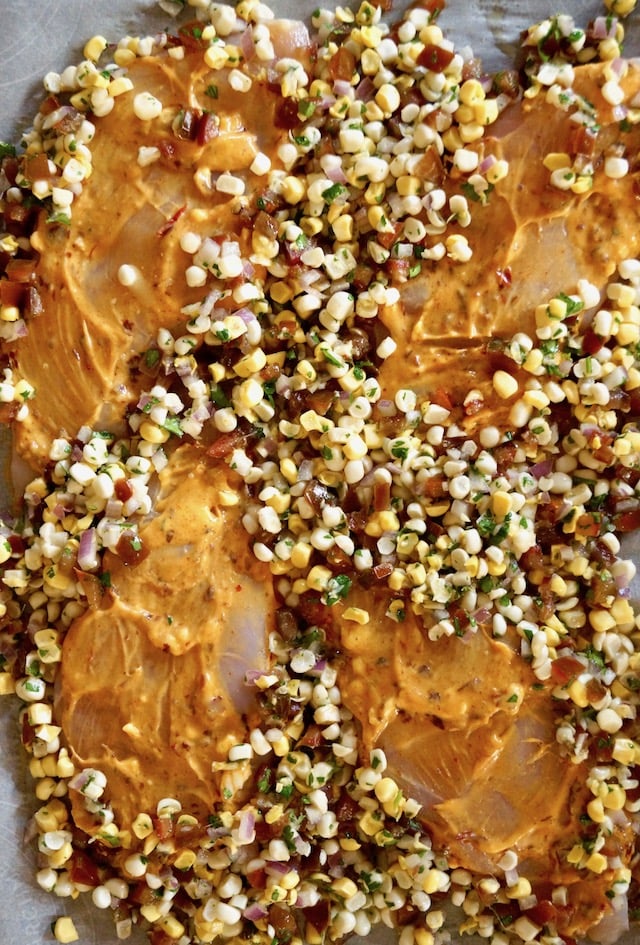 The chipotle. A chipotle butter is made with chipotles in adobo sauce, cumin, lemon juice, butter and olive oil. This is spread under and over the chicken breasts on the sheet pan before it goes in the oven.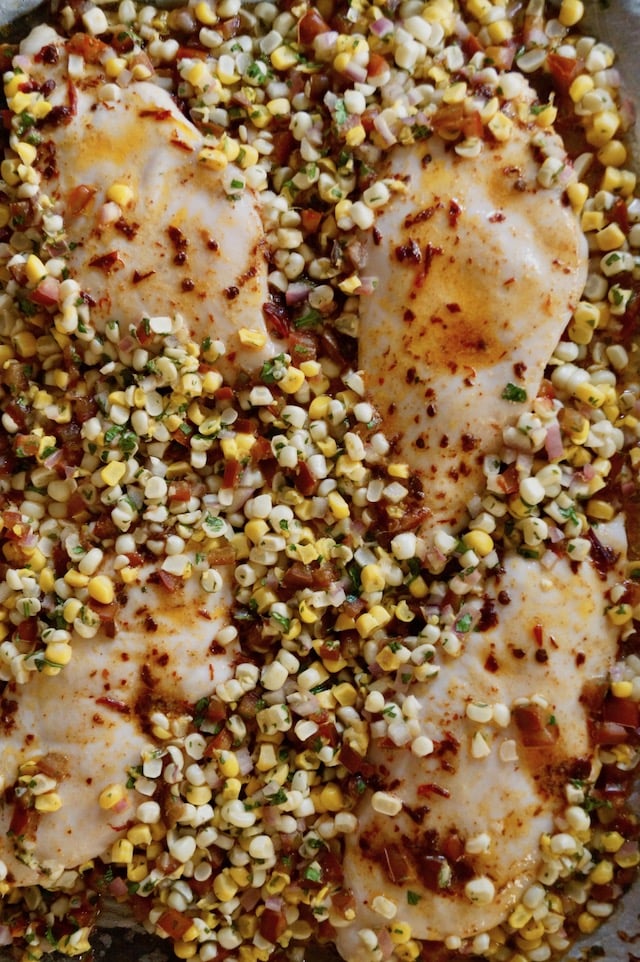 The corn salsa. This is made with fresh corn, lime juice, tomatoes, cilantro, red onion and a touch of cayenne pepper. (I like to mix yellow and white corn.)
The salsa is spread around the chicken on the sheet pan and absorbs some of the chipotle butter. Since it only cooks for about ten minutes, the corn keeps its crunch. Delicious!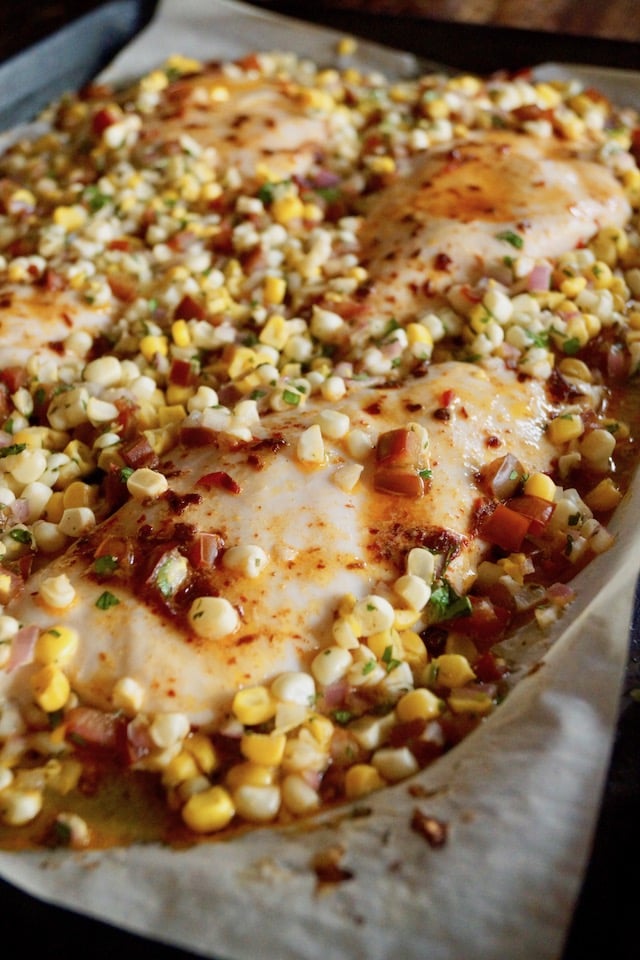 What to Serve With it

I always serve this with sliced avocados. That, with the chicken and corn salsa is enough — however, if you want to add more variety to your meal, a rice dish and/or a salad would be great with this. Coconut Cilantro Rice is a perfect choice.
Enjoy!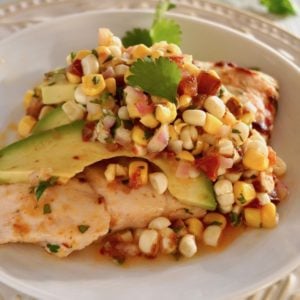 Sheet Pan Chipotle Chicken with Corn Salsa
Sheet Pan Chipotle Chicken with Corn Salsa is absolutely bursting with sweet and spicy flavors, and it will totally wow your guests!
Ingredients
For the Corn Salsa
2

cups

fresh corn kernels (form about 3 ears of corn)

-see notes

¾

cup

tomatoes,

washed and dried, seeds removed, finely chopped

⅓

cup

red onion,

finely chopped

2

tablespoons

fresh cilantro,

finely chopped

¼

teaspoon

ground cumin

1

tablespoon

fresh lime juice

½

teaspoon

salt

⅛

teaspoon

cayenne pepper
For the Grilled Chipotle Chicken
¼

cup

unsalted butter,

softened

½

tablespoon

chipotle chilies in adobo sauce,

finely chopped

¼

teaspoon

ground cumin

1½

teaspoons

olive oil

(plus a bit extra for grilling)

1½

teaspoons

lemon juice

¼

teaspoon

salt

4

chicken breasts,

boneless, skinless
Instructions
For the Corn Salsa
Wash and dry the corn. Then use a chef's knife to remove the kernels and add them to a medium-sized mixing bowl.


Add the tomato, onion, cilantro, cumin, lime juice, salt and cayenne. Set aside.
For the Chipotle Chicken
In a small bowl, mix the butter with the chipotles, cumin, olive oil, lemon juice and salt. Mix until smooth. (You'll see lots of bits of the chipotles, which is perfect.)

Trim any excess fat off the chicken and gently pat it dry with paper towels. Place the chicken breasts on a clean dry surface, and place a large piece of plastic wrap over them. Use a smooth meat mallet to gently pound the thicker side of the chicken breast, so that it's even with the rest. This will help it cook evenly and quickly. (If you don't have a meat mallet, you can easily use the bottom of a small sauté pan.)

Spread a thin layer of the chipotle butter on the parchment-lined sheet pan, and place the chicken breasts on top. Divide the remaining chipotle butter among each one, spreading it evenly on top. Now add the corn salsa to the sheet pan, around and between the chicken.


Bake in the preheated 375°F oven just until the chicken is cooked through, about 10 minutes.


Serve with the avocado slices. (For a more elegant presentation, slice each breast and top it with the avocado slices, followed by the salsa.)

Notes
If you want to shave a few minutes off the prep time, you can use frozen, thawed corn.
Have you tried this recipe?
I'd love to see it on Instagram! Tag me at @cookingontheweekends or leave a comment & rating below.
Cooking On The Weekends is a participant in the Amazon Services LLC Associates Program, an affiliate advertising program designed to provide a means for sites to earn advertising fees by advertising and linking to Amazon.com.