Have you ever wondered how to make dulce de leche at home? This is an incredibly easy, one ingredient dulce de leche recipe, and it makes for a great edible holiday gift!
Seriously, how gorgeous is that!?
One ingredient is all you need!
And yes, it takes a whopping six hours or so to turn it into "gold," but you'll only be involved for about five minutes. The rest of the time, it'll just do "its thing" on the stove.
This is the sort of thing I do when I'm making other things in the kitchen, or have things to do around the house.
What is Dulce de Leche?
Homemade Dulce de Leche is made from

sweetened condensed milk

, which is cow's milk that has had the water removed and sugar added to it. It's a very thick, super sweet milk. When the sweetened condensed milk is cooked very slowly, it turns into dulce de leche, which literally means "milk candy." Yum!
It's all about caramelizing, which is pretty much my favorite cooking technique. You can caramelize the natural sugars in most foods to bring out a deeper and more intense flavor.
It can be added to a plethora of baked goods or covered with chocolate. It can be drizzled over ice-cream, mixed into cookie dough, eaten with a spoon, and the list goes on.
Homemade Dulce de Leche
Remove the label from a can of

sweetened condensed milk

, and puncture it twice with a bottle opener at the top.
Place the can into a pot on top of a cloth.
Next, fill the pot with water, to just about ½ inch from the top of the can.
Simmer for about six hours, replenishing the water from time to time so it more or less stays at the same level.
That's pretty much it!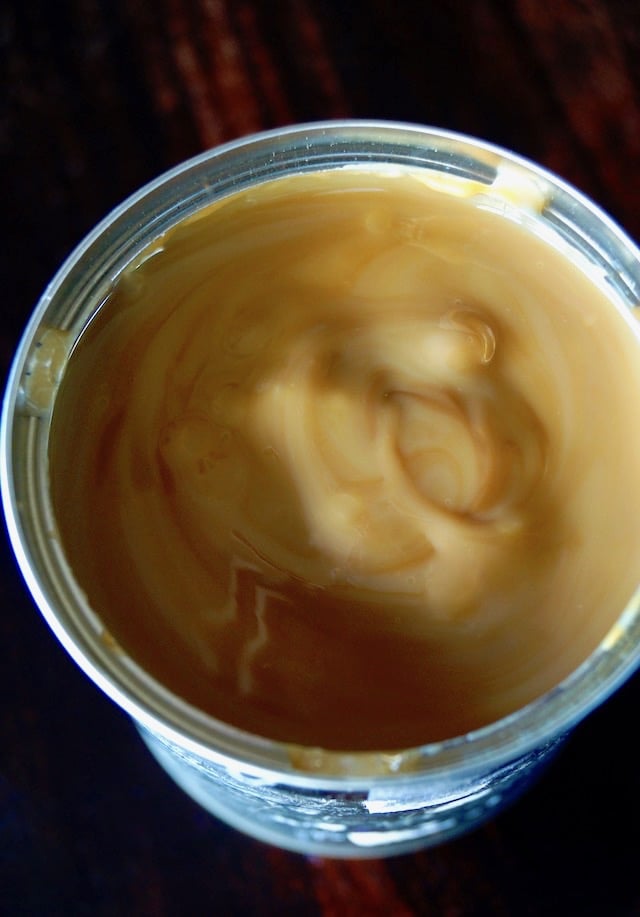 I hope now that you know easy it is to make this at home, you'll try it.
Maybe even give someone a pretty jar of it as an edible holiday gift.
I never met a person who didn't love it!
Recipes to Make With it
Enjoy every last spoonful of this "gold" deliciousness!
Ducle de Leche
It's easy to make dulce de leche, and you will find that you can use it in dozens of sweet recipes.*Makes about 1¾ cup | serving size: about 1 tablespoon
Instructions
Remove the paper label and use a bottle opener to puncture the top of the can on two opposite sides. These holes are very important because they will keep the can from exploding during the cooking!

Place a small cloth in the bottom of a sauce pot -- this will keep your can from making a racket! (Your pot should be about the height of the can, or higher.)

Place the can directly on the cloth and then fill the pot with water to about ½-inch below the top rim of the can.

Bring the water to a boil and immediately turn the flame to the lowest setting. The idea is to keep the water at a slight simmer. Let it simmer like this for 6 hours. Every 45 minutes or so, refill the water to ½-inch below the top rim of the can, as it will continue to evaporate. You will see a little bit of white milk ooze out of the top, and that's OK -- don't mess with it!

Use a thick kitchen towel to remove the can from the water. Open the can with an opener, and pour the milk -- which will now be a rich caramel color -- into a small mixing bowl. Use a heat resistant, rubber spatula to get every bit out of the can (it will be firmer towards the bottom.) Use a metal whisk to blend until it's smooth. This should only take a few seconds.
NOTES
Calorie count is only an estimate.
NUTRITION
Have you tried this recipe?
I'd love to see it on Instagram! Tag me at @cookingontheweekends or leave a comment & rating below.
Cooking On The Weekends is a participant in the Amazon Services LLC Associates Program, an affiliate advertising program designed to provide a means for sites to earn advertising fees by advertising and linking to Amazon.com.