This Apple-Bacon Roasted Chicken recipe bursts with sweet and smoky flavors. It's a super cozy fall meal that's impressive enough for a dinner party.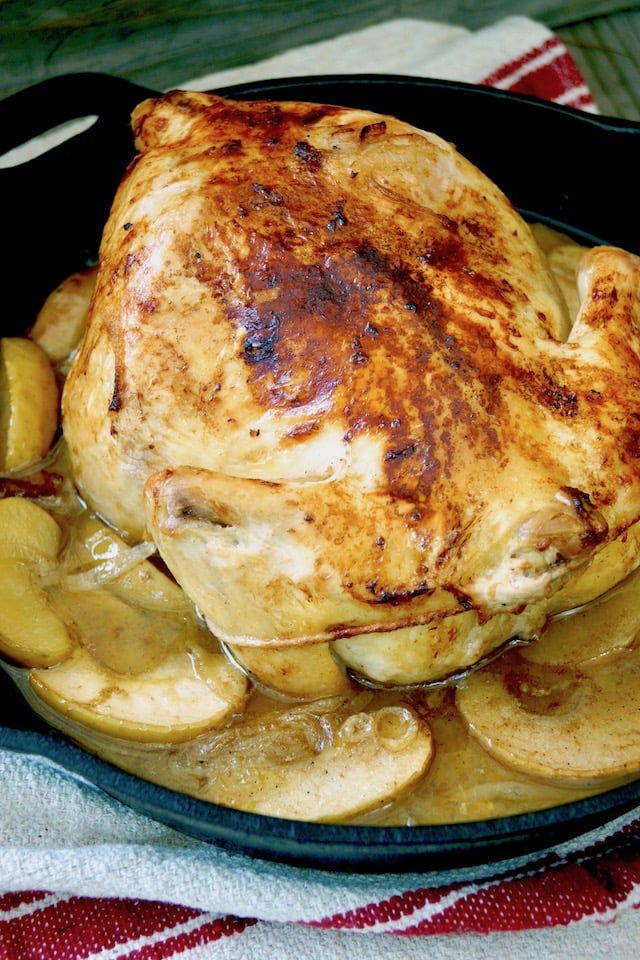 While I do love the sunshine, I also appreciate the cooler weather as an excuse to cook warming foods. Warming foods with longer cooking times, that have the wonderful scent of dinner wafting through the house. Know what I mean?
I love when my kids call down from upstairs saying, "It smells so good! What's for dinner?" Love it!
Whole Roasted Chicken
Roasting a whole chicken with aromatic flavors is a great way to create a delicious, comforting and cozy family dinner -- or, an impressive dinner for a group of friends. This Apple-Bacon Roasted Chicken recipe is a crowd pleaser.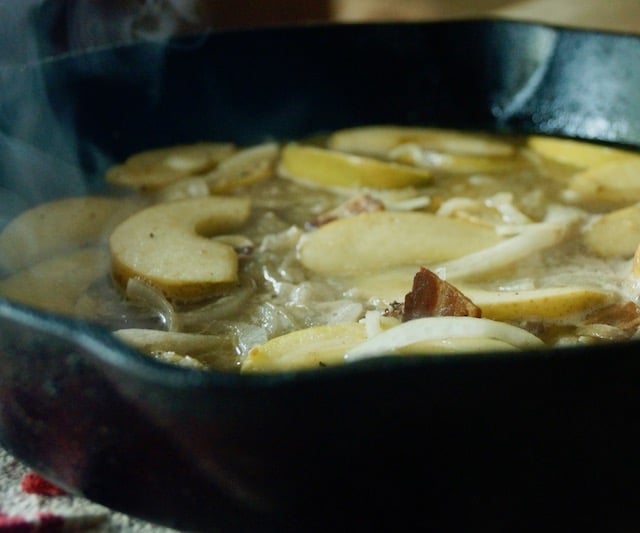 The cooking time may seem a bit long but please don't worry as most of it is inactive. While the chicken in the oven you can make a salad or a phone call. 😉
The Combination of Apple and Bacon
Apple and bacon make for an incredibly fantastic flavor combination.
Together they are sweet and smoky, crispy and soft, and truly perfect with a bite of the golden roasted chicken.
It's nothing short of dreamy!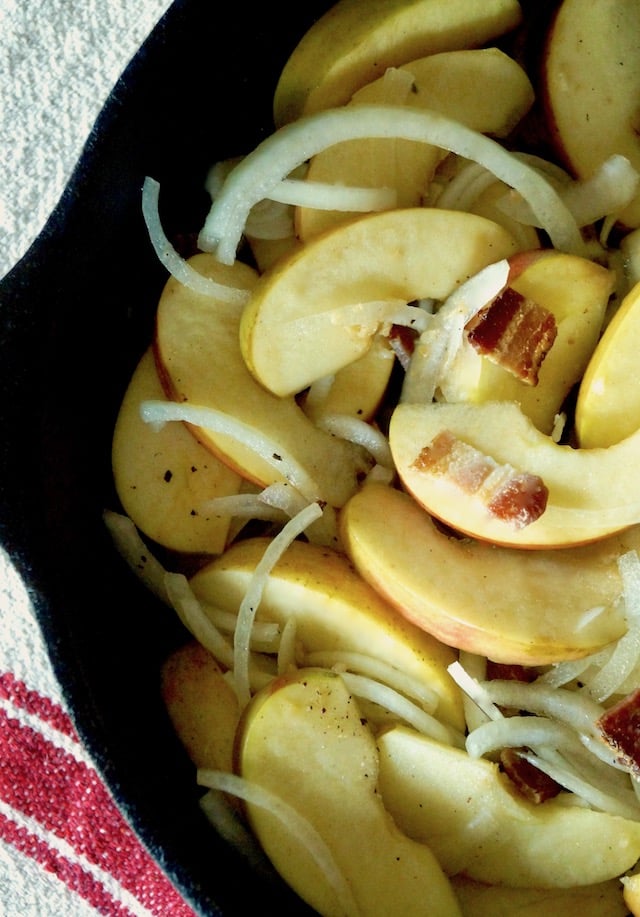 What to Serve with Apple-Bacon Roasted Chicken Recipe
I love adding lentils or brown rice to the pan when the chicken is done -- both will soak up the tasty juices and add so well to this hearty, warming and comforting dinner.
Adding a starch or a salad, or both would complete this meal nicely.
Here are a few delicious sides . . .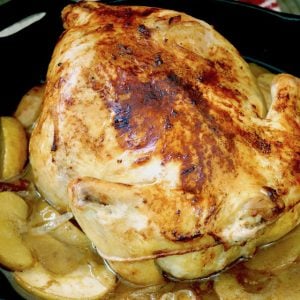 Apple-Bacon Roasted Chicken Recipe
This recipe packed with flavor and it's a huge crowd pleaser. It's easy enough to prepare for a weeknight meal, and impressive enough for a weekend dinner party.
Ingredients
3

strips

applewood smoked bacon

12

ounces

hard apple cider

1½

cups

Fuji or Granny Smith apple,

washed and dried, cored, and thinly sliced (about ½-inch slices)

1

cup

yellow onion,

super thinly sliced

2

teaspoons

garlic, minced

4

tablespoons

unsalted butter

salt and freshly ground black pepper

olive oil for drizzling

5½

pound

whole chicken
Instructions
Set the oven and cook the bacon. Preheat the oven to 500° F. Place a paper towel on a plate and set it aside.In a large, ovenproof skillet, over medium-high heat, cook the bacon until it's crispy, about 3 minutes per side. (A cast iron skillet is perfect.) Turn the heat off, remove the bacon, and place on the paper towel-lined plate to drain.

Cook the apples and onion. With the heat off, add the hard apple cider to the pan and let it sit for a few minutes. Then turn the heat to medium-low and add the apple, onion and garlic. Crumble the bacon and add it to the pan too. Let it simmer gently for about 10 minutes. Then add the butter and sprinkle with salt and pepper.

Truss the chicken and begin roasting. Lightly drizzle a 9 x 13 x 2-inch baking pan with olive oil. Remove the insides of the chicken and pat dry with paper towels. Season the inside and outside of the chicken with salt and pepper and truss it. (Here's how.) Then place it breast side up in a in the baking pan and drizzle with olive oil.

Place the pan in the preheated 500° F oven and roast until the chicken is golden brown, about 25 minutes. Remove the chicken from the oven and reduce the heat to 350°F.

Turn chicken over, add the apple mixture, continue roasting. Arrange the apple mixture around the sides of the skillet, so there's space enough for the chicken in the center. Very carefully, use tongs, heat resistant cooking gloves or your hands, to flip the chicken over so it's now breast side down, in the center of the skillet, surrounded by the apple mixture. Place the skillet in the 350° F oven and continue to roast until the internal temperature is 155 degrees F -- this should take about 1 hour. The final internal temperature will be about 165 degrees, as the chicken will continue to cook for several minutes outside of the oven. You can use a meat thermometer to check the temperature. You'll also know it's done when the juices run clear and the legs should move easily when it's done. Baste the chicken with the cider-butter mixture every 15 minutes or so.

Rest, season and serve. Wait at least 15 minutes before carving, to allow the juices to settle. Season the sauce to taste with salt and pepper. (Here's How to Season to Taste.) Serve!
NOTES
I highly recommend buying an organic chicken, as they typically have less fat and more flavor.
Calorie count is only an estimate.
NUTRITION
Have you tried this recipe?
I'd love to see it on Instagram! Tag me at @cookingontheweekends or leave a comment & rating below.
Cooking On The Weekends is a participant in the Amazon Services LLC Associates Program, an affiliate advertising program designed to provide a means for sites to earn advertising fees by advertising and linking to Amazon.com.